When you are bored, tired, what will you do to lift your spirits? Listen to music? Play interesting games? Go out for a tour and take photos? These are really good choices for you to enrich your monotonous time, to soothe your negative emotions. Here, you might be interested in:
Three Ways to Easily Download Music Songs to iPhone
Top 5 Free Games Applications for iOS Devices
Best Photo Editors for iPhone You Must Have
But have you ever considered listening to audiobooks on your portable iPhone or iPod? This is also an excellent option worth your attention and trying. Whenever you are on the go, like going out for a walk, at the gym, on a plane, you can freely listen to different audiobooks with your portable iPhone or iPod. Today. this article will tell you several useful audiobook sites for iPhone and iPod. Some are truly free while some are not. You can choose the one that most suits your taste.
Part One: Truly Free Audiobook Sites
Site One: Loyal Books
All audiobooks in this site are completely free for all iPhone and iPod users and they can be downloaded to your iDevice as a podcast or MP3 file. Multiple languages are offered in the titles such as English, Spanish. French, German, Japanese and more. This site mainly provides public domain books which means books whose authors have been dead for at least 75 years.
Site Two: LibriVox
The biggest shining point of this audiobook site lies in that this is a volunteer-driven site offering public domain books in audio format. These books are searched and read by people all over the world, and therefore different languages are available in this site. If you are looking for books of classic titles with different languages to be offered, this Librivox is actually a good bet!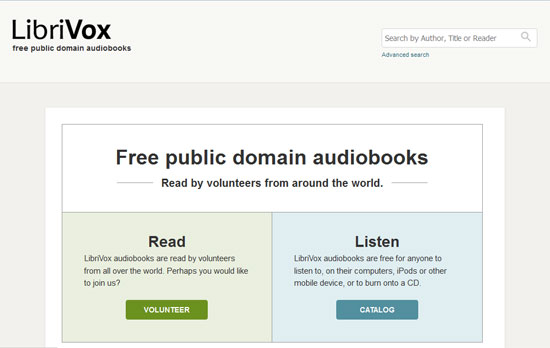 Site Three: Podiobooks
Like the two audiobook sites mentioned in the above, this site also offers public domain books for iPhone and iPod users. Apart from that, you can also find free audio books by modern authors. You are free to choose listening on the site or downloading MP3s files to your iDevices. The most special point within this site lies in its serialized audiobooks, which means authors will release their books chapter by chapter, so users can subscribe to each newly-released chapter.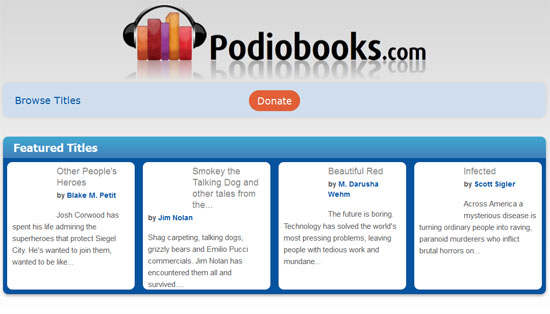 Site Four: Project Gutenberg
As the most prominent provider, this audiobook site also provides public domain ebook on the web. If you are a fan of classics, this site can be a good choice you can't miss. However, if you want to find the latest books by the biggest authors, then you possibly need to find another audiobook site. By the way, all free audiobook in this site can be downloaded in the format of MP3, M4B audio book, Speex, and Ogg Vorbis.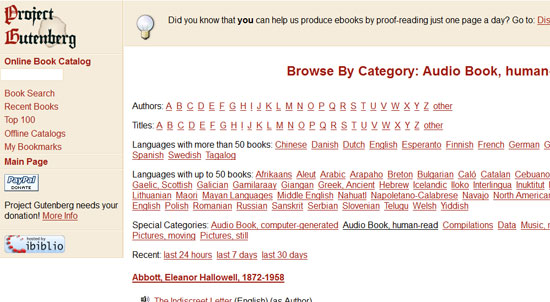 Part Two: Limited Free Audiobook Sites
Site One: All You Can Books
All You Can Books gives users unlimited access to over 30,000 Audiobooks, eBooks, and Foreign Language courses. This site offers you a free-trial period of 30 days, during which you can download as many audiobooks, ebooks and etc. as you want totally for free. But once the free subscription period is over, you will need to pay for your subscription at $19.99 each month. But speaking of the advantages of the free-trial period, it is still worth your attention.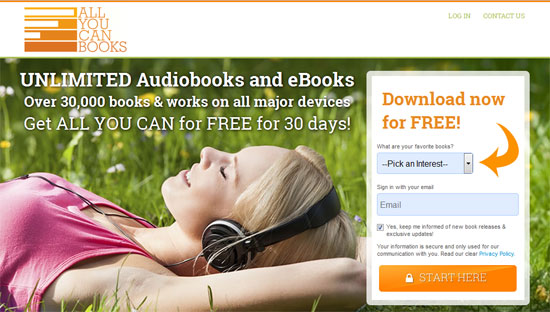 Site Two: Audible.com
This audiobook site has gained greater and greater momentum since 1997, which features a wide range of books ranging from classics, romance to short stories and fictions. Almost any traditional or newly-released books can all be found in this audiobook site. However, this site is also primarily intended as a subscription service which runs from $180 to $275/year for 12-24 audio books. Sometimes it does offer free audiobooks as part of its promotions to attract more subscribers. And these news will be released through ads.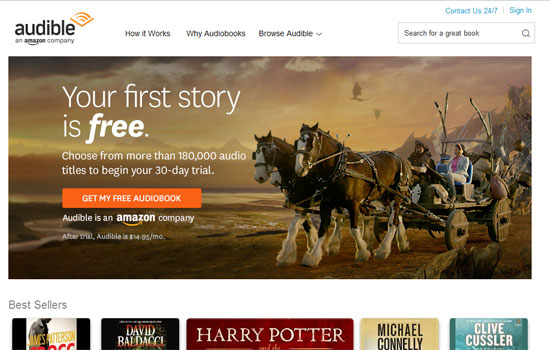 Site Three: Open Culture
In this audiobook site, you can download hundreds of free audio books, mostly classics, to your MP3 player or computer. You can find the audiobooks you like in the different categories. Apart from audiobooks, this site also includes movies, courses, language lessons, and books. You can easily download the wanted books from iTunes or Audible.com by clicking the corresponding links on the main interface. The only limitation within this audiobook site is that not all books are free to download to your iPhone or iPod.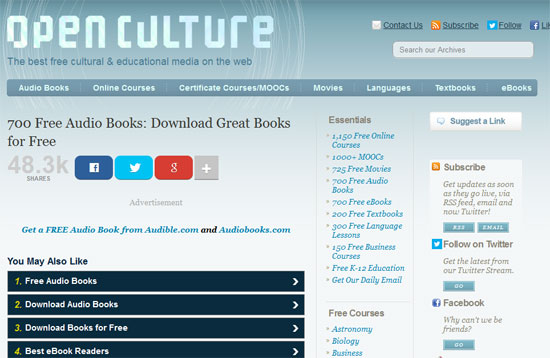 Write in The End:
Now, you can choose the audiobook site as you wanted and needed and listen to the interesting audiobooks on your portable iDevice to kill off the boring time. Here, if you simply want to read some ebooks on your iDevices, you can download some great book apps on your iDevices and truly enjoy the ebooks as you wanted! Also, you can rely on this Coolmuster iOS Assistant software to freely transfer ebooks from your iPhone to computer, so as to save your favorite books on the computer as a backup in case of data losses.
Related Articles:
Guide on How to Freely Share iPod Music