iCloud is a cloud-based service that lets you store and sync various types of data, such as contacts, photos, messages, and more, across different iOS devices. Moreover, Apple has enabled iOS devices to integrate smoothly with iCloud, thus making it a reliable option to share data between your devices or to back up your essential information, like photos.
In addition to creating a backup, using iCloud allows us to access our photos across multiple devices. However, some people experience difficulties uploading pictures from their iPhones to iCloud.
Want to learn how to move photos from iPhone to iCloud? This article will provide information on various methods to offload photos to iCloud. So, keep reading to learn how to offload photos to iCloud easily.
Part 1. Why Move Photos from iPhone to iCloud
Apple Inc. has created a cloud storage app called iCloud, one of the most helpful cloud services available. It allows users to store various files in the cloud, such as photos, documents, and audio files. There are multiple reasons why you may want to move your pictures to iCloud. Here are some of them:
1. Offer a safe and reliable way to automatically back up all files, including photos.
2. Offer a simple and efficient method for organizing and storing photos.
3. Easily access them from any device linked to the same iCloud account when you keep photos in iCloud.
4. Save space on iPhone.
iCloud is a highly recommended option for storing and backing up your photos on the cloud. Its ease of access, space-saving features, and cost-effectiveness make it an ideal choice for all users. However, if you have plenty of photos to move to iCloud, the free 5GB storage space won't be enough, how to transfer storage to iCloud? So you must upgrade your iCloud photo storage which can at times be costly.
Keep reading to know how to transfer photo to iCloud.
See Also:
[Solved] How to Transfer iPhone Photos to SD Card with Original Quality?
Not Enough iCloud Storage? Fix This Issue with This Full Guide
Part 2. How to Move Photos from iPhone to iCloud Storage via iCloud Backup
iCloud Backup creates a data backup on your iPhone, iPad, and iPod. This allows you to easily transfer your data to a new device or restore it on an existing one through iCloud. Transferring photos from your iOS devices to iCloud is a straightforward process. You can use iCloud Backup to achieve that.
Here's how to put photos in iCloud storage via the iCloud backup feature:
Step 1. Open your iPhone and click on Settings. Now click "your name" and look for iCloud settings.
Step 2. Before proceeding, ensure you have logged in to a working iCloud account. Then, navigate to iCloud and click on "Photos". Turn on the "iCloud Photo Library" option and choose whether you want to optimize your photo size or keep it original.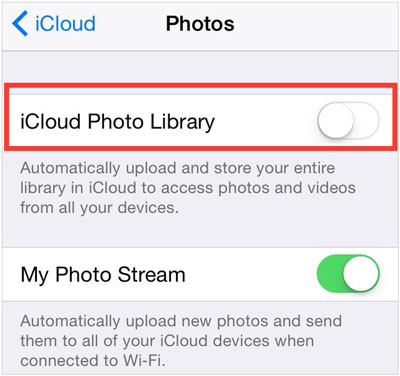 Step 3. To access your pictures, you can visit the iCloud website, sign into your account, then go to "Photos" option. Alternatively, you can sync your photos with the iCloud desktop app on Mac/Windows. This is possible only after the photos have been transferred to iCloud.
Read More:
2 Ways to Transfer WeChat Photos from iPhone to Computer (PC/Mac)
How to Transfer Photos from iPhone to Laptop Easily (Top 6 Ways)
Part 3. How to Send Photos from iPhone to iCloud by iCloud Shared Albums
If you turn on iCloud Photos, all of the photos on your iPhone will be uploaded, and you won't be able to choose specific ones. You can use iCloud Shared Albums as a workaround and choose the specific photos to save. Here's how to go about it:
Step 1. Go to Settings and then select "Photos". Switch on the "Shared Albums" option by pressing on the switch next to it.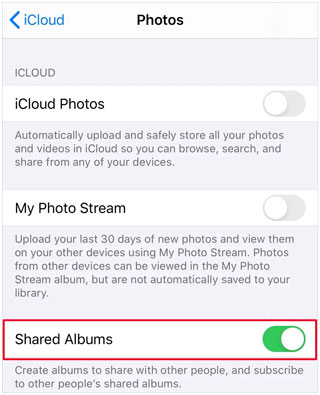 Step 2. Now upload the pictures you want by opening the "Photos" application and choosing the images you wish to upload. Then, tap the "Share" button and choose the "Shared Album" option.
Step 3. Choose where to add them or create a new one before tapping "Post".
Although this method involves manually saving your pictures, it allows you to choose which items you want to store in iCloud.
Can't Miss: If you want to upload photos to iCloud, How to Upload Photos to iCloud in 4 Easy Approaches? will help you.
Part 4. FAQs about Moving Photos from iPhone to iCloud
Q1. How long will it take to save iPhone photos to iCloud?
The time it takes to transfer your photos from your iPhone to iCloud depends on the size of the photos you have and the internet connection. However, it approximately takes a few hours to a day to have your pictures move to iCloud.
If your connection is slow, you may want to reduce the size of the files. Or, you can switch to a strong and stable Wi-Fi connection.
Q2. Are there downsides to saving iPhone photos to iCloud?
Uploading iPhone photos to iCloud may appear simple, but it has restrictions on syncing iPhone data. Here are the limitations you might encounter:
1.Transferring photos to iCloud does not completely solve the problem of limited iPhone storage.
2.If you delete a photo on your iPhone, it will also be deleted from iCloud and all other iOS devices with iCloud Photo enabled.
3.iCloud only offers 5 GB of free storage, which isn't enough for your data.
Bonus: How to Back Up Your Photos from iPhone to Computer in 1 Click
Uploading pictures from your iPhone to an iCloud consumes a lot of space, which can be problematic because you can only get free space of 5GB. To get more space, most people end up buying the premium plan. You can avoid this by using an alternative software like Coolmuster iOS Assistant, which can take a comprehensive backup of all of your iPhone files to the computer.
In addition to backing up iPhone photos to a computer, it can also help manage files and import data from iPhones, iPods, and iPad. It supports the latest iPhone models and is a simple, innovative, and effective platform. Here are the features that make it one of the most sought after application:
Backup & restore all iPhone photos and other files to the computer in just a click.
Transfer contacts, bookmarks, calendars, and other data between your iPhone and the computer.
Transfer iPhone files after preview and selection.
Allow managing iOS files on a computer.
Support various generations of iPhones, iPad, iPods and the latest iOS 16.
Add, edit and delete iOS files directly on your computer.
Click on the button below to download a free trial of Coolmuster iOS Assistant.
Here's how to backup photos from iPhone to computer for backup using Coolmuster iOS Assistant:
01Install and Open Coolmuster iOS Assistant
Install the program on the computer and open it. You'll see its primary interface displayed on the screen. Plug in your iPhone to the computer with a lightning cable. Hit "Trust" when prompted to Trust This Computer. Then click "Continue".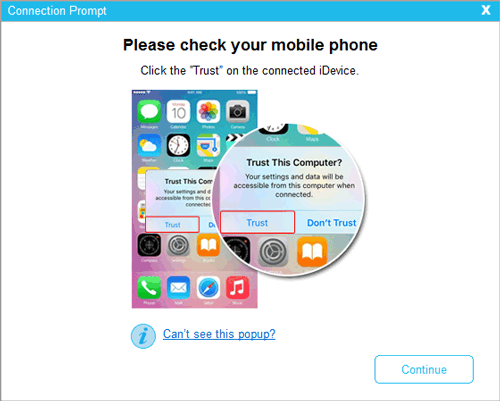 02Back Up Photos from iPhone to Computer
Tap on the "Photos" folder and preview the photos as you select the ones you want to backup to the computer and hit the "Export" tab.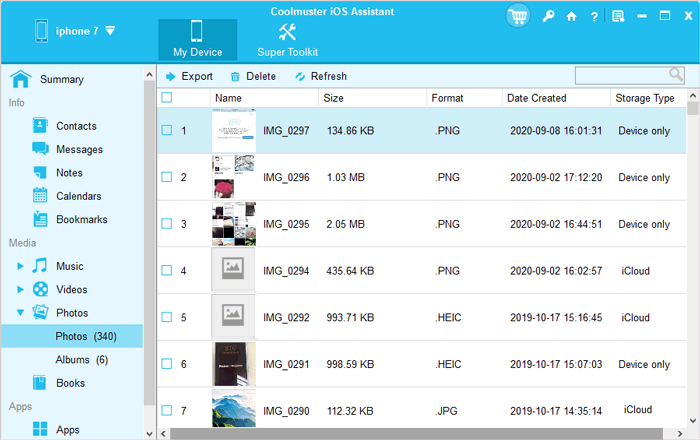 You May Like:
Top 6 Methods to Backup iPhone Photos Effectively
7 Ways to Transfer Photos from iPhone to Computer without iTunes
Conclusion
That's all on how to save photos from iPhone to iCloud. Hopefully, by following these instructions, you can successfully upload your pictures to iCloud and solve how to move storage into iCloud. If you find the process tiresome, you may want to explore a better option. Coolmuster iOS Assistant is an excellent solution for backing up iPhone data to your computer. You can save various data types, including contacts, calendar events, notes, and call logs, as it supports all major data types.
Related Articles:
Do Photos Stay on iCloud if Deleted from iPhone? How to Recover Them?
How to Transfer Photos from Android to iPhone? [4 Methods]
How to Access iCloud Photos on Android [Easy & Fast]
4 Methods on How to Download Photos from iCloud to iPhone
How to Recover Photos from iCloud from an iPhone or Computer? [Solved]
How to Move Photos to Album on iPhone in 2 Effortless Methods