Accessing iCloud photos is no rocket science. You just need to learn the right tricks to the process. Be at home or in office, you would only need your Apple ID and an internet connection, to access the photos with the help of your
Apple iCloud
and Photo Stream.
Also Read: How to Use iCloud Photo Sharing
Quick Fix: How Can You Access iCloud Photos?
The method differs according to the type of the device you're accessing it from. Here is a look at the three of the most popular ways, i.e. from iOS device, from PC computer and from Mac computer.
1. From your iOS device
If you are using the Apple iOS devices, you need to do the following.
- Open your settings option and click on iCloud button.
- Turn on the on/off toggle button.
- Turn on the Photo Stream.
- Start the photos application and run the photo stream key.
- Click on the Camera Rolls of Albums to see your photos.
- Click on My Photo Stream to view photos uploaded by you.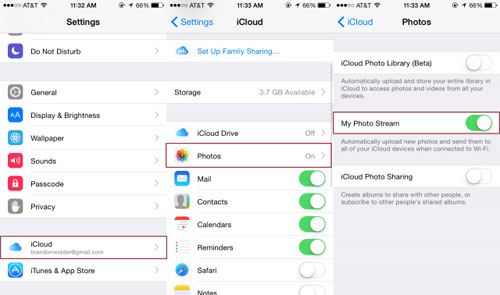 Related: How to Sync iPhone/iPad/iPod to iCloud
2. From your PC computer
- Download the iCloud Control Panel for Windows, and install it.
- Start the application, providing your Apple ID and password.
- Click on the Photo Stream to start viewing the photos, and choose the apply option.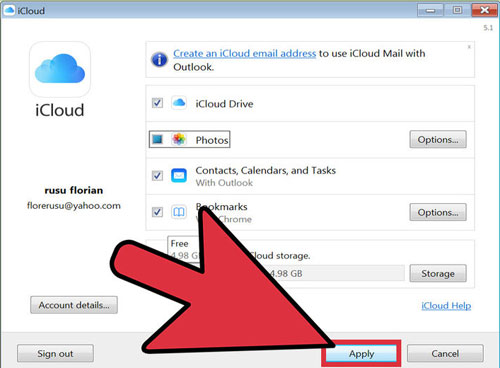 3. From your Mac computer
- Click on the iCloud option, after selecting the System Preferences from the main menu.
- Enable both the Photo Stream and Shared Photo Streams.
- Start the iPhoto app and select the Photo Stream to view the photos.
The iCloud photo library is a great source for keeping your iCloud photos saved. With it, you can access the photos by directly accessing the iCloud website. The library functions by uploading and storing your photos automatically, thus helping you to access them whenever you like.
Optional Choice 1: Alternate Way to Store Your Memories
In fact the library offers a great alternative to store all your photos. Accessing it is easy as you have your account registered with the library. Logging in to your account offers your access to your data that is the photos. An iCloud Drive is also another full proved alternative to store your photos, enabling you to have access to them later, easily. With an iCloud Drive, your photos are actually safe. When you store your photos in the drive, they get updated on all your iOS devices, such as your iPhone, iPad, iPod Touch, Mac, or the PC. When you store them right, having access to the photos becomes easier. However, the real concerns seem to arise when you lose your important photos that are a lifetime memory for you.
Learn More: How to Download iCloud Backup to Computer
Optional Choice 2: Another Alternative Way to Save Photos
Here's introducing to you the wonder solution - Coolmuster iOS Assistant (Windows/Mac) software - to this particular problem. To avoid losing on essential photos, backing up is important.
That is exactly where this software comes as a great help. The software acts in an intelligent manner, based on its set programs and hence allows effective transfer of your images from your iOS devices to your PC, easily. You can back up all the data you need, in just a few clicks. This can also help you delete the data from your iPhone, and increase its storage space. Additionally, you would know that even if you erase the data on your iPhone mistakenly, there is nothing to worry about. You wouldn't have to worry about losing out on any of your important data ever again.
Related Articles:
Best Backup Assistant for iPhone/iPad/iPod