A new-round Apple WWDC 2015 is formally convened, and this time, Apple has officially unveiled its all-new operating system - iOS 9. Apple claims that the new iOS 9 is a full interior renovation than that before, so that you can get a better experience with every touch after upgrading. Thus, it is no doubt that almost all iDevice users will upgrade their system from iOS 8 to the new iOS 9 in the coming days, and they may also meet lots of problems during the upgrade process. So here, we have collected the most common problems and solutions about iOS 9 upgrade, and hope it will help you upgrade your own iPhone, iPad or iPod successfully. (Keep updating)
Q 1. iOS 8 vs iOS 9, what is the difference?
Generally speaking, iOS 9 is full of enhancements you'll appreciate every day. With the more built-in apps, you can do more every day.
- iOS 9 adds a new app to your home screen, and collect all your interested news or stories you want to read. And other apps like mail, messages, web browsing, maps, notes, etc. are also improved much more.
- What's more, Apple also double up on productibitiy with iPad, so you can enjoy a new ways to multitask on iPad after upgrading the new system.
- And the improved Siri function also can help you find more information directly.
- Based on your daily using on the device, it will generate intelligent suggestions for what you might want to do next before you ask. Cool, right?
- Longer battery life, faster and more responsive, high security.
- Release an official "Move to iOS" app to help users to wirelessly switch from Android device to new iOS device. Data like contacts, message history, camera photos and videos, web bookmarks, mail accounts, calendar, wallpaper, and DRM-free songs and books, etc. are all supported. Or you may more interested in the Phone Transfer program, so that you can switch device between iOS and Android freely.
- To get more details about the iOS 9, you can go to here to preview iOS 9 as you like.
Q 2. Compatibility issue
Before you start upgrading the operating system on your iDevice, you should know what devices are supported with the new iOS 9. So below we'll show you an image to list all supported devices for your reference.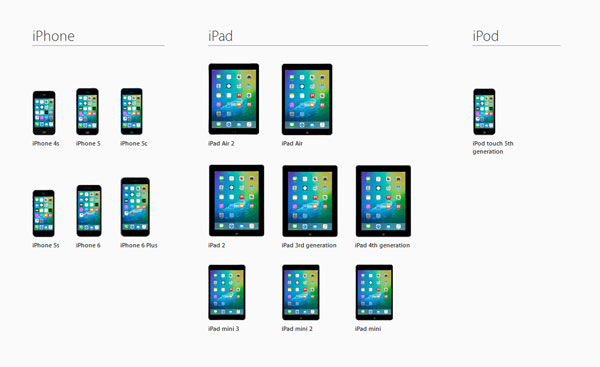 Q 3. How many free space you may need on your iDevice to upgrade to iOS 9?
If your device have been upgraded from iOS 7 to iOS 8, or you have ever focused on the problems about the iOS 8, then you may know that the iOS 8 update requires near 5 GB storage depending on your device model. It is really a big space requirement for iOS users, especially when you're using a 16GB iPhone or iPad. Now, you'll never worry about the problem of the free space. The iOS 9 ONLY requires 1.3GB for upgrading. It could be easy to clean the storage space on your iPad, iPhone or iPod, right? To clean the space on iDevice, you can use Coolmuster iOS Cleaner to delete unwanted apps, clear crashes, cookies or temp files, wipe unnecessary messages, attachments, photos, music, etc. permanently.
Related Read:
How to clear junk files on iPhone 6/5S/5/4S/4?
How to wipe all personal data from an iPhone?
Q 4. Backup problem before upgrading to iOS 9
After summarizing the upgrading experience before, lots of Apple fans have noticed that it is necessary to backup the iPhone, iPad or iPod data before upgrading to a new system. That is mainly because some unforeseen errors always be happened during the process, so that some precious photos, contacts list, text messages or email, etc. on your iDevice may be wiped or erased without backup. Now, the problem here is how to backup your iPhone, iPad or iPod contents? It is no doubt that lots of people may tend to back up their iDevice data with iCloud or iTunes service, but here we could like to show you 3 different ways to backup data, and you can compare them and decide which one is better.
- Backup with iCloud: Tap on Settings > iCloud > Storage & Backup > Turn on iCloud Backup option (if it is closed) > Backup Now.
- Backup with iTunes: Connect iDevice to computer and run iTunes, then click Device button on the iTunes, here you can click "This Computer on Backups column" and choose "Back Up Now" to start the process.
- Backup with iPad/iPhone/iPod Transfer - Coolmuster iOS Assistant (>Windows/Mac): If you only need to backup something important on your iDevice, such as contacts, messages, photos, bookmarks, notes, etc., you can reach the goal with Coolmuster iPad/iPhone/iPod Transfer (Windows/Mac). You can directly scan your device and select the type of files you wish to backup and export them to your desktop computer without hassle.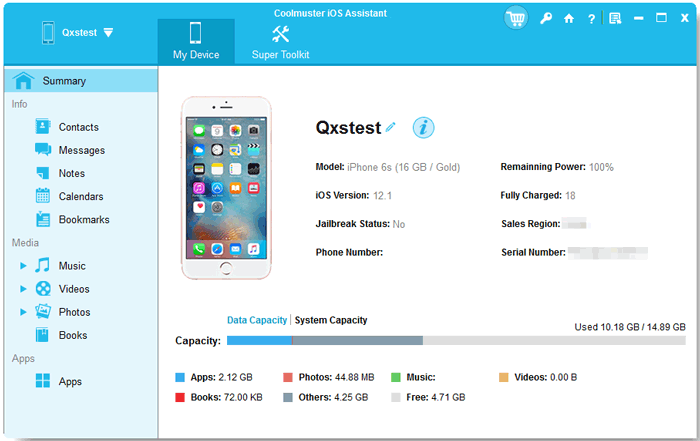 Can't Miss:
How to Transfer Music from iPhone 6/5S/5/4S to Computer
Export Contacts from iPhone to PC for Backup
How to Transfer SMS from iPhone to iPhone
Q 5. Data loss after upgrading to iOS 9
You may have backed up the iOS data before upgrading to iOS 9 by following the methods in the Q4, but sometimes you may still find something important are lost or can't be found in the backup file, then you need to find a way to restore the lost data on your iPhone, iPad or iPod. To do it, you can take a free trial on the best Coolmuster iPhone Data Recovery program. Because this program allows users to recover data from iDevice or iTunes backup file directly. All data can be retrieved unless they have been overwritten.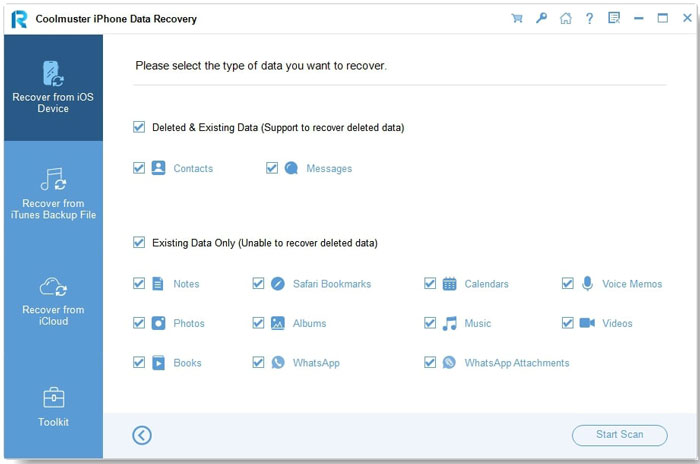 Related Articles:
Tutorial on How to Recover Lost Photos from iPhone