Watching movies on an iPhone is a nice experience and a way to kill time. These days you can use an iPhone to watch photos, videos, and movies, thanks to its incredible perks like editing effects, filters, and more! Furthermore, an iPhone has a great video player that makes watching movies a delight. But how to put movies on iPhone? This question has been bothering many people since this device was launched. If you want to know the answer, read this article carefully.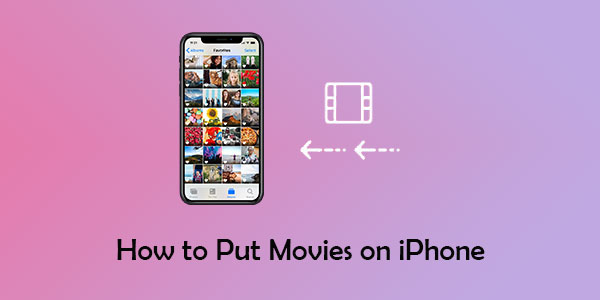 Way 1. How to Put Movies on iPhone Using iTunes
iTunes is a valid way of putting movies on your iPhone. However, you need to make sure that you are using the latest version of iTunes. Even though iTunes has some downsides, it's still a nice way to get those good movies to your iPhone.
iTunes is known to support limited video formats, and you have to get your video to the library first before transferring it to your device. This can be frustrating, but it will be a breeze once you know how to do it!
Here is how to put movies on iPhone using iTunes;
Step 1: Download iTunes on your PC or Mac.
Step 2: Open iTunes then connect your iPhone to the computer using a USB cord. You may also need to unlock the phone and trust the computer.
Step 3: Look for the iPhone icon from the top left section and tap "Summary" and "Find Options." When there, switch on the "Manually manage videos and music" option.
Step 4: Tap the "File" option at the top left section of iTunes and select the "Add File to Library" option, which you will find from the drop-down list, and add all those movies you want to move to your iPhone.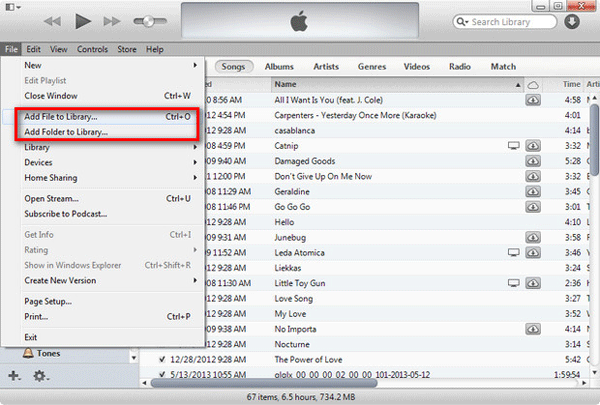 Step 5: Choose the "Movies" option below Settings and check the option for "Sync Movies," and select all movies to be transferred. Once done, tap "Apply" to copy movies from iTunes to your iPhone.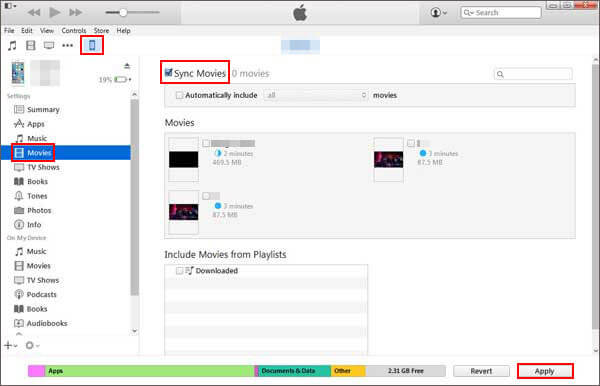 Way 2. How to Add Movies to iPhone Using iCloud
Another wonderful way of syncing videos to an iPhone is through iCloud. iCloud is developed by Apple as a great backup and transfer tool for any iOS device. iCloud gives you more flexibility in transferring not only videos but also other files across devices wirelessly. iCloud is compatible with Windows computer, making it easier for Windows users to get movies to their iPhone devices easily. But make sure you use the same Apple ID on the computer and iPhone, and iCloud should also have enough storage space to save movies. Do this to put movies on your iPhone via iCloud (Having trouble with iCloud issues?);
Step 1: Using any of your preferred browsers, head to iCloud.com on a Windows or Mac computer and sign into your account with an Apple ID and password used on the iPhone.
Step 2: Select the "Photos" option, tap the "Upload" tab, and choose the movie files you wish to copy.
Step 3: Go to your iPhone, open "Settings," and look for the "[your name]" option. Proceed to "iCloud" "Photos" and switch on the "iCloud Photos" option.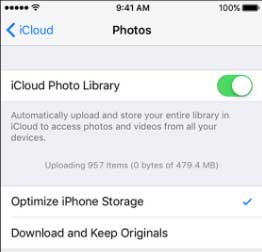 Step 4: When the uploading finishes, navigate to the "Photos" application on your iPhone and check the movie files synced.
You may like:
[Fixed] How to Recover Deleted Videos from iPhone with or without Backup?
How to Transfer Videos from iPhone to USB Stick with or without a Computer?
Way 3. How to Put Movies on iPhone Using Airdrop
Are you a Mac user? Count yourself lucky, as you can put those movies you've been yearning to watch on your iPhone using AirDrop. Airdrop is a free and open-source file transfer program that works on Mac. Unfortunately, it can't work on Windows or Linux operating systems. It has some different features, but one common feature is the ability to share files. Here are the steps on how to use it;
Step 1: Open Finder on your Mac computer, and switch on Bluetooth on both iPhone and Mac. Also, ensure your iPhone has WiFi and AirDrop turned on.
Step 2: Look for AirDrop on Mac's sidebar and click on it. After that, you should see your iPhone showing.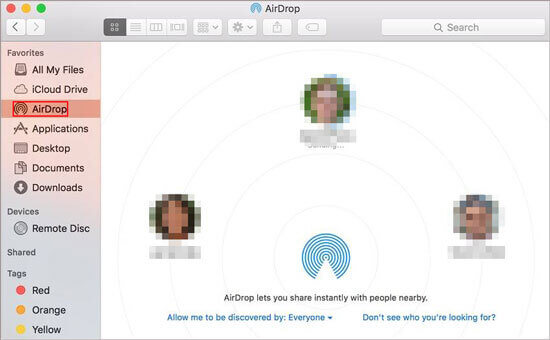 Step 3: Choose the movie from Finder and drag it over to your iPhone.
See more:
How to Delete Music Videos from iPhone?
How to Save Videos from WeChat on iPhone?
Way 4. How to Add Movies to iPhone Using Cloud Storage
A handy way of transferring movies to your iPhone is through cloud storage like Google Drive, Dropbox, etc. In this way, movie files are kept in the cloud storage, and you just need to log in to the cloud service's website to transfer the movies to your device.
This method is simple and relatively fast if you use a fast Internet connection. However, you may require more time if you have a slow Internet speed and if the files are too many. Another thing is that you need to have a lot of storage on the cloud to accumulate those movie files. To put your movies on your iPhone through Dropbox cloud storage, do this;
Step 1: Log into your Dropbox account on your computer and tap "All Files" at the left sidebar.
Step 2: Choose the folder where you wish to save your movie files and tap "Upload." Wait for the process to finish; this depends on the size of the movies and upload speed.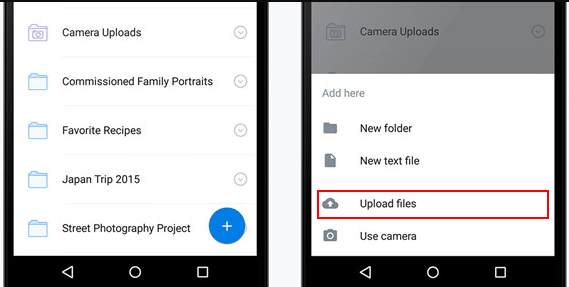 Step 3: Go to your iPhone, open the Dropbox app, and sign in to your account. Click on the 3 dot menu in the upper right corner and "Select."
Step 4: Select the movie files to download and click "Download."
Way 5. How to Put Movies on iPhone Using iOS Transfer
iOS Transfer is a professional iPhone transfer software that can help you put your favorite movies, music, and other media files to an iPhone directly from a PC or move data from an iPhone to a computer. It is an easy-to-use software even for novice users. No data loss is experienced when using Aiseesoft FoneTrans. It also helps you backup and restore your iPhone data. It transfers videos and other files like contacts, call logs, music, etc.
Key Features of iOS Transfer:
* Transfer movies to your iPhone directly on a computer.
* Transfers files between iOS devices and computers.
* Allows you to sync and manage videos, contacts, music, photos, and more from an iOS device.
* Transfers all data types, including videos, calendars, notes, Safari, call logs, etc., from an iPhone to a computer and vice versa.
* Compatible with the latest iOS 16.
Here, we will show you how to use iOS Transfer to copy movies to iPhone.
01 Install and launch Aiseesoft FoneTrans on your computer. Plug your iPhone with a USB cable and install iOS device drivers if necessary.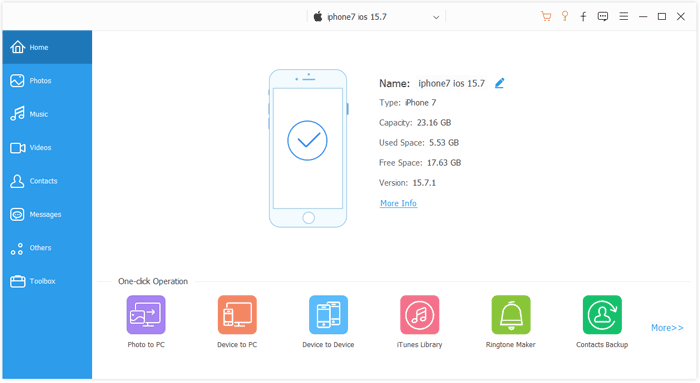 02 Click "Videos" from the left primary interface and wait for some time; all videos will be displayed on the screen. These videos will be categorized into different groups.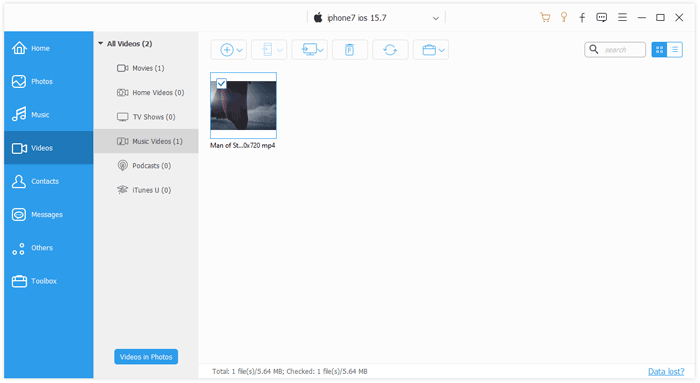 03 Tap the "Add" button and select the movie files you wish to import. Tick the specific files and tap "Open." Doing this will help you put videos on iPhone.
Conclusion
And that's all! Well, transferring movies to iPhone is not as complicated as you think. We have shown you some ways to successfully transfer movies to an iPhone. Bear in mind that these are the simplest ways and just in case you want a hassle-free, best transfer way, use iOS Transfer. This efficient and easy-to-use iPhone transfer software can help you to move all your movies from PC to iPhone efficiently.
Related Articles:
5 Tips: How to Transfer Videos from iPhone to PC Windows 11/10 Without Any Hassle?
Photos Didn't Transfer to New iPhone? Work It Out with Easy Solutions
How to Transfer Videos from iPhone to USB Stick with or without a Computer?
How to Transfer Videos from iPhone to Android Effectively [Solved]
How to Transfer Large Videos from iPhone to PC? Try 8 Methods Here