Are you also wondering how to save text messages on iPhone? All those texts on your device are short-lived, but some might be important, especially if you want to use them as proof for legal disputes. Moreover, you may want to back them up to preserve your priceless nuggets of wits. Just know that it is possible to do so.
Frustratingly, Apple provides no easier way of exporting your text messages, even though it is one of the most renowned and largest technological companies. Despite that, there are some workarounds to help save all text messages on iPhone.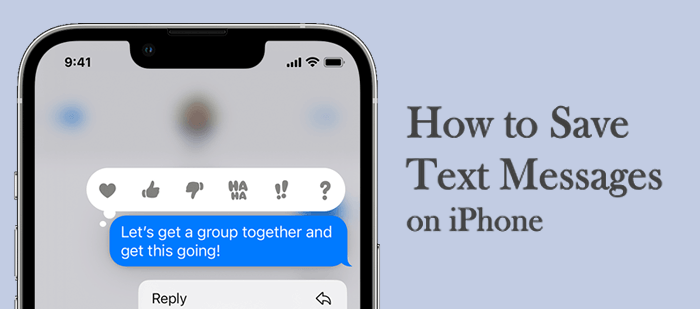 Part 1. Is There a Way to Save Messages on iPhone?
Honestly, there is no official way to choose a text or group of texts and save them on an iPhone. But you can use a workaround and effortlessly save your messages. Even though you can't go the official way to back up text messages iPhone, there are still tricks you can employ.
One way you can save text messages on an iPhone is to create screenshots of the particular messages. Simply scroll through the messages and capture many screenshots to save the entire chat. This method won't be a good option if your messages are long or many unless you want the timestamps attached.
Part 2. How to Save iPhone Text Messages
Now let's introduce the best ways to save messages on your iPhone.
Method 1. How to Save Messages on iPhone to PC via Coolmuster iOS Assistant
It is wise to save your text messages on your iPhone. You never know when you may need those chats as proof. And there's nothing more amazing than choosing a good data management solution to create a backup of your text messages. One tool that we can't fail to mention is Coolmuster iOS Assistant. This ultimate iOS data manager transfers and easily manages your iOS files effectively.
Coolmuster iOS Assistant transfers iPhone texts to a computer and then saves them in readable and printable formats. Its one-click function allows users to extract text messages, contacts, notes, videos, songs, photos, and more from an iOS device. From there, you can preview your messages on your iPhone before you export them onto the PC in formats like CSV, HTML, and TEXT. You will also back up iPhone files to your computer in just a click. iOS Assistant is fully compatible with almost all iOS devices.
Features of Coolmuster iOS Assistant:
Sync messages from iPhone to computer selectively.
Import calendars, contacts, and other data from PC to iDevice.
Preview messages before backup.
Safe and easy to save your messages.
Compatible with most iPhone models operating from iOS 5 to iOS 16.
How do I permanently save text messages from my iPhone? Here are the steps to follow:
01Launch the installed tool on the computer and connect your iPhone. It'll automatically recognize your iDevice. Unlock it and click Trust when asked to Trust this PC. After the iPhone gets recognized, you will have an interface on the screen showing the files available in the iPhone arranged in categories.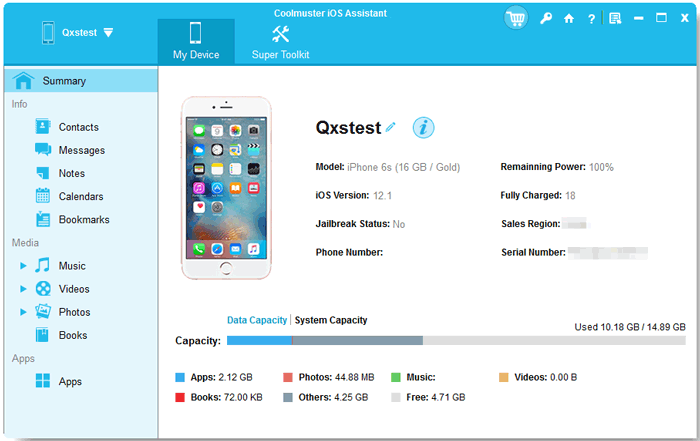 02Click on the Messages folder. All your messages will be shown on the right panel. Preview as you choose the texts you want.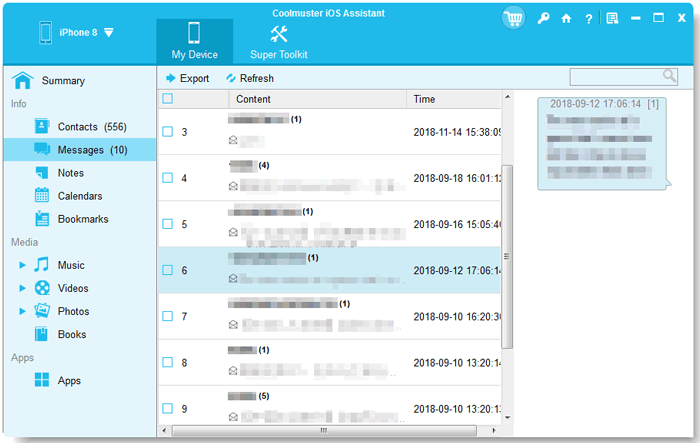 03Choose all the messages you wish to save on the PC and tap Export to move all the messages to your computer in either CSV, TEXT, or HTML formats. You can also choose the location on the PC where you can save the files.
Method 2. How to Save iPhone Text Messages via Screenshots
Another way to save messages on an iPhone is to take screenshots of each message thread. It is a great way to save a message with the timestamps and without needing software or a computer. Though, with multiple messages, it could be a tiresome process.
Here's how to save messages on iPhone via screenshots:
Step 1. Open the messages app on your iPhone. Usually, it is in the Dock or home screen. Click on the message to be saved.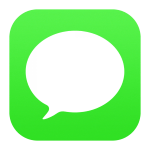 Step 2. Now take the screenshots. Hold the power or Lock button and the Volume Up button for newer iPhones. On older devices, hold the home button and sleep button. Doing this will help capture a screenshot of the selected message. You can also check out this passage to learn about how to take a screenshot in detail >>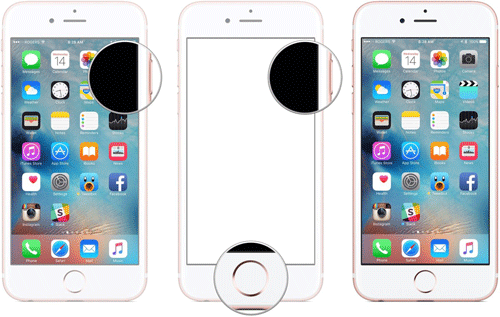 Step 3. Repeat the procedure for all other text messages until you've captured screenshots of all messages. These screenshots will be saved in Gallery, and you can back the photos up to iCloud.
Method 3. How to Back Up Text Messages iPhone to iCloud
Apple's iCloud service can help backup all types of files safely. But it has limitations like complicated steps to backup. Also, you will have to make many settings adjustments before the actual backup.
Here's how to save texts on iPhone:
Step 1. Head to Settings menu on your iPhone and click on your name at the top.
Step 2. Choose the iCloud button from the screen.
Step 3. Scroll down to get to Messages, then enable the switch to green. All your messages will be saved to iCloud.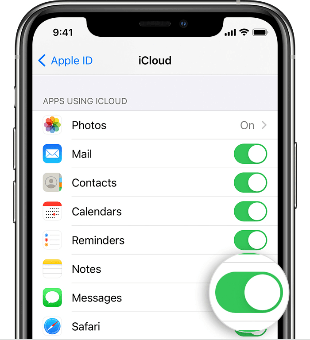 Method 4. How to Back Up Text Messages iPhone to iTunes
You can also create a backup of your messages to iTunes. But you need to sync iTunes with the iPhone first. After that, you can back up your messages automatically.
Here's how:
Step 1. Link the iPhone to PC using a USB and then open iTunes. Then tap on the device tab in the upper left corner.

Step 2. You will get a menu of settings where you have to select Messages and choose the Sync checkbox.
Step 3. Finally, click the Apply button at the bottom right corner. Choose the Sync button if the sync does not occur automatically.
Method 5. How to Back Up Text Messages iPhone to Gmail
Another option to save messages on iPhone is Gmail, a free backup solution from Google. Gmail provides storage space to keep media files in cloud storage. This way, you can effortlessly save the messages from your iPhone to your Gmail. But, it is not a backup solution, just a technique to keep the messages.
Steps to move messages to Gmail:
Step 1. Head to the Settings menu on your iPhone and hit the Messages option.
Step 2. From there, click the Text Message Forwarding button just below the Messages application. Input your Gmail address on the screen. This option will help sync iPhone texts with other phones as well.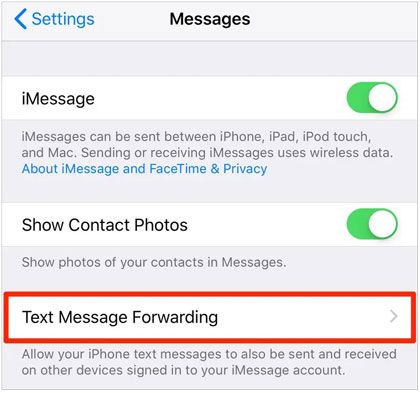 Also read:
Easily Back Up Text Messages iPhone to Gmail in 5 Ways
How to View My iTunes Backup Files with or without Restoring Data? (Solved)
Extra Tip: How to Save Entire Conversation on iPhone
Saving an entire chat can also be helpful. But you will not include the timestamps. You can do that by forwarding the entire conversation to another number or your device. Here's how:
Step 1. Open the messages thread on iPhone and hold on to the message.
Step 2. Immediately the text wiggles, releases, and a list will show up. Click on More.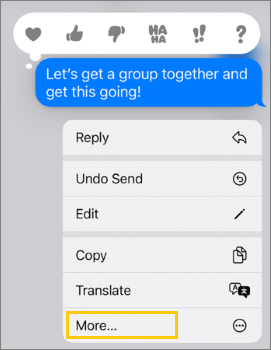 Step 3. Choose the message to be saved by clicking on them and clicking the arrow at the bottom.
Step 4. A message will pop up with the chosen messages. Enter your recipient address and click the Send icon.
You can copy your messages into your iPhone as well. Instead of entering the recipient and then sending the text, when the message with forwarded text shows, just copy the whole conversation, open the Notes app, and then paste into the new document. Remember, this method will not save timestamps or the format. However, it is a great way to send the body of the texts.
Are you also interested in:
Wondering How to Back Up iPhone to OneDrive? This One Tells
How to View iPhone Backups on Windows 11/10/8/7 and macOS Monterey/Big Sur? (4 Ways)
Concluding Words
So, these are the finest solutions to save iPhone text messages. iCloud and iTunes have limitations though they can help you save the texts. You can also save your entire conversation to your phone or another phone number. But the downside is that it won't have timestamps and formats.
Therefore, we recommend using Coolmuster iOS Assistant, a reliable solution to back up your text messages to the computer. It's a safe and secure platform. Besides, it saves your files in any format you want.
Related Articles:
[3 Ways] How to Transfer iBooks from iPhone to PC
[Fixed] How to Transfer Photo Albums from iPhone 14 to PC with Ease?
How to Transfer Music from iPhone to Mac? (Top 4 Ways)
[Solved] How to Print Text Messages from iPhone/Android for Court?
[Simple Guide] How to Install Apps on iPhone without iTunes?