Easy Solution to Transfer iPhone Photos to iPad Pro/2/3/4/mini/Air
Apple endows iPhone 5S with remarkable camera upgrading features, such as bigger pixels, dual flash and faster frame bursts, all allowing users to capture more great camera works. Well, with highlighting the camera features, users can enjoy better photographing result. But iPhone's relatively small screen can not satisfy users' viewing needs for these excellent photos. That is why they think about transferring photos from iPhone to iPad so that they can view photos with iPad's bigger screen. You may think that iPhone and iPad are using the same iOS operating system and it will be a piece of cake to transfer data between the two devices. You are basically right. However, the way you used is not necessarily the best! In the first beginning, we would like to analyze two ways that are commonly used.

Are you still using over-weight iTunes?
iPhone and iPad use the same iTunes media management program to manage the content stored on their hard drives, that is why it will be possible to transfer photos and other files from one device to another. Just connect your iPhone to the computer via USB cable, launch iTunes and after your iPhone is detected, you can click iPhone under the DEVICES heading, choose Sync Photos option to export all your iPhone photos to the computer. After that, eject your iPhone and continually connect your iPad to the computer. Do just as you did earlier, click the iPad beneath the DEVICES heading and sync the photo backup to your iPad. When the syncing process is finished, you can disconnect your iPad from the computer. However, you may encounter various problems like below:
1. iTunes is too large to run and you have to suffer from slow transferring process.
2. The backup task could be failed to begin and there may be something wrong to terminate the transferring in midway.
3. Unable to find the location of backup files of your old iPad.
4. The iPad backup files can not be restored from iTunes.
5. People usually get their data erased as they forget to turn off the erasing function during syncing.

Is Wi-Fi syncing really convenient?
Some people choose to copy pictures from iPhone X/8 Plus/8/7/7 Plus/6S Plus/6S/6 Plus/6/5S/5C/5 to iPad using the Wi-Fi network. To do this, you need to download the Photo Wireless transfer app to your iPhone and iPad, connect both of them to the same Wi-Fi network and then run the Photo Wireless transfer app on the both iDevice simultaneously. Tap the Receive button on your iPad and your iPhone, including photos in your iPhone, will be detected and shown on your iPad. Then, you can choose the photos you need and transfer them to your iPad via Wi-Fi. However, using Wi-Fi also has some drawbacks.
1. The instability of Wi-Fi network causes the failure of detecting iDevice and then photos would be transferred problematically.
2. You need to pay once to get the app that can only transfer photos and video, helpless for other important files you also want to share, like songs, eBooks and important documents.
3. This method is disabled if you are in a place without the Wi-Fi network.
So you really need a better to easily transfer photos from iPhone to iPad within simple clicks. Below are the top two ways recommended for you to share iPhone photos to iPad:
1 - Perform iPhone to iPad Photo Transfer with iOS to Computer Transfer
2 - Perform iPhone to iPad Photo Transfer with Mobile Transfer
Recommended 1: Perform iPhone to iPad Photo Transfer with iOS to Computer Transfer

Just suffered enough from the awkward iTunes? You need change! Here, we would like to humbly introduce this one-click iPhone file transferring tool Coolmuster iOS Assistant. With it, you are able to transfer not only photos, but also videos, music, eBooks, playlists, voice memos and more from iPhone X/8 Plus/8/7/7 Plus/6S Plus/6S/6 Plus/6/5S/5C/5 to iPad 4/3/2/mini/Air/Pro. It runs without network connection and fully keeps original file quality. The user-intuitive interface makes the program easy-to-handle for both computer novices and experts.
Similar articles:
How to Transfer Videos from iPhone to iPad Pro/Air/4/mini?
How to Transfer Music from iPad to iPhone 6S Plus/6S/6 Plus/6/5S/5C/5/4S/3GS?
The part below focuses on how to move pictures stored in your iPhone to iPad by using this versatile iPhone file transfer. First of all, you should download the program according to the system you are using. And then, go through the easy steps as follow:
Step 1. Make your iPhone connected to computer
Take out the USB cord provided by Apple and use it to connect your iPhone to the computer. Make sure the connection is successful and then you can launch the program. Your plug-in iPhone will be detected by the program automatically and you will see your iPhone detailed info shown in the main interface and all the files contained in your iPhone will be displayed in categories in left panel.
If your iPhone is not detected by the program, you can click the button of Refresh or re-connect your iPhone to have one more try.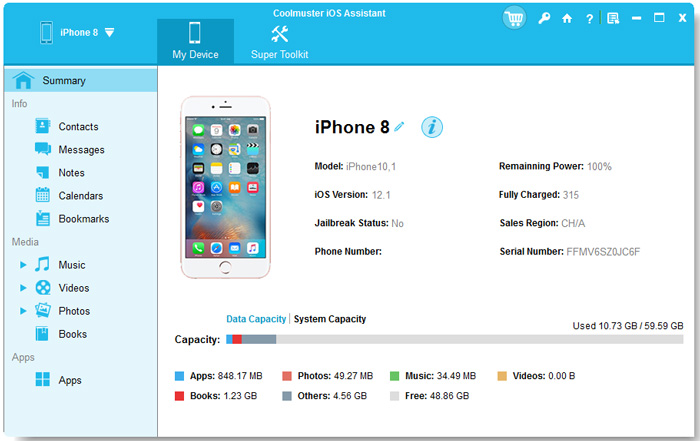 Step 2. Ready to Export iPhone photos to Your computer
All your iPhone contents are well categorized in the left sidebar. For this topic, you should unfold the "Photos" and "Camera Roll" categories, preview the contained pictures in the right window and then mark those you want to transfer to your new iPad Pro/Air/2/mini/4. After selecting the photos, you can go to the top menu and click the Export button to bring out the Path dialog box. Select an output folder from your computer and then the transferring process will begin immediately.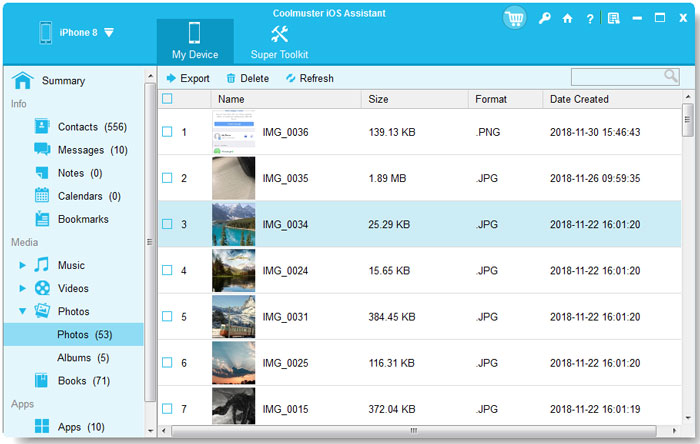 Step 3. Sync exported photos to your iPad
Eject your iPhone from your computer and run the iTunes application on your computer. Find the output folder in which the exported photos are saved and drag-n-drop these output iPhone photos to iTunes. Connect your iPad to your computer instead and click "File" menu on iTunes to sync these pictures from computer to your new iPad Pro, iPad Air, iPad 2, iPad mini or iPad 4 instantly.
Recommended 2: Perform iPhone to iPad Photo Transfer with Mobile Transfer
Apart from the easy way mentioned in the above, you can have another option - by means of Coolmuster Mobile Transfer (for Windows) or Coolmuster Mobile Transfer for Mac, which is a professional file transfer tool allowing you to freely share files between two mobile devices, no matter they are of the same or different operating systems. This software is able to support various files like contacts, messages, videos, music, apps and many more, as well as different OS devices including Android, iOS and Symbian.
Below is the free trial versions of this software! You can download the right one and follow the below tutorial to transfer photos from iPhone to iPad!
Also Read:
How to Sync Media Files from iPad to Android
Switch Data from Android to Android/iOS/Symbian
Step 1. To start with, open the installed software on the computer and then get the two devices connected to the computer via two USB cords. You can then see the below interface. Now, choose the mode of Phone to Phone Transfer and hit the Start option to continue the process.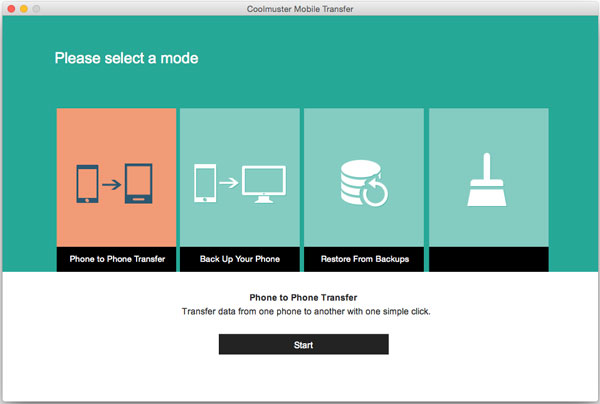 Step 2. You can now see that different file folders are arranged on the top panel. Please enter the Photos tab to preview more detailed information. While previewing, you can select the files you want to transfer from iPhone to iPad.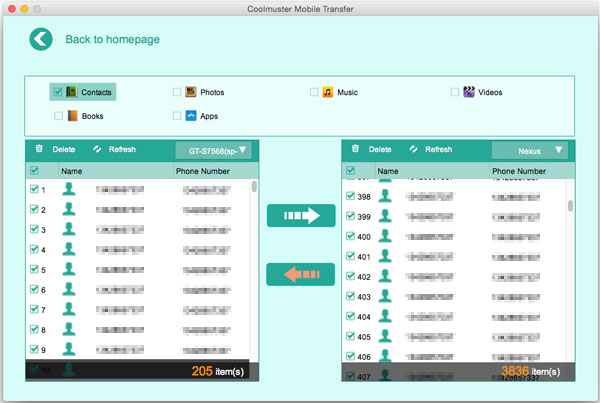 Step 3. After selecting the wanted files, click on the left or right arrow direction to begin the photo transfer from iPhone to iPad. Then on the pop-up window, you need click on OK option to confirm your action.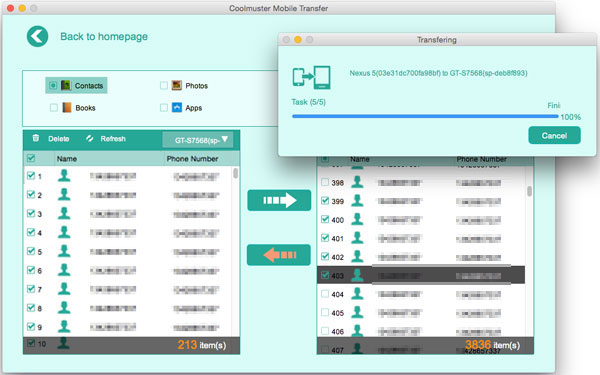 Related Articles:
How Do I Transfer Video from iPhone to Mac Computer
How to Transfer File(Music, Photos, Movies) from iPhone to iPhone