What Should I Do if My iPhone Keeps Restarting?
There is no one reason that can be pinpointed as a cause for why iPhones keep restarting. They can either shut down and restart while you are using them or become completely unusable as the Apple logo shows up and then the phone shuts down to start yet again and the loop continues.
It could be because of your iPhone's OS or because of a software issue. Either way, you would need to ensure that you have your data stored properly when trying to restore the iPhone so that you do not lose out on any important data.
Often, a hard reset on your iPhone will help you take care of the problem. Normally, it can be understood that your iPhone restarting trouble falls into one of these categories.
Related: Solutions to Common iPhone Problems
iPhone Keeps Restarting, How to Fix it?
If your iPhone shuts down intermittently, while you are using it, you should follow these steps to fix your problem:
1. Back up your data
At the outset, back up all the data on your phone so you do not lose any important information while you try to fix your phone. You can backup data on your iPhone either on iCloud or on iTunes.
To backup on iCloud
- Connect your phone to Wifi. Go to Settings and then iCloud.
- Tap on Backup and turn on iCloud Backup. Select Backup Now.
- Go to Settings, then iCloud. Tap on Storage and then on Manage Storage. Select your device and then you should be able to view the time and size of your backup. You can also check this passage to know more - how to sync iOS with iCloud.
To backup on iTunes
- Open iTunes on your computer and connect your iPhone to it.
- Follow the onscreen steps to login and proceed.
- When your device appears on iTunes, select it.
- Choose Back Up Now.
After the backup process completes, you can check to make sure that the process finished as desired. Go to iTunes Preferences and select Devices and you should be able to see the time of your backup.
Also, aside from iCloud and iTunes, you can also rely on this Coolmuster iOS Assistant (Windows/Mac) software to transfer files from iPhone to computer as a backup in case of sudden data losses.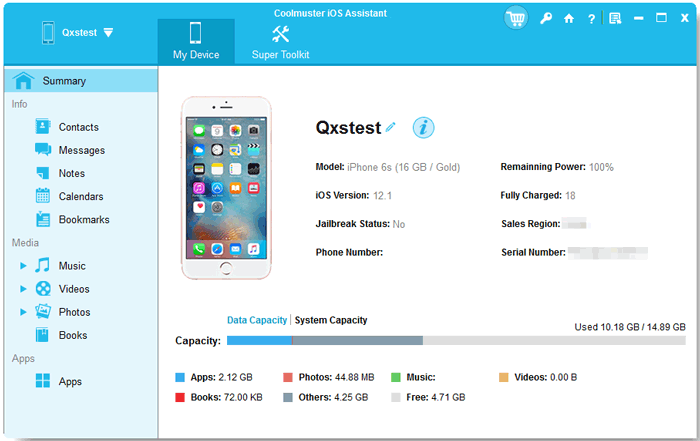 2. Update your device software
Since iOS is the operating system for your iPhone, updating it can give you a number of bug fixes and troubleshoot any that may be causing your device to restart unexpectedly.
Related: Things to Do before Upgrading iOS
3. Check Your Apps
It is possible that an app could be causing your device to restart intermittently. If there is app that you installed right before your iPhone began behaving erratically, uninstalling it may resolve the issue. To look for any problematic apps, go to Setting->Privacy and open Diagnostics and Usage. If you find an app listed repeatedly, uninstalling it may help your cause.
If your iPhone won't start at all, the above steps are futile. You can resort to the following to solve your problem:
3.1 Remove SIM
A problem with your phone's connection to the wireless carrier may cause it to restart in a loop. Since your SIM card establishes a connection between your iPhone and the wireless carrier, removing and then replacing it may resolve the issue.
3.2 Hard Reset
Hold the Power and Home buttons simultaneously, for 20 seconds. Your screen should go blank and then the Apple logo should reappear. You can also get your phone checked at an Apple store for any hardware malfunction that could be causing the error.
Bonus: Whether to Choose Hard Reset or Soft Reset
Taking care of your data will ensure that you do not have to deal with any data loss - normally, even if your iPhone is restarting, it is just a minor issue so you do not have to worry about it a lot. Doing the above steps is likely to take care of the problem, but if you have your phone under warranty, don't fret to take it to the Apple store.