We all keep our photos on iPhones. At times, you may hide some of your most cherished photos for privacy purposes or unintentionally. However, you cannot see the hidden photos on your iPhone. Well, what will you do if you want to view the hidden photos? Refrain from worries. This article will guide you through how to find hidden photos on iPhones using various techniques. Let us delve deep into it!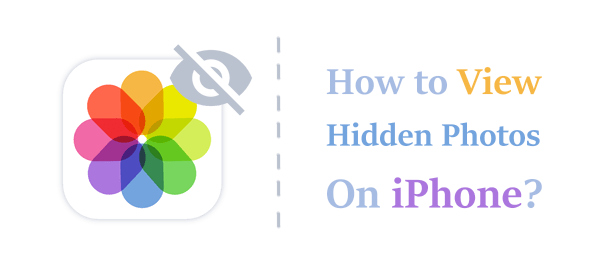 Method 1. How to View Hidden Photos on iPhone with iOS Assistant
The best method of viewing hidden iPhone photos is to use a professional tool such as the Coolmuster iOS Assistant application to view iPhone hidden photos on a computer. With this app, you can view all your iPhone's hidden photos and transfer them between devices in a convenient way. It is a peerless data manager that allows users to manage their iPhone's data incredibly.
Interestingly, the Coolmuster iOS Assistant application supports various data types, including photos, music, videos, documents, and more. Its user interface is incredibly easy to use, making it the best data manager for expert and beginner computer users. Many people have used the Coolmuster iOS Assistant application to manage their iPhone's data and have shown unmatched satisfaction by reviewing the application awesomely.
Below are some of the Coolmuster iOS Assistant application's key feature that makes it stand out from its peers:
Let users back up, view, and restore all their iPhone's data.
Allow users to transfer their data between devices with ease.
Enable users to manage their iOS data using a computer.
Users can perform data manipulation tasks such as adding, editing, and deleting data from a Mac or a PC.
Beneath is a guide on how to find hidden pictures on iPhone via the Coolmuster iOS Assistant application:
01Download, install, and then open the Coolmuster iOS Assistant app on a computer. Connect the phone to a computer with a USB cord, unlock the iPhone, and click the Trust button that is located below Trust This Computer.
02Another interface showing all the available data types on the left corner of the computer's screen will be launched once you establish a working connection.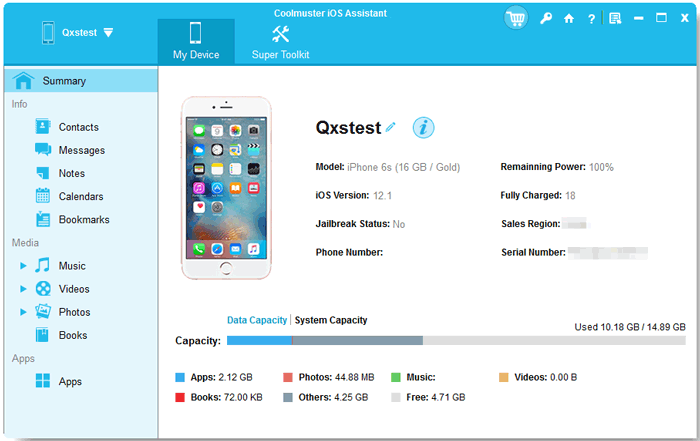 03Click the Photos folder, and all the iPhone's photos, including the hidden ones, will be shown on the app's interface. Scroll through the displayed photos, locate the hidden photos, and get back the treasure trove of your precious memories.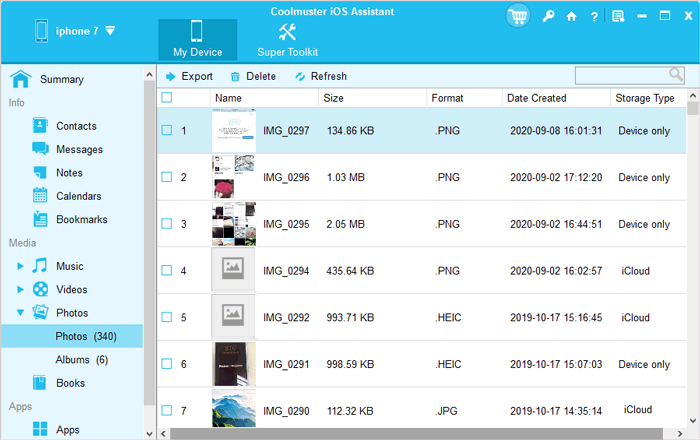 Also read:
How to Easily Hide Private Photos on Your iPhone?
How to Fix Photos Missing from iCloud? [8 Essential Solutions]
Method 2. How to Unhide Hidden Photos on iPhone via the Photos App
The Photos application is a program that organizes iPhone photos and is available on all iOS devices. Beneath is how to look at hidden photos on an iPhone via the Photos application:
Step 1. Launch your iPhone's Photos application.
Step 2. Tap the Albums option on the bottom of your iPhone's screen.
Step 3. Scroll down the Photo application's interface and click the Hidden album option.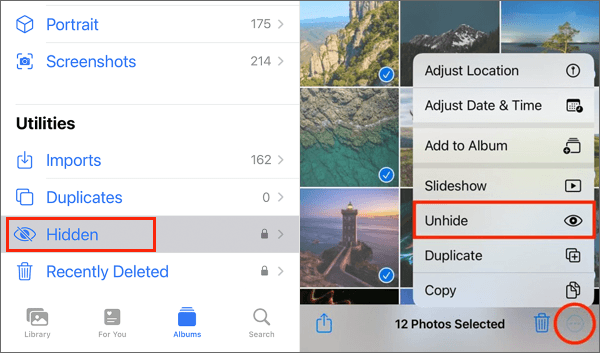 Step 4. Now, you can see all the photos in the Hidden album section. Select your photos of interest and tap the Unhide option.
Method 3. How to Access Hidden Photos on iPhone via the Settings App
You can also find your hidden iPhone photos via the Settings application. Below are a few simple steps for locating hidden photos on iPhone via the settings feature:
Step 1. Launch your iPhone's Settings application, scroll through the available options, and tap the Photos button.
Step 2. Switch the Show Hidden Album toggle button to On mode.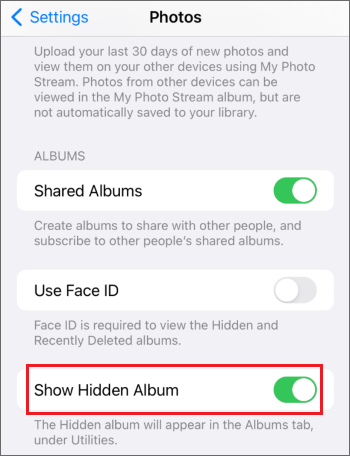 Step 3. Close the Settings feature, navigate back to the iPhone's home screen, and launch the Photos application.
Step 4. Choose the Album option, scroll down the iPhone's screen, select the Hidden photos option, and view the hidden photos.
Read more:
How to Find Hidden Or Deleted Messages on iPhone Smoothly? [Full Guide]
[Complete Guide] Photos Disappeared from iPhone? Here Are 9 Solutions
Method 4. How to See Hidden Photos on iPhone via the Photos App on Mac
You can use the Photos application on Mac to unhide your photos. This is how to see the photos hidden on the Photos application of Mac:
Step 1. Launch the Photos application on your Mac.
Step 2. Choose View > Show Hidden Photo Album. You'll then be able to view your hidden photos.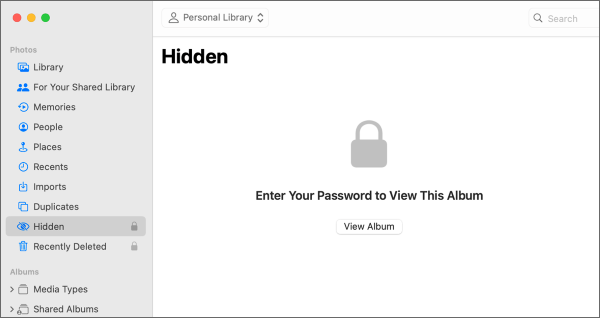 Conclusion
iPhones are popularly used in taking photos due to their ability to capture high-resolution photos. When you take a photo using an iPhone, the photo is saved on the iPhone's Photos application in the Gallery section that is found under the Album.
Consequently, anyone who can access the iPhone and bypass the screen lock can access your precious photos, and that may breach your privacy. Instead of deleting private photos, many iPhone users prefer hiding them so that no one can access them.
If you have hidden your iPhone photos and do not know how to view them, you can use the methods discussed in this article to unhide them. Among the methods discussed in this article, we advise you to use the Coolmuster iOS Assistant application to make the process easy and fun. The Coolmuster iOS Assistant application is a powerful iOS data manager that allows iOS users to view various iOS hidden data, such as photos, messages, contacts, and more conveniently.
Related Articles:
[Easy Tutorial] How to Upload Photos from iPhoto to Facebook?
[Proven] How to Save iPhone Messages to HTML for Printing or Reading?
Multiple Ways to Take Time Lapse Videos with iPhone
Apple Event March 2015: Apple Watch & Retina Macbook Air
[Updated] How to Sync Google Calendar with iPhone
Download iOS 11 Beta on iPhone/iPad without Developer Account