iTunes, a media player developed by Apple, is the perfect companion to any iOS device. Not only does it sync and backup your library of images, videos, documents and more, but you can also access an array of Internet radio broadcasters. It makes managing all your digital content easier and more convenient.
Not only can users transfer data, but they may also update their iOS versions and restore any previous ones. Despite the usefulness of iTunes, users may experience Apple music error 9039.
If you're one of the unlucky ones to receive the "an unknown error occurred 9039" message while trying to connect an iPhone to iTunes via Mac or Windows or when attempting to add music to their library, don't panic. You can fix this issue with just a few simple steps! So let's get started.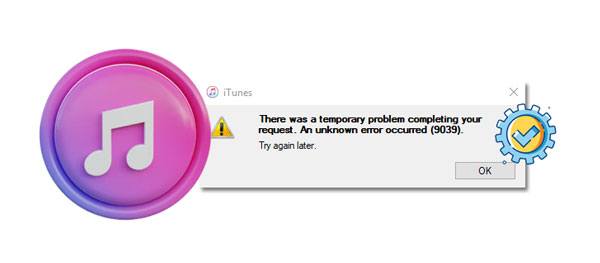 Part 1: What's Apple Music Error 9039?
Error 9039 usually appears when users try adding songs to their music library. The infamous error code may also arise when connecting your AirPlay device with iTunes. This code is typically a sign that something has gone wrong while connecting.
The root cause of this iTunes error is often difficult to determine, but the most frequent possibilities are corrupted, outdated software versions, application files, and incorrectly set system settings.
Part 2: What to Do When you Encounter iTunes Error Code 9039?
When you encounter a 9039 error in iTunes, there are a few steps you can take to try and resolve the issue. Here is what you can do to resolve the problem:
Fix 1. Restart the Computer
Restarting your computer should be the first step when resolving any issues with applications on your system.
It can sound obvious, but restarting your computer is worth trying if you haven't already. Believe it or not, this simple measure has the potential to resolve many issues, and iTunes errors are one of them.
Your computer may have experienced a minor bug or technical hiccup that caused applications to fail. Fortunately, rebooting your device will easily reinstate the operating system and eliminate any bugs or glitches in its path. With one simple restart, you'll be back on track. Here are the steps to reboot a Windows PC:
Step 1: Press the "Windows" button on the keyboard of your computer. Doing this will open the "Start" menu.
Step 2: Now hit the "Power" option to open the menu for "Power Options".
Step 3: Lastly, reboot your computer by clicking on the "Restart" button.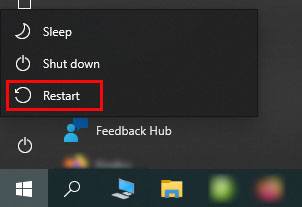 After restarting your computer, attempt to relaunch the iTunes app and observe if error code 9039 is solved.
Fix 2. Sign Out and In iTunes Account
A reliable remedy for iTunes error 9039 is to log out and into your iTunes account. Doing so may resolve this common issue, allowing you to enjoy all the features on iTunes uninterruptedly.
There might be a glitch in your iTunes account that's causing error 9093 when adding your music or connecting the devices to your iTunes. This happens often, and a simple log out and into your account may be just the secret to fixing this iTunes error.
Follow these simple steps to sign out and into an iTunes account:
Step 1: Start by navigating to the "Desktop" of your computer and launching the iTunes app. Once inside, select the "Accounts" tab from its menu bar on top of your screen.
Step 2: Next, hit "Sign Out". Then navigate back to the "Accounts" section and click "Sign In" to log into your account again.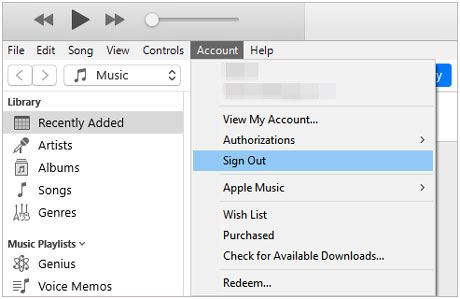 Once you've signed in, try rebooting iTunes. Then add a couple of tunes to your library or connect a device with iTunes and check if the error is solved. If the issue persists, try out the next methods.
See more: Top 10 iTunes Alternatives for Windows You Can't Miss
Fix 3. Connect Your Device Directly to the Computer
Occasionally, the connection between your device and computer is too weak for proper performance. This might disrupt the operations of the iTunes store and could lead to 9039 error messages. To ensure optimal performance, it is best to directly connect your device to the computer. This ensures a stable connection, and launching the store again may prove fruitful.
Fix 4. Update iTunes
Don't overlook this tried-and-true solution. If you want to avoid other issues and codes, make sure your iTunes store is updated. If it's not the latest version, take a few moments to upgrade. It'll be worth it in the long run.
An incompatibility between this older version of the store and some parts of the process may cause the error code to be displayed. Usually, the company releases an update to resolve bugs and errors. However, it's always possible that a bug remains unresolved and continues to cause issues. By updating your store regularly, you will be able to take care of the bugs.
To resolve the problem with iTunes, you should look into updating its version. Installing an updated edition of iTunes on your device might be able to remedy any issues that are leading to error code 9039.
Here is how to check for updates on iTunes:
Step 1: To start, simply select the "Help" tab from the main menu bar of your iTunes application. Then hit the "Check for Updates" option.
Step 2: Then iTunes can detect if an updated version is available for your computer. If there is, simply follow the on-screen steps to install and begin using the newest version of iTunes.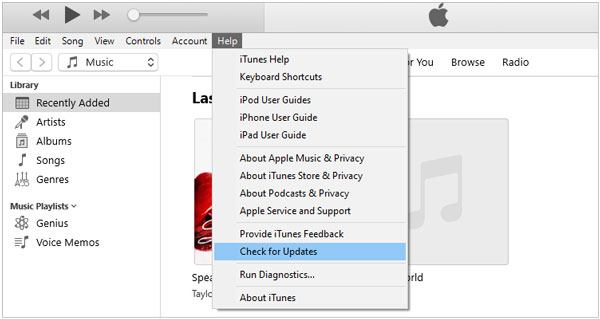 Reboot your computer and attempt the same activity on iTunes that caused the error code 9039 to appear. See if the problem persists or is resolved.
You might need: How Long Does It Take to Restore an iPhone on iTunes/iCloud? (Authoritative)
Fix 5. Disable Active Security Software
Protecting your device from malicious threats is integral, and effective security software can be the difference between safeguarded data and a corrupted machine. It scans each email, download, corrupt file, and application, just to name a few. To ensure nothing harmful breaches your system walls. With reliable security software in place on all your devices, you can rest assured that online activity won't leave an unwelcome aftermath.
Unfortunately, the security software can sometimes not work as intended. In some cases, it could even be the source of error 9039 on Mac. To be sure it's not the cause, disable it by doing this:
Step 1: Close the iTunes store and open the security program you've installed on your computer.
Step 2: Disable it by unchecking the option for "Block all incoming connections".
Step 3: Go back to the iTunes store and open the app.
Fix 6. Remove and Restore Music Files in iTunes Library
In some cases, the immense amount of music stored in your Apple Music Library can lead to a variety of problems. To resolve this unknown error you may be experiencing, try removing and restoring all your music files back into the library. Here's how:
Step 1: Go to "Apple Music Library" on your computer. Ensure you backup from iTunes before proceeding.
Step 2: Try removing unwanted songs that aren't purchased from your playlist.
Step 3: After that, restart the iTunes application on the computer, restart the iPhone, and see if the error 9039 is fixed.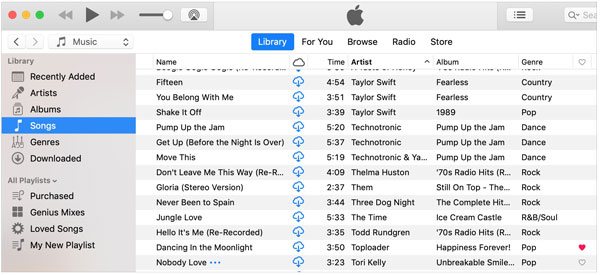 Read also: What if iTunes driver isn't installing on a Windows PC? In this case, how can you fix it?
Fix 7. Update iCloud Music Library
If you're an Apple Music aficionado, this is your ticket. Multiple users have shared that updating their iCloud Music Library restored normal functionality. So you can try it out as well. Follow these easy steps to update iCloud Music Library:
Step 1: Launch the iTunes application on the computer from the desktop.
Step 2: Once done, hit the "File" tab.
Step 3: Finally, press "Library" and choose "Update iCloud Music Library".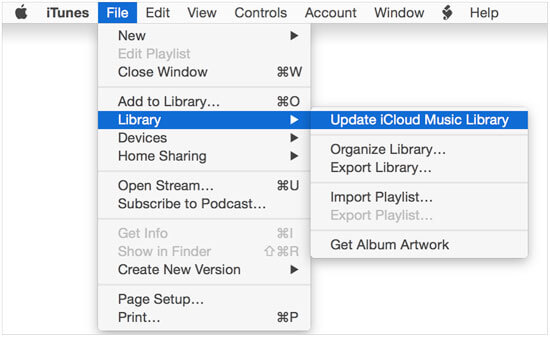 Once the process is complete, restart your device and check to see if iTunes 9039 error code has been resolved by uploading a track or connecting an AirPlay device.
Fix 8. Reset the Cache from Computer
If none of the above methods works, you can try resetting the cache on your computer. This will help clear any faulty cached data and remove any corrupt files that may be causing iTunes 9039 error code. To do so:
Step 1: Hit on the "Edit" menu and choose "Preferences". When there, hit the "Advanced" option.
Step 2: Choose "Reset iTunes Store Cache" and press "OK".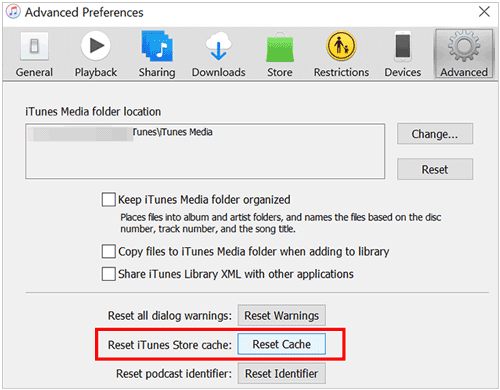 Fix 9. Reinstall iTunes
If the methods above fail to resolve your issue, you may want to consider reinstalling iTunes on your computer as a potential solution. It could be the breakthrough your system needs.
It is likely that some of your iTunes is damaged, and the upgrades could not address the issue. Just reinstall the app on the computer to ensure you have new software. Here's what to do:
Step 1: Access the Control Panel on your computer.
Step 2: Click "Uninstall a program" in the Control Panel under the "Programs" option.
Step 3: Right-click on the iTunes app and choose "Uninstall" to remove it from the computer.
Step 4: After uninstalling iTunes, head to Apple's official site and download iTunes latest version.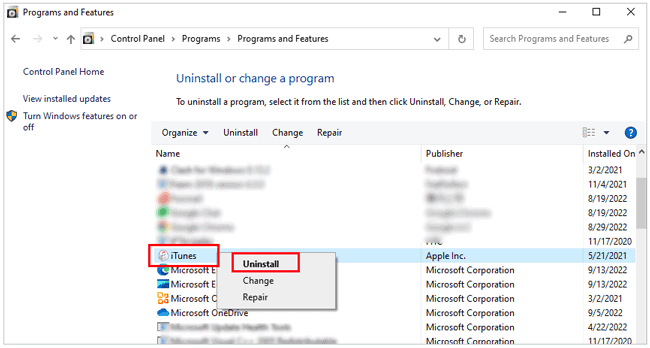 Fix 10. Authorize the Computer
If you have not authorized the computer that you are currently using, then making changes to library settings or adding new files may not be possible. To solve this problem, you can give your computer permission to access the iTunes library. Here is how:
Step 1: Choose the "Account" tab near the navigation button of the iTunes main window.
Step 2: Find the "Authorizations" under the Account section.
Step 3: Hit on the "Authorize This Computer" option to start the installation.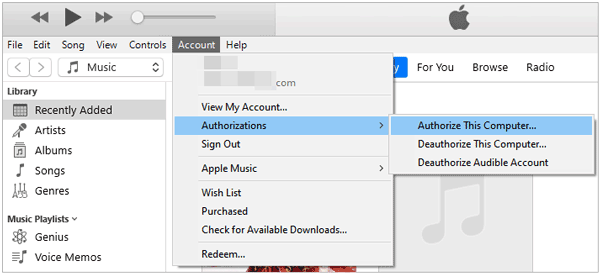 Further reading: iCloud vs. iTunes Backup: What's the Difference between Them?
Part 3: Fast Fix Error 9039 for Apple Music on iTunes Using iTunes Repair
If the error 9039 occurs while you attempt to add your music files to Apple Music Library, you can ask a professional tool for help. It is iTunes Repair. This software is good at fixing different errors on iTunes. Besides the unknown error 9039, it can also work out iTunes error 4005, error 13010, error 14, and so on. By the way, if there is a connection issue on your iTunes, you can use this program to fix it without effort.
Highlights of this repair software:
* Fix your iTunes when an unknown error 9039 occurs.
* Effectively repair a wide range of iTunes errors, like error 0xe8000015, 13014, etc.
* Make your iTunes connect to your devices smoothly.
* Fast figure out the synchronization error 54 for iOS devices.
Download and install the iTunes Repair software.

Free Download for PC
Fix error 9039 without hassle:
01Launch the software on your PC, and choose the "System Repair" option.
02Click the "Repair iTunes Errors" tab to check your iTunes components.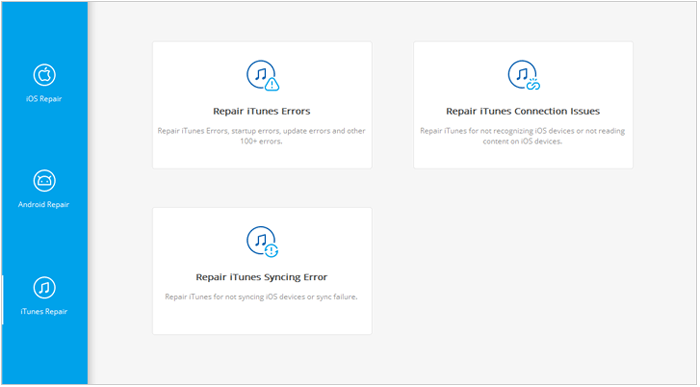 03Then tap the "Repair" icon to repair your iTunes error. Once done, check your iTunes. If it works, click "OK" and close the software. If the error still occurs, please tap the "Advanced Repair" option to fix the iTunes program.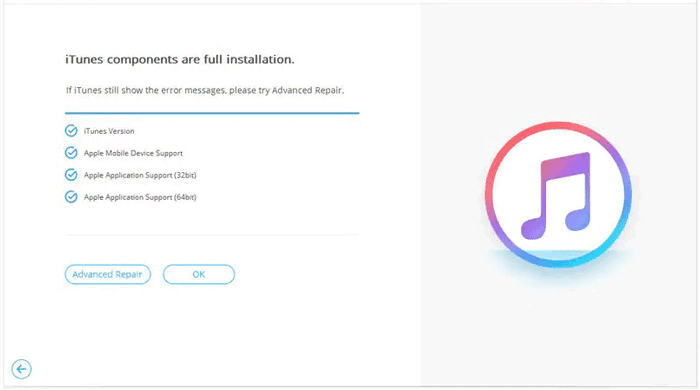 Conclusion
The iTunes 9039 error code is one of the most frequent issues experienced by Apple users. Thankfully, there are several available solutions for this issue, and you can easily fix it with any of them.
To solve the iTunes error fast, using iTunes Repair is an efficient option. You can fix your iTunes program with simple clicks in a short time. Also, this tool can help you solve many issues on iTunes at once. Why not try it?
Related Articles:
Does iTunes Backup Photos from iPhone? (Proven Tips)
How to Fix iPhone/iTunes Error 56 Quickly? [Ultra Tutorial]
4 Ways on How to Delete Music from iPhone But Not iTunes
How to Back Up iPod without iTunes Swiftly? (All iPod Series Supported)
Best iTunes Alternative for iPhone to Manage Data Handily and Safely
How Can I Transfer Files from PC to iPhone without iTunes? [5 Ways]