iTunes was released in the year 2001 by Apple. iTunes was originally designed as a simple multimedia player so that people could organize their music libraries with easy navigation features. However, sometimes, people would encounter errors on iTunes, such as error 11 iTunes.
It has to do with the system files, registry files or the documents of iTunes. What are the causes of these errors, and the possible solutions to the errors? Continue reading through this article to learn more.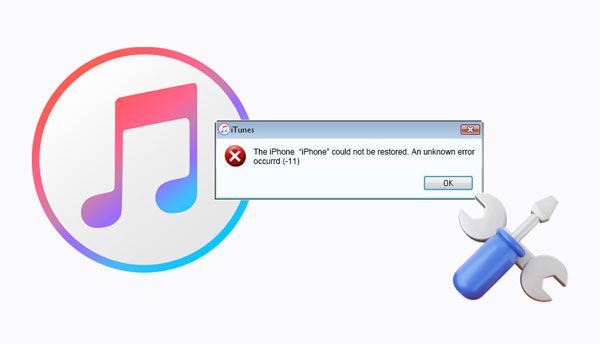 Part 1: What iTunes Error 11 Is and Its Possible Causes
Have you ever encountered iTunes error 11 and wondered what the problem is? It is a well-known error that iPhone users encounter while using iTunes to update their iOS devices.
Some of the possible causes of this error include the following:
1. Incorrectly Connected USB Cables
Poorly connected USB cables can be the cause of error 11 on iTunes. You may accidentally connect the wrong USB cable to your computer. This will result in an error and not allow the computer to recognize the devices.
2. Outdated Software
The "an unknown error occurred iTunes 11" error may be caused by outdated software. Given that you have the latest version of iTunes on your computer and yet it still does not recognize your iOS devices, then there might be a problem with the software.
3. System Glitch
A system glitch can cause iTunes error 11 as well. When your computer is infected with malware, it will cause errors in iTunes by making the program unstable. This may also lead to system file corruption and make the device unresponsive.
4. Insufficient Memory
iTunes requires enough memory to run effectively. The "iOS 11 error" can be caused by low or insufficient memory.
5. Compatibility Issues
Lack of compatibility can be the cause of iTunes error 11. It is a known issue that occurs when you plug your iOS device and iTunes that are incompatible with one another.
Learn more: When your iPhone fails to sync data with iTunes, how can you cope with it? Check these tricks, and you will need them.
Part 2: How to Fix Error iTunes 11 Manually
iTunes Error 11 is not a complicated problem. There are well-known solutions that you can use to eradicate this error. There are no complicated steps or procedures that you need to follow. Just follow these simple methods, and your issue will be solved:
Method 1: Update iTunes
Maybe you are experiencing the downgrading iTunes 12 to 11 error on Windows. If iTunes is not updated to the latest version, then the software might have a problem. The "iTunes has stopped working", or "error 11" can be solved by updating iTunes. You may check for updates in the updates section of iTunes. Follow the below steps to learn how to update your iTunes application on Mac and Windows.
Using Windows Computer to Update iTunes
You only need to follow two steps to update your iTunes application. The steps involved include:
Step 1: Start the process by launching your iTunes application on your Windows computer. On the top navigation, click the menu item named "Help". After that, click the button named "Check for Updates".
Step 2: A pop-up will appear on your computer screen. Click the option named "Download iTunes". Install the program on your computer after downloading iTunes latest version.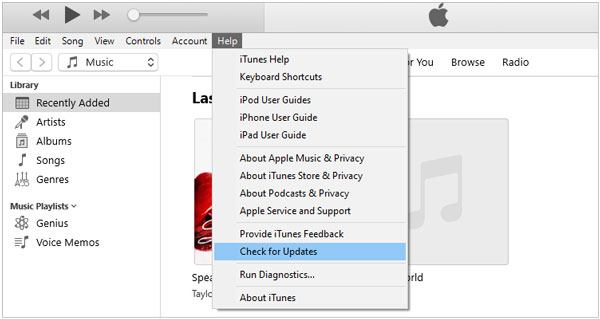 Using Mac Computer to Update iTunes
The user interface of the Mac devices is quite small compared to its interface on the Windows computer. Follow the steps described below to update your iTunes on your Mac computer.
Step 1: Launch your iTunes application on your Mac computer and click the iTunes menu.
Step 2: Choose the "Check for Updates" option from the menu items. You will see a pop-up for downloading a newer version.
See also: Want an excellent alternative to iTunes for your iPhone? Then don't miss this review.
Method 2: Ensure You Have Sufficient Memory on Your iPhone
One of the main causes of "an unknown error occurred iTunes 11" is the lack of enough space. As such, you should check your iOS device's internal storage to ensure that it has several Gigabytes. Clear some space by deleting unimportant data from your iPhone if it needs more space. Follow the below steps to check if your iPhone has enough free space.
Step 1: Launch the "Settings" application and navigate to the "General" option.
Step 2: Select an option named "iPad Storage" or "iPhone Storage". You can now see the available space on your device.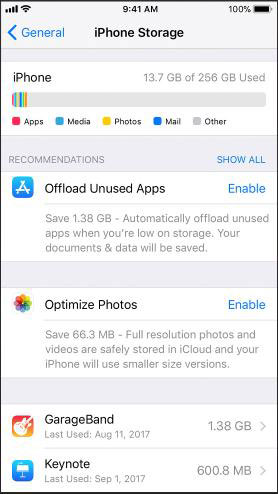 If there is no space remaining on your computer, there is a possibility that the iOS 11 error is occurring due to the lack of enough space. Free up some space on your iPhone by uninstalling some applications or deleting some data from your iPhone.
Method 3: Ensure Your USB Cable Is Working Correctly
If your iOS devices are not correctly connected to your computer via a USB cable, iTunes errors will appear on your computer. Ensure the USB cable is working correctly and you don't have to use it with another device. Also, Plugging in the wrong cable can cause the "iTunes has stopped working" error.
Try using different ports to see if the problem persists. You can also use a different USB cable to check if there will be a difference. If everything stays the same after carrying out all these steps, try other solutions discussed in this article.
Method 4: Force Restart Your iOS device
You may force restart the iPhone to solve iTunes error 11. To force restart your iOS device, follow the below steps:
For iPhone 8 and Later Versions
Step 1: Press and release the "Volume Up" button quickly.
Step 2: Press and release the "Volume Down" button quickly.
Step 3: Hold while pressing the "Side" button until an Apple's logo appears.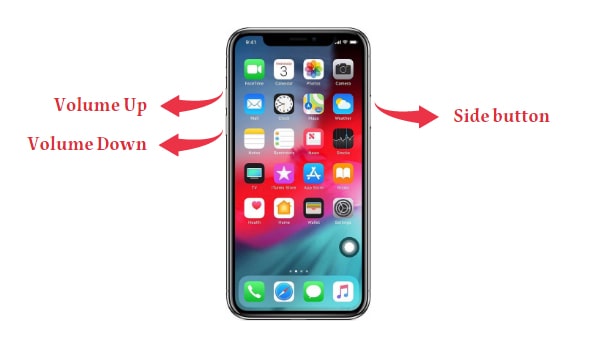 For iPhone 7 Plus, iPod Touch and iPhone 7
Step 1: Hold while simultaneously pressing the "Side" and "Volume Down" buttons for 10 seconds.
Step 2: Wait until the Apple's logo to appear.
For iPhone 6 and Earlier
Step 1: Hold while pressing the "Wake/Sleep" button on the handset's right side.
Step 2: Press while holding the "Home" button while still holding the "Wake/Sleep" button.
Step 3: Remain to hold the buttons until an Apple's logo appears.
You might need: Planning to restore your iTunes backup to your Android phone? Follow this full guide.
Method 5: Disable Any Third-party Security Application
Lack of internet connection can cause error 11. As such, it is prudent to ensure that there is no third-party software that is blocking access to the internet. At times, incompatibilities may arise from anti-virus applications that prevent the right communication with Apple servers. Turn off the anti-virus to see if the problem will disappear. If the problem persists, follow the below steps:
Step 1: Restart your computer and router and reconnect them to the wireless network.
Step 2: Use a guided internet connection (ethernet cable) if the problem persists.
Step 3: This should help, and you can try connecting to another internet if the problem persists.
Method 6: Use Another Computer
If all the above mentioned methods do not work for you, try using this method. Use your friends or family's computer to check if the problem persists. Try this method because you may need help understanding the source of the iTunes error.
Guess you need:
Efficiently Fix the iTunes Not Recognizing iPhone Problem
How to Fix iTunes/iPhone Stuck on Preparing iPhone for Restore?
Part 3: How to Fix Error 11 on iTunes While Restoring via iTunes Repair (Fast)
The method discussed above should work for you. At times, you may still experience the same iTunes error, whatever you try. In such a scenario, it is prudent to seek a professional and convenient way to fix error 11 on iTunes. A reliable and easy way to fix any iTunes error is to use iTunes Repair software.
iTunes Repair is a powerful iTunes recovery solution that can assist you in getting rid of the iTunes error 11. This program is extremely easy to use and will help you fix different iTunes problems, like iTunes crashing, iTunes error 9, etc. It supports all versions of iTunes and can fix over 100 problems related to iTunes. The tool is accurate and simple to use, with an intuitive interface that provides help when you need it the most.
Key features of this repair program:
* Fix various 100 iTunes issues and errors.
* No data is lost when fixing your iTunes.
* Easy to use as it requires only one click to fix your device.
* Work well with all iTunes versions.
Download this software to fix the iOS 11 error.

Free Download for PC
Here's how to fix error 11 on iTunes via this repair software:
01Please install the application after you download it. Open it and click "Repair iTunes Errors" among the available options.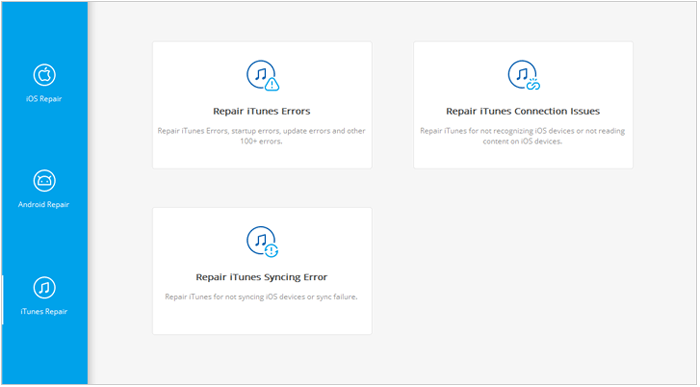 02Then the software will check your iTunes components automatically.
03Once done, click the "Repair" icon to start fixing the error 11 on iTunes. Besides, you can tap "Advanced Repair" to continue repairing the error. Once done, check iTunes.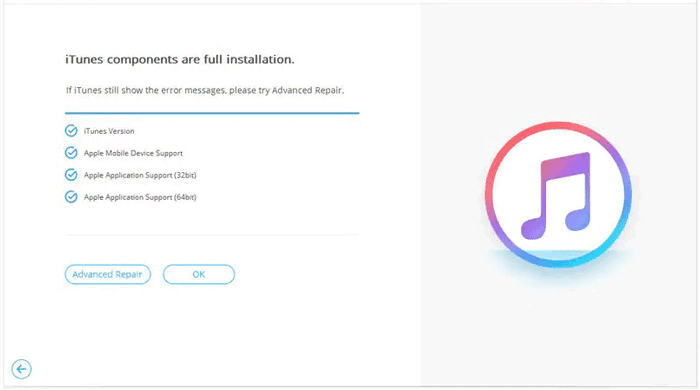 Conclusion
As you have seen from the above article, there are different ways of fixing iTunes error 11. Use any of these methods to resolve the error. If you encounter challenges while using most of the methods discussed in this article, you can use iTunes Repair. This software works effectively and is easy to use. All you will need to do is follow the simple step-by-step guide of using iTunes Repair discussed in this article.
Related Articles:
How to Fix 'iTunes Driver Not Installed' on Windows 10 with Foolproof Methods
How to Transfer PDF to iPhone without iTunes in 7 Unexpected Ways?
[Solved] How to Unlock Disabled iPad without iTunes | Latest Guide
How to Put Music on iPod without iTunes? (4 Effective Ways)
How to Restore Contacts from iTunes Backup to iPhone Easily? (Top 3 Ways)