Many have been through the problem of a new iOS update not working. Experiencing glitches and bugs rather than enjoying its new features can be disheartening. Due to all this, you'll only be left with the option of downgrading your previous iOS version. But, you can't do that without a good and reliable iOS downgrade tool. This guide will equip you with a great iOS downgrade tool you can use. So, keep reading to know more.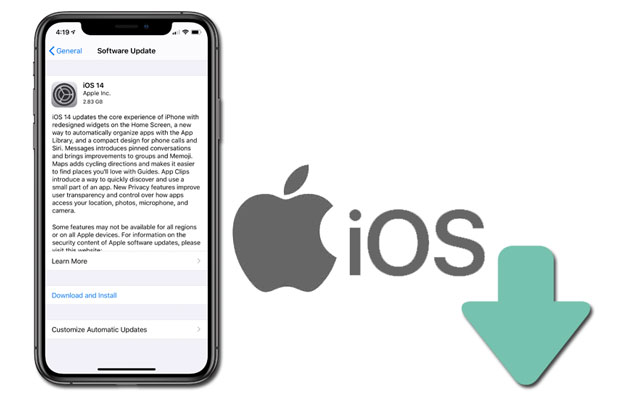 Part 1: Hot FAQs of iOS Downgrade You Can't Miss
Part 2: What's the Best iOS Downgrade Tool?
Part 1: Hot FAQs of iOS Downgrade You Can't Miss
1. Is iOS downgrade possible?
Yes. You can use various applications to achieve that. The tools can help you install the older version of iOS on your gadget easily.
2. What to do before downgrading iOS?
Back up your iOS data. You can use iCloud or iTunes to back up data on your gadget.
Check IPSW firmware authentication status. Navigate to this site https://ipsw.me/ then follow instructions to choose if your IPSW is certified.
3. How to turn off automatic updates on iPhone/iPad?
If you do not wish your iPhone or iPad to upgrade automatically, it's ideal you turn off the automatic update. To do that, navigate to Settings > General > Software Update, and then tap Automatically Update.
4. Can I use Jailbreak to Degrade iPhone software?
It's not recommended to use jailbreak since it can lead to an unstable operating system, security issues, and a short battery life.
Further reading:
Want to undo an update on your iPhone? Here are related tips you can learn.
Why can't you see your iPhone on iTunes? Maybe iTunes fails to recognize your device, but don't worry. You can follow this guide to fix it.
Part 2: What's the Best iOS Downgrade Tool?
There are numerous tools you can use to downgrade iOS. Below are the best iOS downgrade apps you may use:
1. iOS System Recovery
This iOS System Recovery software comes in handy as an iOS downgrading tool. It's a convenient iOS downgrade tool that can ease the burden of downgrading just with a few clicks. Also, it can fix your iPhone from DFU mode. What's more, it widely supports most iOS devices, such as iPhone 13 Pro/13/12 Pro/12/11 Pro/XS/XR/X, etc.
Download this degrade iPhone software.
Below are the steps on how to use the software to downgrade iOS:
Step 1: Install the Software
Install the software on your computer, launch it, and choose the iOS System Recovery on the interface.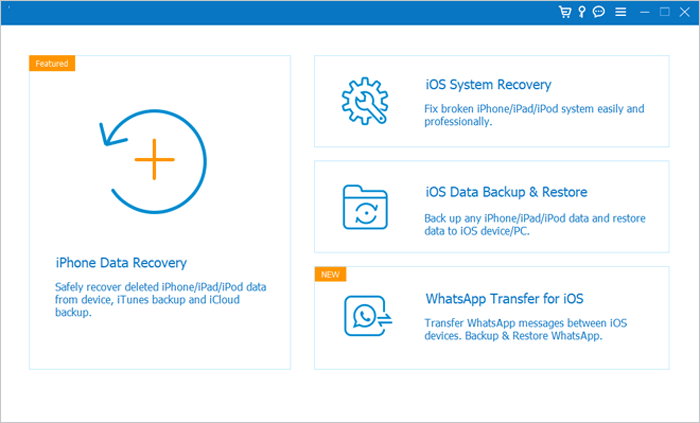 Step 2: Confirm Device Information
Connect your iPhone or iPad to the computer via a USB cable, tap Trust on the iOS device, and click the Start icon. Then confirm your device information and choose a fix mode.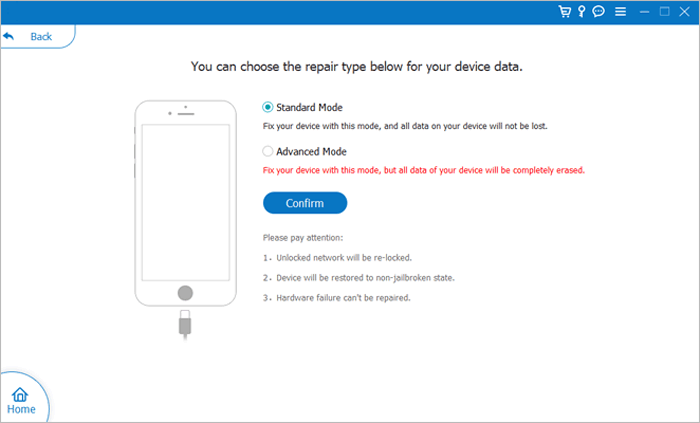 Step 3: Tap the Repair icon to download the firmware package and begin to fix the iOS on your Apple device.
Pros:
Easy to use.
Higher success rate.
There's no data loss if you choose the Standard Mode.
Extensive compatibility.
Cons:
See also:
If you want to back up the iPhone data without a computer, please don't miss this guide.
Besides, this tutorial can help you fake your location of the Skout app without a hitch.
2. TaigOne Downgrader
This is also a great iOS downgrade tool. However, it can be used on an iOS that's already jailbroken. This tool will downgrade your iOS effectively, but since it's not an official solution, some of the unwanted damages are likely to occur. The program is free and is compatible with old iPhone models.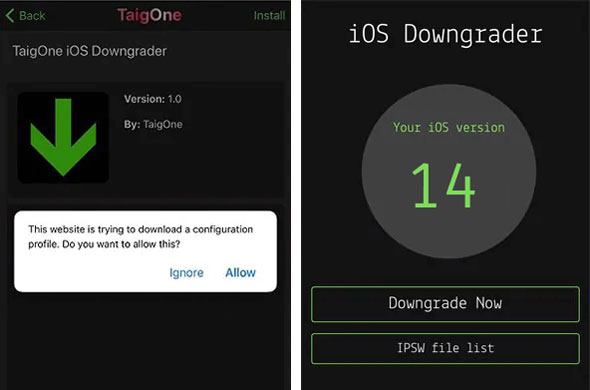 Pros:
It's available for free.
The firmware downloads automatically.
Cons:
All of your existing data may be erased.
It's only effective with jailbroken iOS devices.
It does not work with the latest updated firmware.
3. Futurerestore
This is another great software that can downgrade the firmware or IPSW on an iOS device. It's easy to use and effective too.

Pros:
Supports different downgrade techniques.
It enables the restoration of non-matching firmware with the custom SEP and baseband.
Cons:
It isn't easily available.
It does not support the latest iOS version.
Maybe you like:
Are you anxious that your important notes have disappeared from your iPhone? Don't worry. You can find them back with these solutions.
Click this link to get practical fixes on contacts not showing up on an iPhone.
4. AnyFix
You may use Any fix if you want your downgrading process to be easier. This tool is specifically designed to amend any problem related to iOS. The good thing is that you won't encounter any data loss.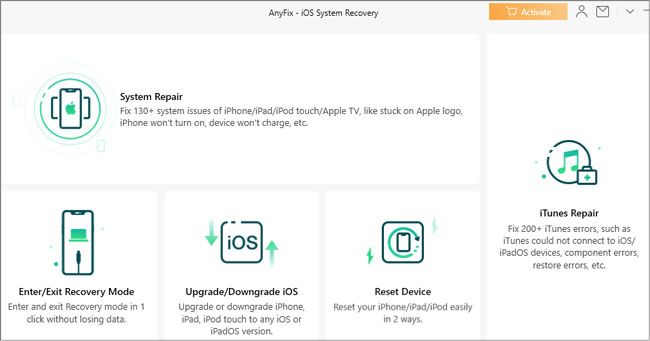 Pros:
Assists users to repair common problems in all Apple Devices.
It fixes many bugs in iTunes.
Cons:
It's not free.
It takes a long time to scan devices.
5. iMyFone Fixppo
If you want a fantastic iOS downgrade tool, then iMyFone Fixppo is your choice. The best thing about this tool is that you can use it on any iOS gadget. Besides downgrading, it's also a repair program.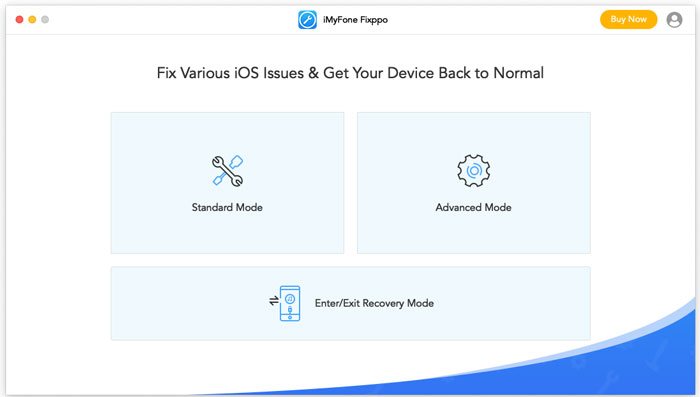 Pros:
Allows users to exit or enter the recovery mode with just one click.
It fixes various problems on iOS devices easily.
It's very simple to use.
Ensure a higher success rate.
Cons:
It only has premium versions.
There are chances of data getting lost.
Read more: Is it inconvenient to back up your iOS device with iTunes? If yes, you can select an excellent iTunes alternative for Mac from this post.
6. iAnyGo
This is also a good iOS downgrade tool that can assist you in downgrading any of your iOS gadgets without necessarily using jailbreak or iTunes. It offers users a great way to save their existing data. But, there's an issue with this software: it does not support the latest iOS versions.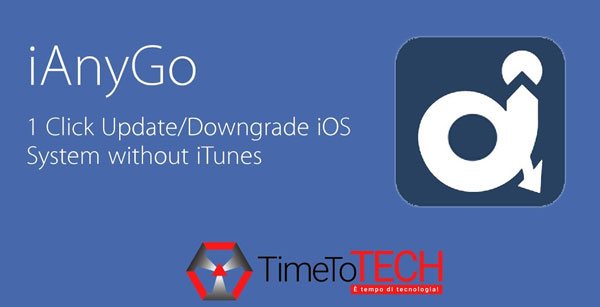 Pros:
It has a friendly user interface; therefore; therefore, it's easy to function.
You may select from any firmware versions.
Cons:
It does not support iOS 15.
It may cause data loss on the iPhone.
7. TinyUmbrella
This is one of the best iOS download software that Firmware Umbrella Company develops. It's a Windows-based software made to downgrade iOS for free. However, this tool is somehow complicated when used by regular users.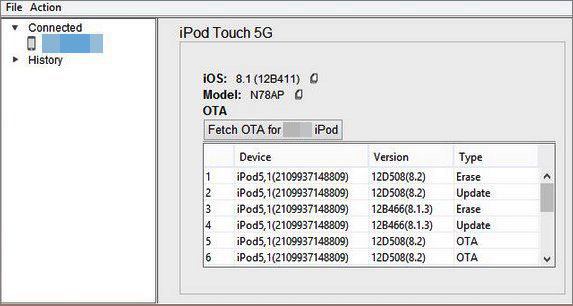 Pros:
It's free to degrade iOS.
The tool can boot iOS gadgets into Recovery Mode.
It can fix the iOS device that's stuck in the Recovery Mode.
Cons:
It's not easy to use.
It's only made for Windows.
The success rate is low.
Your data can be erased.
Check it out: Switched your old iPhone to a new OnePlus? Congrats! If you want to copy your iPhone data to the OnePlus phone without a hitch, you can browse this guide.
8. Dr.Fone – System Repair
This is also one of the ideal iOS downgrade tools you may use. It's a famous software provider that has an IPSW downgrade tool that can downgrade iOS 15 to the previous version in a few clicks.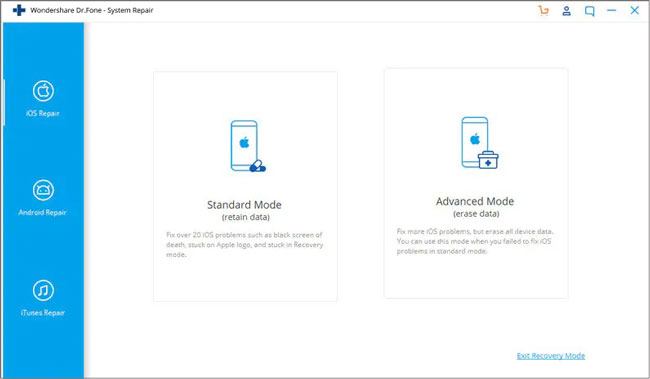 Pros:
It's easier and faster.
The success rate is high.
Cons:
You can only get its trial version.
Conclusion
These are the best iOS downgrade tool you may use on your iOS gadget. Most of these tools are very easy to use. But, you should ensure you've taken a good backup before taking any steps. If anything happens during the procedure, your data will get lost.
What if you don't have a backup? If so, you can choose the first iOS System Recovery software, because its standard mode will not erase your iOS data. Anyway, you should also check if the downgrade tool is compatible with the version of your iOS gadget. If it does not support your iOS gadget version, then you may lose your data.
Related Articles:
How to Transfer Data from iPhone to iPhone after Setup in Four Dependable Ways?
A Complete Guide on How to Back Up Music on iPhone in 2022? (New Change)
Troubleshoot iPad Stuck in Recovery Mode with Five Effective Ways
[Solved] How to Transfer iBooks from iPhone to iPad or Vice Versa?
15 Best Pokemon Go Spoofing Apps for iOS & Android Devices
How to Stop Someone from Spying on My Cell Phone? [With Preventions]