As an official Apple tool, iTunes is the go-to software for iOS users seeking to back up data, restore their devices, update applications, or download media such as movies, music, and TV series. Regrettably, many users have experienced an iTunes error 8003 while attempting to connect their iOS devices to the application. It can be highly irritating when we try to use iTunes and face this inconvenient error code.
Even more frustrating, there might be times when restarting or resetting won't solve the problem. This can be a real inconvenience. Thankfully, we have found some solutions for fixing iTunes unknown error 8003. So keep reading to find out how it can quickly get resolved.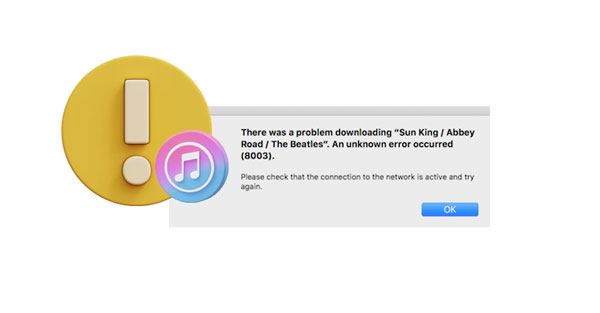 Part 1: What's iTunes Error 8003 and Why Does It Occur?
When the 8003 error appears on Windows 10, it indicates that the connection between your Apple device and Windows PC is faulty. You will get the error message on your PC's screen stating, "There was a problem downloading "[Your file]". An unknown error occurred (8003)".
Knowing the causes of iTunes error 8003 is important to know the solution. Before troubleshooting, it is good to examine each potential cause one by one until you identify and fix it fully.
iTunes error 8003 can appear in various scenarios, such as when downloading files from iTunes, during program installation, during Windows startup or shutdown processes, and even during the Windows operating system setup. To avoid this inconvenient issue, it's important to understand some of the most common causes. The following are the common causes of iTunes error 8003:
* A corrupt download or an unfinished installation of iTunes can be a major cause of error 8003.
* Corrupt Windows registry after changing iTunes software.
* A virus or malware attack which corrupts Windows and iTunes-related program files.
* A malicious program deleted iTunes files.
These are a few reasons you may face this iTunes unknown error 8003. Now let's take a look at how to fix it.
Part 2: How to Resolve iTunes Error 8003?
When this iTunes error code 8003 pops up, you can't do anything in iTunes. This can be a bit of an annoyance, especially if you have important work to do with iTunes. Don't let error 8003 put a damper on your day. We have the techniques you need to tackle this issue head-on. We'll show you the right way to do it. Simply follow the methods below to handle the issue all by yourself.
Solution 1. Check Internet Connection
If your internet isn't stable or has been running slowly and you haven't noticed, it could be disrupting the normal downloads from iTunes. Be sure to inspect every cable and connection component, particularly the router. Once done, check if you can access websites and other services online. If the connection is weak or doesn't load, try resetting your router. You can try to switch to a different network or contact your internet service provider for assistance. Once you've confirmed that your connection is working, try downloading it again.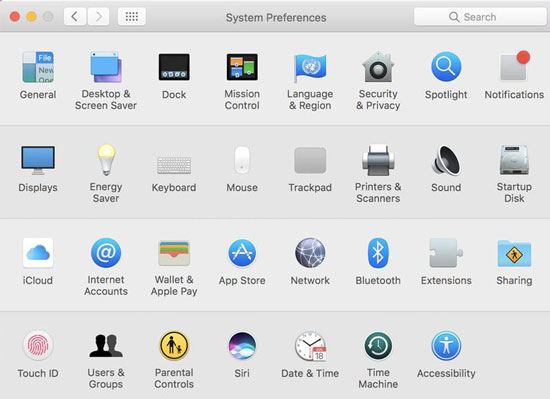 Read more: Why iTunes Error -50 Occurs and How to Fix the Error [Resolved]
Solution 2. Disable Your Antivirus
It is recommended to download at least antivirus software on the computer to keep it safe from potential malware threats. Although rare, these programs can occasionally disrupt other applications, especially those that need an internet connection.
You should disable the antivirus software on your computer and try downloading your file to see if the error was fixed. Furthermore, it's sometimes good to update the antivirus to keep the latest version to ensure seamless compatibility with the other software on your device and enhanced security.
Solution 3. Update iTunes
iTunes is the official media player for Apple products. If you are using an out-of-date version of iTunes, this could be the source of your error 8003. Keeping the program updated to the newest version is usually an easy way of counteracting this and other issues concerning iTunes.
It's important to keep iTunes updated to access the latest features, bug fixes, and security patches. To update iTunes, head to Apple's website and download the newest version of iTunes.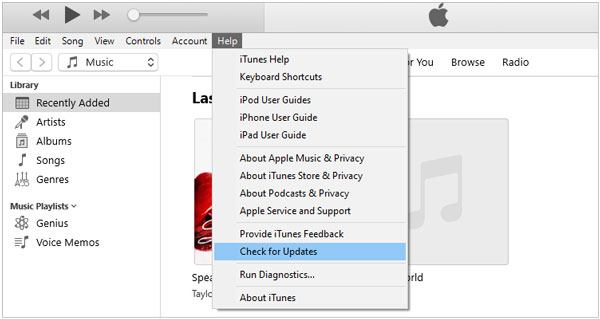 Guess you need: When iTunes fails to back up your iPhone on your computer, there may be an error. In this case, you need to fix the error first.
Solution 4. Use Another USB Cable
When you encounter error 8003 during the download process, and your network is stable, you can check your USB cable. If the cable is damaged, it will fail to download files.
Step 1: Start by connecting your Apple device to your computer with a USB cable.
Step 2: If this doesn't work, switch ports and try again.
Step 3: As a last resort, consider replacing the cable.
Check it if needed: 4 Ways on How to Delete Music from iPhone But Not iTunes
Solution 5. Reinstall iTunes
If the error code 8003 persists, your next action should be to uninstall and reinstall iTunes. Sometimes, during the installation process of iTunes, certain essential files needed for its functioning can become corrupted, leading to this issue.
It is important to keep in mind that the uninstall and reinstall process will differ depending on what system you are using.
If you're a Windows user, head to the Control Panel and find the "iTunes" app. Then click the "Uninstall" icon to remove iTunes from your computer. After that, you can download and install it again.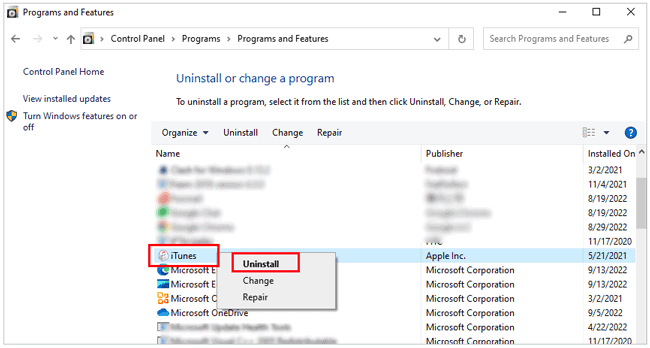 If you're on a Mac, access Finder and look for "Applications". From there, find iTunes and uninstall it. After removing iTunes from your computer, head over to Apple's official website and download it again on your computer.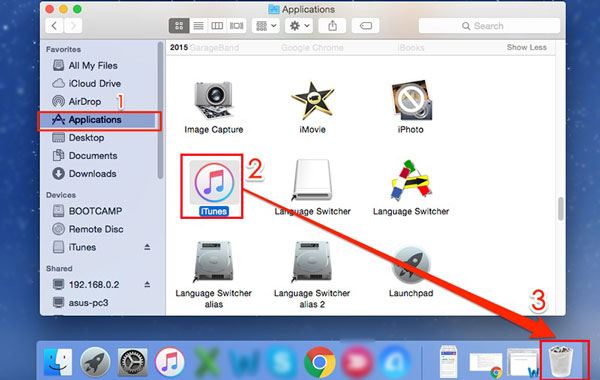 Perhaps you need: So what about iTunes error 0xE800015 on an iOS device? Read this guide, and you can solve it immediately.
Solution 6. Restart the Computer
Restarting the computer is a great place to start when you're having trouble with your computer. While this step often works when uninstalling and reinstalling iTunes, a simple reboot can occasionally be enough to get things back on track.
Restarting a computer will close any open applications running in the background and clear up any possible conflicts in the system that could be causing the issue.
This fix can also be beneficial when iTunes fails to update properly or install correctly on your system. Reboot your computer and try again after allowing it to reset itself. This should help resolve the 8003 error code.
To restart Mac, select the "Apple" menu and choose the "Restart" option. Click on it and wait for your device to turn off and turn on after that.
Also, you can long press your computer's power button until it turns off, then wait for some time before pressing it again to power it on.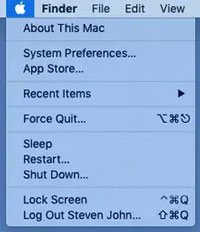 To restart a Windows computer, click the "Start" menu and choose the "Restart" option. Doing this will restart the computer instantly and solve any problems in the system.
Further reading: Do you know iTunes error 3194? Anyway, it is easy to fix it.
Soluton7. Check the Firewall
Windows firewall is a security system built into Windows computers. It's a security that prohibits malicious software or applications from getting into your system without authorization. If the Firewall settings are incorrect, they can block iTunes from accessing the internet and prevent you from downloading files, causing error 8003.
To check this, head to the Control Panel and find "Windows Firewall". Once there, click on it, select "System and Security",then choose "Windows Defender Firewall" to ensure it is set correctly.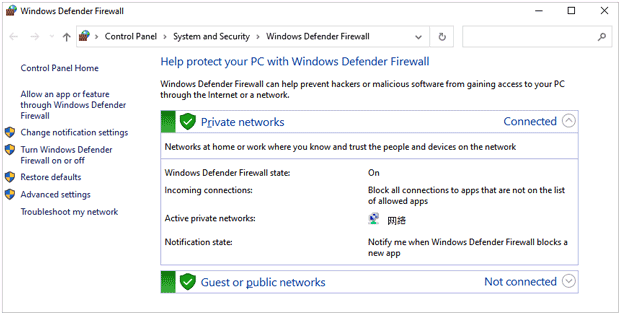 Solution 8. Quit iTunes and Restart Your Computer
You should also try stopping iTunes and rebooting your computer. It could be just what you need to get the error code 8003 to go away. To do this:
Step 1: Open "Task Manager" and look for iTunes in the list of running programs. Select it, then click "End Task" or "Quit Process".
Step 2: Once done, reboot your computer and restart iTunes again. This should help solve any minor issues that might be causing the error code.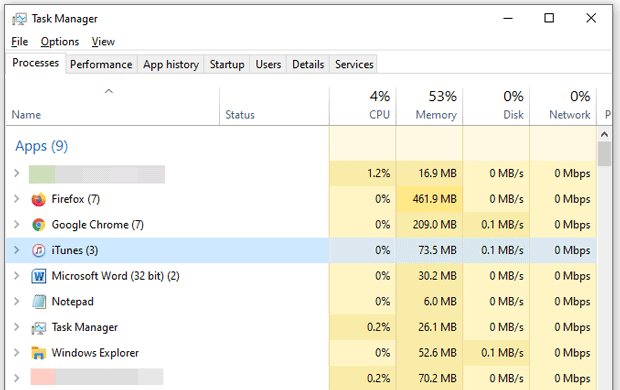 Read also: How to Fix iTunes Error 0xE8000015 on iPhone/iPad?
Solution 9. Fix iTunes Error 8003 with iTunes Repair
If you face iTunes error 8003, advanced and reliable software like iTunes Repair is what to use. This tool quickly and easily repairs over 100 different iTunes errors. It is an easy-to-use and user-friendly tool that can help you fix iTunes Error 8003 in one click.
Key features of the iTunes repair software:
* Fix iTunes error 8003 without data loss.
* Help you solve various errors, like iTunes error 9, error 4005, etc.
* Check the components of iTunes one by one.
* The advanced repair will help you fix iTunes issues completely.
Download this repair tool.

Free Download for PC
Here's how to fix the unknown error 8003 on iTunes with this software:
01Install this software on your PC and choose "System Repair" from the modules.
02You'll notice three repair options in the pop-up window. Select "Repair iTunes Errors" to start fixing your issue. Subsequently, the software will start checking for iTunes components.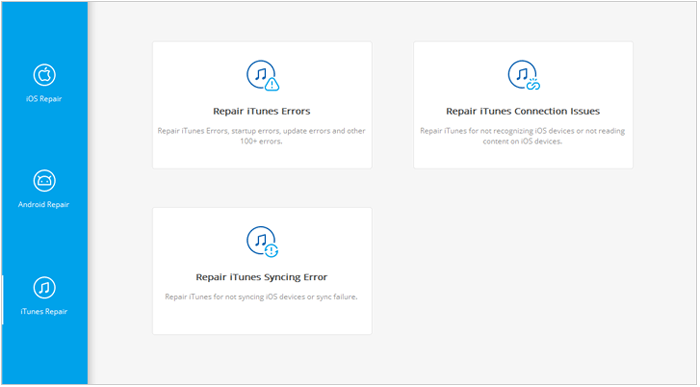 03Click "OK" if iTunes components are a full installation. However, if the error messages persist, continue with "Advanced Repair". Though it may take some time, wait patiently to ensure the repair process is completed successfully.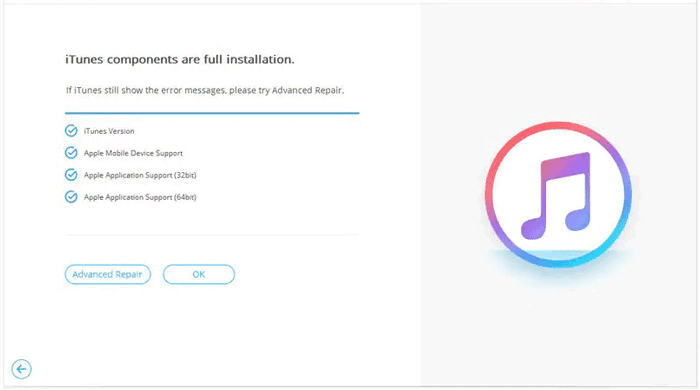 Conclusion
If you want to sync your Apple device to Windows PC, iTunes is the only official application that can help. However, sometimes you may encounter a connection issue and receive an error code 8003 on your screen; this could be very irritating if all left for you is just clicking "OK".
As you strive to resolve any iTunes error, especially error 8003, it's important to comprehend the circumstances surrounding this issue. This is key to addressing the issue promptly and correctly. As every situation is different, we have outlined various methods to allow you to find the one that fits your needs.
However, note that the quickest and simplest way to address the iTunes error 8003 is often through specialized software such as iTunes Repair. This comprehensive solution ensures that this iTunes error can be resolved swiftly and with minimal effort.
Related Articles:
How to Fix iTunes/iPhone Error 54 | 11 Proven Solutions
How Long Does It Take to Restore an iPhone on iTunes/iCloud? (Reliable)
[Solved] How to Transfer ePub Files to iPad from PC or iPhone with/without iTunes?
How to Transfer PDF to iPhone without iTunes in 7 Unexpected Ways?
How to View My iTunes Backup Files with or without Restoring Data?
How to Add Ringtones to iPhone without iTunes and Make a Custom Ringtones on iPhone