Apple has just released the latest version of its mobile operating system version, iOS 16. With the iOS 16 update, what's new? How do you update to it? When iOS 16 was released, it came with several new features, such as customization of the lock screen, unsending messages, new fitness applications, support widgets, and more.
Currently, iOS 16.1 has been released and has come with a batch of new features, fixes, and tweaks to improve iOS 16. The release of iOS 16.0.1 fixed various bugs and glitches in iOS 16. Continue reading through this article to learn more about the iOS 16 update.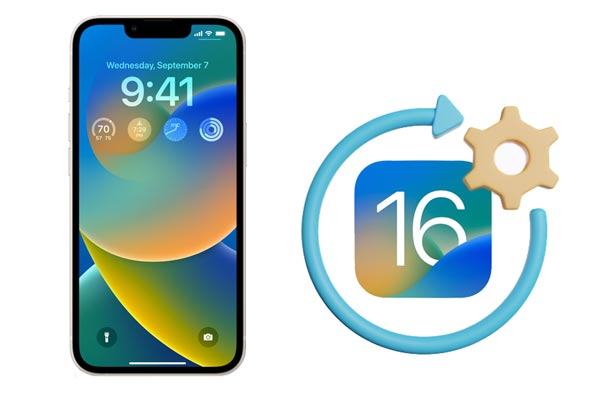 Part 1: When Does the iOS 16 Update Come Out?
When is the iOS 16 update? iOS 16 has come out for some time. Its release date was September 12, 2022. This date is the public version. Actually, its first developer beta came out as early as June 6, 2022, and the iOS 16 beta was announced on July 11, 2022. By the way, the release date of iPadOS 16, slightly later than iOS 16, was on October 24, 2022.
Whenever it comes, it is the well-known successor of iOS 15. So what is the performance of iOS 16? Let's go on reading the info below.
Part 2: Features of the Newest iOS 16 Update
iOS 16.1.1 is an upgrade of iOS 16, also the newest iOS. In this section, we shall discuss some of the new features that have been added to iOS 16. Below are some updates made on iOS 16 to create iOS 16.1.1.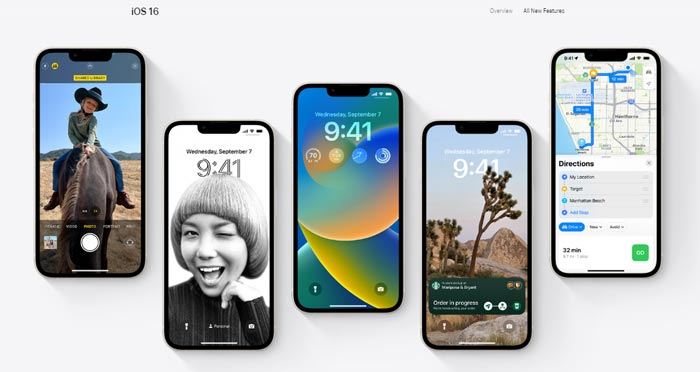 2.1 Updated Apple Fitness Plus Feature
With iOS 16.1.1, you do not require an Apple watch to acquire the Apple Fitness Plus feature. This is because the feature has been added to iOS 16.1.1. The Apple fitness plus feature has a lot of capabilities, and it can be used to keep track of fitness activity.
2.2 Wallpaper and Screen Lock Customization Update
Apple made customizing your Wallpaper easier on iOS 16.1.1. On the Setting app, Wallpaper menu, the add new wallpaper option is currently distinct, and you can swipe through the existing wallpapers. On iOS 16.1.1, you must customize your home screen or lock screen instead of just the lock screen.
2.3 The Interface of the Screen Editing Tools Was Updated
On the Screen editing tools, the interface is modified on iOS 16.1.1. The screen edit interface is much simpler now. The copy, save and delete options displayed across the top of your screen are less intrusive menus and smaller. These options were on the button on the screen of your iPhone before the update.
2.4 Connectivity to Smart Home Using Matter
iOS 16.1 now supports smart home via Matter. That is to say that iOS 16.1.1 enables iPhone users to control smart devices such as Google Assistant and Alexa from the iPhone.
2.5 Bug Fixes
iOS 16.1.1 has addressed several bugs on iOS 16, and iOS 16.1. Some of the bugs that have been fixed are deleted conversations appearing on Messages, failure of Carplay to connect when your device is connected to VPN, failure for dynamic Island content to appear when one is using Reachability, and more.
Learn more: Want a tool to downgrade iOS on your iPhone? Read this guide, and you will find the tool.
Part 3: What Should You Do Before Updating to iOS 16?
There are a few things that you are supposed to do before updating to iOS 16. Follow the guide below keenly to ensure that you successfully update your iPhone to iOS 16.
3.1 Back Up Your iPhone's Data
Now that you are about to update your iPhone, you are supposed to back up your iPhone's data first. This is because, during the update process, you might get error messages that could lead to data loss. In case an error message appears, having a backup of your iPhone's data will enable you to restore the data from the backup.
3.2 Charge Your Phone
Before trying to update to iOS 16, ensure your device is fully charged. If the update fails halfway, you will need a backup power source to complete it. Take more time to charge so that your phone can stay on during the updating process.
3.3 Save and Organize Your Passwords
Organize and save your passwords before you update your iPhone to iOS 16. This is important because you may lose your passwords after updating your iPhone.
3.4 Clear Some Storage on the iPhone
Ensure that your iPhone has enough space before updating it to iOS 16. You are supposed to clear up some of the storage space on your iPhone. You are recommended to delete unnecessary files on your device to optimize the storage space on your iPhone. You should also clear up the Safari cache, cookies, and temporary files so as to avoid errors during updates.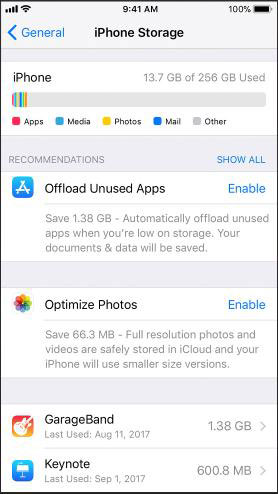 See more:
Why Is Move to iOS Taking Forever? Fix It and Make the Data Transfer Faster
Fix iPhone Grey Screen of Death with Ease (8 Solutions)
Part 4: Why Can't I Update to iOS 16?
Are you an iPhone user and have been trying to update your device to iOS 16 without succeeding? There are a number of reasons that might prevent an iPhone from updating to iOS 16. Fortunately, we shall discuss these reasons below.
4.1 iPhone May Not be Compatible With the iOS 16 Version
The iPhone you are using may not be compatible with the iOS version. For instance, if your iPhone is an older model, it may not be compatible with iOS 16. Therefore, you should upgrade to a newer model before trying to update your device. Your iPhone is not compatible with the iOS 16 if it is not available in the below list:
* All iPhone 14 and later versions
* iPhone 13 Pro Pro/mini/13/Max
* iPhone 12 Pro Pro/Max/12/mini
* iPhone SE third/second generation
* iPhone 11 Pro Max/Pro/11
* iPhone XS Max/XR/X/XS
* iPhone 8 Plus/8
4.2 Not Enough Storage Space
To update your device to iOS 16, your phone must have enough storage space. You are recommended to have at least 5GB of free space on your phone to be able to update. If you do not have enough space on your phone, you are recommended to clean up some of the files on your phone so that it can have enough space for the update.
4.3 Poor Network Connection
It is crucial that you have an active internet connection for your iPhone to update to iOS 16. If your connection is poor, you might be unable to update your device. If you encounter this error, you can use a different Wi-Fi or cellular network to update.
4.4 Beta Version Not Deleted
Another possible reason your iPhone may fail to update is the failure to delete the beta version on your device. Your iPhone cannot automatically update to the latest iOS if the beta version is not deleted.
Guess you need: If you want to mirror your iPhone to a Windows PC, please follow this full guide. Then you can mirror your device effortlessly.
Part 5: How to Update to iOS 16?
Wonder how to get the new iOS 16 update? In fact, it is easy to check on your iPhone, as long as your device model is supported to install the new iOS.
Here's how to update an iPhone to iOS 16:
Step 1: Open the Settings app on your iPhone, and go to General.
Step 2: Click Software Update > Download and Install to install the newest iOS on your device.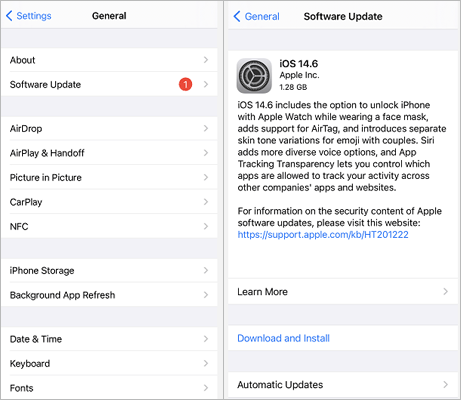 By the way, you can turn on the Automatic Updates feature if you want your device will install the latest iOS by itself.
You might need: Are you plan to transfer PDF files to your iPhone? In this case, you can use these 6 powerful methods in this article. Let's open it.
Bonus: How to Fix Software Issues That Occur After Updating to iOS 16
At times, iPhone user undergoes several software issues after updating to iOS 16. iOS System Recovery is a tool that can help you fix software issues after updating to iOS 16. The tool is a simple solution to your iOS recovery needs. Additionally, it can repair iPhone blue screen, pink screen to death, and other iOS issues.
Download this iOS bug fix tool below.
Fix iPhone bugs after installing iOS 16 via this software:
01Download and Install the Program
You need to download and install iOS System Recovery on your computer. Ensure that you choose the correct version for your computer. The application will launch automatically once it is installed.
02Connect the Device
Connect your iOS device and click on the iOS System Recovery button in the screen's upper-left corner. Then tap Start.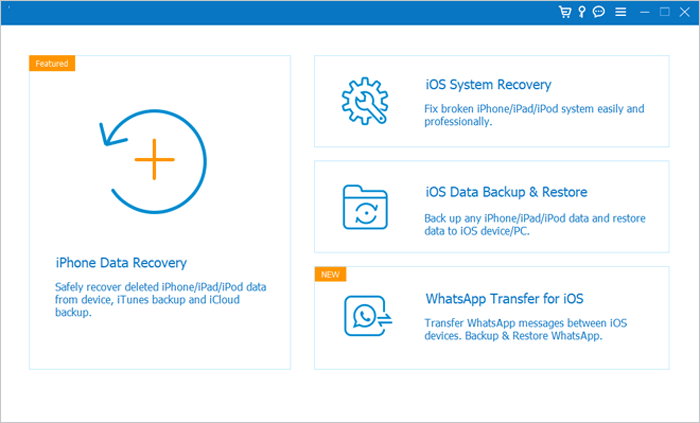 03Recover the System Bugs
You will be requested to select the data recovery mode (either Advanced Mode or Standard Mode). Select a mode and click on the Confirm button.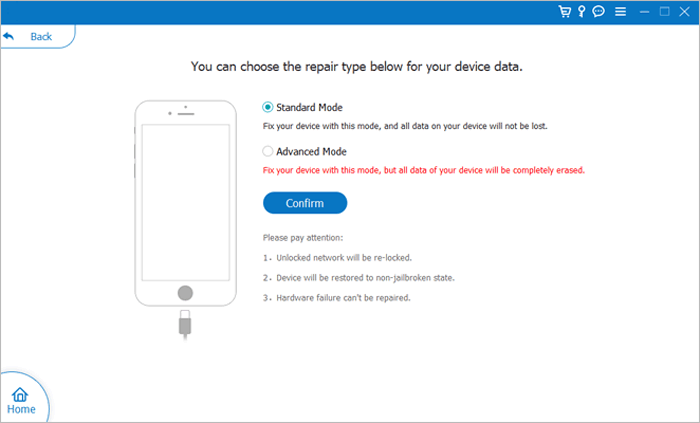 Then choose the model info of your device on the interface. Finally, click Repair to download the firmware and start fixing your device.
Conclusion
While the update to iOS 16 has introduced some fantastic features, several problems resulted from the update. As you have learned from the above, iOS latest version (iOS 16.1.1) has most bugs fixed and adds excellent features. Unexpected software issues that arise when updating iOS systems can be resolved effortlessly with the help of iOS System Recovery. It is a simple-to-use tool that can help you fix software issues after updating iOS systems.
Related Articles:
How to Fix the iPhone Transferring Data Stuck Issue Effortlessly? 14 Quick Tricks Here
[Full Guide] Where Are WhatsApp Messages Stored On Your Device?
How to Transfer Photos/Videos from iPhone to Dell PC Windows 11/10/8/7?
3 Ways to Transfer Music from iPhone to Computer without iTunes
11 Ways to Import Contacts to iPhone [Full Guide]
How to Transfer Files from Android to iPhone [Full Solutions]