The iPhone purple screen of death is the infamous, worst possible error message that can happen to your iOS device. This "iPhone purple screen of death" problem is exceptionally troublesome, especially for iPhone users who have never experienced it.
The iPhone 14 purple screen of death issue has been reported mainly after screen replacement, physical damage, and an iPhone update. We have you covered if you are experiencing an "iPhone purple screen of death" issue, and we will guide you through the possible causes and fixes of the iPhone screen turning purple problem.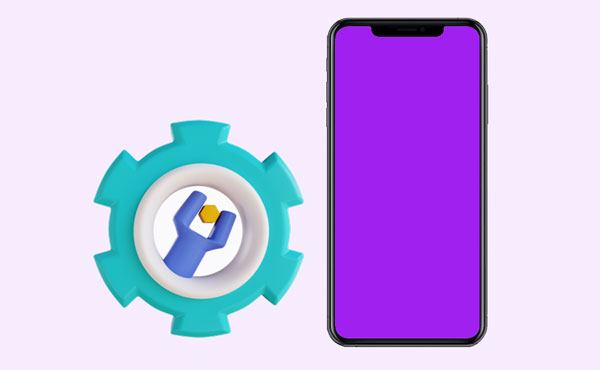 Part 1: Is iPhone Screen Turning Purple? What Causes It?
Before knowing the solutions, let us know the possible causes of the purple screen on an iPhone. Both hardware and software issues can cause this problem. Below are some causes of the purple screen of death on iPhones.
1.1. Hardware Issues
The iPhone's purple screen problem can be caused by a hardware problem. If the iPhone screen is broken, you may experience the issue. A loose flex cable connection can also be the cause of the issue. An intense roller ride or jumping from a high place can loosen the flex cable and turn the iPhone screen purple.
1.2. Software Issues
The software issue can also cause the iPhone's purple screen issue. An outdated or damaged iPhone firmware may cause this problem. If you recently updated your iPhone to the latest iOS version, you can encounter this problem. An improperly installed iOS update may result in this error message. A jailbreak error in iOS may also cause the screen problem.
1.3. Apps and Games Issues
iPhone's purple screen of death can also be caused by apps and games like Pixel Gun 3D, Candy Crush Saga, Clash of Clans and Clash Royale, etc. Tapping the game or app icon to open it can freeze your iPhone. When the phone freezes, no hardware buttons work. You may need to perform a hard reset to fix the iPhone purple screen issue.
1.4. Moisture and Water
A very small amount of liquid can cause the screen to fail. If you are using your phone in the rain or a humid environment, you should be extra careful. Moisture and water are possible causes of the iPhone's purple screen of death problem.
You might need:
What If My iPhone 14/13/13 Pro/12 Screen Is Yellow? Here's The Fix!
iPad Keeps Restarting | How to Fix It Easily (11 Proven Fixes)
Part 2: Effective Solutions for Fixing iPhone Purple Screen of Death
There are several methods to fix the purple screen of death problem on iPhone 13. After knowing the possible causes, we will discuss the possible solutions that can be applied to fix your purple screen of death issue. Let's check them out.
2.1 Adjust the Screen Color of Your iPhone
You can adjust the screen color of your iPhone if you are experiencing a screen problem. You can manually adjust the screen color by going to Settings and the coloring option. Follow the steps below to adjust your iPhone's screen color.
Step 1: Launch the Settings applications on the iPhone and turn on the Accessibility button.
Step 2: Click on the Display & Text Size button, and select the Color Filters option.
Step 3: Click on the Color Tint button. You can adjust the iPhone screen color now by moving the HUE slider towards the right or left using your finger the way you want. Choose your phone's screen's normal color and apply the changes.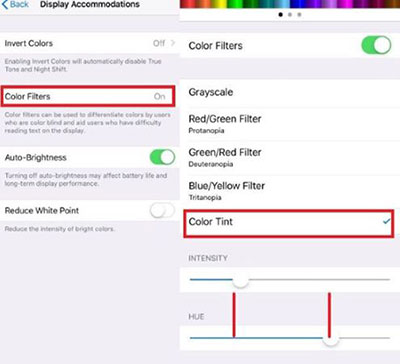 Learn more: When your iPhone clicks on its own frequently, you can fix it with this guide.
2.2 Restart iPhone
Restarting your iPhone helps in solving many problems that software glitches might cause. You need to restart the device if adjusting the screen color of your iPhone does not work. Follow the below steps to restart your iPhone successfully.
Step 1: Press the Power and Volume Up buttons until a Slide bar appears on your iPhone's screen.
Step 2: Drag the Slide bar to the right to power off your iPhone.
Step 3: Wait about 30 seconds for your iPhone to turn off and power it again. Press the Power button until an Apple logo appears to power it up again.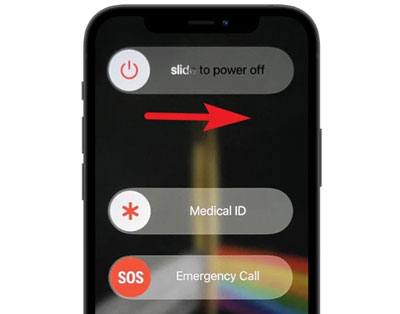 See more: How can you back up and restore SMS on an iPhone? If you want some effective approaches, please open this link.
2.3: Update the iOS
You can update your iPhone software to the latest version if your iPhone is running on outdated iOS. Updating the phone's software helps in fixing many issues. You can fix the screen problem by updating your iPhone to the latest iOS.
Step 1: Go to the Settings application and navigate to General, then click on the Software Update option.
Step 2: Choose Download and Install to install any available updates.
Step 3: Wait for the update to install, and then follow the instructions by tapping Restart when prompted.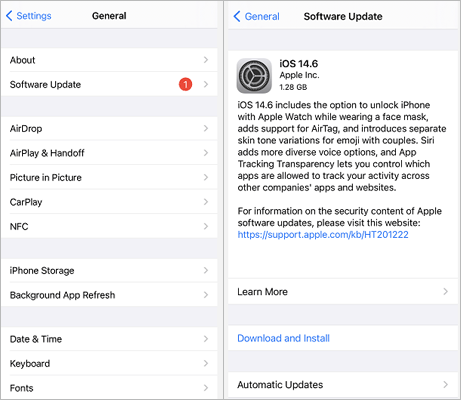 Read more: Want to transfer your songs from an iPhone to a computer? Then you can use these 4 efficient ways.
Part 3: The Best Way of Fixing the Purple Screen on iPhone
At times, all the solutions discussed in this article may fail, but there is one solution that works well. This iOS System Recovery software is a powerful tool designed to solve and fix various iOS problems, such as purple screen, iPhone activation errors, getting stuck on the loading screen, etc. If you are looking for a tool to fix the iPhone purple screen of death problem, this is the best solution. It helps repair bricked iPhones and other iOS devices that may not be working.
The iOS System Recovery software attributes:
* Fix simple and complex iOS problems like iPhone purple screen, iPhone grey screen, battery drain, loop restart, etc.
* Available for Mac and Windows versions.
* You can choose advanced or standard repair mode.
* Its standard mode keeps your data on the device.
* Support almost all iOS generations, including iOS 16.
Download this software below.
Fast fix the iPhone 12 purple screen of death with this program:
01Start by installing the software on your computer. Ensure you choose the correct version for your computer when downloading it. Open the program and select the iOS System Recovery option.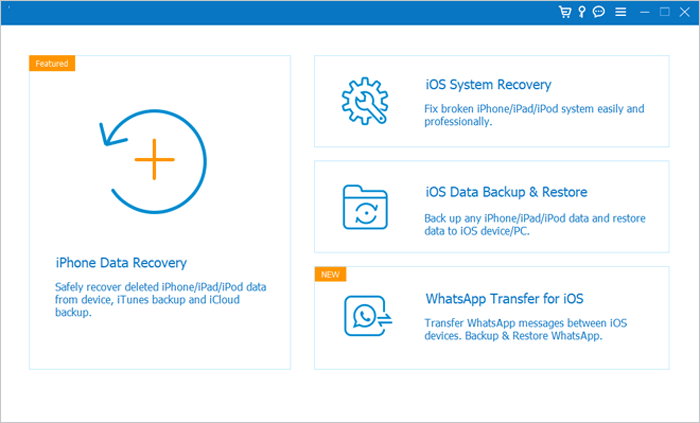 02Use a USB cable to connect your iPhone to the computer. After that, Click on Trust and tap on the Start button.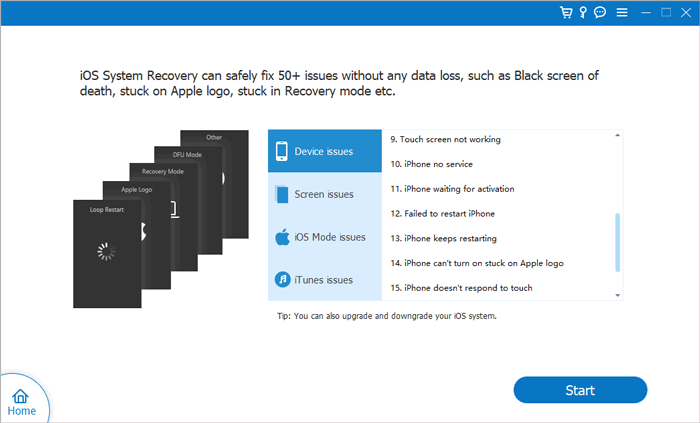 03Enter the correct information regarding your iPhone on the screen that appears and select the recovery mode (Advanced or Standard). The standard recovery mode does not delete your data.
04Click on the Confirm button to confirm that the information entered is correct and finally, click on the button named Repair on the lower part of your computer screen to start the repair. Wait for some time, and the "iPhone purple screen of death" issue will be permanently solved.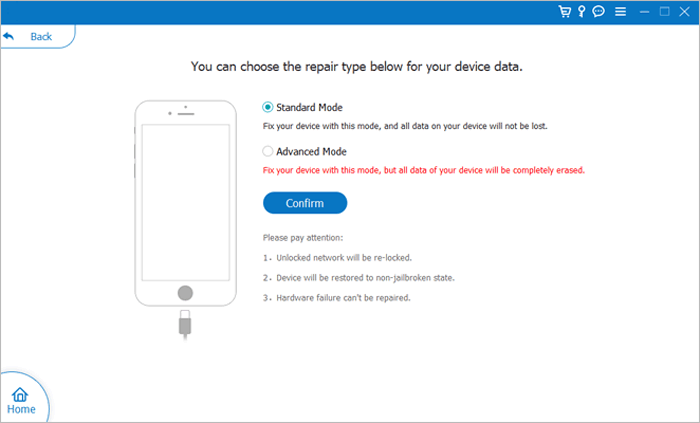 Conclusion
You can use the above methods to fix the iPhone purple screen of death problem. To prevent and avoid this problem, you should regularly back up your iPhone data to a safe location. Additionally, the iOS System Recovery software can fix different iOS problems, like the iPhone purple screen of death issue, and more. With it, you can easily solve this system issue.
Related Articles:
17 Optional Methods to Find the Videos Disappeared from iPhone Back
How to Extract Contacts from iPhone Backup | 4 Flexible Approaches
How to Recover Pictures from Text Messages on iPhone [2 Excellent Ways]
How to Back Up iPhone without Passcode [Simple Guide]
How to Transfer Large Videos from iPhone to PC? Try 8 Methods Here
How to AirDrop from iPhone to PC Windows 11/10/8/7 in Six Practical Ways?