"How do I recover lost iCloud photos/videos? My photos and videos from Jan. to Mar. disappeared although they were here two days ago. Two days ago, I didn't back up. I only get it today."
- Someone asked in Quora.com
Losing videos or photos from your iPhone is quite annoying. Whether you lost videos on your iPhone accidentally or unexpectedly, you would like to get them back. What happened to videos on iPhone? Where did videos go on iPhone? And how to get back the videos that disappeared from iPhone? Check this comprehensive guide to walk yourself through different methods.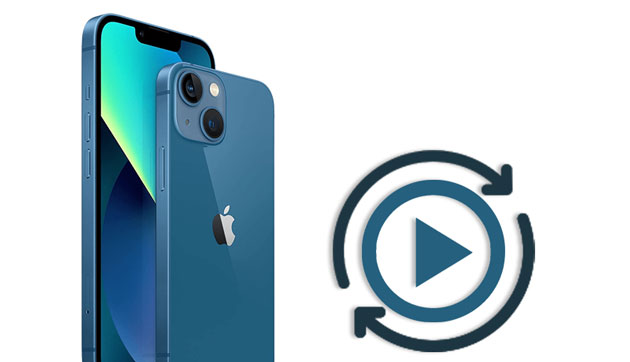 Part 1. Why Did My Videos Disappear on My iPhone?
Part 2. How to Get Videos Missing from iPhone Back?
Part 3. How to Get the Disappeared Video App Back to iPhone?
Part 1. Why Did My Videos Disappear on My iPhone?
Different factors may contribute to losing videos from iPhone. Below are the main reasons:
Intentional or accidental deletion.
You signed in with a different Apple ID on your iPhone.
The photos or videos are hidden.
The iCloud sync settings have changed unintentionally.
Factory settings.
Software update failure.
The corrupted third-party app on iPhone causes the videos to disappear.
Wrong camera roll settings.
Insufficient storage space on your iPhone.
System bugs.
You have restored from an unknown backup.
But where did the video go on iPhone?
Generally, the system will remove a deleted video to the Photos app's Recently Deleted album for 30 days. When the date expires, it will be removed from the album but still exist in the iPhone system until the new data overwrites its space.
See also: Want to recover your text messages from a broken iPhone? There are 5 powerful ways for your reference.
Part 2. How to Get Videos Missing from iPhone Back?
Don't panic if the recorded videos on iPhone disappear. The good news is that you can find them back yourself before taking your device to the nearest Apple Store. Follow the instructions below to restore your missing photos step by step.
Method 1. Restart Your iPhone
If the videos disappeared from iPhone after software updates, restart your iPhone to terminate all the background processes.
Press and hold the Power button until the power-off slider appears on the screen.
Swipe the slider to toggle your iPhone off.
Press the Power button in a few seconds to switch on your device.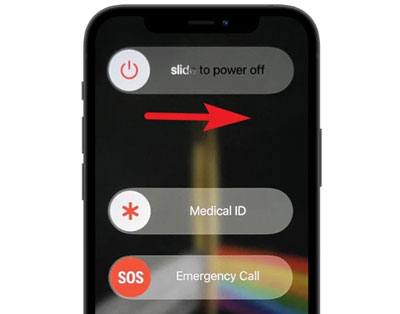 Method 2. Check the Recently Deleted Folder
If you accidentally deleted videos from the Photos app, the disappeared videos may exist in the Recently Deleted album. So, you can check this album to see if there are there.
Open the Photos app and tap Albums at the bottom.
Scroll down to select the Recently Deleted album and view the videos.
If there are wanted videos, tap Select and choose the videos you want to restore.
Click the Recover button.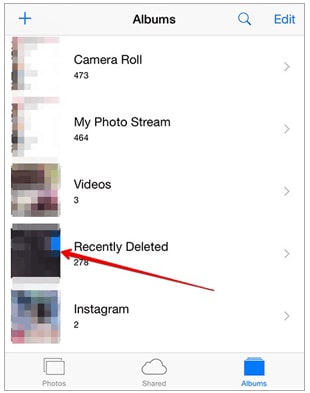 Guess you like: Practical Video Lighting Editor List: Make Video Brighter in Easy Steps
Method 3. Ensure that iCloud Photos is Turned On
iCloud Photos saves all of your iPhone photos and videos to iCloud. If you are accessing videos on a different iOS device, ensure that the iCloud Photos option is turned on.
Open iPhone's Settings > tap your name > click iCloud.
Touch Photos > turn on iCloud Photos.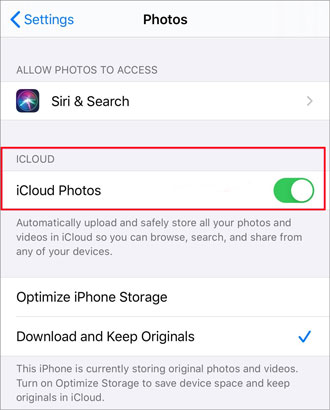 Bonus: This guide can help you recover deleted photos from your iPhone without backup. Let's check it out.
Method 4. Check Whether You Are Signing in with the Same Apple ID
If you switch to a different Apple ID on your iPhone, the recorded videos may also disappear from the device. Thus, you can check if the Apple ID you are signing in is the same one you normally use.
Method 5. Unhide Your Videos
Suppose you have hidden your photos and videos before. In that case, you will only see them in the Hidden album. But you can unhide them on your iPhone whenever you want. Also, iOS 14 and later versions provide you an option to hide the Hidden album so that it doesn't appear completely in the Photos app.
On your iPhone:
Launch the Photos app > tap Albums at the bottom.
Click Hidden under Utilities and pick the videos you wish to unhide.
Tap the Share icon > Unhide.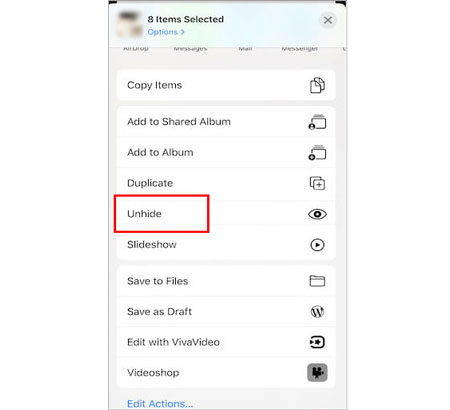 On your Mac:
Open the Photos app on the menu bar and tap View.
Choose the Show Hidden Photo Album option > Hidden.
Pick the desired video and control-click it.
Select the Unhide Video option.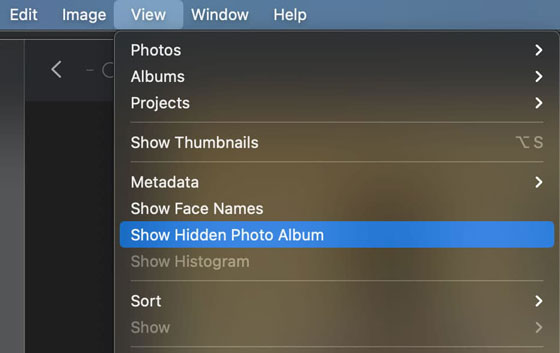 strong>Read also: What if you lose your contacts after updating the iOS on your iPhone? Take it easy. You can now get your contacts back with these solutions.
Method 6. Check if You Are On a Video/Audio Call
Suppose you are on a video or voice call in Duo, Zoom, WhatsApp, Google Meet, etc. In that case, iOS will automatically hide videos and the Slo-mo option in the Camera app. Thus, you can end the call to check if videos come back.
Method 7. Stop Other Apps from Using Camera
When an app uses your camera in the background, you may encounter the issue. You can disable the app which last used the Camera in Privacy settings.
Go to iPhone's Settings.
Scroll down to select Privacy > Camera.
Disable the camera to access all or certain apps.
Open the Camera to see if the video option appears.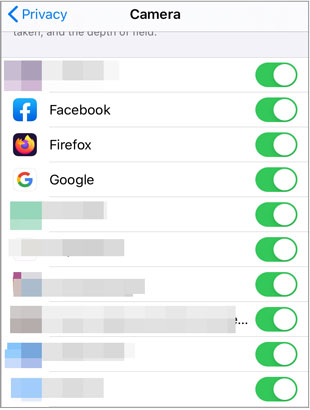 Method 8. Reset All Settings on iPhone
Some settings you may be unaware of may also create problems. At this moment, resetting all settings on your iPhone will resolve the issue.
For that,
Open iPhone's Settings > General.
Scroll down to click Reset > tap Reset All Settings.
Confirm the operation if prompted.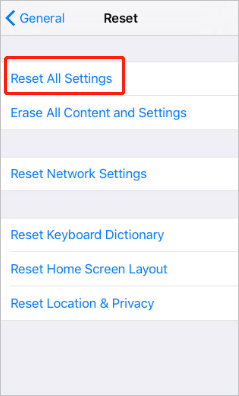 Maybe you like: Want to find the best iPhone manager to manage your iOS data? Why not see these options?
Method 9. Update the iOS Version
Too old iOS version may have bugs, which further cause the videos to disappear. You can update your iPhone to the latest version by tapping Settings > General > Software Update > Download and install.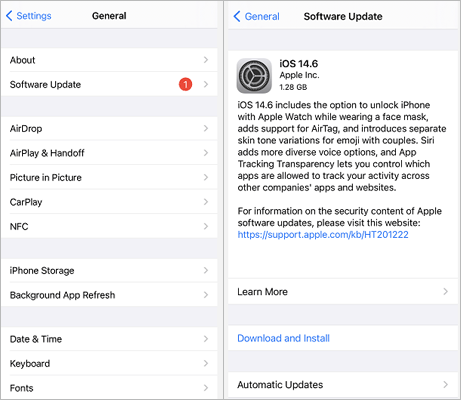 Method 10. Restore Disappeared Videos from iTunes/iCloud Backup
Suppose you have synced your iPhone videos to iTunes or iCloud beforehand, and the iTunes/iCloud backup file includes missing videos. In that case, you can easily get them back from the iTunes or iCloud backup.
Restore videos from iTunes backup:
Connect your iPhone to a PC or Mac running the latest version of iTunes.
Tap the iPhone icon when it appears at the top-left corner.
Click the Restore Backup button under Summary and pick the most relevant backup file.
Hit the Restore button.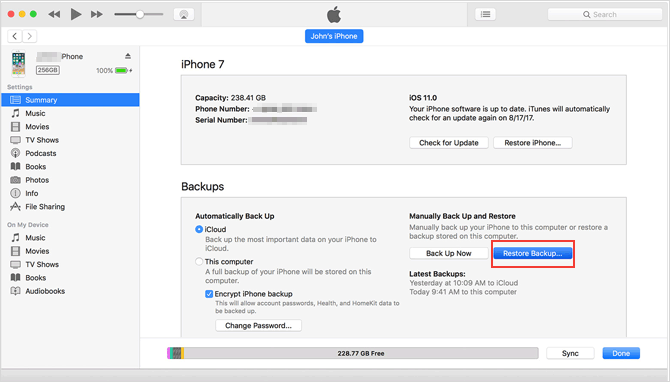 Restore videos from iCloud backup:
Open iPhone's Settings > General > Reset.
Select the Erase All Contents and Settings option to erase your iPhone.
Tap Delete and confirm the operation.
After erasure, set up your iPhone with the on-screen prompts.
When you reach the Apps & Data screen, click the Restore from the iCloud Backup option.
Choose the most recent backup file that contains the disappeared videos.
Hit the Restore button.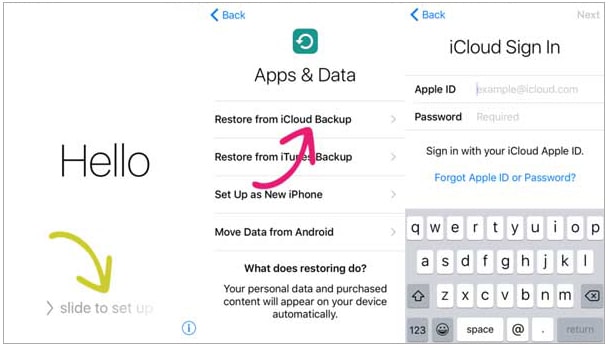 You might like: With this guide, you can easily back up your iPhone data without Wi-Fi.
Method 11. Recover the Disappeared Videos without Backup via iPhone Video Recovery
After trying the above methods, if you still cannot recover the disappeared videos from your iPhone, you can use iPhone Video Recovery to get them back. This feature-rich program is designed to recover various lost files from your iPhone, including videos, contacts, SMS, iMessages, photos, notes, etc. Moreover, it also allows you to preview all the iTunes or iCloud content and restore them to your computer.
The highlights of iPhone Video Recovery:
* Recover disappeared videos and other files from iPhone without backup.
* Selectively restore files from iTunes or iCloud backup to a computer.
* Preview all videos in the thumbnail before recovery.
* Support various data loss scenarios: accidental deletion, system crash, iOS update failure, screen broken, water damage, forgot the passcode, lost/stolen iPhone, stuck on Apple logo/DFU mode, etc.
* Widely compatible with all iPhone models with iOS 15 and below versions, such as iPhone 14/13 Pro Max/13 Pro/13/13 mini/12 Pro Max/12 Pro/12/12 mini/SE/11 Pro Max/11 Pro/11, etc.
How do I find my videos on my iPhone directly?
1. Launch the software after installing it on your computer and plug your iPhone into the computer using a USB cable. Then, tap the Recover from iOS Device mode on the left sidebar.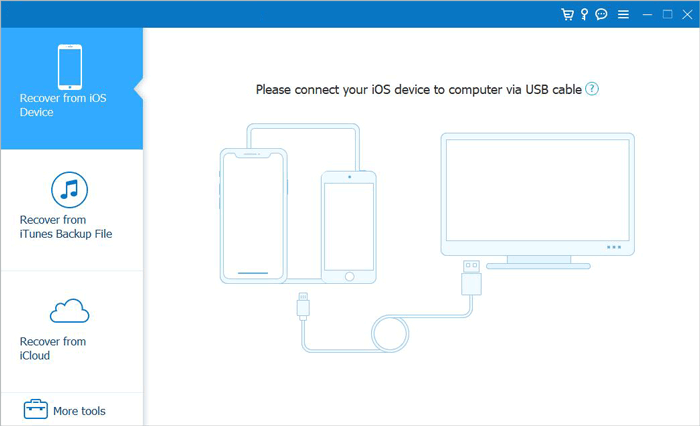 2. Tap the Start Scan button to scan the iPhone data. Once finished, you will see all iPhone files classified into different groups.
3. Click Camera Roll on the left panel and pick the wanted videos to recover after preview. Next, tap the Recover button below to find back the lost videos to your computer.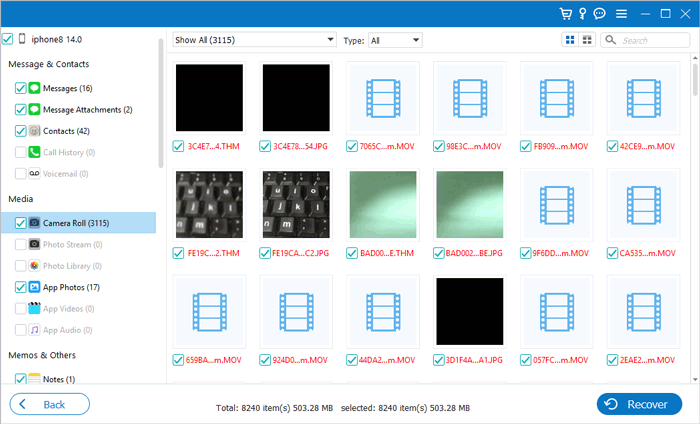 Further reading:
iPhone Calendar Disappeared: How to Recover Calendar App & Events on iPhone 14/13/12/11/11 Pro?
How to Fix Email Disappearing from iPhone 14/13/12/11/11 Pro? (Solved)
Method 12. Contact Apple Support
There might be some hardware issues if you still cannot get the lost videos back or the iPhone camera malfunctions. You'd better contact Apple Support to get your device diagnosed.
Part 3. How to Get the Disappeared Video App Back to iPhone?
What if the iPhone video option disappeared from your device? Here are the five effective ways to make the Video app appear on your iPhone again.
Method 1. Check All Folders
A common situation where you cannot find the Video app is that you accidentally move it to a new folder. Hence, the first thing is to check all folders to see if you can find the Video app. Also, note that the TV app has recently replaced the Video app. If you cannot find the Video app, check if you have the TV app.
Method 2. Search the Video/TV App on iPhone
Another way to get back the Video or TV app is to search it in App Store and redownload it. It is best to use when you uninstall it by chance.
Method 3. Turn Off Offload Unused Apps
Sometimes, iOS 14 may remove apps unused for a long time. You can go to Settings > iTunes & App Store > Offload Unused Apps to see if you have enabled the feature. If yes, disable it.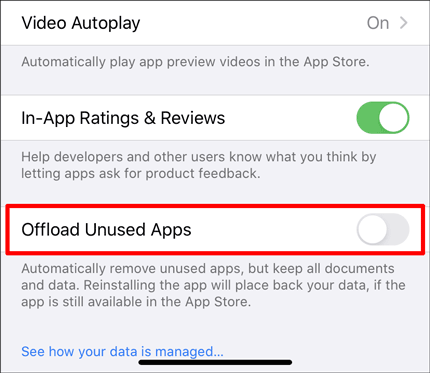 Method 4. Reset iPhone Home Screen Layout
If you also lose other apps from your iPhone, consider resetting the Home screen layout. You can open Settings > General > Reset > tap Reset Home Screen Layout to get it done quickly.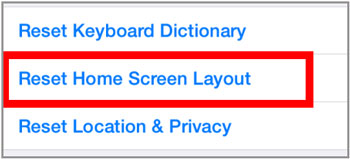 Method 5. Download the Video App from App Store
You can also download the Video app from App Store if you cannot see it. Just run App Store > tap Updates > click your profile picture > Purchased > Not on This iPhone to get the Video app redownloaded.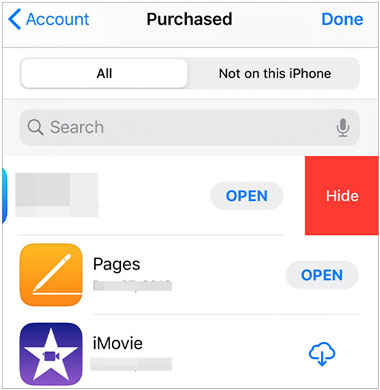 The Bottom Line
How do you feel after reading this article? Have you followed our instructions step by step to recover the videos that disappeared from iPhone successfully? If you haven't, head over to the iPhone Video Recovery app to get your lost videos back without backup. Apart from a higher success rate, it is user-friendly and easy to operate.
If you encounter any problem during operation, don't hesitate to tell us in the comments.
Related Articles:
Photos Disappeared from Android Phone? Here's How to Get Them Back
[Fixed] How to Recover Deleted Videos from iPhone 14/13/12/11/X with or without Backup? (4 Ways)
[Complete Guide] Photos Disappeared from iPhone? Here Are the Reasons & 9 Solutions
iPhone Notes Disappeared? 6 Methods to Recover Lost Notes on iPhone
Music Disappeared from iPhone Unwittingly? Try 9 Fixes Here
10 Methods to Fix iPhone Text Messages Disappeared Issue in 2023