From making calls to scrolling through social media, iPhones have become an essential part of our lives, and it can be quite inconvenient when they don't work as expected. The only way to use our iPhone is through a touch screen. So your device is practically useless when the screen isn't functioning properly.
Experiencing a touchscreen malfunction on your iPhone can be discouraging, especially when you rely heavily on it for various activities. While it can be disheartening when your iPhone screen not responding to touch correctly, don't let such distress get you down; there are surefire ways to resolve the iPhone touch screen not working issue and restore the functionality of your device.
We'll explain why the iPhone touchscreen won't work and the steps you can take to troubleshoot the issue.
Part 1. Why is My iPhone Screen Not Responding to My Touch?
To understand how to fix the iPhone touch screen stopped working issue, we need to first identify the cause. Often, your iPhone's display may be either physically or software-wise impaired. This particular issue may arise when the part of the phone that processes touch, known as a digitizer, ceases to function properly.
Fortunately, rectifying software glitches on iPhones is often completely free compared to the tedious and risky task of pulling off your screen. Software fixes are far simpler. If you've recently dropped your iPhone (What to do if you dropped an iPhone in water?), chances are a hardware issue is a reason for your touchscreen problems. However, not always. Software problems can cause your device to operate slowly and other smaller issues.
Ultimately, you should remember that a screen protector of your iPhone could be the source of touchscreen issues. Try removing it and see if the problem persists. If your iPhone's touchscreen isn't responding, there are a few common causes you should consider. Let's dive into the primary reasons an iPhone touchscreen may be unresponsive:
Software issues - iPhone screen may not respond to your touch due to minor glitches accumulated during its regular use. Good thing this is a straightforward problem and can quickly be solved by restarting the device.
Your device is hanging - Apple's iPhone processors are incredible. However, if you use too many intensive apps or try to multitask on your device, it may become slow and unresponsive to touch commands.
The phone is too hot/cold - If you are in an environment with extreme temperatures (too hot or too cold), your iPhone may become unresponsive. To solve this issue, simply turn off the device and let it return to a moderate temperature before turning it on again.
Problem with a specific application - If you encounter situations where your iPhone screen works everywhere except on one or two applications, the application likely has an issue and not your device.
Your iPhone is wet - If your iPhone's screen becomes wet from moisture, it won't respond properly. It will appear as if you're touching somewhere else on the device when you aren't.
A bad screen protector - Using a poor-quality screen protector can harm your iPhone's touch sensitivity, making it hard to be operated.
Bad phone case - Poorly designed cases can grip onto your iPhone with such intensity that it ends up pressing the four edges of the screen. This could render your entire device unusable, or even just a part, either the top half or bottom half of the screen.
In this article, we will cover the potential solutions for this issue.
You may like:
How to Solve It When iPhone Keeps Crashing? 9 Easy Tricks
How to Fix the iTunes/App Store Keeps Asking for Password Issue on iPhone/iPad?
Part 2. What to Do When iPhone Touch Screen is Not Working
By now, you have likely thought of a few solutions based on the potential causes discussed above. To make it easier for you, here is an actionable list to help fix touchscreen problems quickly and effortlessly:
You now know the possible causes of the touchscreen not responding; it is logical to learn some of the effective resolutions. To make things simpler, how to fix iPhone/iPad Touch Screen not working problem?
Way 1. Force restart your iPhone
If iPhone touch screen is not working properly, the first thing to do is force restart the device. It could be an effective solution. Whenever Apple users experience issues with their iPhones, the most logical step for them to take is to restart them. Switch off the iPhone and wait for a few seconds. Turn it on and check if the touch screen is responsive. Suppose it does not; try force restarting it. This should resolve any unresponsiveness issues on iPhone.
If your iPhone 7 or later's touch screen is not working, restart it by pressing the Volume down and Power buttons until you see the Apple logo. To restart your iPhone 6s and older models, firmly press the Home and Power buttons until the Apple logo shows.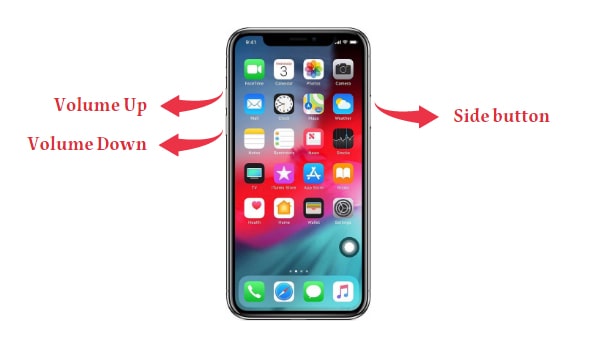 Way 2. Clean the screen
Issues with unresponsive touchscreens can also result from dirt or water getting on the screen. Also, if you have wet or dirty hands, you won't be able to use the touchscreen until they are dried and cleaned. So, clean the screen gently with a soft, dry cloth and ensure that any traces of water, sweat, oils, or dirt have been completely wiped off. Just get a soft cloth to gently remove any dirt, dust, or water droplets from the screen. To prevent touchscreen issues, be sure to do this regularly.
Way 3. Let your iPhone cool down
If the device is too hot, it may give you difficulty operating. For instance, the screen can fail to respond to touch. So, let it cool down first before using it again. The best solution is to switch it off to allow iPhone to reach an optimal temperature. If not, lock the device and don't use it for some time.
To restore your screen to its original responsiveness, you must close those apps using a lot of power, such as Maps and Camera. Then shut down the device and switch it on after one minute.
Way 4. Check Applications on iPhone
This issue could be a result of a problematic application on your iPhone. Therefore, make sure to inspect the app you download. In case something suspicious is detected, delete it right away. Furthermore, ensure that all apps are downloaded from a reliable source for your device's safety. Here are the steps:
Step 1. Hold on to the app icon for a few seconds.
Step 2. Click on the (x) sign and confirm the deletion.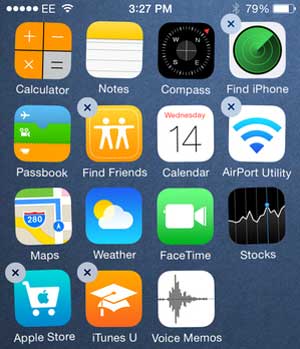 Way 5. Update your iPhone
To avoid software issues on your iPhone, ensure the device is always up to date. This helps ensure that you have the latest security patches and bug fixes. It's always recommended to update your iPhone to the latest iOS version.
Here's how you can update an iPhone:
Step 1. To keep your device up-to-date, open "Settings" and head to the "General" section. Then select "Software Update" to begin the process of updating it.
Step 2. Your iPhone will begin scanning for new updates. If an update is available, download and install it on the device.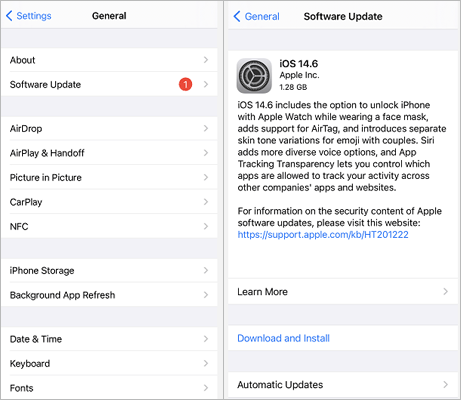 See more:
How to Fix the iPhone Stuck on the Emergency SOS Mode Issue?
[Solved] How to Unlock Disabled iPad without iTunes | Latest Guide
Way 6. Remove the screen protector or screen case
Although the iPhone's touchscreen appears sturdy and dependable, its performance is only guaranteed in a specific range of conditions. For instance, if you attach a too-thick protector to your device, the screen will no longer be able to sense electrical capacitance from fingertips and consequently cease functioning.
If the screen isn't working as it should, remove any item blocking it, such as a phone case or protector. After removing, clean the screen with a soft cloth. These can hinder your device from being fully functional. If the issue is solved after removing the screen accessories, consider purchasing a new case or finding a thin screen protector.
Way 7. Reinstall the problematic app
If you find that your iPhone touchscreen is only acting up while using one app in particular, the issue may be with this application. To resolve this issue, press the Home button to return to your home screen and head to the App Store. See if an update is available for the app that's causing problems.
If an update is available, be sure to install it right away. However, if no new version exists, you can uninstall the app from your iPhone and reinstall it afterward. Once complete, reopen the application and confirm that unresponsiveness has been resolved on your phone screen.
Way 8. Reset 3D touch sensitivity settings
Struggling with an unresponsive touch screen on your iPhone? Before giving up, adjust the 3D Touch settings. To get started, just follow the steps below:
Step 1. To gain access to the settings on your iPhone, simply open up the Settings app.
Step 2. Now head to "General" and find "Accessibility" and "3D Touch." Then adjust the setting's sensitivity.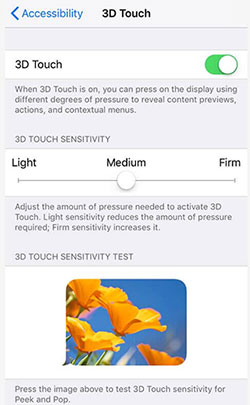 Way 9. Free up storage on your iPhone
Another possible reason for an unresponsive iPhone touch screen is an overstuffed device. If this is the case, your phone may not be able to handle all the content you've been adding and will begin to malfunction. To ensure this does not happen, regularly delete apps or photos taking up space on your device. You can also use cloud storage to clear up some room on your phone. Once this is done, check if the touch screen is working better than before.
Way 10. Factory reset iPhone
If your iPhone is unresponsive to your touch and all other solutions haven't been successful, it could be a significant hardware issue, and the device needs immediate repair or replacement.
Before you do that, it's prudent to try a factory reset. Your phone will essentially be returned to how it was when you first purchased it, erasing all software updates, installed applications, and personal data. This shouldn't be an issue if your phone is scheduled for regular cloud backups. However, it's important to remember that any data since the last backup could be lost forever if not backed up properly.
Way 11. Contact Apple Support
If the above solutions have not resolved your iPhone's unresponsive touchscreen, you are likely dealing with a more serious issue. Nevertheless, if you've read this far, chances are that the problem remains unsolved and requires professional attention.
When a device is dropped, the only surefire way to rectify any hardware issues, such as a cracked or internal damage, is through Apple Support. You will need to contact Apple Support for a repair. You can contact them via phone call, text message, or email. Plus, if the problem is more complicated and needs further assistance to be resolved properly, take it to their service center.
Part 3. Fix the iPhone Screen Unresponsive to Touch With iOS System Recovery
Is the iPhone touch screen not working after update? With iOS System Recovery, you can easily fix it! As a professional and easy-to-use tool, iOS System Recovery helps you to restore your iPhone from any iOS systems issue like being stuck on the Apple logo, recovery mode looping, black screen of death, and more. It will check the system status of your iPhone and offer you a customized solution to fix it. You can also repair iOS devices without data loss, including iPhone touch screen unresponsive to touch after an update.
Key Features of iOS System Recovery:
Fix iPhone screen not responding to touch issue quickly.
Intuitive user interface makes it easy to use without requiring technical knowledge.
It can also repair your iOS system for various issues such as being stuck on the Apple logo, recovery mode loop, black/white screen, and more.
The iPhone repair software provides two repair modes: Standard Mode & Advanced Mode.
Fixes iOS system issues without data loss in Standard Mode.
Compatible with all iOS devices, including iPhone 14/13/12/11/X, iPad, and iPods.
Here are the steps to fix iPhone touch screen not working properly via iOS System Recovery:
01To get started, download and launch the software on your computer. Select "iOS System Recovery" from the menu. Connect your iPhone to your device via a USB cable and trust this connection by tapping "Trust" on your phone's interface. Wait for the software to recognize it automatically.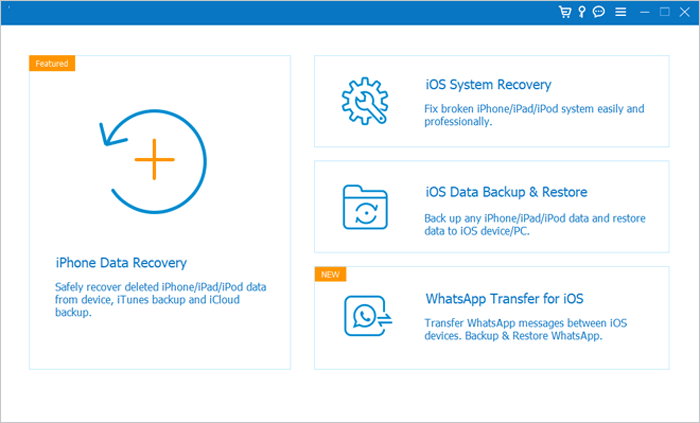 02Click the "Start" button to begin. Tap the "Fix" button to start fixing system issues.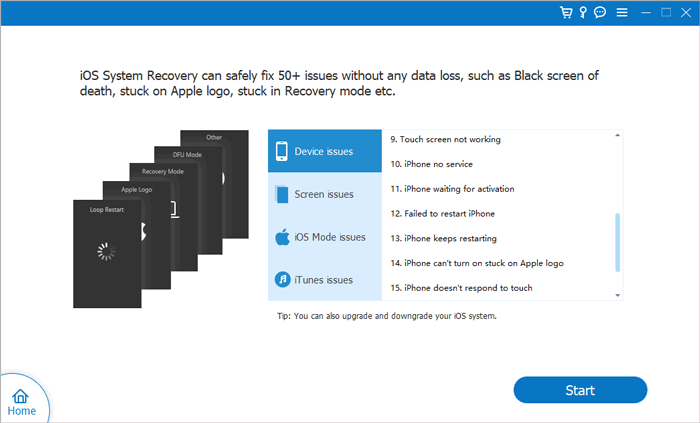 03On the next page, you can pick what mode best suits your needs to repair any touchscreen malfunction on an iPhone. Select "Standard Mode" and press "Confirm" to proceed.
04You will see your phone's info and versions supported. Choose the right info for your device and hit the "Next" tab to fix your device.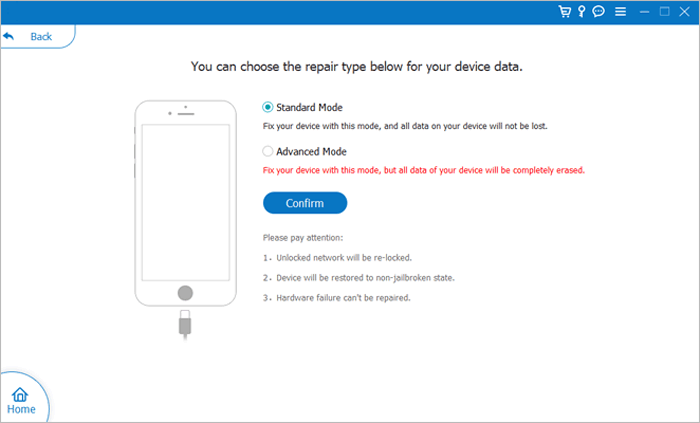 Conclusion
When your iPhone's screen doesn't touch, it can be a nuisance. Of course, hardware issues such as dropping your iPhone may cause this frustrating issue. Besides, software issues may also arise. But that doesn't mean your device will be useless. iOS System Recovery is a reliable tool that can help you fix your iPhone screen not responding to touch issues quickly and easily. So don't hesitate to try it! Hope this article can help you out.
Related Articles:
Is Your iPhone Storage Full? Free It Up without Delay [Solved]
How to Fix iPhone/iPad Screenshot Not Working
Siri Not Working after iOS 12 Update, How to Fix It?
How to Fix iPhone Grey Screen of Death By Yourself? (8 Solutions)
iCloud Backup Failed | iPhone Not Backing Up to iCloud (12 Fixes)