iCloud Photo Library is an amazing cloud storage that allows users to back up their files, access them, and even share them across iOS devices. If the auto sync option is enabled on your phone, all your photos will automatically sync with iCloud. This saves you the hassle of saving them manually. So, it is an astounding feature for Apple users until your images suddenly disappear.
It can be the worst nightmare when your cherished pictures disappear from iCloud. This seems impossible. How can photos disappear from iCloud, the most trusted backup solution by Apple fans? Well, it is happening a lot today. Many users have complained about photos missing from iCloud. Luckily, we have prepared the quickest ways to troubleshoot this problem and get back those pics you thought had been lost. So, please read on.
Part 1. Why Are Photos Missing from iCloud Backup?
Did your photos disappear from iCloud? Though it is a common problem among iOS users, it can be disturbing. However, there are several reasons why iCloud photos may go missing. They include:
1. Syncing problems between iCloud and iOS device
If iCloud isn't correctly synced with the iOS device you are using, it won't save the pictures.
2. The photos are hidden or deleted accidentally
It's also possible that you deleted the pictures accidentally from your iOS device. When a photo is deleted from the iOS, iCloud will automatically remove it from its servers as well. Besides, if the pictures are hidden, they will not appear in iCloud.
3. iCloud storage space is full
If there is no sufficient storage in iCloud, new photos will not appear. Usually, you'll be notified when iCloud storage has depleted. But at times, you may not realize the storage space is full. Old photos will be deleted to create space for newer ones.
4. System glitches
At times, there could be glitches in the software that result in photos disappearing from iCloud. These glitches are only temporary, and your pictures aren't actually deleted. You can wait a little longer, and the pictures may appear again.
5. Weak Wi-Fi connection
For iCloud to sync properly, you need stable internet. If the connection is unstable and weak, the photos cannot sync to the device on time.
These are the common causes of iCloud photos missing. Keep scrolling to check the real fixes to troubleshoot the problem. Remember that it's important to regularly back up your photos to ensure that you don't lose them in the future. You can use iCloud, iTunes, or other backup solutions to keep your photos safe.
You May Like:
17 Optional Methods to Find the Videos Disappeared from iPhone Back
How to Recover Photos from iPhone without iCloud [With Tutorial]
Part 2. How to Fix the Photos Missing from iCloud Photo Library
These are quick fixes to resolve the problem of missing pictures from iCloud, whether it's months of photos missing from iCloud or years of photos missing from iCloud. Try them out one by one to troubleshoot this issue and get back your photos.
Fix 1. Enable iCloud Photos
Photos can only show up on iCloud if the iCloud Photos feature is enabled on your iOS device. Failure to turn on this feature implies you're restricting the syncing process. Thus, if you encounter iCloud photos disappeared problem, you should first check whether you've turned on iCloud Photos on the phone. Here's how to do that:
Step 1. Head to your phone's Settings and click on your name at the top.
Step 2. Click on iCloud, Photos, then to iCloud Photos.
Step 3. Check if the iCloud Photo option is enabled. The slider next to it should appear in green. If it is greyed, just click on it to enable it. Now, all your photos can be uploaded to iCloud automatically.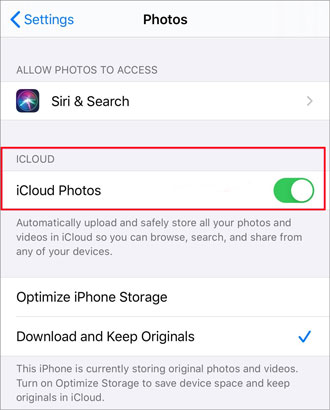 Fix 2. Check Cloud Storage
iCloud provides only 5GB of free space, which can only store a few photos and videos. If there is insufficient storage in iCloud, older pictures will be deleted to free up space for new ones. Therefore, check if there is enough space in iCloud. You may find some of your photos missing in iCloud due to lack of storage. Here is how to check the cloud space:
Step 1. Head to Settings on your iOS and click on your name.
Step 2. Next, click on iCloud and see if there is space.
If the storage isn't enough, delete some files from iCloud. You can also use the Optimize iPhone Storage option to create room for new photos or upgrade the iCloud Storage plan to get more space to keep your photos.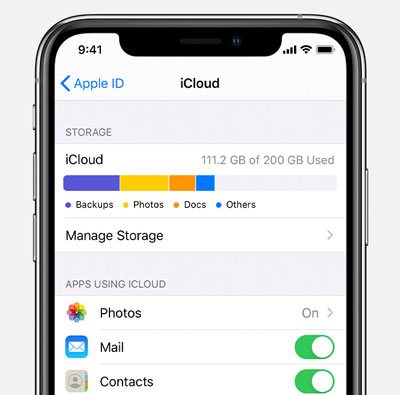 Further Reading:
How to Recover Photos from iCloud from an iPhone or Computer? [Solved]
Top 11 Ways to Fix and Recover Photos Disappeared from iPhone after Update
Fix 3. Check the Status of Uploads to iCloud Photos on Mac
If iCloud is showing missing pictures on a Mac, there's a high chance that Mac pictures aren't uploading to your iCloud. On Mac, iCloud Photos normally uploads pictures and videos from the Mac's System Library. Check the status of uploads to the iCloud Photos on a Mac to resolve the missing photos issue.
To do this, launch the Photos application on a Mac and choose Library and All Photos, then scroll to the uploading status and check.
Fix 4. Use the Same iCloud Account
This is one of the major causes of months of photos missing from the iCloud. Often, signing into a different iCloud account on an iOS device will make the pictures not appear. In that case, you need to check if you logged into the same iCloud account and use the right one. Here is how to do it:
Step 1. Open the Settings menu on your iOS device and click on [your name].
Step 2. Scroll to the bottom of the screen and click on the Sign Out option.
Step 3. Key in the Apple passcode then hit Turn Off and press Sign Out once again to confirm the process.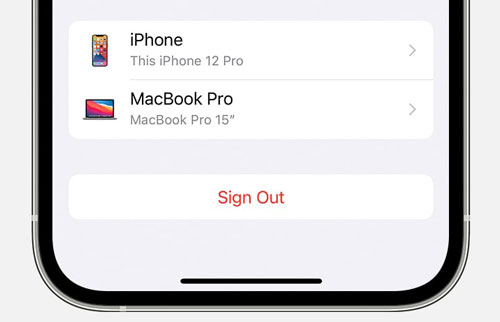 Step 4. Return to the Settings page and click Sign in to iPhone option at the top. Key in your Apple ID login info to finish the sign-in process.
Fix 5. Unhide Hidden Photos
There is also a possibility you've mistakenly hidden some photos, thus making them inaccessible in the Photos Library. This will lead to issues of iCloud photos missing. Therefore, check and unhide them. Here's how:
Step 1. Head to the Photos application on your iPhone. Click on the Albums tab and locate the Hidden option by scrolling down.
Step 2. After that, tap on hidden pictures or albums to select the Share button.
Step 3. Lastly, click on Unhide, and all pictures will be recovered to iCloud Photo Library.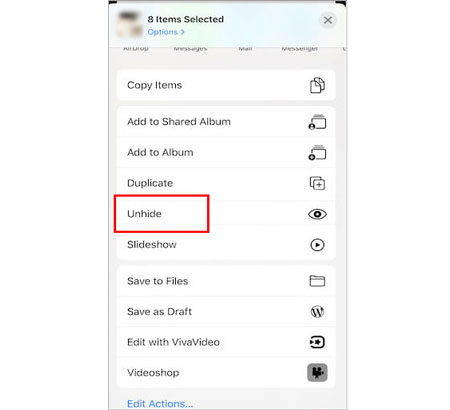 Also Read:
[Complete Guide] Photos Disappeared from iPhone? Here Are 9 Solutions
9 Ways to Fix the iPhone Photos Disappeared from Camera Roll Issue
Fix 6. Check Recently Deleted Folder
If you delete the photos accidentally, they will not appear in the iCloud Photo Library. You may have pressed the Trash button unknowingly instead of the Recycle Bin. In this case, you can check the Recently Deleted album to get the missing photos. Here's how to go about it:
Step 1. Head to the Albums section in the camera roll and proceed to the Utilities menu.
Step 2. Choose Recently Deleted and select the photos you want to restore. Long press on the images, then choose Recover.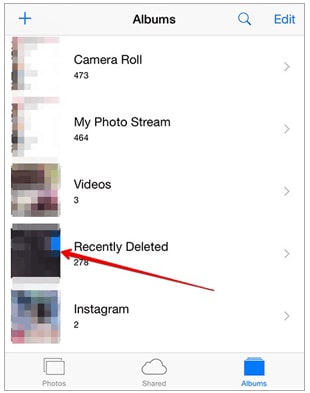 Fix 7. Check the Internet Connection
Ensure that your device has a stable internet connection. iCloud relies on a stable connection to sync and back up data.
Fix 8. Contact Apple Support
If none of the above steps work, contact Apple Support for further assistance. They can help you troubleshoot and recover missing photos.
Learn More:
How to Recover Pictures from Text Messages on iPhone [2 Excellent Ways]
6 Brilliant Ways to Recover Deleted Instagram Photos on iPhone without Pain
Part 3. How to Restore Photos from iCloud Backup in One Click
Worried that you will not get back your photos that disappeared from iCloud? Fret not. Coolmuster iCloud Backup Recovery has your back. The tool is specialized in restoring data from iCloud backup quickly. It scans and then sorts the iCloud backup files by category so you can choose the content you need to restore. It is very secure and will not leak your files as it uses read-only mode. More importantly, it is straightforward to use with its intuitive user interface. It supports various data types, including contacts, photos, reminders, etc.
Key Features:
Require only an iCloud account to restore data.
Don't cause quality loss when recovering data.
You can check the detailed backup info on a PC.
Let you choose the files to restore.
Easy steps to restore photos from iCloud backup:
01Install and launch the program on a PC.

Free Download for PC
02Sign into the iCloud account with the correct Apple ID and passcode. Key in the verification code on the main interface if you've enabled 2-factor authentication on iOS. Click on Verify to proceed.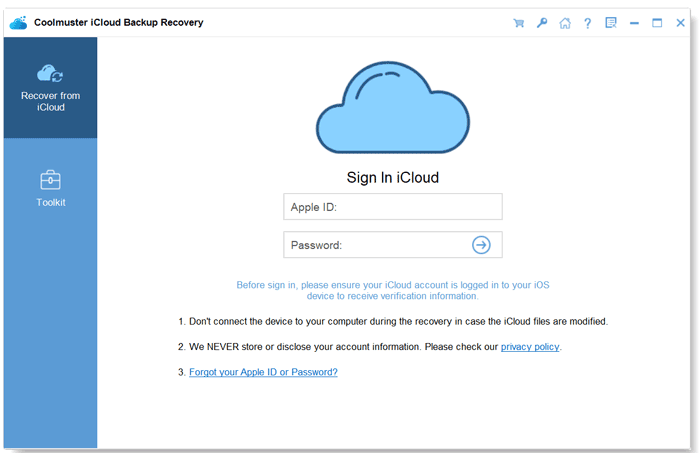 03Check files to be recovered and hit Next. The app will start scanning your iCloud and list all iCloud backup files.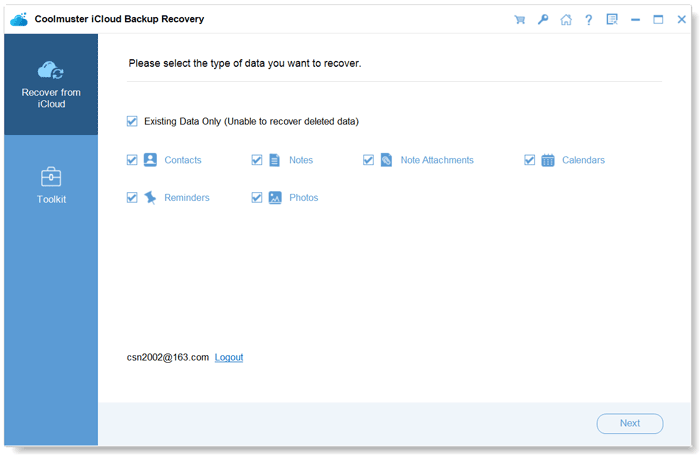 04Choose the Photos from the screen and tap Recover to Computer. Your pictures will be saved to the computer.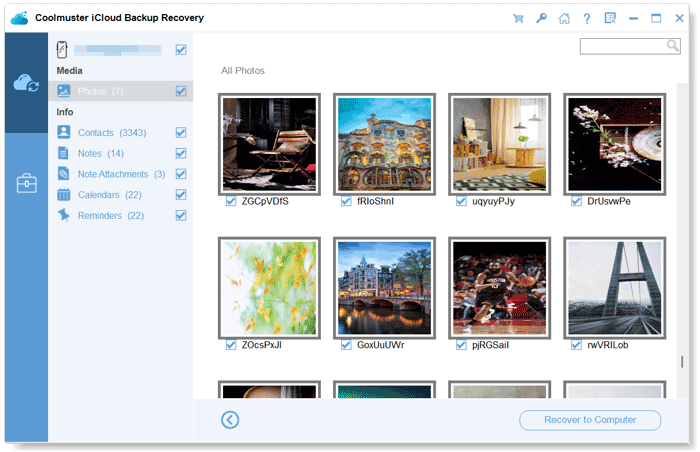 Conclusion
Did you just realize all your cherished photos you've been trying to keep safe in iCloud for years now are all gone? Photos contain our precious memories, so losing them can be devastating. But, with these simple fixes, you will resolve the photos missing from iCloud issue.
Besides, you will never worry about lost photos on iCloud. With Coolmuster iCloud Backup Recovery, you will effortlessly restore your pictures without a hurdle. It is incredibly fast and secure.
Related Articles:
[Simple Guide] How to Recover HEIF (.heic) Images on iPhone and iPad?
[Without Password] How to Recover Photos from Locked iPhone 14/13/12/11
[Solved] How to Recover Deleted Photos from iPad? (2023 Update)
14 Tricks to Fix iPhone Contacts Missing Names (Comprehensive Guide)
Recover Lost Memories: A Practical iPhone Photo Recovery App Review
Recover Deleted Videos from iPhone: Best Software and Techniques