Have you bought a new iPhone and now you want to restore all of your iTunes back-ups to the device? You log into iTunes successfully and see a window prompting you to "Enter the password to unlock your iPhone backup." Now you are wondering why there is a password on the iPhone backup. If you have an encrypted iTunes backup, you will be asked to enter the passcode to unlock it before iTunes allows you to restore files or even see the contents. So how can I unlock backup password on iPhone?
Understand that Apple hasn't changed the encryption algorithm of iPhone backup files. It is still using the same strong encryption you had set. You have to enter the password to unlock your backup. However, most users don't know why iTunes requests the backup password, what it is and what to do when you forgot the password.
That's why we have compiled this guide. You'll understand better when you read till the end.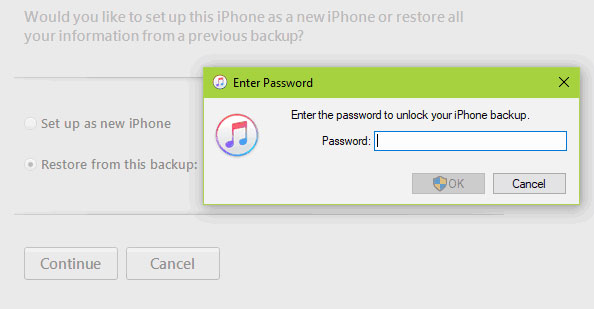 Part 1: What's iTunes Encrypted Backup?
iTunes encrypted backup is a way to encrypt your iTunes backup on your computer. This will help protect the data from someone who has access to your machine and protect against hackers that may want access to the data. Even when a person has access to your computer, they won't access the backup contents since it needs a password to unlock the encryption.
If you wish to encrypt your iTunes backup, you should enable the option for passcode encrypted backup to allow iTunes automatically make the encrypted backup for your phone. But note that the password you should set to encrypt the backup files shouldn't be similar to the Apple ID passcode.

You may like:
How to Easily Bypass iCloud Activation
How to Check if iPhone Is Unlocked without SIM Card [Proven Guide]
Part 2: Why Does iTunes Ask for a Passcode to Unlock iPhone Backup
The answer to why you are asked for an unlock passcode is that the iPhone backup locked with password, and it's not possible to view the contents of the backup files without the password. You will be asked to enter the passcode when you try recovering the data from iTunes backup to a new device or when you've lost all of your data on the existing iPhone; now, you want to recover them.
There is no way of viewing the backup files if you don't have the correct password. These files are encrypted with the password you have set in the iTunes Account and can only be opened if you know it. For example, let's say the iPhone backup was encrypted with a password of "12345". If you don't enter the exact passcode, restoring data from the backup files to your iPhone will be impossible.
So, you now know iTunes asks for a passcode to decrypt the files backed up in iTunes. The password is automatically generated when you turn on the encryption for your backup files, and you can use the password you want.
Part 3: How to Fix "Enter Password to Unlock iPhone Backup" Issue
The "enter the passcode to unlock your backup" issue can be annoying. When you try entering a password, iTunes will tell you you've entered the wrong password. Afterward, you'll see a try again pop-up on the screen. You will receive pop-ups every time you enter the incorrect password. But what to do if the problem persists and nothing seems to work?
If you have forgotten the password to unlock iPhone backup, the easier solutions here can help you fix it.
Fix 1. Simple Solutions to Fix iPhone Backup Locked with a Password
Didn't set iPhone backup password, but you are prompted to enter the passcode before accessing the backup files? You can use simple tricks and solve this problem without a hassle. Check them out!
Solution 1. Try Entering All Possible Passcodes You Can Think Of
First, try entering any password you remember to fix iTunes backup password never set. Try common default passwords like 1111, 0000, 123456, qwerty, etc. Also, try using iPhone or iTunes password, birthday dates, and your loved one's name. These are the most common passwords used. However, this solution isn't guaranteed to work out the way you expect. But just give it a try, especially when iTunes encrypted backup password never set.
Solution 2. Try Asking Your Family or Close Friends
If you didn't set iPhone backup password, or none of the passwords you recall is working, it's time you get help from other people. You may ask your close friends or even family members if they know the passcode you used when backing up your data. Maybe you told someone the secret passcode, so asking around can be helpful.
Solution 3. Reset iTunes Backup Password on iPhone
Another technique to solve the "iTunes encrypted backup password never set" issue is to reset encrypted password on iPhone via the Settings application. Normally, the passcode is set on the iPhone, so it'll be easier to reset it. However, the new password will not work for the previously encrypted files. So, how to reset an encrypted password on an iPhone? Follow these steps to reset your iTunes backup password;
Step 1: Head to the Settings app and click on "General." Then look for the "Reset" option.
Step 2: Choose the "Reset All Settings" option, then input your passcode.
Step 3: Click "Reset All Setting" to bring your device to default settings. This will also remove the backup password.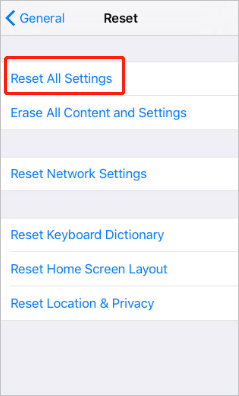 Step 4: Now connect the iPhone device to iTunes and create a backup again without encryption.
Fix 2: The Best Way to Remove iTunes Backup Password with iOS Unlock
Have you tried all passwords, but nothing is working? Even your close friends don't have a clue about the password you used to encrypt iTunes backup. It's time to try a tool and solve this annoying problem for good. iOS Unlock is the best app that can help you bypass iTunes backup passwords, removing it in a few clicks. The software is compatible with Windows or Mac computers, where you can remove the password fully and safely.
The process is quick, and you'll be able to decrypt the backup in a blink of an eye. iOS Unlock is also a super easier tool, very convenient for non-tech-savvy individuals who want to remove the lock on their iPhone backup. Do you know the best part? No data loss will be experienced. All data is safe and secure.
Key Features of iOS Unlock:
* Unlock the backup password on the iPhone easily.
* No data loss when bypassing the encryption on your iPhone.
* Remove iPhone screen lock without passcode, including Touch ID, Apple ID, Face ID, etc.
* Remove the Apple ID and iCloud activation lock easily.
* Easy to use. No technical skills are needed.
* Compatible with all versions of iOS.
Just follow the easy steps below to use the iOS Unlock to remove iTunes backup password;
01 Download, install and launch the computer. After that, choose "Screen Unlock" from the list.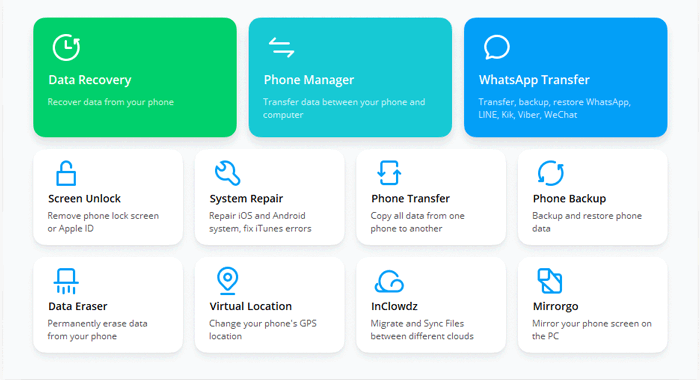 02 On the next page, you'll see the "Remove iTunes Backup Encryption" feature. Click on it to continue.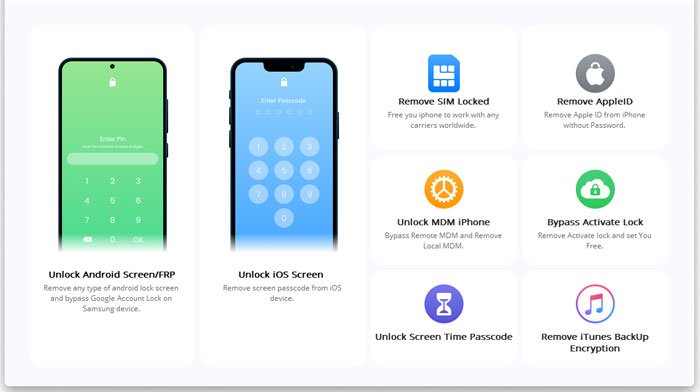 03 You can now connect the device to the computer with a working USB cable. Wait for some time for the process to finish. After the program has recognized your device, you'll see the device on the screen. Hit "Remove Now" on the screen. Note that the Find My iPhone should be off, iTunes should also be closed, and your phone will restart.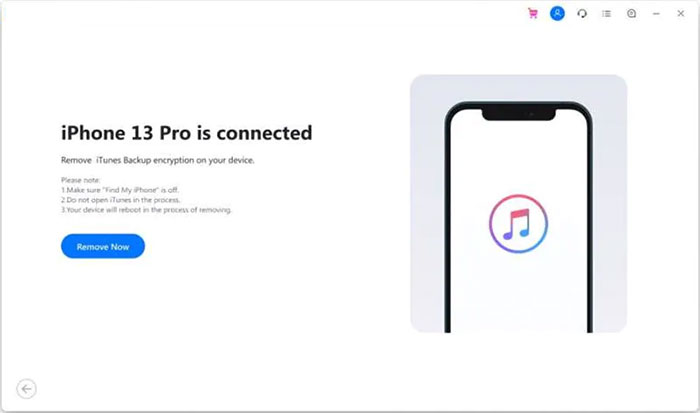 04 After clicking the button to remove the password, wait patiently for the process to finish. It won't take a long time, and after it reaches 100%, your encryption won't be there anymore.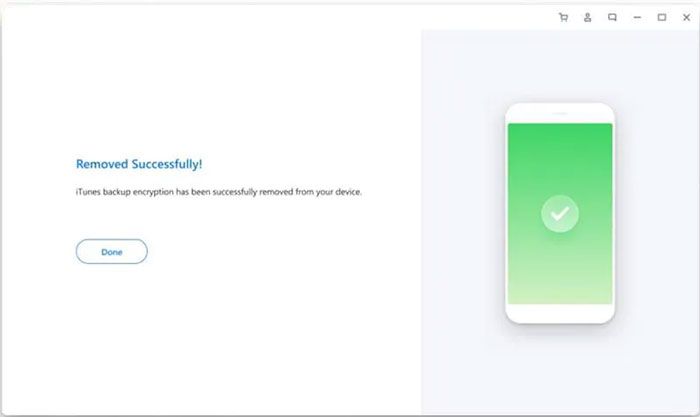 See more:
How to Unlock iPhone with Unresponsive Screen? [Full Guide]
iCloud Unlock Service: Bypass iCloud Lock with Legit Methods
Part 4. FAQs About Encrypted iPhone Backup Passcode
Q1. What happens if I forget my encrypted iPhone backup passcode?
You have to reset the device to factory settings if you don't remember the encryption password or have lost it.
Q2. Can I Recover Backups if I Forget iPhone Backup Passcode?
If you forgot your backup password, you probably can't recover your backups. The password protects the contents of the backup, and without it, the contents will be completely useless. You'll need to remove the unlock backup password with the help of iOS Unlock.
Summing Up
We've explained every detail regarding iTunes backup password, why it'll ask for the password when you try restoring your iPhone from iTunes, and the possible solutions to fix it. As you can see, iOS Unlock is the tool that can fix the problem in a matter of seconds. So, why don't you give it a try? It'll help you unlock encrypted iTunes backup files safely.
Related Articles:
How to Unlock iPhone without SIM Card? [Updated Tutorial]
Fast Factory Reset iPad without Passcode with 3 Solutions
How to Get into a Locked iPhone without the Password or Face ID? [Solved]
How to Bypass iCloud Activation Lock Easily on iPhone/iPad?
How to Unlock SIM Card on iPhone with Easy Steps [3 Solutions]