WhatsApp is a messaging app that has taken the world by storm, boasting a large and engaged user base with over a billion active users. One of the service's key features is its ability to back up your messages to its servers. If you are using an iPhone, chances are you've already backed up WhatsApp chats to iCloud, which usually happens by default.
Unluckily, data might get lost on our iPhones, leaving us with the only option of restoring them from iCloud. This guide will show you superb ways to achieve that. So let's dig deeper into how you can restore WhatsApp from iCloud.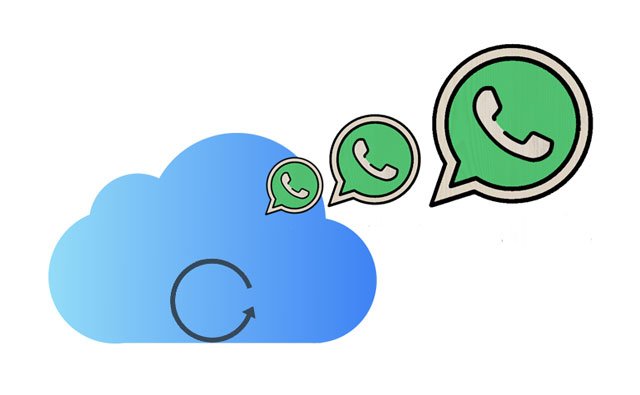 Method 1. How to Restore WhatsApp from iCloud via iCloud Backup
The good thing about WhatsApp is that it saves chat history in iCloud for iOS users. You can access or restore the chat history using your iOS devices easily. By the way, it's the same as restoring chats from Google or iCloud Drive. Before restoring your data, ensure you've signed in to your account with the same Apple ID on both iPhones. Note that this technique needs you to delete all data on receiving the iPhone first.
Do this to recover WhatsApp chats on your iPhone using the iCloud backup:
Step 1: Connect your iPhone to the Wi-Fi network and proceed to Settings, select iCloud, then click on the Backup button. Next, switch on iCloud Backup and select the Back Up Now option. Wait for the backup to finish.
Step 2: From there, navigate to Settings on the new iPhone, click General > Reset. Click on Erase All Content and Settings, then set up your device with Setup Assistant.
Step 3: Click the Restore from an iCloud Backup option in the Apps & Data Screen. Once done, log into iCloud and go on to select a backup. Ensure you choose the right one containing all data you want to recover.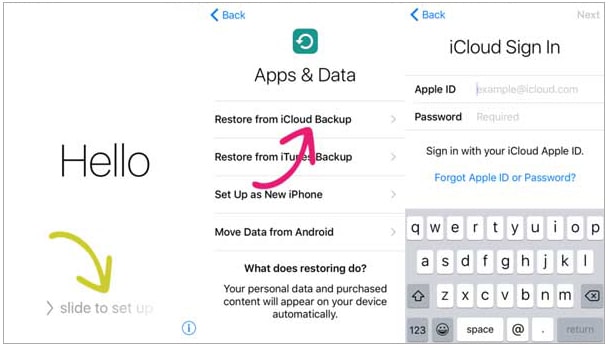 See more: How can you access WhatsApp backup directly? Please utilize these 4 approaches.
Method 2. How to Retrieve Restore WhatsApp Chat History on iPhone Via iCloud Drive
iCloud Drive is a cloud storage service integrated with iCloud. You can use it to sync and store all of your files, folders and documents securely and access them from any of your devices, whether it is iPhone or Mac. Normally, in WhatsApp settings, you'll find a Chat Backup option that can help you save your WhatsApp files, including texts and media files, to iCloud Drive.
You can back up the files using your old iPhone and then restore the chats on a new one. But ensure you turn on the iCloud Drive option on both devices before you begin.
Here's what you need to do to restore WhatsApp chat history on your iPhone via iCloud Drive:
Step 1: Navigate to Settings on your old iPhone after connecting it to Wi-Fi. Select iCloud, and then switch on iCloud Drive.
Step 2: Go to WhatsApp, open it and look for the Settings option. After locating it, click on it and proceed to click on Chats, then choose the Chat Backup option and tap on Back Up Now, and wait till the backup finishes.
Step 3: Take your new iPhone and connect it to the Wi-Fi network and switch on iCloud Drive. Install WhatsApp on the device and sign into the account with the same number used on the old iPhone.
Step 4: The application will ask to restore the chat history from iCloud. Tap on the option for Restore Chat History. Once the process finishes, you may check WhatsApp chats on the new iPhone.
Read also: Can Smart Switch transfer WhatsApp chat history? Open this link to find the answer.
Method 3. How to Restore WhatsApp Chat History Without Data Loss [Easy Way]
Many find it impossible to restore WhatsApp data between iOS and Android devices since they operate on different systems. Still, there is a possible way to get past this. With the help of WhatsApp Transfer, you can restore WhatsApp messages from your iPhone to Android without iCloud or Google Drive.
For any item you want to transfer, WhatsApp Transfer has got you covered. The tool allows you to back up and restore your WhatsApp data between your iPhone and computer. Thus, you can get rid of iCloud completely if there is no adequate storage on your iCloud.
Key features of this WhatsApp transfer software:
* Back up your WhatsApp messages and media data from an Android phone or iPhone to a computer at once.
* Restore the WhatsApp chat texts and attachments to your phone.
* Directly transfers WhatsApp messages between Android and iOS devices.
* Allow you to view your WhatsApp data on your computer after backup.
* It can also back up and restore the chat history of WeChat, WhatsApp Business, LINE, Kik, and Viber for iOS devices.
Download the WhatsApp data transfer program.
Steps on how to restore WhatsApp data from an old device to an iPhone without iCloud:
01Install the Software on the Computer
Start by downloading and installing the WhatsApp backup and restore software on your PC or Mac and launch it.
02Connect Your Phones to the Computer
Next, choose the WhatsApp Transfer and Transfer WhatsApp messages tabs. Then connect your mobile devices to the same computer. The program will automatically recognize the devices.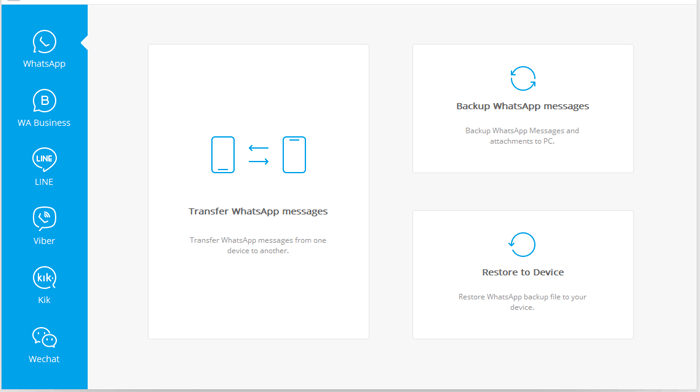 03Directly Transfer WhatsApp Data
Check if your target device is on the Destination side. If not, tap the Flip icon to change it. Then click Transfer and Continue icons to start the process. Once done, you can view the WhatsApp chats on your destination device.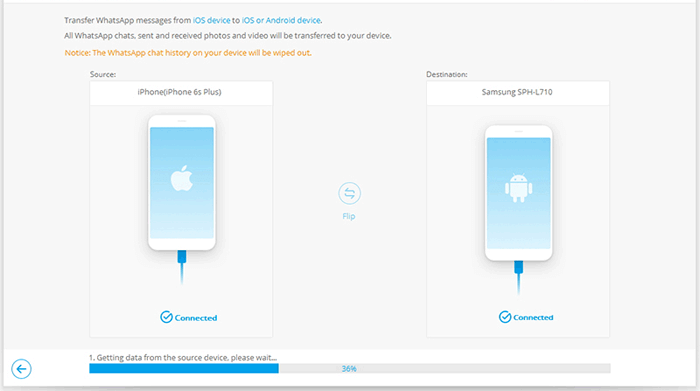 Maybe you like: Top 8 Tools of WhatsApp Transfer Software - Handily Move WhatsApp Data
Bonus Tip: What To Do If You Can't Restore WhatsApp Chat History?
Sometimes you may find it impossible to recover WhatsApp chats from iCloud. This can happen maybe due to corrupt backup. It can also be a syncing error, or your device stopped responding. Maybe it's the internet. Whatever the case, there are some tips you ought to know to ensure everything goes as expected.
Ensure your iPhone's storage is sufficient to recover the iCloud backup. To check the available storage, open the settings app on iPhone and proceed to General and then to iPhone Storage.
The phone number used in WhatsApp must be the same while backing up and restoring WhatsApp on iPhone.
Your internet should also be stable.
Conclusion
We've come to the end of this article. No more problems when you want to restore WhatsApp from iCloud. Also, you can consider going the easier way by using WhatsApp Transfer. This is an easy and intuitive software that would help you to restore WhatsApp messages to your mobile phone seamlessly.
Related Articles:
Transfer WhatsApp from Old Samsung to New Samsung in 4 Hassle-free Ways?
How to View Text Messages on Computer for Android Phone Users? (Solved)
10 Methods to Fix iPhone Text Messages Disappeared Issue in 2023
Back Up Text Messages from Android to PC or New Phone
Ways to Fix "Messages Didn't Transfer to the New iPhone"
How to Recover Deleted Viber Messages on iPhone (with/without Backup)