"I stored some files on my iCloud in the past, but I totally forgot what they were. So I want to know how to see what's on my iCloud. Is there any way?"
- A Quora Discussion Post
It is essential you know what's stored in your iCloud for easier backups management. Knowing what is in the backup will help you decide what can and cannot be deleted. We know that iCloud is a storage service, which means it has multiple files stored in its system. From the funny pictures you take with your friends to the moments we wish our phones had never captured, iCloud stores everything. It ensures your memories are preserved, so you'll never miss a beat.
Do you know what is in your iCloud, and how to check what is on your iCloud? If you know what is in your iCloud, you will be able to manage the storage by freeing up more space to remove those files that were never intended to be backed. Read on to understand better.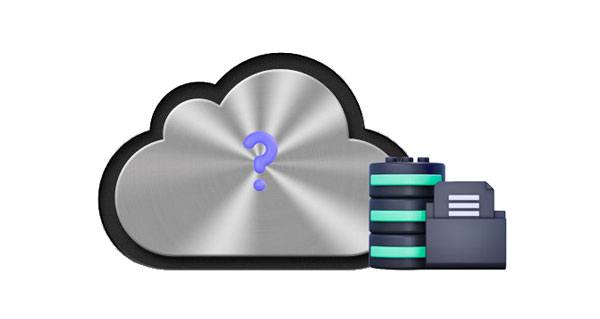 Part 1: When You Need to Know What's Inside iCloud
When your iCloud account has stored too many files and the storage space starts to run low, you'll receive alerts on all your Apple devices. Consequently, it will be very difficult to back up any other file, which can be a major issue. In that case, you need to see what files can be removed to make room for more important ones. If you don't do something to create more space, these alerts will keep on popping up on your screen, which can be annoying. You can buy more iCloud storage or delete some files you've stashed in iCloud.
You have accumulated iOS backups, a huge assortment of iCloud photos and videos in your library, and much app data, as well as numerous documents and other materials saved on your iCloud, all contributing to the issue at hand. You will have to remove some of them. Before choosing the files to delete, you must see what is in your iCloud and decide what to delete. Keep reading to know how to check iCloud storage.
Part 2: How to See What Is in My iCloud Storage via iCloud Website
How do I see what's in my iCloud? If you want to know what is stored in your iCloud, accessing the files directly from the iCloud website is the way to go. All you have to do is to log into your account, then explore the different types of information backed up within your cloud storage system.
When done browsing all of the content available, decide what should be kept and removed. With such an effortless process, you should easily see what's on your iCloud. Here is a step-by-step process on how to check what is on your iCloud:
Step 1: Head to the iCloud website and log into your iCloud account.
Step 2: When there, you will see various file types that are stored in iCloud.
Step 3: Tap on the file you wish to view its content. Now decide the data you want to keep and which one to eliminate.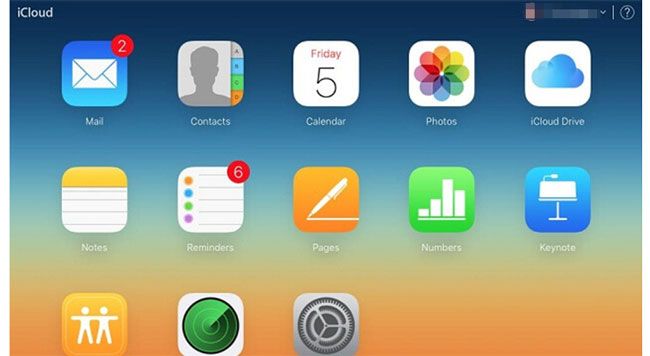 You might like: When iCloud backup is failed on your iPhone, you can find out the cause and fix the problem immediately.
Part 3: How to See What is Stored in iCloud on Your iPhone
Not only can you view your iCloud content on the web, but if you have an iOS device like an iPhone or iPad, you can as well see what's stored in iCloud. When you get new data in your iPhone or iPad, it will sync to all your iOS devices linked to the same iCloud account. This way, your data is always saved in the cloud and accessible from any connected device. Here is how to view iCloud storage:
Step 1: Click on the Settings app, an icon with a gear-like button on the home screen.
Step 2: Click on your Apple ID at the top section of the Settings page. It has your name.
Step 3: Click on "iCloud" > "Storage" > "Manage Storage". Select the backup you wish to see and click on it for more details. Here you have the option of deleting the selected backup or including specific data in future backups.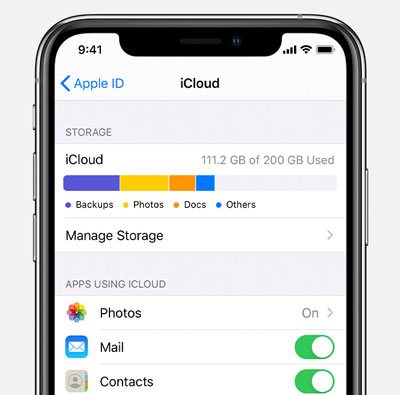 See also: With this guide, you can back up your iPhone data without iCloud. Let's take a look.
Part 4: How to See What Is Stored on My iCloud on Mac
How do I see what is in my iCloud on a Mac? In fact, it is simple. You can log in to your iCloud account directly. Here are the steps to check what's in your iCloud storage on a Mac:
Step 1: Launch the Apple menu on your Mac and click "System Preference".
Step 2: If your Mac runs on macOS 10.15 and above, tap "Apple ID" and click "iCloud". For macOS 10.14 and below, tap "iCloud".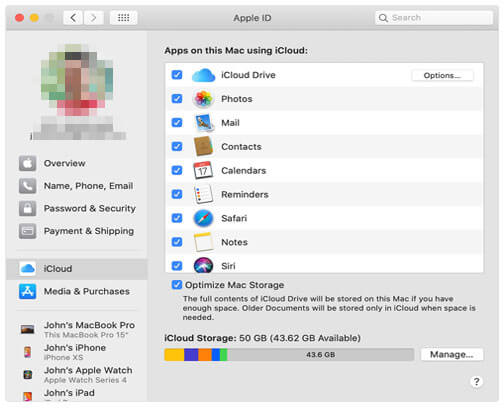 The bar graph under iCloud shows your iCloud Backup, with all the files available in iCloud. You will be able to have a clear view of which files are taking too much space and decide which ones to remove.
Maybe you need: How to Fix iPhone Grey Screen of Death By Yourself? (8 Solutions)
Part 5: How to Check iCloud Storage Using iCloud Control Panel
Apple offers an additional way to view what's in your iCloud through Control Panel. You must install iCloud for Windows on your PC and view your data, such as photos, videos, bookmarks, emails, etc.
Open the iCloud Control Panel, then log in using your Apple ID and password. From the control panel, you can see the types of files on iCloud backup.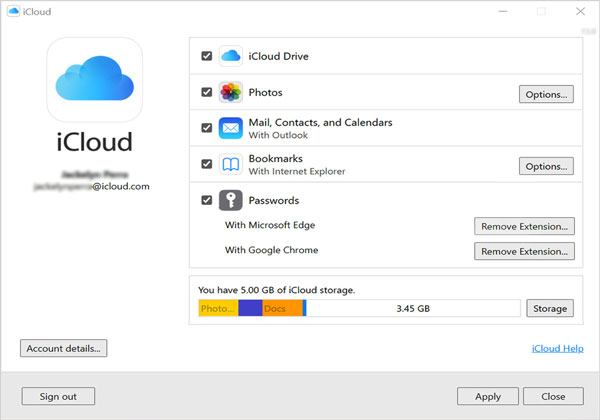 You can easily manage and delete your photos/videos from your iOS device's Photos app when you activate iCloud Photo Library.
Check it out: How to Back Up iPhone to iCloud and Restore iPhone from iCloud Backup Fast
Part 6: How to View iCloud Storage via Coolmuster iCloud Backup Recovery
Even though you don't install the iCloud app on your PC, you can also view your iCloud storage with ease. With Coolmuster iCloud Backup Recovery, you are able to view different files that you store on your iCloud, like photos, contacts, notes, calendars, reminders, etc. Also, you can restore your iCloud data to your computer without resetting your iOS device.
Thus, this software is not only a simple file viewer but also an iCloud file recovery tool. You can preview and save your iCloud backup files directly.
Here are its main features:
* Allow you to see what is stored on your iCloud.
* Easily recover your iCloud backup photos, notes, contacts, and more to a PC.
* Don't compromise the quality of your files.
* Only require your iCloud credentials for successful restoration.
* Compatible with Windows systems as well as most iPhone models.
Download this iCloud backup recovery program on your computer to check your iCloud files.
How do I see what is in my iCloud? Follow these simple steps:
01To start, launch the software on your computer after installation. You will head directly to the primary interface. Next, enter your Apple ID and password correctly on the screen to access your iCloud account. Then hit the arrow to sign in.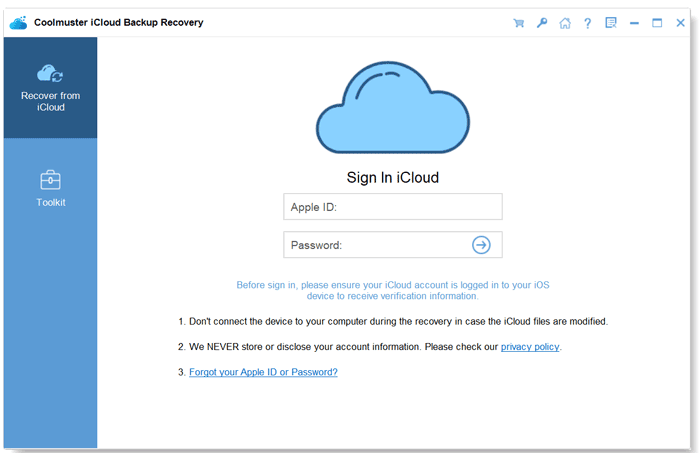 02You will be prompted for a verification code; provide it and tap "Verify". You must enter the accurate information; otherwise, you'll receive an invalid message.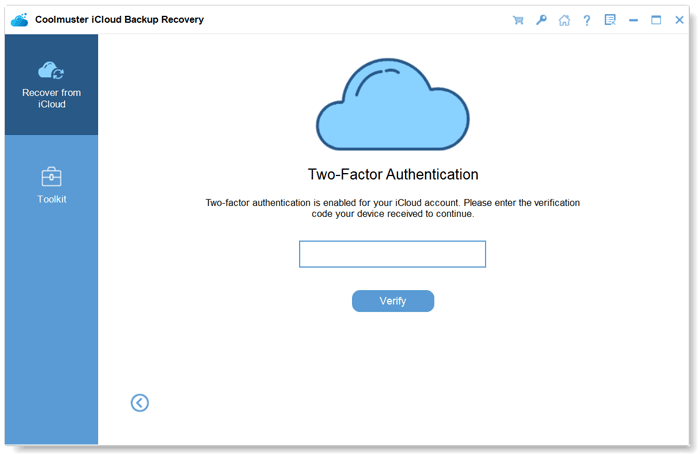 03Now check all those files you want to view from your iCloud and hit the "Next" button. The tool will scan all the iCloud backup files and list them on the screen. You can now see the files available in your iCloud storage. If you want, you can export them to your PC by selecting them and clicking on the "Recover to Computer" tab to export them onto your PC.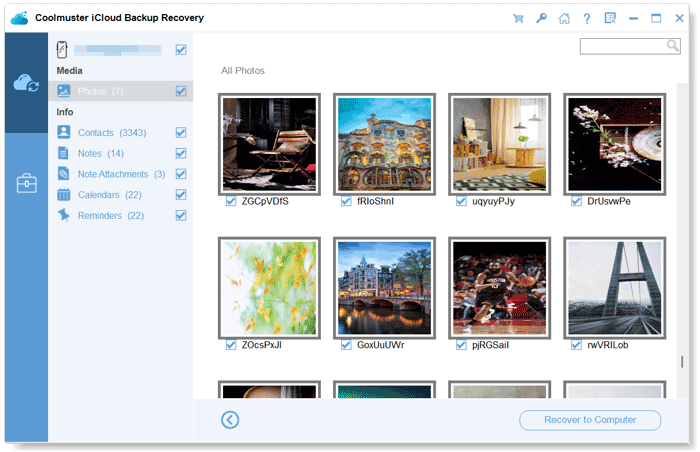 Conclusion
How to see what is on my iCloud storage? You now know the answer. It is important to what's in your iCloud storage as it will prove invaluable in managing the files. Knowing what is stored in iCloud can help you decide which data should be removed and which files ought to remain, granting more room for new backup files. You can view what is in your iCloud via your iOS device, Mac, PC, or iCloud website.
Plus, with Coolmuster iCloud Backup Recovery, you can view and recover your iCloud backup files on your computer. You don't need to connect any iOS device to your compouter, or go through the iCloud panel. If you plan to check and extract your backup data, choose it.
Related Articles:
How to Restore Contacts from iCloud with or without Backup? (5 Options)
iCloud vs. iTunes Backup: What's the Difference between Them? (Full Guide)
Top 7 iCloud for Android Alternative You'd Better Know
How to Back Up iPhone Contacts to iCloud? (Ultimate Guide)
[Solved] How to Transfer Data from One Apple ID to Another Seamlessly?
How Long Does It Take to Restore an iPhone on iTunes/iCloud? (Authoritative & Reliable)