Password-protected PDFs add an extra layer of security by preventing unauthorized parties from viewing or making any changes to the file. Forgotten passwords might be inconvenient, but if you don't know the password, you can always research how to unlock a PDF.
The good news is that there are various PDF tools, both online and offline, to guarantee that you can remove PDF passwords successfully and use them to your liking. It will take you a short time to unlock PDF with these tools. The finest PDF unlockers and how to use them to turn off PDF protection are detailed below.
Part 1. How to Unlock a PDF Using Coolmuster PDF Password Remover (Recommended)
Coolmuster PDF Password Remover offers a swift and efficient method of removing password protection. It effortlessly removes PDF owner and user passwords, decrypting PDF files with a simple right-click. Additionally, it supports batch decryption mode, allowing you to open up to 200 PDFs concurrently. Once the PDFs have been decrypted, you can use them however you like.
Coolmuster PDF Password Remover has a quick processing speed, no matter how large the input document is. It is compatible with Mac and Windows. The Windows platform does not require additional plug-ins, so users can relax without minding about any malware on their PCs.
Check out some of Coolmuster PDF Password Remover's key features below:
Access password-protected PDFs in a single click.
Decrypt PDFs in bulk up to 200 PDF files at the same time.
Function independently, without the aid of Adobe Reader/Acrobat.
Improve your processing speed by making the most of your CPU.
Use the following guide to unlock a PDF using Coolmuster PDF Password Remover:
01Download the Coolmuster PDF Password Remover. Run the PDF tool and load the protected PDF documents using the "Add File" menu item.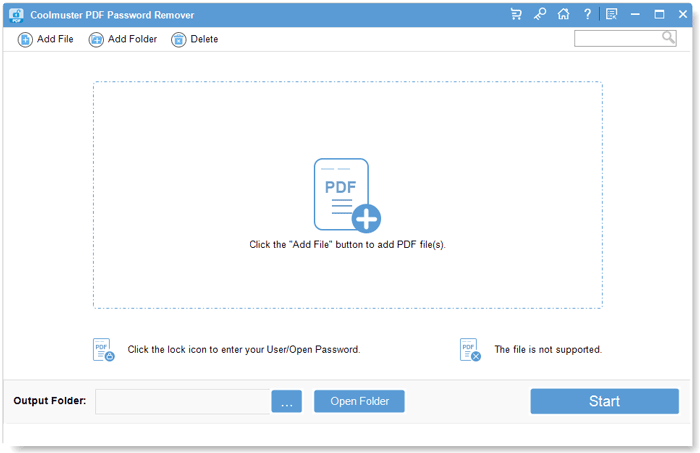 02Select the "Browse" button at the program's bottom to pick an Output Folder for the decrypted PDFs.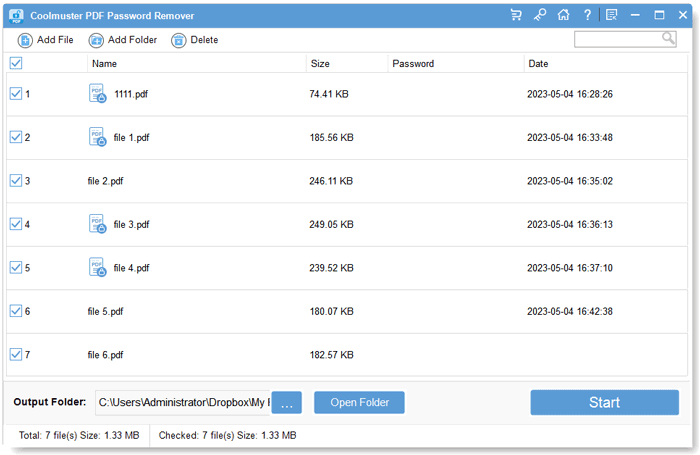 03Tap the "Start" button to start decrypting if you have already made appropriate adjustments. If you'd rather not decode every imported PDF at once, select the desired PDF file, right-click it, and select "Decrypt Selected" from the resulting menu.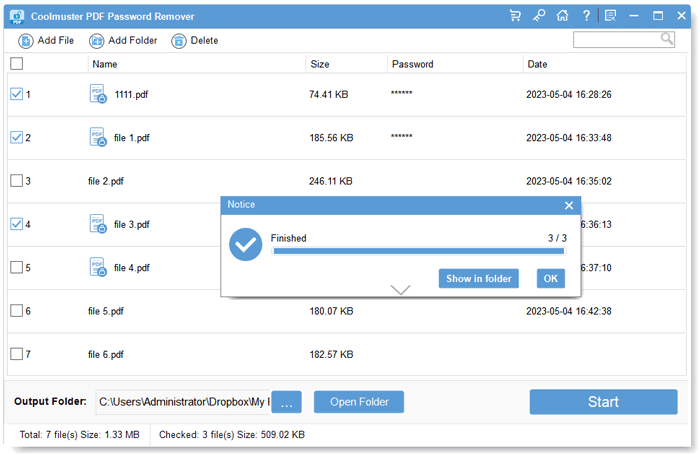 Read More:
Unrestricted Access: Mastering the Art of Removing Security from PDF
How to Convert Password Protected PDF to Without Password: Approved Methods
Part 2. How to Unlock PDF Files - Offline Methods
If you have the PDF's password, you can use several offline tools to unlock the file permanently at no cost. The following are three fantastic software to unlock PDF offline:
Method 1. How to Unlock a PDF Without a Password with Adobe Acrobat
Adobe Acrobat provides password protection for your PDF, preventing any outsider from accessing your personal information. This tool can unlock PDF files to make changes, copy text, or even print them without the original owner's permission. Here are simple steps to use Adobe Acrobat to unlock PDF files:
Step 1. Launch Adobe Acrobat and access the protected PDF. Click on "File" and select "Open" to access your PDF file.
Step 2. Then, navigate to the Document Properties. On the Security tab and the drop-down menu, click "No Security".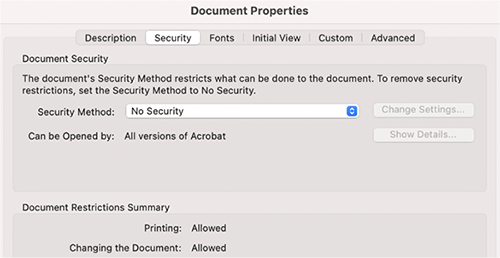 Step 3. If a Document Open Password protects the file, choosing "OK" will erase it.
Step 4. If the document requires a password for access, type it in the enter password box, then hit the "OK" button. Enjoy viewing a PDF without password protection.
Method 2. How to Unlock a Password-Protected PDF Using Soda PDF
Soda PDF lets you remove and share document password protection with others. In addition to PDF file encryption and decryption, it offers other useful features such as joining, compressing, splitting, editing, converting, etc. After the protection is lifted, the file can be opened in various modern editing programs and converted to various formats. This is how you use Soda PDF to unlock password-protected PDFs without password:
Step 1. Get into the locked file and open it. Please enter a Document Open Password and click "OK" to proceed.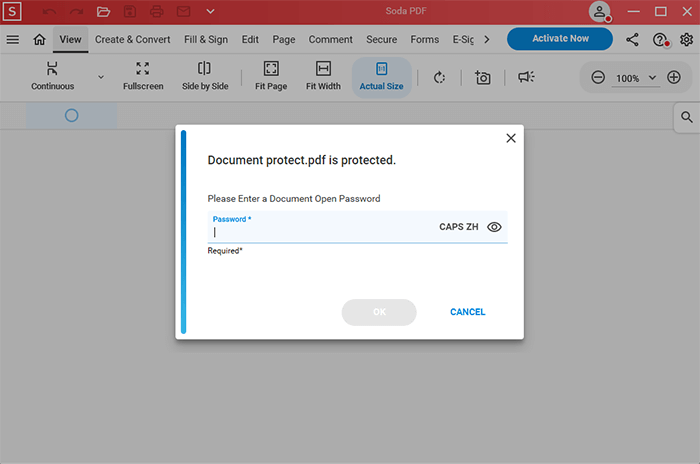 Step 2. Click "Password Security" from the Secure and Sign option.
Step 3. You can remove your password in the Change Password dialogue box. The PDF's password protection will be removed by deselecting Require a Password to Open Document.
May Like:
Liberating Your Files: The Magic of PDF Secured Remove [Updated]
Best Programs on How to Remove Password from PDF on Mac [Newest]
Method 3. How to Unlock PDF Files on Mac Through Preview
Preview is an effective tool preinstalled on every Mac and can handle most PDF editing tasks. One is straightforward PDF unlocking, which you can accomplish by opening a PDF file and exporting it as a PDF. This website allows unregistered users to unlock multiple password-protected PDF files. It is capable of unlocking PDFs that are protected by both user passwords and owner passwords.
The procedure to unlock PDF with an open password using Preview is as follows:
Step 1. Launch Preview to access the owner's password-protected PDF file. Tap the "File" menu and tick the "Edit Permissions" option.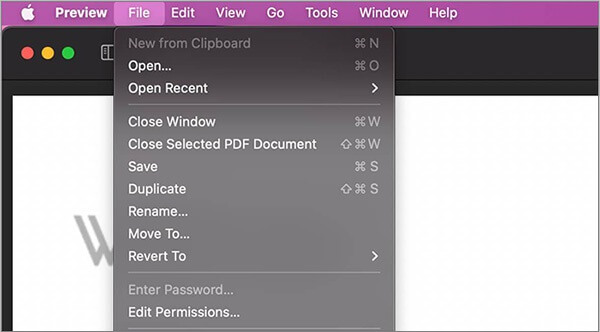 Step 2. Insert the owner's password and then select "Unlock".
Step 3. Click the "Checkbox" to enable edits without requiring the owner's password and hit the "Apply" button.
Part 3. How to Unlock PDF Files - Online Methods
There are several PDF password crackers available online. Unlocking PDF passwords online does not necessitate further steps, such as downloading and installing software. However, these methods require access to the internet to delete the password from the PDF.
Here is how to unlock PDF without a password through online tools:
Method 1. How to Unlock a PDF Using iLovePDF
iLovePDF is a highly efficient web program that facilitates convenient modifications of PDF documents. The tool ensures users can effortlessly edit, split, merge, and compress PDF files as they prefer. The inclusion of iLovePDF ensures the safety of your information. Follow these steps to unlock password-protected PDF files through iLovePDF:
Step 1. Go to iLovePDF's main page and select "Unlock PDF". You can browse your computer for a PDF to upload by clicking the "Select PDF files" button.
Step 2. Select the "Unlock PDF" button.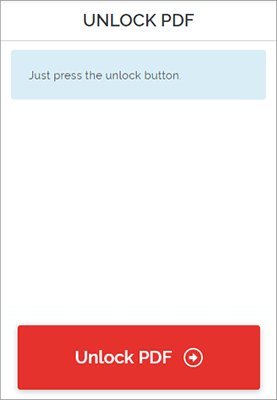 Step 3. iLovePDF will remove the password from the file and notify you when it's done. Click "Download unlocked PDFs".
Method 2. How to Unlock PDF Files with PDF2go
PDF2go is a reputable program that provides online services so that you can unlock PDF passwords from any device at any time. It will only offer you a password-free PDF. So, you may avoid the risk of installing malicious software on your computer by avoiding the need to download and install any software.
Use the following three simple steps to unlock PDF files using PDF2go:
Step 1. Go to PDF2go's official website. Click "Choose File" to add a PDF protected by a password.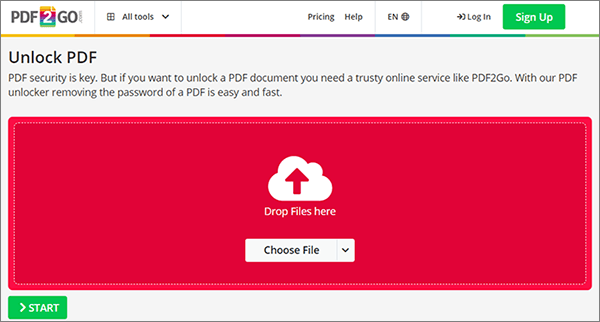 Step 2. Select the "START" button. The PDF you requested has been decrypted.
Step 3. Hit the "Download" button and save the updated, password-free PDF.
Can't Miss:
Say Goodbye to Restrictions: Adobe PDF Remove Password Solutions
Breaking the Lock: How to Handle a Forgot PDF Password Scenario
Method 3. How to Unlock a PDF Through PDFgear
PDFgear can immediately decode any document encryption method and remove the password from the PDF files. In just a moment, the PDF files will be accessible for download without password protection. There are no restrictions on PDFgear's free version since you can unlock limitless PDF files of any size. PDFgear is compatible with Windows, Mac, Linux, Android, iOS, and other mobile operating systems.
Here's how to unlock a PDF using PDFgear:
Step 1. Visit the website of PDFgear and click "Select PDF files" into the PDFgear online tool to erase the password.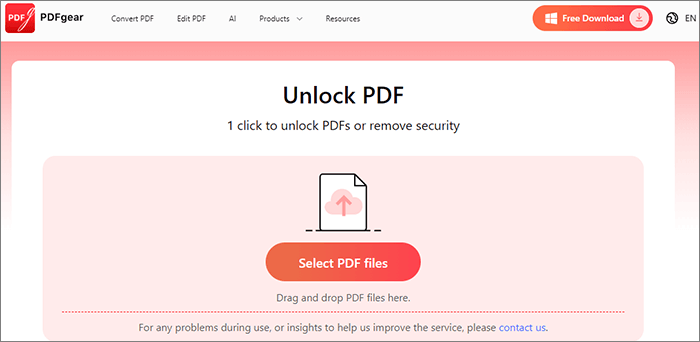 Step 2. Enter the right password and click "REALLY UNLOCK".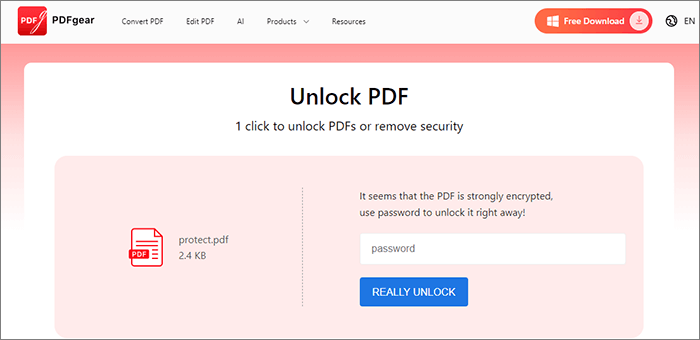 Step 3. The PDF document's password will be automatically erased when PDFgear decrypts it. In only 2 seconds, tap the "Download" button to save the unprotected PDF.
Method 4. How to Unlock a PDF File by Smallpdf
Smallpdf is a browser-based program that can decrypt protected PDF documents if the owner has forgotten the password. It is a true password-bypass program that removes passwords and grants unrestricted access to PDF files worldwide.
The procedure for using Smallpdf is very simple and is as follows:
Step 1. Go to the website of Smallpdf. Select "Unlock PDF" from Tools, then tap the "CHOOSE FILE" option.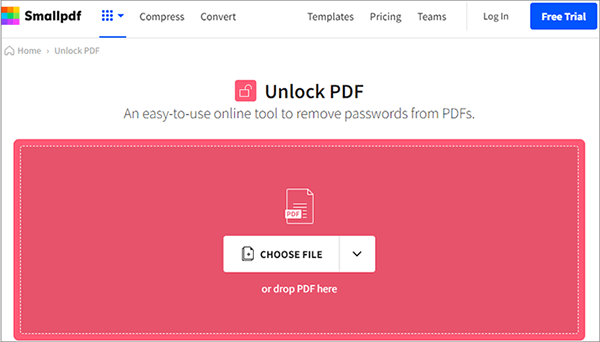 Step 2. On the resulting page, click "UNLOCK PDF".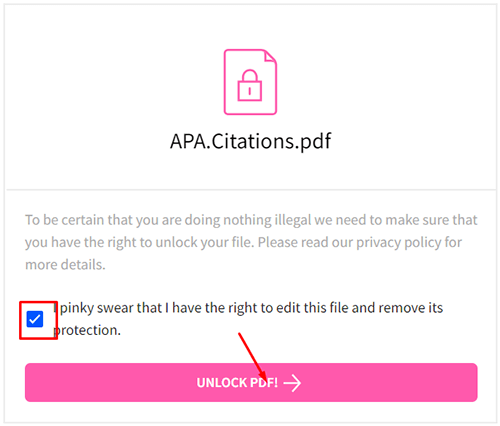 Step 3. When you're ready to save your unlocked PDF, select it and click the "Download" button.
See Also:
A Detailed Review of SmallPDF Unlock: Remove That PDF Password Now!
How to Remove Password from PDF on iPhone with the Most Popular Apps
Part 4. FAQs on How to Unlock PDF
Below are the frequently asked questions in regards to unlocking protected PDFs without a password:
1. How can I unlock a PDF if I know the owner's password but not the user's?
If you can access the owner password (permissions password), you can modify or print the PDF as you see fit. However, the user password may be necessary to unlock the document if it is likewise password-locked (protected against unauthorized access).
2. Will unlocking the PDF mess up the formatting?
In most cases, the PDF's original layout survives after being unlocked, so there's no need to worry. Some nonstandard techniques of encryption, however, may cause slightly different presentations.
Conclusion
Protected PDF files can be easily unlocked using the methods mentioned in this article. However, if you need to quickly and effortlessly unlock a password-protected PDF, Coolmuster PDF Password Remover should be your number one tool. Download Coolmuster PDF Password Remover right now, and you can unlock PDF files with a single mouse click.
Related Articles:
[Useful PDF Tips] How to Open Password-Protected PDF Without the Password
How to Remove Encryption from PDF Like a Pro? Solved in 6 Quick Ways
Beyond Locks: Effective Ways to Save PDF Without Password
The Best Free PDF Security Remover Tools to Recommend [7 Tools]
Unlocking the Power of Conversion: How to Convert PDF to Word
Effortlessly Remove Background from PDF Documents [How-to Tutorial]