At the forefront of accurate PDF editing is the need to track your word count. Tracking your PDF word count helps you meet the minimum required document length.
Not surprisingly, you can't count PDF document words manually. On the bright side, a PDF word counter can automate the process for you and save you plenty of time and effort. How do I count pages in a PDF? Check out this review of the most recommended PDF word counter tools available online and offline.
Part 1. Offline PDF Word Counter Tools
This part mainly introduces the offline word counters from PDF, including their pros, cons, and pricing. Read on to discover how to find the word count in a PDF using offline PDF word counters.
Counter 1. WPS Office
WPS Office is a popular tool among writers and students. It is a free, lightweight, all-inclusive office suite providing convenient and efficient solutions for your productivity needs. It can seamlessly integrate with multiple applications like OCR, Excel, PDF, and Writer.
This integration allows for cool features, such as PDF word counting. WPS Office is powered by AI, making it a brilliant PDF reader, AI writer, and PDF word counters.
To perform a word count using WPS Office, launch the app, then open your PDF. Convert the PDF to Word, then open the Word file. Head over to the Review tab, then click Word Count.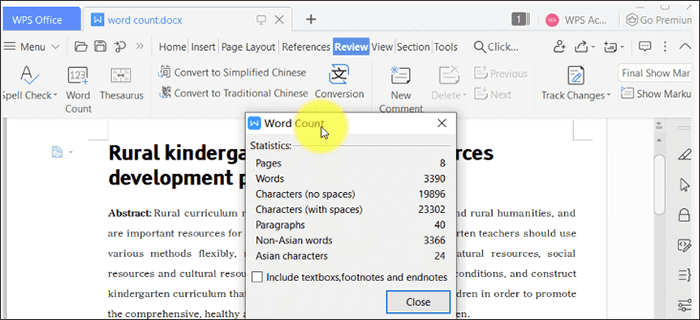 Key Features:
Perform key PDF functions using voice interaction features.
Count PDF words accurately.
Extract relevant data from PDFs.
Pinpoint the location of specific information within a PDF.
Pros:
* It is powerful and fast, yet lightweight still.
* Preserve PDF formatting accurately.
* Integrate PDF word counting seamlessly.
* No annoying ads.
Cons:
* The PDF word counting process is not as direct, though effective still.
Price:
* WPS Office PDF word counter is free.
Counter 2. Adobe Acrobat Pro
Adobe Acrobat is a popular PDF file editor and management software. With Adobe Acrobat Pro, you can manipulate different features of a PDF, such as tracking the PDF word count. Adobe Acrobat markets itself as the world's most trusted free PDF reviewer and editor.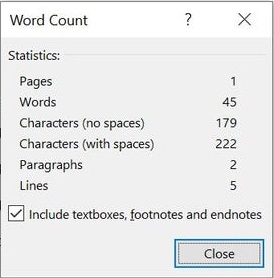 Key Features:
Create and edit PDF files.
Secure PDF files from unauthorized access.
Manage PDF files using various functions like the PDF word counter.
Pros:
* Adobe is available on desktop and via your web browser.
* It is fast and extremely powerful.
Cons:
* Unfortunately, Adobe Acrobat Pro may limit some of its key features and functions to a premium package.
Price:
* Free to try.
* It has different pricing packages, including an annual package for $239.88 paid before or $19.99 paid annually and a monthly package for $29.99.
You May Like:
How to Remove Metadata from PDF Efficiently? [Online & Offline Tips]
[Easy PDF Tips] How to Extract Tables from PDF for Free in 7 Ways
Part 2. Online PDF Word Counter Tools
Tired of downloading third-party software? Online PDF word counter tools are convenient for use since you don't have to download and install any program. Below are some of the best online PDF word counters.
Counter 1. Monterey Language Services
Monterey Language Services is primarily a language translation service for multiple clients. It provides multiple services like:
Video interpreting.
Corporate, legal, and medical translation.
However, besides translation and interpretation, Monterey Language Services can also help you with key PDF functions, such as tracking the word count.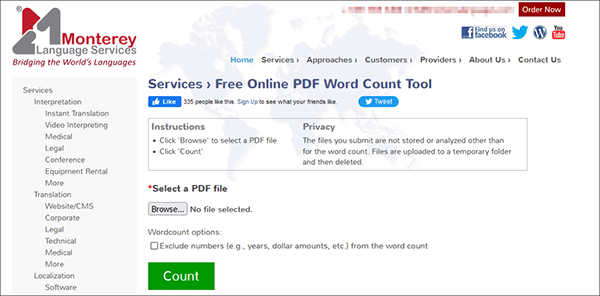 Key Features:
Track PDF word count effortlessly.
Exclude certain characters, such as numbers, from your PDF word count.
Enjoy the simple user experience.
Pros:
* The online PDF word counter has a simple and easy-to-use user interface.
* It is free.
* The PDF document word counter provides additional functions like interpretation.
Cons:
* Though it guarantees your file safety, online software still poses a small amount of risk of data breach.
Price:
* It is free.
Counter 2. Doc Word Counter
Doc Word Counter is a free online PDF word counter that can count real and accurate numbers of words in any file format. Besides being a reliable PDF word counter, this tool also functions as a free translator, PDF splitter, and PDF file converter. It can convert PDF to Word and PDF to images.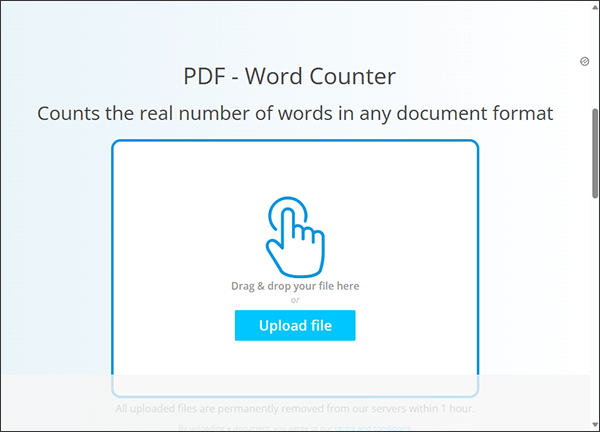 Key Features:
Count the number of words in any document.
Support multiple file formats.
Convert PDFs to Word and images.
Enjoy the seamless user experience thanks to the impeccable UI.
Pros:
* This word counter from the PDF tool supports multiple file formats, including Excel, PowerPoint, Word, etc.
* It has a simple yet intuitive user interface that is ideal for beginner users.
* It can count the real number of words in any document accurately.
* Free to use.
Cons:
* There is no 100% guarantee of file protection.
* In addition, you need a working internet connection if you want to use the tool.
Price:
* Free.
Further Reading:
How to Extract Images from PDF on Mac with Ease [7 Ways Included]
Convert Multiple JPG to PDF: A Guide for Effortless Conversion
Counter 3. Aspose PDF Word Counter
Aspose PDF Word Counter is another free web-based PDF document word counter tool. It is an extension of the Aspose product family. Generally, Aspose is a software company offering comprehensive document processing and managing capabilities.
Its word counter tool is an online service that allows you to effortlessly count words and letters in any text. The word counter tool can handle different file types and formats (over 162 formats).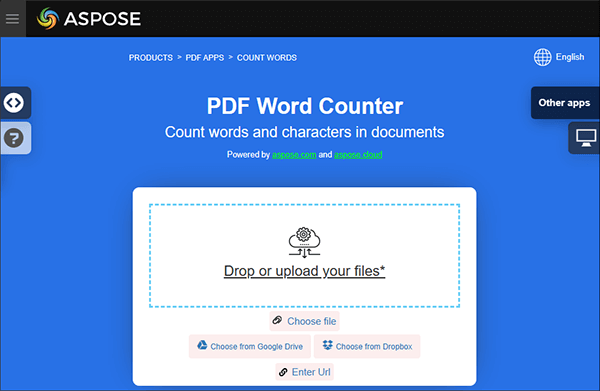 Key Features:
Count PDF words in different other formats like Doc, Word, PowerPoint, Text, and Excel.
Count PDF words from anywhere fast and easy.
Pros:
* Top-notch word counter quality.
* Work on all platforms, including Mac, Windows, Android, and Linux.
* It is fast, typically counting PDF words in a few seconds.
* User-friendly interface.
Cons:
* Limited functionality.
* Have accuracy issues, especially when dealing with complex layouts, non-standard fonts, or non-text elements in a PDF document.
Price:
* Free.
Counter 4. PDF Word Counter
PDF Word Counter by the American Economic Association is a tool extension of AEA – a popular learned society in the field of economics. The PDF word counter converts PDF files to text and then provides you with an accurate word count.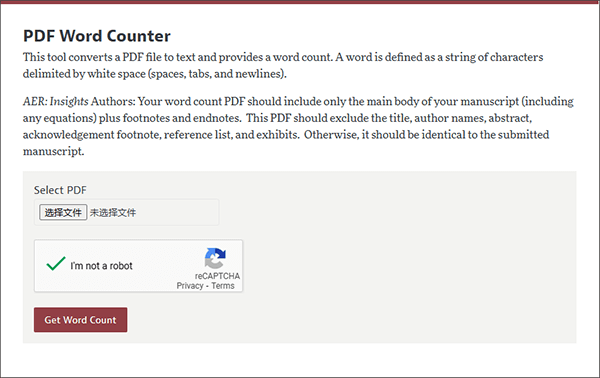 Key Features:
Convert PDF to text and provide accurate file word count.
Enjoy the user-friendly UI.
Pros:
* It is easy to use.
* Convert and track PDF word counts seamlessly.
Cons:
* Functionality is limited to the presence of an active internet connection.
* Privacy concerns, as they need to be uploaded to a remote server for processing.
Price:
* It is free.
Counter 5. Group Docs
Group Docs is another online PDF word counter that can track words and characters in a document effortlessly. Besides PDF, Group Docs can count words in Word documents, typed text, DOCX files, and ODT files.
Since it's entirely web-based, you don't have to install any programs to count PDF words. Its simple user interface makes it easy to use, even for beginners.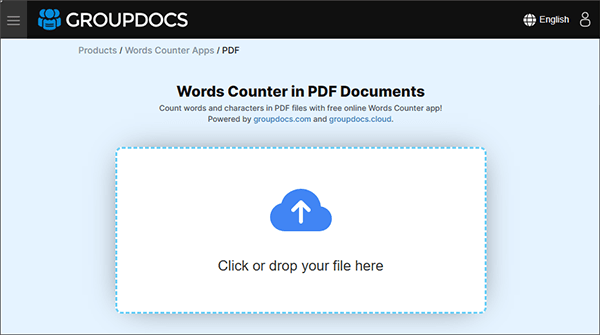 Key Features
Count words and characters effortlessly and for free.
Enjoy the user-friendly interface.
Pros:
* Group Docs' main selling point is its easy-to-navigate interface.
* It is free and web-based, meaning no external downloads.
* It is powerful and fast.
Cons:
* Like all web-based PDF word counter tools, Group Docs' functionality is limited to an active internet connection.
Price:
* Free.
Learn More:
How to Convert PDF to JPG: A Step-by-Step Tutorial for Beginners
How to Convert Image to PDF with Ease: 7 Methods Unveiled
Bonus: How to Convert PDF Files for Editing and Sharing
Though not a PDF word counter, Coolmuster PDF Converter Pro hands-down provides the best PDF editing experience.
For starters, you can use Coolmuster PDF Converter Pro to convert your PDF to multiple formats and file types, including Word, ePub, text, images, HTML, Excel, PPT, etc. Regardless of how complex your PDF is, Coolmuster PDF Converter Pro strives to maintain 100% of the original layout and format. Forget size limitations, as this converter pro can handle multiple PDFs simultaneously.
Key Features:
Convert up to 200 PDFs simultaneously.
Preserve the original file format and integrity after conversion.
Convert and export PDFs to different file formats, like Word, images, text, etc.
Here is how to leverage the power of Coolmuster PDF Converter Pro:
01Download, install, and run it on your computer.
02Click Add File or Add Folder to upload the PDF you want to convert.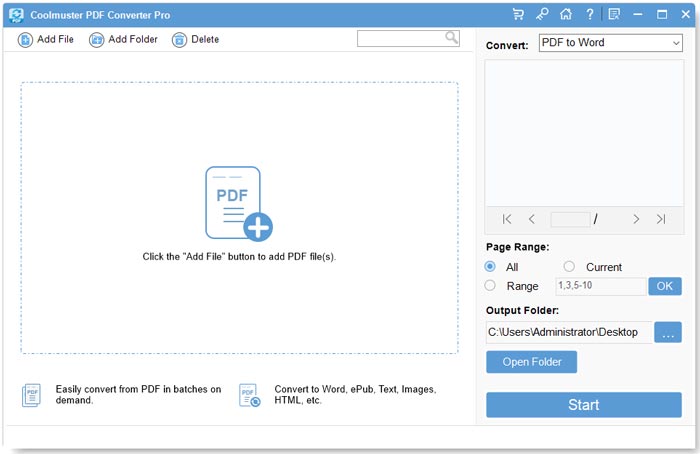 03Pick a conversion format of your choice, and then designate a fitting destination for saving the output files by clicking the ellipsis button located under Output Folder.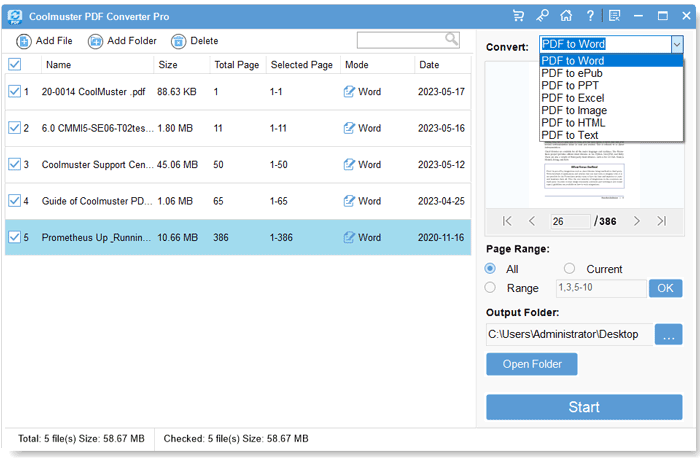 04Once done, click the Start button to convert the PDF.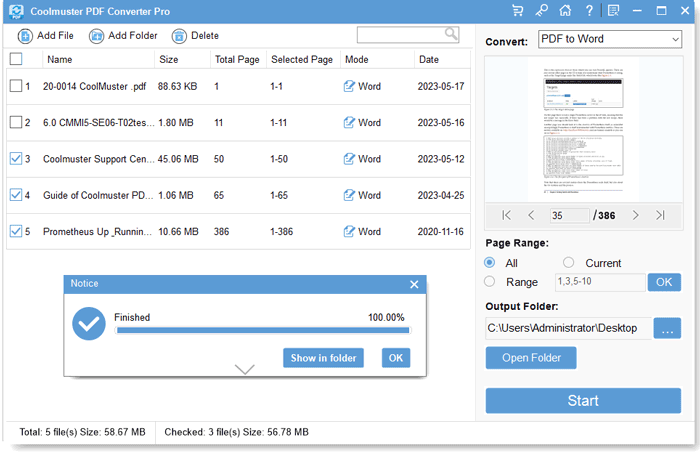 Key Takeaways
Settling for the best PDF word counters can be daunting, especially if you lack experience with word counters. Luckily, the above PDF word counters allow you to test different tools without any obligation.
Besides, if you want to share or edit your PDF files, Coolmuster PDF Converter Pro is a good choice. It can convert to multiple file types and preserve the original PDF formatting and layout. Download Coolmuster PDF Converter Pro to convert your PDF from now on.
Related Articles:
[Efficient PDF Tips] How to Create a URL Link for a PDF Document for Free
Preview Alternative: Fast Convert PDF to TIFF/GIF/BMP on Computer
PDF Fusion Perfected: The Quest for the Best PDF Merge Software
From Text to Interaction: How to Make a Fillable PDF in Word
How to Insert a PDF into a Google Doc: Quick and Easy Steps
How to Convert Password Protected PDF to Without Password: Approved Methods