When do you need to delete bookmarks on Android?
Bookmarks are made with the sole purpose of storing a website address in order to visit the website in question with a single click. Websites are generally made for favourite or useful pages that you tend to visit frequently. However, over time, your needs and choices may change or the bookmarks bar may simply become too cluttered. You might want to remove the ones that you no longer need. Some websites in your bookmarks bar may also expire over time, or migrate to new addresses. In this case too, you have no need for the old website addresses in your bookmarks bar and you might want to delete them. You might also want to delete them while giving away your old Android phone to someone.
Also Read: How to Delete Picasa Pictures on Android
Sometimes, deleting bookmarks may become very difficult. Restoring factory default settings may also not work in some cases. However, here are a few easy ways in which you can delete your Android bookmarks.
Part 1. Two Ways to delete a single bookmark on Android Phone
Part 2. Three Solutions to Delete Multiple Bookmarks on Android Device
Part 1. User Guide to Remove A Single Bookmark on Android Phone
Method 1:
- Open your web browser where the bookmark in question is located.
- Go to the bookmarks bar.
- Now long press on the bookmark that you want to delete and select "delete".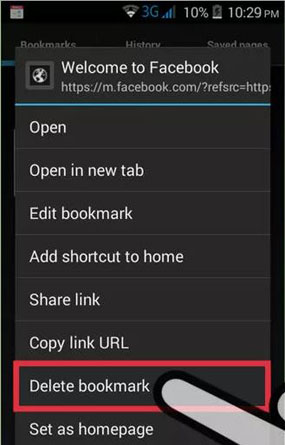 Method 2:
You can also use this method if you have a small number of multiple bookmarks you want to delete. For this, follow the first two steps as mentioned above. Then:
- Select all the bookmarks you want to delete.
- Long press on any one of the selected bookmarks and click delete.
Related: How to Permanently Remove Bookmarks from Android
Part 2. Solutions to Delete Multiple Bookmarks on Android Device
If there are a huge number of bookmarks you want to delete, here are a few methods that are going to help you.
Method 1:
- There is a useful app called My Bookmarks. Download it from the Google Play Store.
- Now open it, and choose "Delete Bookmarks". This will delete all your bookmarks.
Method 2:
- Here open you browser where you want to delete the bookmarks.
- Now go to "Clear Records" or any similar labels where you will find the option to clear data and cache.
- Clear both of them. If there is an option to delete bookmarks, delete that too. This will clear out all your bookmarks.
Method 3: Permanently Delete Bookmarks on Android
If you are looking for a great app to help you carry out a hassle-free bookmark deletion, you can try checking out the Coolmuster Android Eraser software, which will help you permanently erase all your Android bookmarks.
This is a professional software that is designed to erase any data you want from your Android while maintaining privacy. This means that you can delete your bookmarks as well using this software, and there is no danger of retaining any of those bookmarks as this software will erase it completely. It works by successfully scanning your phone for detecting even hidden data and helps you choose and delete them with just one click. It has three deletion modes you can choose from and has received very positive customer reviews.
Guide for using Coolmuster Android Data Eraser:
Step 1: Install this software on your computer and launch it. Now connect your Android to your computer using a USB cable, and install the MobileGo connector as asked. The software automatically detects your device.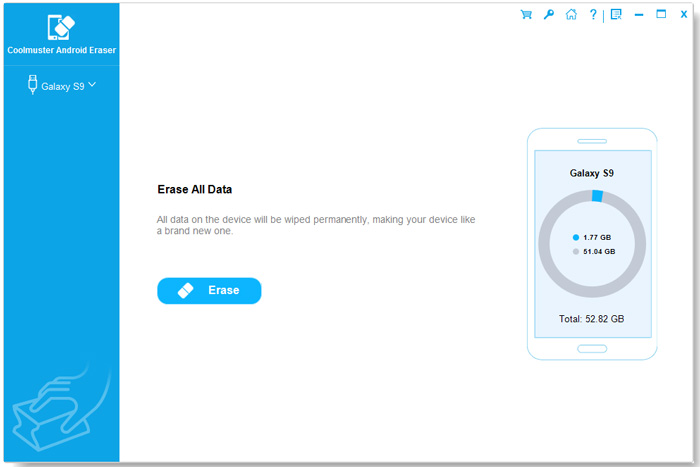 Step 2: From the left-hand panel, go to "Erase All Data" and click the "Erase Now" button underneath it.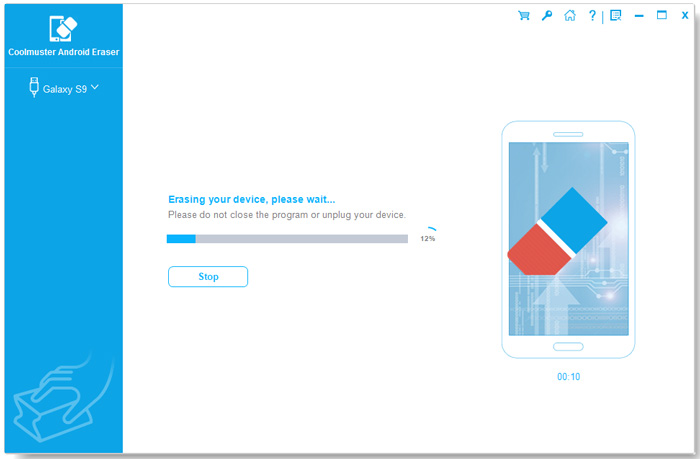 Thus, Coolmuster Android Easer will help you with permanent deletion very quickly. And all data on your Android phone will be erased soon, including the bookmarks.
Related Articles:
Guide on How to Free up Android Space
Clear Junk Files from Android Phone
How to Back up & Restore Android Contacts in 4 Ways
Troubleshoot: My Text Messages Disappeared on My Android Phone