Apart from freeing up space, there is another reason why an individual may want to delete the photos and videos from the camera roll on their iOS devices. For instance, people may need to delete camera roll from their iPads when they are planning to transfer ownership to another person. Deleting photos and videos before the iOS device is transferred from one person to another is essential for those who do not want others to have access to their special memories.
Also, these private files will need to be deleted so that the new owner can start their collection from scratch. In either event, these are common reasons why deleting camera roll from an iPad is needed as well as essential. Below are the methods for you to delete photos from iPad!
Part 1. Two Tricks to Delete Photos Directly on iPad
Part 2. Easier Way to Delete Camera Roll on iPad (Recommended)
Part 1. Two Tricks to Delete Photos Directly on iPad
1. Delete a Single Photo from iPad
- Go into your Photos appand choose the Albums tab.
(Note: The Camera Roll album contains all your photos, but if you've moved the photo into a custom custom, it will be easier the navigate to the desired photo via this way.)
- Now, tap the photo that you want to delete. And then tap the trashcan icon in the upepr right coner. Here, you can tap the middle of the screent o bring up the title bar if you didn't see it.
- On the pop-up window, hit the Delete option to remove the unwanted photo from iPad.
2. Bulk Delete Photos from iPad
- Launch the Photos app and then go to the Albums tab.
- Then tap on Select option at the top right corner of the screen.
- You can now choose the multiple photos as wanted simply by ticking them out.
- Finally, touch the trashcan and click Delete on the promo dialogue to delete multiple photos from iPad within simple clicks.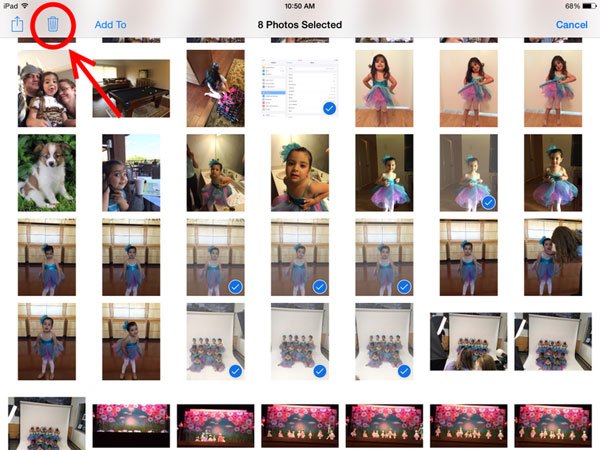 More Useful Guides:
How to Uninstall Apps on iPhone/iPad
How to Delete Podcast from iPad
Part 2. Easier Way to Delete Camera Roll on iPad (Recommended)
Since deleting each photo and video in camera roll at a time can be time consuming, manually doing this process is normally not an option that an individual would want to choose. What about using an additional program? Even though some special tools will allow a user to delete the files off of their device, they are not always gone permanently. Instead they can easily be recovered if people do not have the right applications to take care of these needs.
Just look no further than using iPad Photo Eraser for iOS, which lets you delete iPad camera roll photos and videos in batch quickly and permanently. It can also deal with lots of other files like albums, apps, videos, music, notes, account info, passwords, reminders, messages and private data from not only iPad Pro, iPad Air, iPad 4, iPad with Retina Display, iPad mini, but also iPhone and iPod.
From deleting personal information to deleting camera roll from an iOS device, this products offers several great features that users can take advantage of. Permanently deleting camera roll on the iPad has been made easy. All the individual has to do is follow the steps below. Here, we just take the Windows version as an example. Mac users just follow the similar way.
Simple Steps to Delete Camera Roll on iPad Pro/Air/4/mini
Step 1. Launch the program and connect your iPad to the computer
In the very beginning, download and install the iPad camera roll deleting tool on your computer. Launch it and use a USB cable to connect your iPad with the computer. Once detected, your iPad will be displayed in the program window.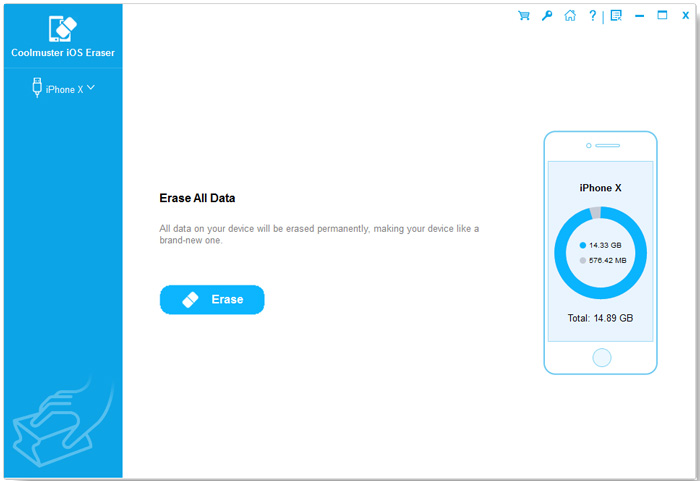 Step 2. Preview and select the iPad camera roll you want to delete
Click "Erase Private Data" mode to move on. To delete iPad camera roll, click "Photos" tab to enter the photo management window on the right. Preview and choose the camera roll you'd like to delete.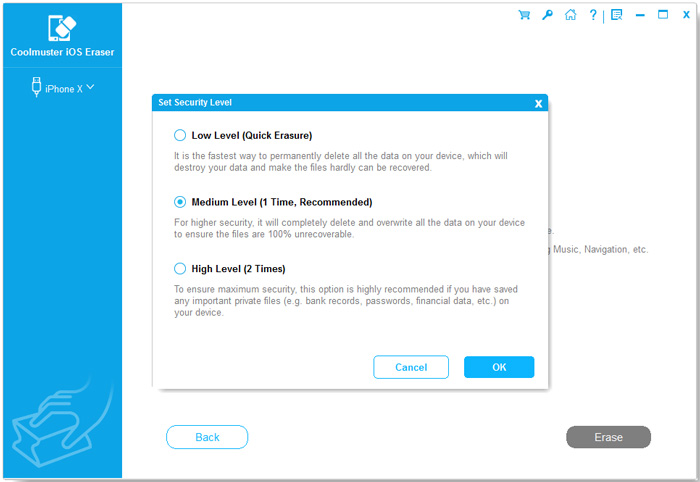 Step 3. Start to delete camera roll on iPad
Once the target iPad photos in camera roll have been selected, you can give a click on the "Erase" button directly and type "delete" on the box to confirm your action. Then, the Eraser tool will do the rest job for you. During the process, you ought to keep your iPad connected with the computer.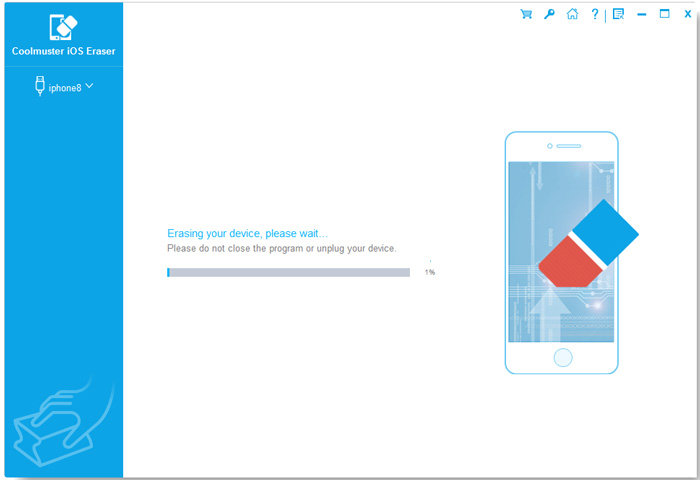 Related Articles:
Delete Duplicate Photos on iPad in iOS 9/8/7