Most people have reported the nightmare they go through when moving data from an Android device to an iPhone. It's not just the tedious process of moving the data. Transferring apps, contacts, and other personal information makes this transition time-consuming and stressful.
But, everything has been made easier with the Move to iOS app. The app lets you load everything from your Android device to the iPhone and sync the data between both devices. What's interesting is that it only takes 10 minutes to do all this. But, sometimes, Move to iOS may take forever.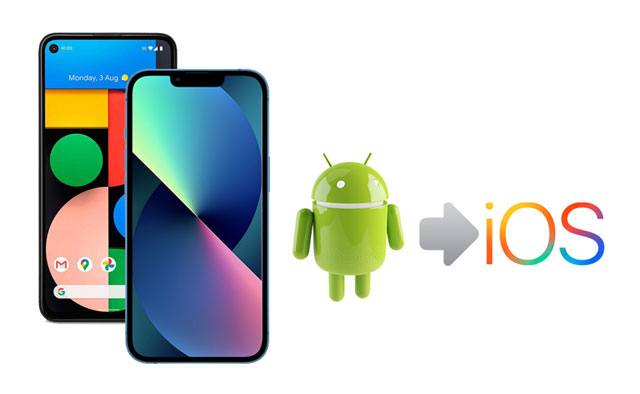 Part 1: How Long Does Move to iOS App Usually Take?
Part 2: Why is Move to iOS Taking So Long?
Part 3: How to Fix Move to iOS App Taking Forever?
Part 4: Alternative to Move to iOS to Transfer from Android to iPhone
Part 5: A Complete and Quick Guide to Use Move to iOS Properly
Part 1: How Long Does Move to iOS App Usually Take?
It can take some minutes to hours. It depends on the number and data size being transferred. If everything is just right with a few files, it may take 10 minutes. But it may take several hours or days if your files are large, depending on your internet connection.
A time, Move to the iOS app can take a long time to finish when the data size isn't that large. This happens when the network connection isn't stable, the phone isn't in better condition, or you're just unlucky to come across the situation.
Further reading: Click this guide for more information on how long the Move to iOS app will take.
Part 2: Why is Move to iOS Taking So Long?
Move to iOS may take longer than you expect or wish. If you're lucky, it'll be just a matter of minutes. However, if not, this could lead to situations wherein your phone is stuck in the "transferring" mode. You may have already encountered such a situation when trying to transfer data from your iPhone to your iPad or iPhone.
The reason is that the network connection is unstable as your device is overloaded. Besides, if you have installed a third-party application that uses a lot of network connections, Move to iOS may take longer to complete. Background tasks like these can make the process take longer.
Perhaps you like: How to Transfer Data from One Apple ID to Another Seamlessly
Part 3: How to Fix Move to iOS App Taking Forever?
1. Check the Internet Connection
You must check the network connection to make sure that it's stable. Try to turn off all non-essential apps on your phone. The reason is that this may cause the maximum bandwidth of your network to slow down the process. The number of connected devices and data sharing applications may also affect the speed of data transfer.
Disable Wi-Fi and Bluetooth. This will allow only the optimum connection to be used. Sometimes, the internet connection between two devices can slow down by disabling these two technologies while they are being used at the same time on a single device.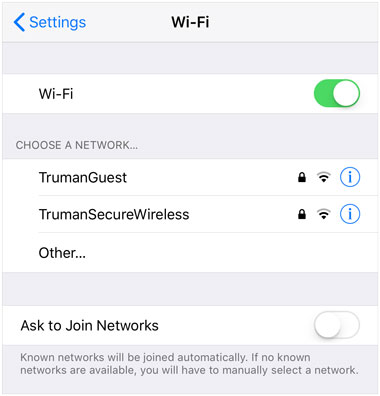 2. Delete Unnecessary Data
You also need to remove any unnecessary apps if Move to iOS takes forever. Deleting unnecessary data in your phone will allow more space for the transfer. However, if this is the cause of slow performance, you should reevaluate keeping such data in your phone.
Also, check if unnecessary apps use the network connection running in the background, and close them. These will only slow down your device and take more time for Move to iOS to complete the tasks.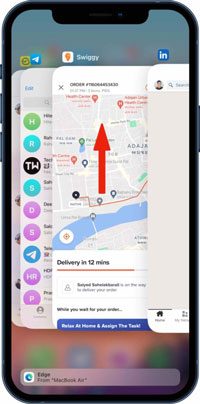 3. Restart Your Devices
Restart the device to fix a situation where the app or software is stuck or slow. This will free up some space on your phone and help your phone to speed up.
Move to iOS may take a long time to finish transferring data from Android to iPhone even though it takes just a few minutes by just copying the files from the android device directly on iPhone, which works automatically. The above are some of the fixes to help alleviate the situation.
There are several things you can do to make Move to iOS finish as soon as possible. If you still have a slow internet connection, try moving your device near the router. If you have disabled the Wi-Fi signal on your phone, turn it back on and enable it.
Read more:
Here are 4 easy ways to copy text messages from an iPhone to an Android device. Click it if needed.
This list contains 10 excellent alternatives to iTools, so you can select one to change your virtual location without iTools.
Part 4: Alternative to Move to iOS to Transfer from Android to iPhone
If you still find yourself stuck on the Move to iOS to transfer from Android to iPhone, try another alternative - to use Coolmuster Mobile Transfer, which allows you to transfer content from one iOS device to another without any issues, including contacts, notes, books, bookmarks, and more.
It is also capable of moving contacts and documents from Android to iOS. There is no data loss in the transfer, and it is a one-stop transfer tool so that you can copy your data from one mobile phone to another without storing data on a cloud server or a computer.
Download this mobile transfer software below.
Step 1: Launch the Program on Your Computer
Once you've launched the software on the computer, enter the Mobile Transfer mode to continue.
Step 2: Connect Your Devices to the Computer
Connect your Android and iOS devices to the computer, enable USB debugging on Android, and choose the Trust option on your iPhone. Then, the program will recognize your devices.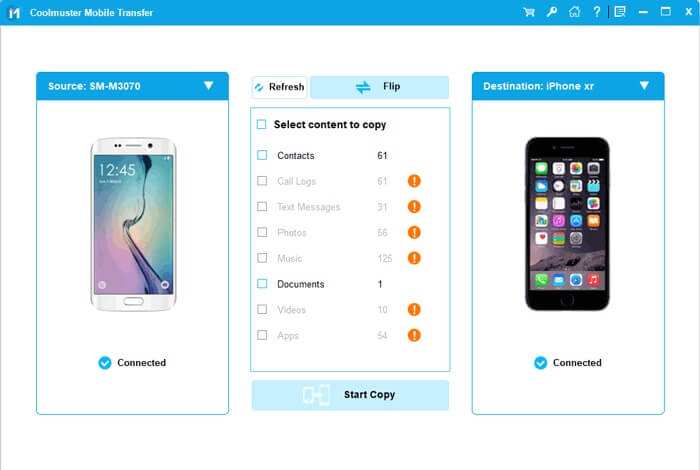 Step 3: Transfer Your Data from Android to iPhone
Before transferring data, make sure the Android device is in the Source area, and the iPhone is in the Destination area. If not, tap Flip.
Then check the files you wish to transfer and tap the Start Copy icon to begin transferring data from your Android to your iPhone device.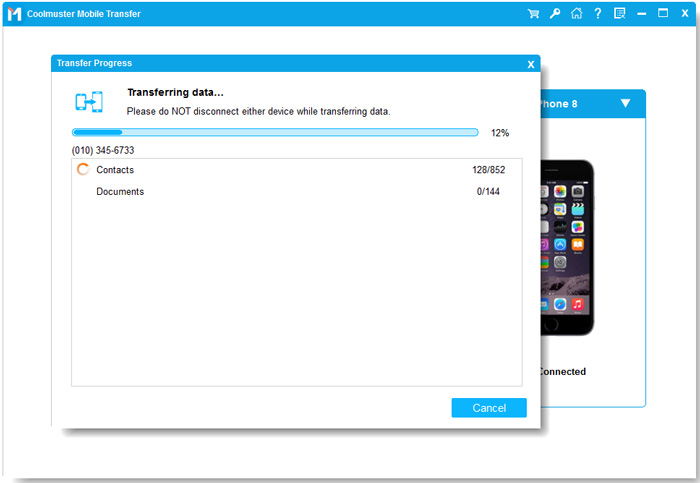 See also: If Move to iOS is interrupted all of a sudden, you can fix it with these tips.
Part 5: A Complete and Quick Guide to Use Move to iOS Properly
Here are the exact steps to use Move to iOS in the best way to hinder any unexpected scenarios.
What you need to use Move to iOS properly:
* An Android device with a version of 4.0 or higher.
* Apple device of version 9.0 or higher.
* The devices should be fully charged.
* Both devices should have a strong network connection.
Steps to follow:
Step 1: Switch on your iPhone device and go through the mobile setup till you reach the screen with Apps & Data. Tap on the third option - Move Data from Android.
Step 2: On your Android gadget, open Google Play Store, then install the Move to iOS app. Then launch it after finishing the installation.
Step 3: Keep both of your devices side by side and click on the Continue button on both of them. Read the instructions carefully and look for the 10-digit code on the iPhone and enter the code without making any errors.
Step 4: Finally, choose the data types you want to transfer and continue with the transfer process.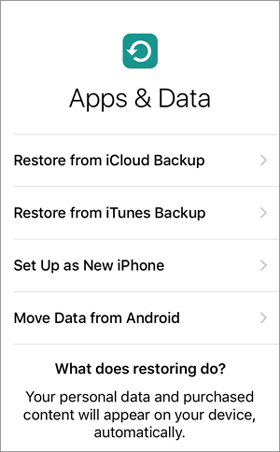 Conclusion
Move to iOS may take longer than expected or wished for. It may be caused by instability of the network connection or third-party applications running in the background. To mitigate this problem, check the network connection and make sure that there are no incomplete tasks on your phone which would take a lot of bandwidth.
These tips should help if you're experiencing issues while running the Move to iOS app. Still, there is a sure way of fixing the problem, which is to use the replacement for Move to iOS - Coolmuster Android Transfer. This software can help you copy your data between Android and iOS devices without a network, making the transfer more stable.
Related Articles:
App to Transfer Data from Android to iPhone Smoothly - 10 Top Options
[Solved] How to Transfer iBooks from iPhone to iPad or Vice Versa?
6 Ways on How to Transfer Contacts to New Phone [Simple & Fast]
Switching from iPhone to Pixel: Is It Worth and How to Make the Data Migration? (Can't Miss)
How to Transfer Notes from iPhone to iPhone [5 Easy Ways]
How to Transfer Data from iPhone to OPPO Find X6/X5/Reno9 Seamlessly? (4 Tested Methods)