WhatsApp is a very popular messaging app through users not only can chat but can also send multimedia such as audio, videos, images and even gifs. However, these all take up a large amount of storage space and are generally stored in the phone memory itself. When too much of the text gets stored in the memory, it can clutter up the free space available in your iPhone. This in turn may affect your iPhone performance.
Thus, it is a good idea to periodically delete your messages to create space and to make sure that your iPhone doesn't lag in performance and response speed. You can back-up the messages before deleting if they contain some valuable information. Other reasons you might want to delete WhatsApp messages is that you might give your iPhone away and your messages might contain some private or confidential information. In this case too, you would prefer to clear your message history from your phone.
Problems you may meet when deleting WhatsApp messages
While deleting WhatsApp messages may sound simple, not deleting them properly may mean that they can easily be restored and accessed by hackers. This can pose a problem as such messages may be used to collect sensitive or personal information. Thus, there are a few ways you should follow to avoid these problems and completely and safely remove these messages.
Related: How to Easily Backup Whatsapp Messages
Quick Fix: How to Delete WhatsApp Messages on iPhone
Wondering how you could go about things? Don't worry. It's simple and it's easy when it comes to deleting the messages. Here are some ways you can consider while deleting WhatsApp messages safely from your iPhone:
1) Delete Whatsapp Messages within a Contact/Group
• For this, first of all launch WhatsApp on your iPhone and tap on "Chats".
• Enter into the contacts tab that you want to delete messages.
• Swipe over from the left. You will see an Archive option.
• Tap on it and hit the Delete Chat option to continue the process.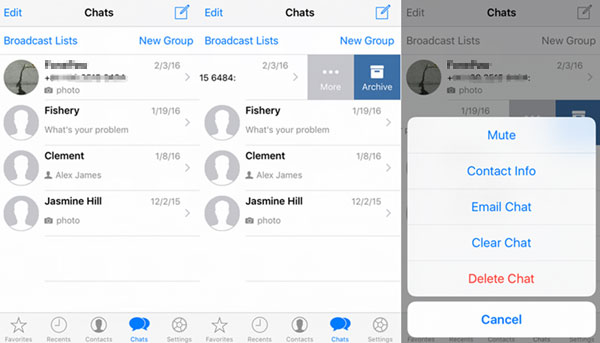 Also Read: How to Add iPhone Contactsto Whatsapp
2) Delete All Whatsapp Messages on iPhone
• For this, open your WhatsApp on your iPhone.
• Go to "Settings". You will find it in the bottom right hand corner.
• Now, click on "Clear All Chats" at the bottom.
• As in the previous case, you will be asked to enter your WhatsApp number and then press on "Delete All Chats".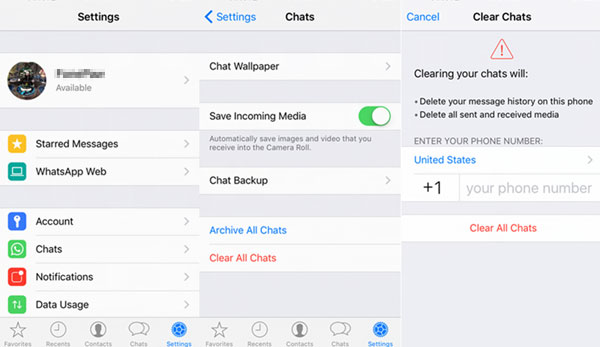 3) Using a third party tool to permanently erase WhatsApp messages
For this, the best tool to use would be iOS WhatsApp messages cleaning tool - Coolmuster iOS Eraser. This is completely and irreparably erase any message history you might have.
Here is how:
• First of all, install this software on your iPhone, and open the application and connect your iPhone to computer with a USB cable.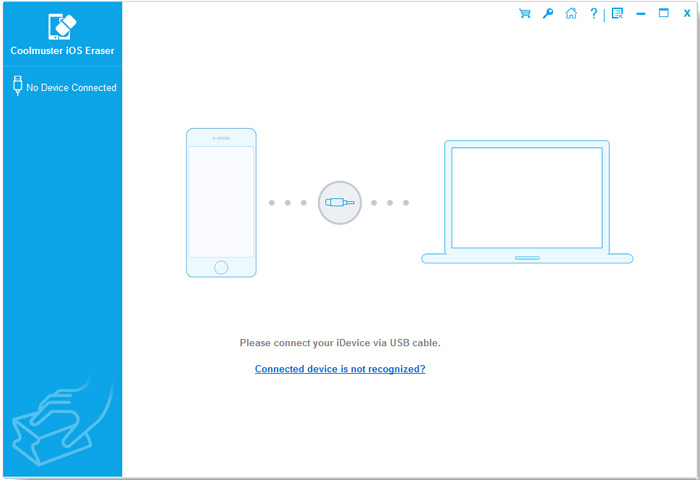 • Then choose "Erase private Data" mode to move on.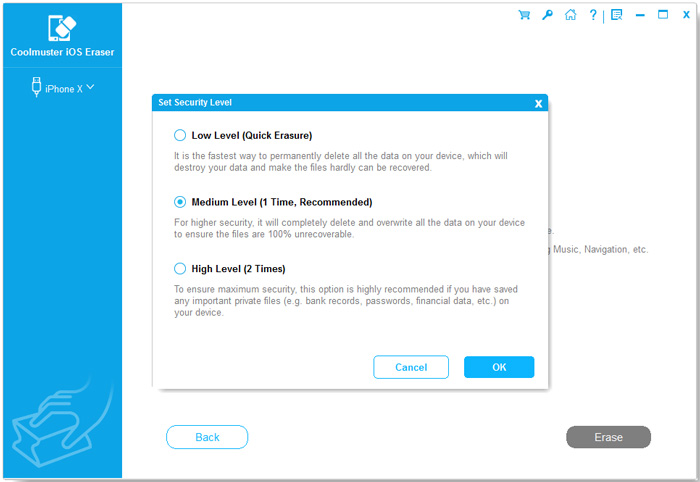 • Now you can select all the WhatsApp messages you want to delete. After selection click on "Erase Now". Type "delete" to confirm and all your selected messages will be deleted.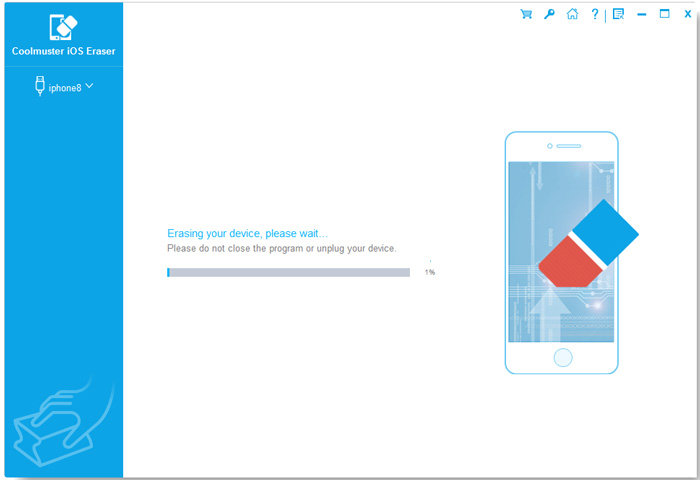 • This is a very useful process for deleting data that you might have missed during manual deletion of your files. This app will completely scan and delete all the messages.
Conclusion
That is all that you need to do. As you can see, it is quite easy to delete your chat history from your WhatsApp. Thus, it is a good idea to do it periodically for your chats. If you want to erase your WhatsApp messages permanently, you can choose Coolmuster iOS Eraser. This tool can provide you with a complete clean.
Related Articles:
Best Alternative to Clean Master for iPhone/iPad
Simple Way to Delete Kindle Books from iPad
How to Transfer Files from PC to iPad (Step-by-step)