These days, a relative of mine wants to sell his old Samsung phone as he buy a new one. So he wonders how to wipe a Samsung phone before reselling it. There are some files including box news, selfies, university documents, etc. As a result, he want to transfer important data to his new phone, and eliminate the risk of privacy divulging after he find the cell phone buyer. Thus, he checks the phone manual for deletion method, but it doesn't work.
I advised him to remove the SIM card and internal SD card first and completely wipe the old Samsung phone. To make the handset unrecoverable with a proper app with hassle-free is also urgent. Hence, you may want to know how to wipe my Samsung phone? This passage will cue you.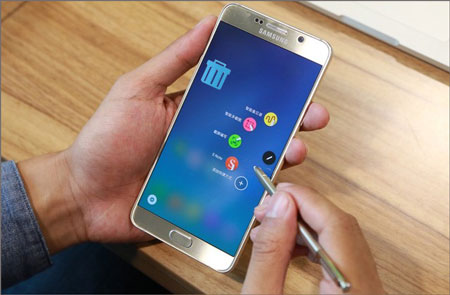 Method 1: How to Wipe a Samsung Phone with Coolmuster Android Eraser (Unrecoverable)
Method 2: How to Wipe Samsung Phone with Factory Reset (Recoverable)
Method 3: How to Delete Everything on Samsung Phone with Find My Mobile (Easy to Recover)
Method 1: How to Wipe a Samsung Phone with Coolmuster Android Eraser (Unrecoverable)
Privacy leakage is an annoying matter. You are supposed to delete unwanted files when you are to resell, donate, or even overhaul your phone. The relative of mine used to think that clean cache data, junks or other useless files might be safe for selling. But he didn't know that once deleted manually or with common tools, the data were not really invisible (even the phone is physically damaged) by some means, as they are only hidden in the memory for the time being.
Hence, Coolmuster Android Eraser, a professional data erasure program can be a good choice to keep your deleted data unrecoverable (It is its most important strength). Besides, its safe and easy-to-use quality can free you from worries. Learn more about this smart item?
Here're 5 remarkable features of Coolmuster Android Eraser:
* Support almost all Android devices such as Samsung, LG, Huawei, HTC, Sony, Motorola, Xiaomi, ZTE, Google Nexus, etc.
* Operate on Samsung Galaxy S23 Ultra/S23/S22/S21/S20/S10, Samsung Galaxy A54/A34/A24/A14/A04/A73/A53/A23, Samsung Note 20/Note 10/Note 9, Samsung Galaxy Z Fold4/Z Flip4/Z Fold3/Z Flip3, and so forth.
* Erase everything from Android permanently, including contacts, call logs, text messages, photos, videos, music, user names, Gmail account, voicemail, passwords, apps, books, search history (Google history, Snapchat history, etc.), and other info.
* Provide with three erasure levels: Low Level (quickly and unrecoverable), Medium Level (1 Time, delete and overwrite Android data, and completely unable to recover), High Level (3 Times, The most secure data destruction option).
* Erase files in SIM card memory, Android internal & external memory.
* Conduct deep scan and the most guaranteed data protection measures to wipe everything covering existing files, deleted ones and even data that are dashed out by restoring to factory settings within one click.
More features are to be discovered... Bravo.
Download the trial version to clear Samsung data now?
(Tips: By the way, if you have an iPhone and plan to sell it, you can also erase iPhone data permanently.)
After you download it, you may want to know how to erase Samsung phone right now.
Here's how to wipe a Samsung phone with Coolmuster Android Eraser:
Tips: Before you wipe your Samsung phone data like serial number of your phone or registered and important application info, you'd better back up Samsung phone to PC to keep some essential files in case they are gone for good.
Step 1. Connect your phone to PC for erasure
Download and install the app, connect your Samsung phone to the computer via USB cable, and enable USB debugging on your Android phone. Tap "ALLOW" or "OK" to grant for the program as prompted. Then click "Erase" icon after you see the following interface.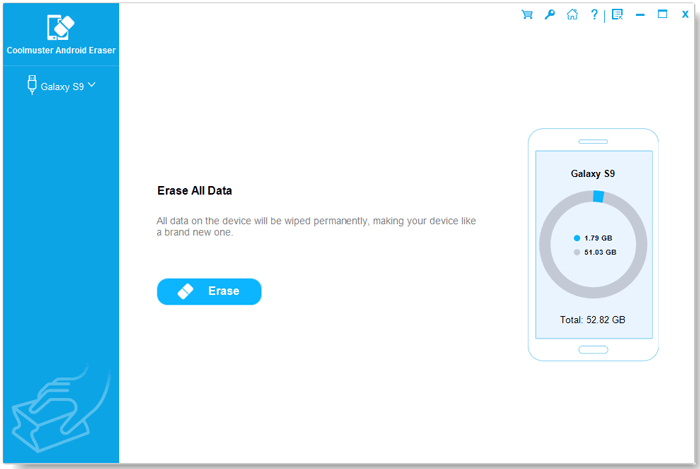 Step 2. Choose the erasing level according to demand
Tap the menu next to "Security Level" to select security level - "Low Level", "Medium Level", and "High Level". Hit "OK" and "delete" to confirm what you've selected for erasure, and then press "Erase" and "OK" successively to start the task. After that, touch "Yes" from your Samsung phone to authorize the erasure of your phone data.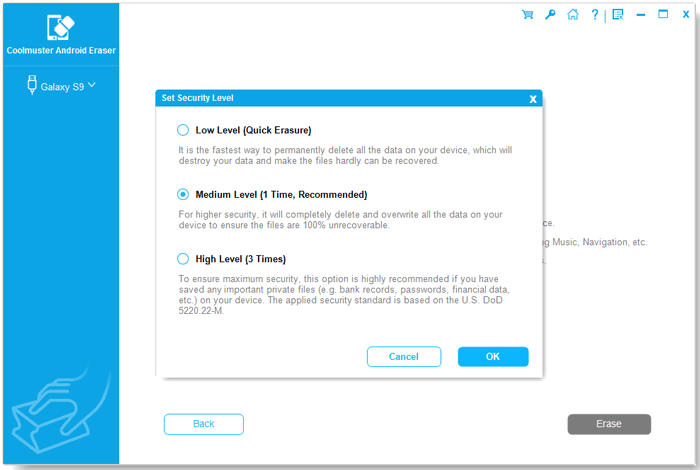 Step 3. Wait for the scan and erasing process (soon)
The app will give data a deep scan on your Samsung phone and clear Samsung soon for a short while. After the completion, the data are unrecoverable and you can also choose to recover to factory reset on your Samsung phone.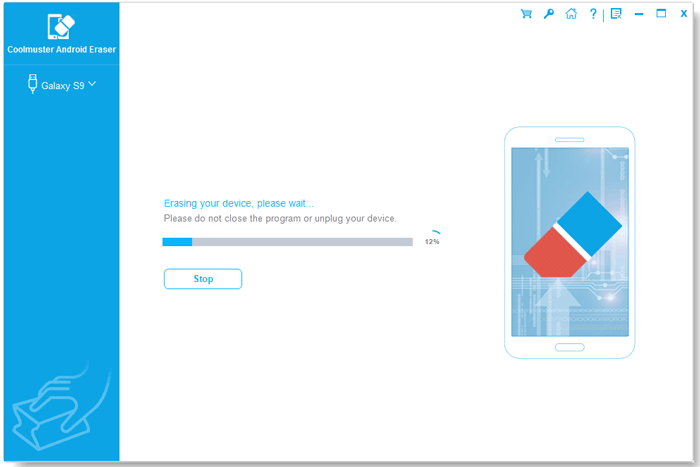 Method 2: How to Wipe Samsung Phone with Factory Reset (Recoverable)
We may be familiar with the factory reset concept, but once the reset takes effect, the data are still in some place of your phone and haven't been overwritten. For instance, if you have deleted photos with bank card account and password from your phone, and even though you conduct factory reset on your phone, it still takes a big risk. The smart app Coolmuster Lab.Fone for Android can recover all your deleted data. Does it sound fantastic? Besides, before you factory reset, there is one note you need to focus on.
Note: If you want to find another phone owner for your phone, it's necessary to invalidate FRP. FRP, short for Factory Reset Protection, which means someone can't gain access to your phone as your phone were protected or locked with its guard. Introduced by Google, it's applied to Android 5.0 lollipops. Aside from that, if you have a Google/Samsung account or have set lock screen, you need to remove or unlock it or them before factory reset.
So, before you clear Samsung, you need to unlock it or remove Google or Samsung account from it.
Here's how:
* Unlock your Samsung phone: Tap Settings on your phone. Then hit Lock screen > Screen lock type > select None. (If needed, please check how to unlock locked Android phone without losing data here.>>)
* Remove Google account: Press Settings > Accounts and backup > Accounts and then tap on Google. Next, press Remove account > Yes to remove it.
* Clear Samsung account: Get to Settings > Biometrics and security > Find My Mobile. Then log in password, and hit Account > More > Remove account.
After that, you can restore to factory reset with ease.
Here're steps for how to wipe your Samsung phone with factory reset:
* Step 1. Power off your Samsung gadget. Pinch "Home", "Power" and "Volume Up" keys simultaneously to wait for phone booting. Next, shut down your phone again. Now, press "Home" and "Volume up" concurrently until the recovery mode turns up, and turn off "Reboot system now" as prompted.
* Step 2.The phone will vibrate and then pop up "Android" after you hold the "Power" button tightly for a while. Remove your hand to "Volume Down" button and hold tightly to select "Wipe Data/Factory Reset" sign. Finally, press the "Power" button and choose "Yes" and "Delete all user data".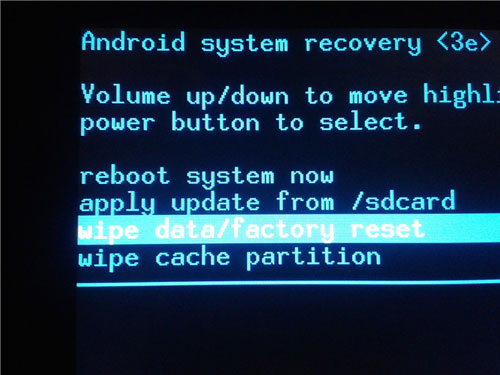 Notes: Solutions differ a bit from different series of Samsung phone. But this means works on most Samsung models. Besides, don't forget to remove your SIM card and SD card at first if you are to resell your phone.
Method 3: How to Delete Everything on Samsung Phone with Find My Mobile (Easy to Recover)
Find My Mobile, an app provided by Samsung Inc, which can find back your lost phones by turning on remote control option (Settings > Security - Remote Control - Enter password - Remote control enabled). You can resort to the GPS location to retrieve your phone in case you lose it. Moreover, it can also clear Samsung phone.
Method on how to erase Samsung phone with Find My Mobile:
* Step 1. Visit Find My Mobile website from PC, and sign in with account and password. The page will show you "Locate my mobile" to choose a device to run (if you have only one handset, this info will not pop up).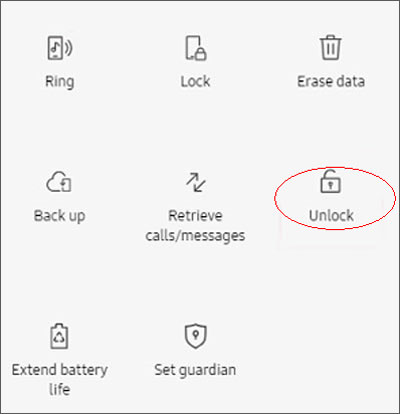 * Step 2. You can see "Erase data" on the interface. Tap it and then hit "ERASE". Then sign in your Samsung account.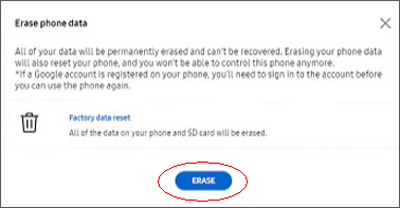 * Step 3. Tap "OK" to start the reset task. Now, ensure that your device is online, otherwise the factory reset operation are not available for the moment.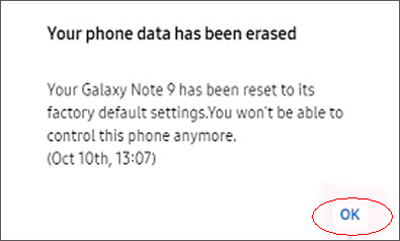 Conclusion
With the rapid evolvement of the automobile industry, it is a tide for us to replace mobile phones in a short period of time. So whether they are donated or transferred, they need a professional deletion tool to erase data, with the files being unable to recover. In this connection, Coolmuster Android Eraser is of the great help.
Factory reset, another Samsung clear method, can be a temporary choice, which likes Find My Mobile, whose operations isn't complex. Nevertheless, after the reset with these methods, data can still be easily recovered via an off-the-peg app. How do you wipe a Samsung galaxy? Give your suggestions. After all, sharing is a great personality to help others.
Related Articles:
How to Delete Photos from Android Phone Permanently [Solved]
How to Wipe Android Phone Completely before Selling?
How to Safely Sell Old Android Phones
How to Permanently Delete Text Messages on Android?
How to Delete Photos from Samsung Galaxy Permanently - 3 Ways!
How to Wipe Android Phone Remotely If It's Lost or locked? [Solved]