How to Wipe Everything on Android Phone/Tablet Permanently?
Foreword: Whatever reason it is, to have your erase everything on your Android phone permanently is a good way to protect your privacy from leakage. However, do you really know how to permanently delete data on Android phone or tablet? Is it enough to tap "Delete" option to ensure the safety of your personal information? To better help you to realize the goal, this article is going to show you an effective way to wipe everything on Android phone/tablet in details.
How to deal with your old Android phone? Whether you are going to give it to your friend, trade it on eBay, or donate it to a charitable institution, it is handy to know how to wipe all data on the phone completely. During the daily use of the Android phone, you must save lots of personal information off of the device, such as contacts, text messages, photos, account information, passwords and so on. Most people probably think that performing a factory reset on Android device is enough. However, they are wrong. All the original data on a factory resetting phone can be easily recovered by third-party data recovery software. In this guide, we are going to show you how to wipe all Android data completely and permanently.
Main reasons to give up Android and go back to iPhone:
People who are used to using Android mobile phone must have had the same weird problems that the Android phone has from time to time. For instance, switching from speakerphone to handheld does not always work. Essential apps like Skype, CityMaps2Go and various transportation/ticketing apps are not working normally on Android phone. What's worst, the battery life of Android mobile phone just does not get you through a day. It would be an annoy thing thing to recharge you phone everyday if you want your phone to last longer. In these cases, even we experience big screen, wonderful freedom and flexibility with Android mobile phone, you may still want to give it up and switch to Apple iPhone.
Android Data Eraser - The Best Tool to Erase Android Data
The tool you'll need to completely erase data on your Android phone is Android Data Eraser - Coolmuster Android Data Eraser (Windows/Mac). It specializes in wiping all files and personal information on any Android devices, including Samsung, HTC, LG, Motorola, ZTE, Meizu, etc. With the software, you can permanently delete contents on Android phone, including contacts, SMS, phone numbers, apps, photos, music, videos, audios, call logs, user names, history, accounts & passwords, emails and many more from your Android mobile phone. After erasing with Android Data Eraser, you will get your Android device to a clean slate and nothing can be found or recovered from the phone.
And it is fully compatible with almost all Android phones and tablets, including but not limited to Samsung, Huawei, LG, HTC, Sony, Motorola, ZTE, OPPO, Meizu and more. For Samsung phone, it supports Samsung Galaxy S9+/S9/S8+/S8/S7/S6/S5/S4, Samsung Galaxy Note 9/Note 8/Note 7/Note 6/Note 5/Note 4, Samsung J3/J3 Pro, Samsung Galaxy A9/A8/A7/A5 and etc.
Next, we will wrote an illustrated step-by-step guide to show you how easy it is to erase Android data by using this data eraser program! Before that, please free download the trial version of the software from the download button as below to get ready. Windows and Mac version are both available, you can download the right version according to your own situation.
See Also:
How to Recover Data from Broken or Dead Samsung Galaxy S/Note?
How to Safely Sell Old Android Phones
Tutorial: How to Erase Data on Android Completely and Permanently
This tutorial takes Windows version of the program for an example, please check the steps one by one. Mac users can also refer to the steps to perform the program as well.
Note: Since the deletion performed by this software is permanent and now it ONLY supports Erase All Data mode, in case of unexpected data lost, we kindly suggest you back up your important information on Android before you start the erasing on your phone.
Step 1. Run the software and connect your Android device
First of all, connect your Android phone or tablet to the computer with a USB cable and launch the installed Android Data Eraser software after installation. For the first time you connect your Android phone to the program, you will be asked to enable USB debugging on your Android for successful detection.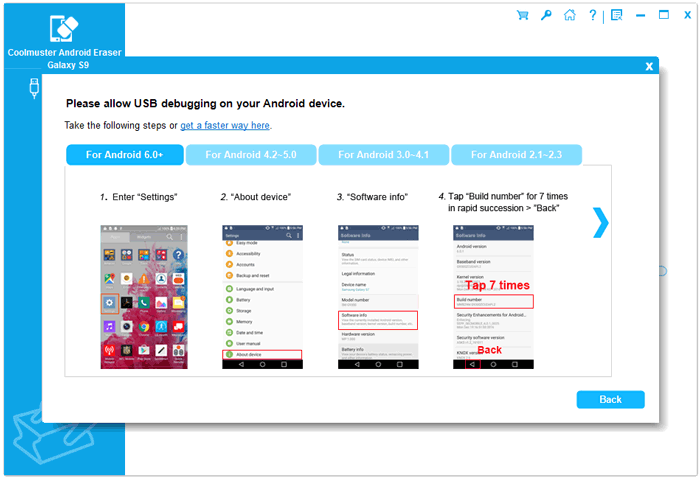 Once the connection is successful, the software will automatically detect your device and show it on the program interface.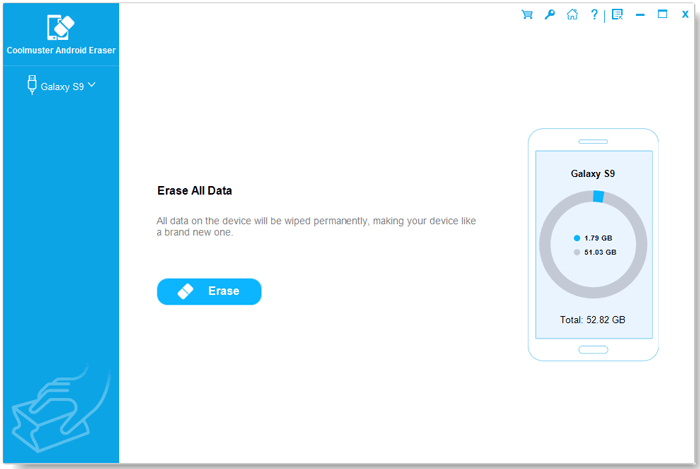 Step 2. Choose erasure level to wipe Android data
Now, please give a click on the button of "Erase" and choose Low Level, Midium Level or High Level. And type "delete" on the pop-up window to confirm your action, which will permanently delete all files from your Android phone or tablet at once.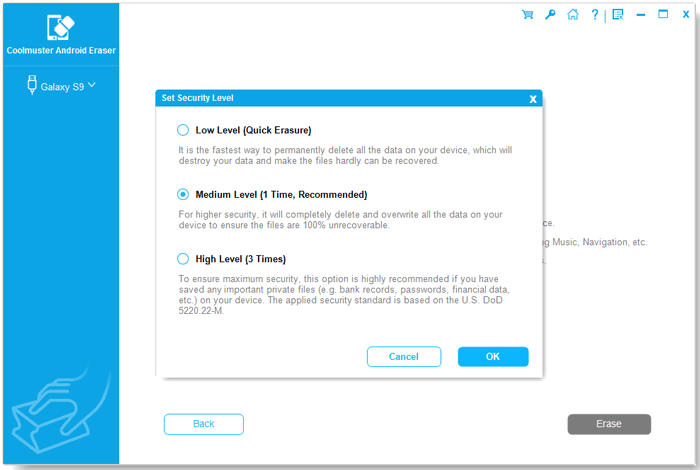 Step 3. Start to erase data on Android phone
Please don't click "Stop" or disconnect your device during the erasing nad overwriting process.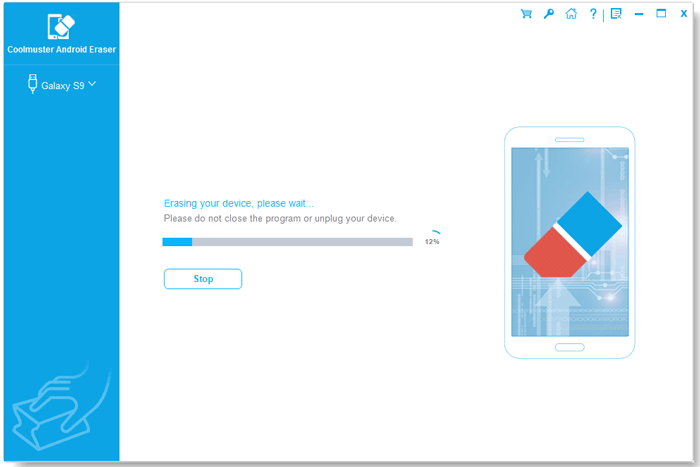 Step 4. Factory reset your Android phone.
After overwriting your Android data, it is advised to restore your Android phone to factory default settings, which will completely erase all system settings on your device.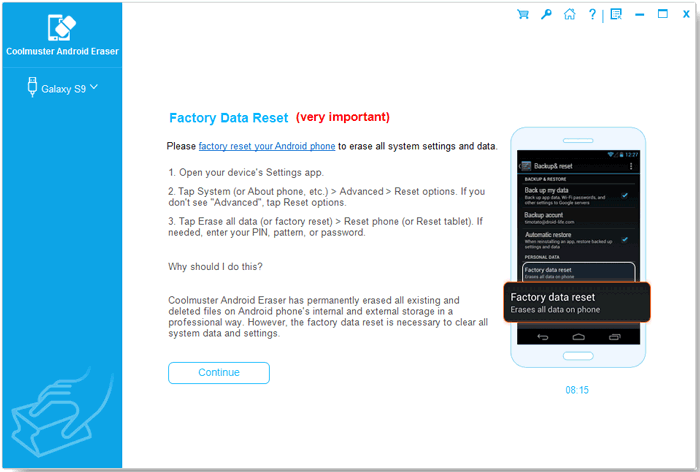 Words in the End:
All erasing task only costs you a few seconds. After that, you will get a totally new Android device as you wish. And the deleted data on Android phone has no chance to be recovered at all. And you don't have to worry that your personal data would be leaked out after erasing them with this Android Data Eraser.
Now, why not have a try on it and keep your Android data safe before you hand your phone over to another one. If you have any questions about the program or the tutorial, please don't hesitate to leave your comment below to let us know, we are pleased to help you solve your problems as soon as possible.
Related Articles:
View Android Text Messages on Computer
Erase Text Messages from HTC Hero Permanently
How to Delete Documents on Android Phone
One Click to Get More Storage Space on Samsung Phones
How to Backup Android Device without Rooting?