Have you been eagerly waiting for the release of new LG phones? If you own an iPhone but now want to switch, then an LG phone can be your great option. Even though you might get a new device, it's still not time to rejoice as you still need to transfer some of your data.
Getting all of your precious data in a new gadget can be a real hassle. It can even get harder when switching from an iOS to Android OSes. You definitely should make sure everything goes as planned so that you do not risk data loss. Then these iPhone to LG transfer approaches will help you.
There are many online tools that can help transfer data from your old gadget to a new one. But, you cannot trust them as they may cause damage instead. You may even end up downloading malware or virus.
Fortunately, we have compiled three simple ways on how to transfer from iPhone to LG. Hopefully, you'll be able to do the transfer without any issues. Now, let's get started!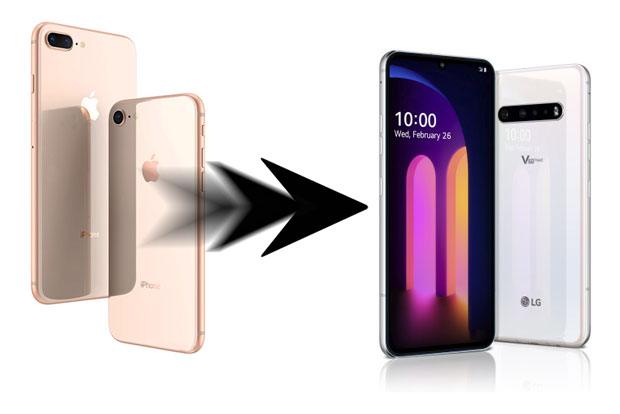 Part 1: How Do I Transfer Data from iPhone to LG with LG Mobile Switch
Part 2: How to Transfer Data from iPhone to LG via Coolmuster Mobile Transfer
Part 3: How to Transfer from iPhone to LG Stylo with OneDrive
Part 1: How Do I Transfer Data from iPhone to LG with LG Mobile Switch
The very first way to transfer data from your iPhone to LG is via LG Mobile Switch. This is an application that was launched by LG to allow the owners of LG devices to transfer data from an Android or iOS to the LG phone.
Actually, this is an option you should consider. To be honest, it has some downsides, like being time-consuming and more demanding with the way things are done. Despite that, most LG users really love this app, and it can come in handy when you need to do iPhone to LG transfer. So, you must know how it works.
Let's see the steps to use the LG Mobile Switch to transfer data from iPhone to LG phone:
Step 1: Download and Install This App
Please download LG Mobile Switch for iPhone, and you can find it on the Settings app on your LG phone: System > Backup > LG Mobile Switch.
Step 2: Make a Connection Between iPhone and LG Phone
Get the USB connector and connect your two devices together via USB, and click Accept to grant the app permission to access your phone. Then choose the USB cable option.
If prompted, please tap Trust on the iPhone, and choose the File transfer option on LG.
Step 3: Transfer iPhone Data to LG
Make sure both the phone devices are charged. Then select Send on the iPhone and Receive on LG. Now, you can select the file types you want to copy on the screen, and tap START. It will begin to copy data to your LG mobile phone. Once completed, reboot the LG phone.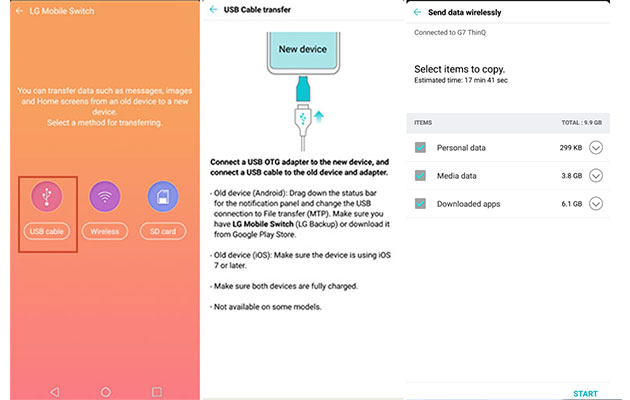 Further reading: How can you move photos from your SD card to your computer? Actually, these 3 viable methods can make it.
Part 2: How to Transfer Data from iPhone to LG via Coolmuster Mobile Transfer
There are some situations you can't transfer text messages from iPhone to LG. But, no more worries as the Coolmuster Mobile Transfer software supports multiple data types, including contacts, videos, photos, SMS, music, and books. Besides, it's a reliable and safe tool without leaking or losing data.
The best thing is that it supports almost all models of iPhones and Android, such as iPhone 14 Pro/14/13 Pro/13/12 Pro/12/11/X/XS/8/7/6, LG Wing 5G/Velvet 5G UW/Stylo 6/Velvetas LG G8/G7/G6/Q92 5G/Q52/Q31/Q61/Q51, LG Stylo 6/Stylo 5/Q Stylo 4, Samsung, HTC, Motorola, Xiaomi, and more. Also, you can use it to transfer files from Android to Android, and iPhone to iPhone.
Download this powerful transfer tool below.
How to transfer data from iPhone to LG G6 with Coolmuster Mobile Transfer:
Step 1: Install Coolmuster Mobile Transfer
The very first thing to do is download, install, and launch the Coolmuster Mobile Transfer tool on the computer.
Step 2: Connect the iPhone and LG phones to Your Computer
Connect these two devices on the computer using USB cables and make them recognized by the software. Next, ensure the iPhone is in the Source device section and the LG phone in the Destination device section. If it isn't, just click the Flip icon to change the position.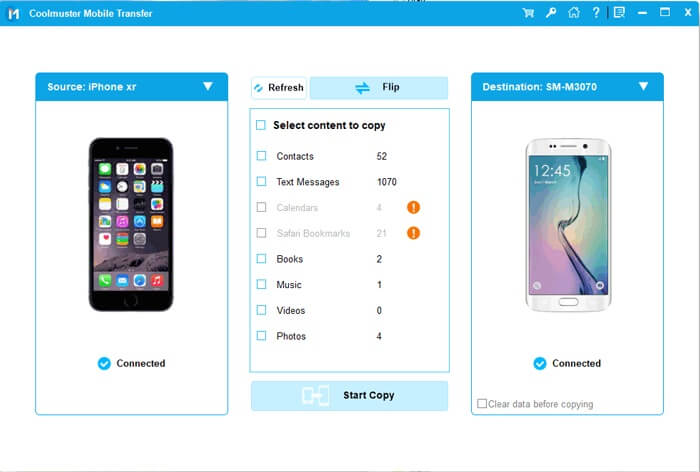 Step 3: Copy iPhone Data to LG
Tick those data you wish to transfer, then click the Start Copy icon to migrate the iPhone to LG. The procedure will last for a few minutes, so make sure both gadgets are connected throughout the transfer procedure.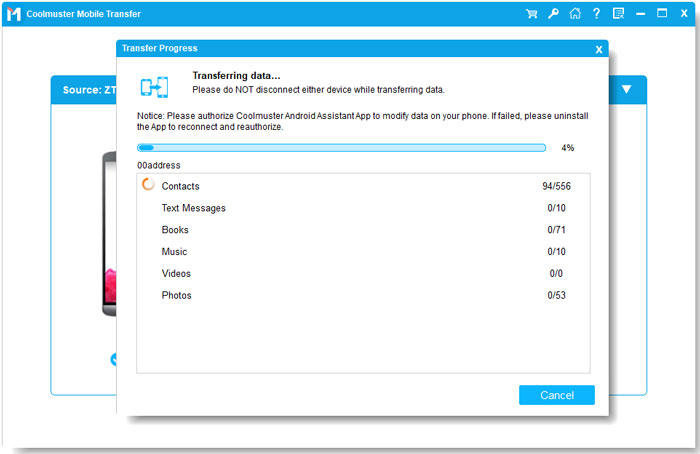 Read more:
6 Powerful Solutions on How to Transfer Data from LG to LG
Top 9 iPhone to Android Transfer Software: Transfer Files from iPhone to Android
Part 3: How to Transfer from iPhone to LG Stylo with OneDrive
Besides the two ways mentioned above, you may also transfer data from iPhone to LG Stylo using OneDrive. This app enables one to store the data on the cloud instead of storing it locally. Thus, you may access the files anywhere you want provided you're an active internet-connected with access to the OneDrive on your gadget.
Below steps will help you transfer data from iPhone to LG Stylo using OneDrive:
Step 1: Install the App and Login
Please install OneDrive on both mobile phones, and sign in with your OneDrive account. Or you will need to sign up for a OneDrive account if you don't have one.
Step 2: Upload iPhone Files
Please access OneDrive on your iPhone, and tap the + and Upload files icon. Then select the files you want to upload from your iPhone.
Step 3: Sync iPhone Files to LG
Run OneDrive and Log in to the same account on your LG phone. Then you will see your uploaded files, and you can download them to your LG phone.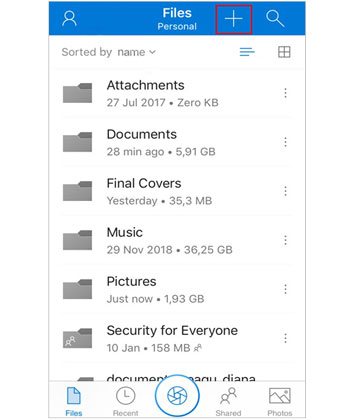 Bottom Line
Transferring data from an iPhone device to an LG isn't an easy task at all. Besides, the risk involved isn't something pleasant. And not to mention data loss, corruption, and similar problems if you use the wrong tool. Fortunately, from this guide, you now have a reliable ally by your side to make the process effective and safe. If you like the direct transfer, you can try Coolmuster Mobile Transfer. It can smoothly copy your iOS data to LG Android phone.
Related Articles:
[Full Guide] How to Transfer Contacts from Android to Android in 7 Ways
How to Transfer Files from Android to iPad - A Complete Guide
The Ultimate Way to Export Text Messages from Android to PDF [Latest]
How to Transfer Contacts from OPPO to Samsung in 7 Trouble-free Ways?
[Solved] How to Unlock LG Phone Forgot Password Quickly?