In order to better protect Samsung mobile phone data from loss, Samsung users often used to use Samsung Kies to back up their mobile phone data before updating or resetting their mobile phones. As we all know, Kies is an excellent tool for Samsung to easily back up and restore your data, as well as manage your phone. When you need to restore Samsung Kies backup files to your Samsung phone, Kies will recover the data in two ways. But when you need to restore kies backup files to other Android phones other than Samsung phones, the problem arises. This backup recovery process is a bit more complicated for other Android devices, because we don't recommend using Samsung Kies directly, but looking for third-party software to perform this task.
You can find a lot of software on the Internet to help you recover your data from Kies to your Android phone, but it's not easy to handle, and the price may not be cheap. In this article, we'll talk about Phone Transfer, which is a very effective application and the easiest way to perform this recovery process. Read on, you will learn how to use Phone Transfer to restore Samsung Kies backups on your Android.
Part 1: Best Way to Restore Samsung Kies Backup to Android
Part 2: How to Restore Android Phone from Samsung Kies Backup
Part 3: How to Restore Samsung Kies Backup to Samsung Phone Directly
Part 1: Best Way to Restore Samsung Kies Backup to Android
Phone Transfer is reliable and powerful software to help you restore Samsung Kies backup to any Android device. Unlike Samsung Kies, which only works on Samsung devices, Phone Transfer supports almost all Android phones. As long as you have installed this great app on your computer, you will find that Samsung Kies has too many limitations. This software is compatible with today's popular computer operating systems because you don't need to worry. You can continue reading to learn about other features of this software. Then follow the second part of the step-by-step guide to use Phone Transfer to restore backups from Kies to Android phones.
Main Features of Phone Transfer:
* Back up your phone data on computer and restore the backup file to any Android and iOS devices.
* One-click to restore backup from Samsung Kies to your Android phone.
* You are allowed to preview your personal information and media files before backing up and restoring them.
* Effortlessly transfer your contacts, text messages, call logs, photos, videos, music, etc. to another phone or on your computer.
* Enable to transfer from HTC, Samsung, Nokia, Motorola, iPhone and more to iPhone 14/13/12/11/XR/XS/XS Max/X/8/7/6S/6 (Plus) that run iOS 16/15/14/13/12/11/10/9/8/7/6/5.
* Support to restore phone data from online platforms, such as OneDrive, iCloud, iTunes, etc.
* It comes with an easy interface that everybody can handle the data transfer easier.
* Works perfectly with Apple, Samsung, HTC, LG, Sony, Google, HUAWEI, Motorola, ZTE, Nokia and more smartphones and tablets.
Part 2: How to Restore Android Phone from Samsung Kies Backup
We know that there are a lot of tools on the web that can help you recover data from Samsung Kies to Android devices, but you don't know which tool is really helping you unless you have tried and failed countless times. In doing so, you will even face the risk of data loss. Because of this, we sincerely recommend Phone Transfer, an amazing app that is compatible with all computers and supports all Android devices. Now, follow the step-by-step guide below to learn how to recover data from Kies to Android.
Step 1. Install and launch Phone Transfer
Download and install the Phone Transfer program from the download buttons below. The download link is the free version of the tool. If you want to enjoy full features of this app, you need to buy its full version.
Step 2. Choose Restore from Backups option
After the installing process, launch the software and you should see its main interface. To restore any backup from Samsung Kies to your Android phone, you should choose "Restore from Backups" option to move to the next step.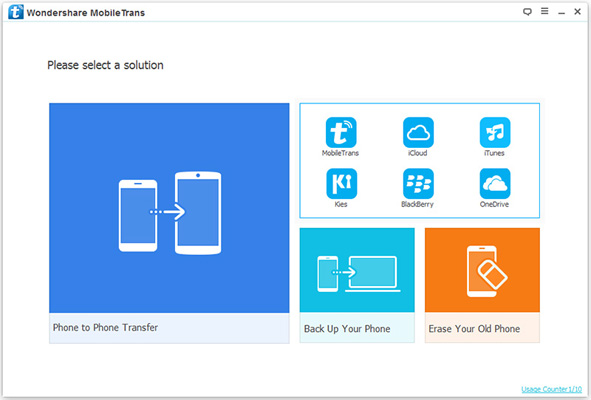 Step 3. Restore Samsung Kies to Android phone
Now, use a USB cable to connect your Android phone to the computer. Once connected, it will be detected and shown on the right side of the screen. All the backup files in Samsung Kies will be displayed on the left side. Just choose the backup record, select content you need and click "Start Transfer" to restore them to your Android phone.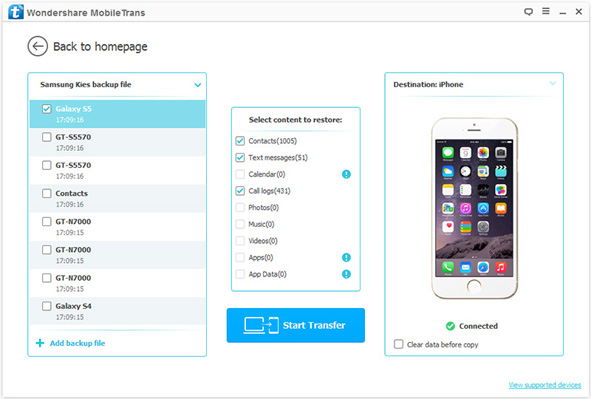 Part 3: How to Restore Samsung Kies Backup to Samsung Phone Directly
If you want to restore the backup files from Samsung Kies to Samsung phone directly, Kies itself can do it completely and you do not need to ask help from other tools. Just follow the steps in the below:
Step 1. Select the desired backup file
First, open Samsung Kies and select the "Restore Data" button in the "Backup and Restore" menu. Wait a moment, all recoverable backup files will be detected and displayed in the window. Here, we recommend not changing the location of the previous backup to facilitate Kies detection.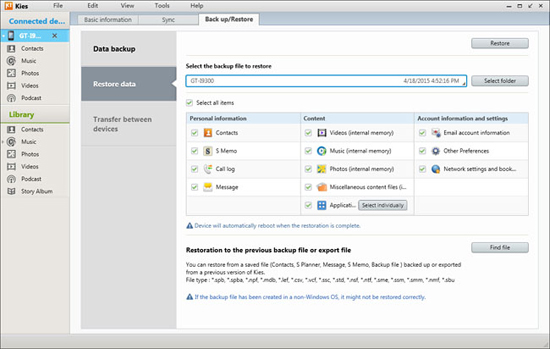 Step 2. Complete the data recovery process
Select the backup file you want to restore to your Samsung phone and click the "Restore" button. The data recovery process will start automatically. After completing this process, you can check the recovered data on your Samsung phone.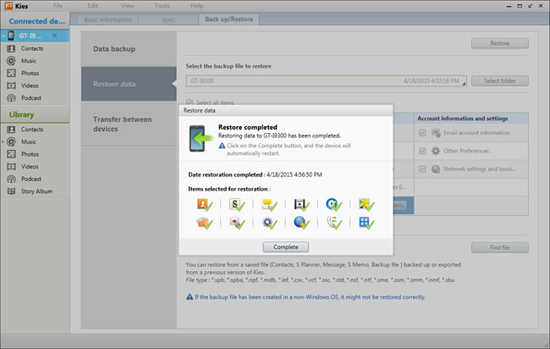 Conclusion
You might think that using Samsung Kies to restore backup data from Kies to a Samsung phone is very simple, but when you restore Kies backup data to another Android device or another operating system, the iPhone, you will encounter some problems - Kies only Support for Samsung devices. Therefore, you must use another effective tool, such as Phone Transfer. The tool supports almost all types of mobile OS platforms and devices and is compatible with most popular computer operating systems. It allows you to recover data from your Kies backup to your Android device with just a few clicks.
Related Articles:
How to Transfer Photos from Samsung to Mac for Backup
Easy Ways to AirDrop from iPhone to Mac [Support Various File Types]
How to Transfer Contacts from iPhone to Android [Full Guide]