If you're an iPhone user, you may never want to change from the convenience of iOS. Nonetheless, Samsung has always presented fierce competition to iOS, offering an impressive variety of features in their flagship phones. It's precisely why many people opt for Samsung's budget-friendly and stunning phones. However, when switching from iOS to Android, the biggest hurdle is moving data between old and new devices.
Most people think Smart Switch iPhone can move data between iPhone and Samsung phones. But it's a Samsung Smart Switch an app that is known for wireless data transfer. Samsung users can use this app to migrate their files between phones. In this article, we will take you through everything about Smart Switch and if you can work with iPhone devices.
Part 1. Does Smart Switch Work with iPhone?
Unfortunately, there's no Smart Switch for iPhone. This means you cannot use Smart Switch to move data from Android to iPhone. You cannot receive files on your iPhone from the Android but you can send the files to an Android.
There is only a Smart Switch for Android, Mac and Windows computers. With the Smart Switch on your Windows PC or Mac, you can transfer iPhone data to a Samsung device with an iTunes backup. Plus, with Smart Switch Mobile on your Samsung device, you can restore iPhone data from an iCloud backup.
Therefore, if you need a way to transfer data from Samsung to iPhone, Smart Switch can't help. But no worries. Coolmuster Mobile Transfer can do the trick. It supports both Android and iOS devices, thus making it easier to move various files between these phones operating on different platforms.
Part 2. Can Smart Switch Transfer from Samsung to iPhone?
Many of you ask, "Can I use smart switch from Samsung to iPhone?" The answer is no. Transferring data from a Samsung to an iPhone using Smart Switch is impossible. Instead, you can use Samsung's Smart Transfer app to move data from your Samsung phone to an iPhone.
You can use Samsung Smart Switch to transfer contacts, messages, call logs and more. But, there are limitations when moving data between Samsung and iOS devices. For example, you cannot transfer downloaded apps from the App Store, and those apps on your iOS phone that aren't available on Samsung can't be transferred.
Part 3. Smart Switch from iPhone to Samsung via USB
Smart Switch app works perfectly on both Android devices and desktop computers. The mobile app transfers data between devices, while the desktop app is primarily used for backing up and restoring data.
The mobile app lets you move data from an iPhone or another Android to a Samsung phone. This includes media files, contacts, documents, call logs, and messages. If both devices run on Android, you can also transfer account data, voice memos, and other details.
Step 1. Download the Smart Switch app and launch it for data transfer. You can connect your devices through a USB cable or Wi-Fi.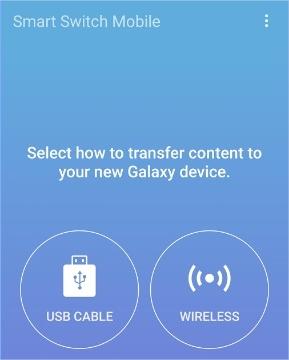 Step 2. Now choose between Android or iOS as the source device. Choose the "iOS" option. The target device must be a Samsung phone. Choose either device memory or SD card and connect both devices. If connecting wirelessly, ensure they are located close to each other.
Step 3. To authenticate the connection, enter a code that is generated only once. After the devices are connected successfully, you should choose the data type you want to transfer. Wait for some time for the Smart Switch mobile app to finish transferring the files. Once done, you can access the transferred files to your Samsung phone.
You May Want to Know:
Does Smart Switch Need Wi-Fi to Send Data? Can It Send Data without Wi-Fi?
Useful Tips to Fix Samsung Smart Switch Not Working (Completed Solved)
Part 4. Smart Switch from iPhone to Samsung Using iTunes
Though there's no Smart Switch app for iPhone devices, you can use its desktop version to move data from an iPhone to Samsung Galaxy. The Smart Switch application for PC/Mac can identify any iTunes backups you may have made on your computer. It allows you to retrieve the relevant data from the iTunes backup and transfer it to your Samsung Galaxy phone. The following instructions will guide you through transferring iPhone data from an iTunes backup to a Samsung device. Here are the steps:
Step 1. Start by Backing Up iPhone to iTunes
To back up all the data on your iPhone, first plug it into your PC using a lightning cable. Then, open iTunes, go to "Summary", and click "Back Up Now". Remember not to select the Encrypt iPhone backup option because Smart Switch won't be able to detect an encrypted backup.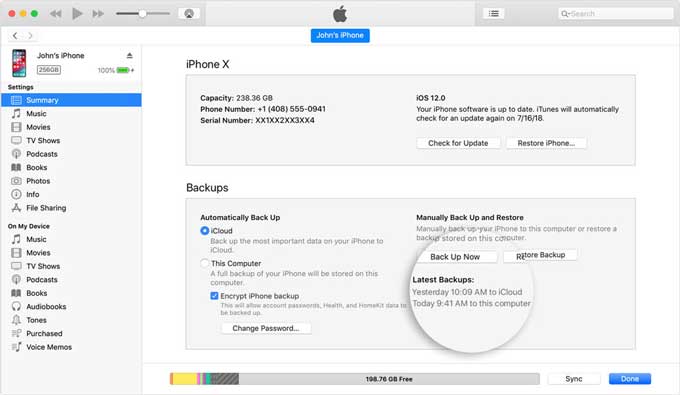 Step 2. Install Smart Switch and Connect Samsung Phone
Ensure your PC runs on Windows XP, a newer version, or a Mac with a Mac OS 10.6 and above. After that, download the Smart Switch Mobile app on a Samsung phone so that it can be detected by the app on your desktop. Also, download the Smart Switch app on your computer. Connect it to the computer, keep it unlocked, and choose the MTP USB option.
If you don't install the app on your Samsung phone, the Smart Switch app won't connect with your Samsung phone.
Step 3. Select the iTunes Backup You Want to Transfer
On your computer, tap on "Restore", select the "Select a different backup" option and choose "iTunes backup data". You will see the size and number of data in the backup, and you can click on the folder icon to choose a different backup if needed.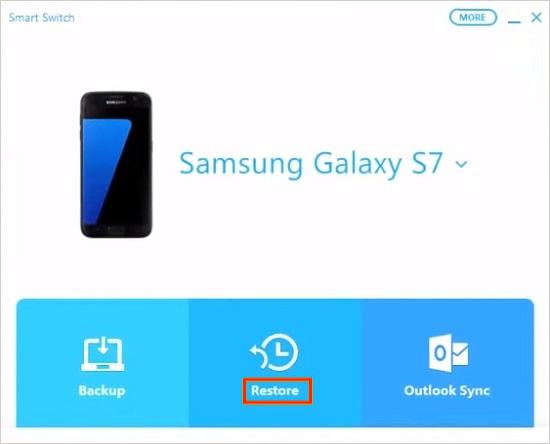 Step 4. Restore Data to Samsung
When you restore your iPhone backup to your Samsung device, all the data, like photos, messages, call logs, contacts, memos, videos, and documents, will be restored by default. If you don't want to restore some data, you can simply uncheck those items. Tap "Ok" and "Restore Now" to start transferring your data.
Can't Miss:
What to Do If Samsung Smart Switch Stuck at 99% during Transfer
Top 8 Samsung Smart Switch Alternatives for Samsung or Other Phone Data Transfer
Part 5. The Best Samsung Smart Switch Alternative - Coolmuster Mobile Transfer
If you're switching to a new Samsung phone and want to transfer data from your old Android or iOS, the Smart Switch Samsung app is a great option. But, let's say you are switching to a new iPhone. The application cannot move data from Samsung to an iPhone.
We require an alternative app to transfer data seamlessly from Samsung to iPhone. Coolmuster Mobile Transfer is the best app for that. You can use it to transfer data between different platforms in a secure, and quick manner. It supports iPhone, iPad, Samsung, Android, Windows, and Mac platforms.
Coolmuster Mobile Transfer allows you to seamlessly transfer contacts and eBooks (PDFs & ePubs) from Samsung devices to an iPhone. Besides, it can support Android to Android, iOS to iOS, and iOS to Android transfer. Here are the best highlights of Coolmuster Mobile Transfer:
Transfer contacts and documents from Android to iPhone in just a single click.
Very simple, fast and secure to move data.
Compatible with popular phone brands, including iPhone SE (3rd generation), Samsung Galaxy S23 Ultra/S23, Motorola, Google Pixel, LG, Sony, HTC, and more.
Click the button below to download a free trial of Coolmuster Mobile Transfer.
How to transfer data from Samsung to iPhone:
01Install Coolmuster Mobile Transfer
You should download then install the software on the PC. Once installed, double-tap on the app to open its primary interface. Choose "Mobile Transfer".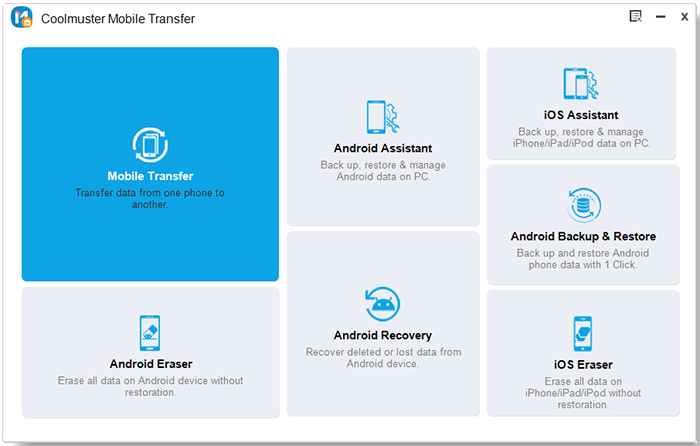 02Connect Devices to Computer
Connect your phones to the computer using a USB cable. After connecting your devices, ensure the Samsung phone is at the source, and iPhone is at the destination position. If the positions are not correct, click "Flip" to change their positions.
03Transfer Data from Samsung Phone to iPhone
Select the content that you want to transfer from your Samsung Galaxy to your iPhone and tap "Start Copy". The transfer process will take a few seconds to finish.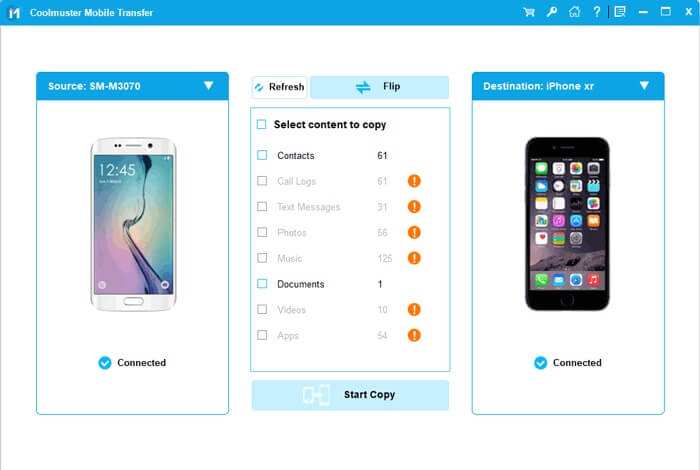 Read More:
Does Samsung Smart Switch Transfer WhatsApp Messages? [Comprehensive Guide]
How to Transfer Notes from iPhone to Samsung?
Summing Up
That's it. As mentioned earlier, there is no Smart Switch iOS, but you can effortlessly move your data to a Samsung phone using the app. However, another approach that packs even more power is Coolmuster Mobile Transfer. Not only does it provide greater speed than the Smart Switch, but it also offers compatibility with numerous operating systems. So, this is a great alternative to Samsung Smart Switch.
Related Articles:
How to Transfer Photos from Samsung to iPhone [Top 4 Methods]
How to Send Videos from Samsung to iPhone without Losing Quality? (8 Seamless Ways)
How to Transfer Contacts from iPhone to Samsung Galaxy
How to Transfer Messages from iPhone to Samsung Quickly?
How to Transfer Music from iPhone to Samsung
5 Best Ways to Transfer Music from Android to Android (Easy and Helpful)