If you have a need to utilize a duplicate of some of your software application with 2 different accounts, you will need an application that allows you to clone them. Because not all applications are the same or compatible with the same software, you may want to choose 1 of the 5 options that have been provided for you below. Each of which are being offered with varying features, pros, and cons. So, it is important for each user to review all 5 to see which one will suit their needs best.
From offering user privacy setting to allowing the user to select 1 of 24 different languages, each applications different features that people can use to ensure that they have the capabilities that they need in order to use the same applications with different accounts. Check the following top 5 app cloner to clone phone apps and pick out your favorite one.
Top 1: Coolmuster Mobile Transfer
Top 2: App Cloner
Top 3: Parallel Space
Top 4: Social Duplicator
Top 5: Go Multiple
Top 1: Coolmuster Mobile Transfer
The top 1 on our list is Coolmuster Mobile Transfer, which is specially designed for transferring data, not only apps, but also contacts, SMS, photos, videos, music, apps, etc. from one phone to another. Apart from phone transferring ability, its Mac version also enables you to backup phone data on computer and restore the backup record to any phone with one click as your needs. It supports not only Android to Android transfer, but also can do Android and iOS sync.
Read More:
Top 5 Android Backup & Restore Software
Top 3 Phone Cloning Software of 2023
Mobile Transfer comes with free trial version for you to have a try for free.
1. Download, install and launch the Mobile Transfer program on your computer and you will see its primary window like below:
2. Connect your two phones with the computer using two USB cables. Then, Mobile Transfer detects the two phones and show them on the screen side by side. All transferable file types are displayed here, including Contacts, SMS, Photos, Videos, Music, Apps, etc.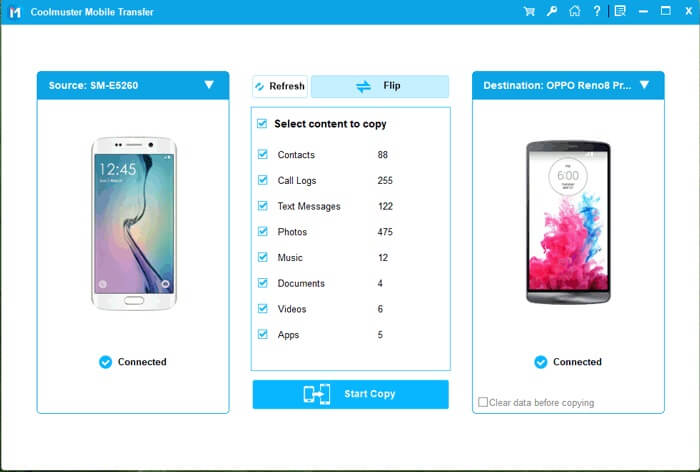 3. If you only need to transfer apps, you should tick off "Apps" category. Then, click the "Start Copy" button to kick off the apps cloning process.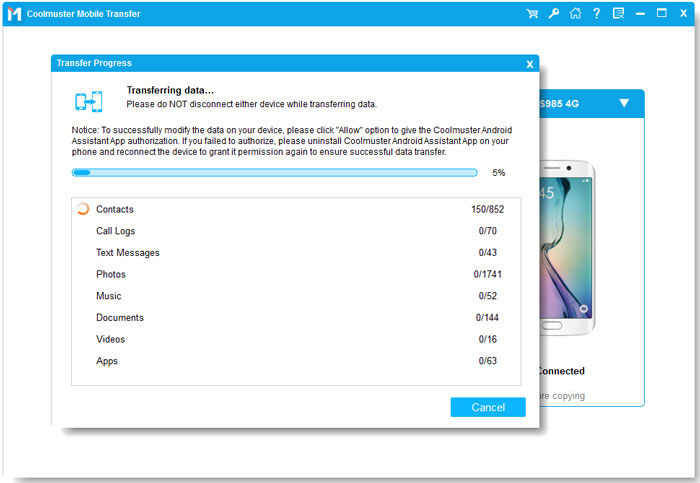 Top 2: App Cloner
App Cloner can be downloaded from the link: https://play.google.com/store/apps/details?id=com.applisto.appcloner&hl=en. It gives the user the capability to clone an app that works independently from others. User is provided with the capability to duplicate different applications and also enables the user to change the app's icon. Language, colors, and display can also be edited by the user. And to protect user's privacy, user can change the device ID and more.
Pros:
- Software is easy to use
- App cloned within minutes without unnecessary hassles
- Can be personalized to individual preferences
Cons:
- Not compatible with Facebook and Google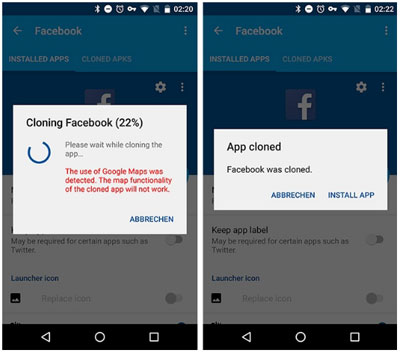 Top 3: Parallel Space
Parallel Space can be downloaded from the link: https://play.google.com/store/apps/details?id=com.lbe.parallel.intl&hl=en. The application supports twenty-four different languages. It provides users with capability to customize the cloned app and is compatible with most Android Apps.
Pros:
- Needs only 2MB of your devices storage space
- Programmed to protect the user's privacy
Cons:
- User may find that their compatibility issues with other applications
- Does not work with 2 different accounts simultaneously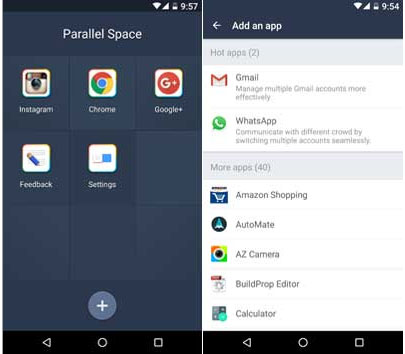 Top 4. Social Duplicator
Social Duplicator can be downloaded from the link: https://www.newcydiatweaks.com/2015/03/download-social-duplicator-21-1deb.html. It is specially designed to duplicate virtually any available applications as well as any social media that is popular. It is made to customize the users cloneapp and duplicate apps can even be updated. Please note before a user can start using the app, the device needs jail break.
Pros:
- Simple to use.
- This apps has been designed to be compatible with iOS 7 devices.
Cons:
- iOS 9.3.3 are not currently supported
- Not available on iTunes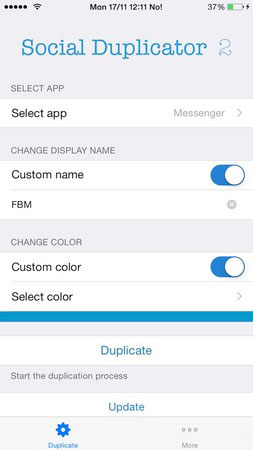 Top 5. Go Multiple
Go Multiple can be downloaded from the link: https://play.google.com/store/apps/details?id=com.jiubang.commerce.gomultiple&hl=en. Different storage spaces provided for Original and cloned apps. By using this program, applications can be download on the users computer and can be compared to the similarities and functions of Parallel app.
Pros:
- This duplicate clone application for android is easy for people to use.
- User can open up 2 of their video games at simultaneously.
- Privacy and security features are included in this application.
Cons:
- Applications has too many video adds featured in it
- Support for the same apps are not included in its overall design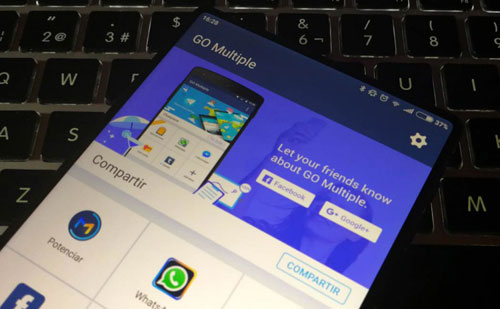 Conclusion
Today, if a user has a need to clone their apps, they may want to review the five options provided above. Each of these clone apps has their own features, pros and cons. Therefore, each user will need to choose the one that is best for their purposes.
Related Articles:
How to Transfer Contacts from One iPhone to Another
How to Transfer Data from Samsung to Samsung
Top-Rated Approaches in Transferring Files from Android to Mac