When comes to transferring data from one phone to another, people would like to use the built-in Bluetooth on smartphone to switch the phone data. In this article, we mainly talk about how to transfer files between two Android phones via Bluetooth in details step by step. And in addition, we also introduce an alternative tool to transfer files from not only Android devices, but also iPhone/iPad smoothly. Please continue to read to the end.
Part 1: How to Transfer Data via Bluetooth
Part 2: How to Switch Files using Mobile Transfer
Part 1: How to Transfer Data via Bluetooth
It is actually quite simple to use Bluetooth to transfer phone data. All you need to do is:
1. Turn on Bluetooth
Turn on Bluetooth technology in both phones by going to "Menu," and selecting "Settings and Tools." Select "Bluetooth Menu" and "Turn On". You can also directly pull down the menu in the phone desktop and switch on the Bluetooth option.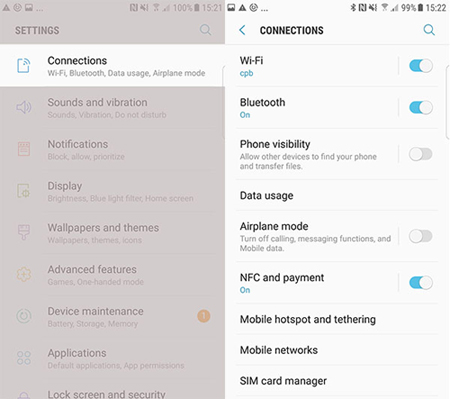 2. Set and Pair Bluetooth Devices
In the Bluetooth interface, activate "Discover Mode" on both phones to make your phone "visible" to other cell phones. Select "Options," "Discovery Mode" and "Visible." This will enable your phone to connect wirelessly to another cell phone for data transfer. Once detected, choose the target device. Then, a request interface asking to enter the key will show up on both devices. Type in the correct key and start pairing.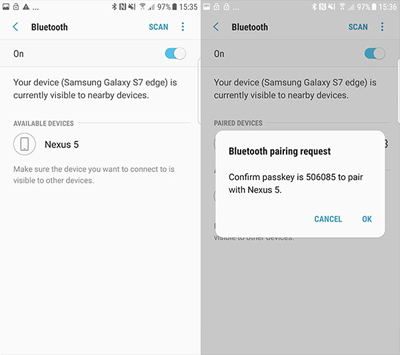 3. Transfer Files via Bluetooth
After the two Android smartphones are successfully paired and connected, you can go to the photos, music, videos, APK files, etc. on the source phone, select those you want to transfer, hit the Menu button and choose "Share" button. Then, select the option of "Send via Bluetooth" and choose the target phone you want to transfer the data to.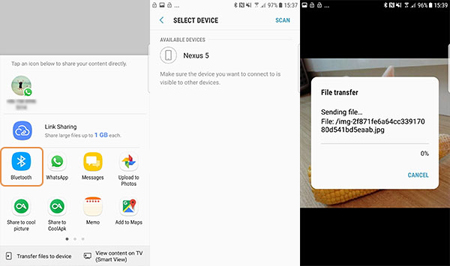 When the process ends, turn off the Bluetooth and check the data. That's all about how to transfer files between phones via Bluetooth. By using this method, you can share music, videos, pictures and so on with your friends without any hassle.
Part 2: How to Switch Files using Mobile Transfer
Though it is simple to transfer files between two phones by using Bluetooth, it can only work on two Android devices. If you want to transfer files between Android and iOS devices like iPhone or iPad, I want to recommend an extremely effective phone to phone transfer tool for you. Coolmuster Mobile Transfer supports almost all types of devices (even with different OS) to transfer files effectively.
Step 1. Download Mobile Transfer program and connect two devices to the computer.
Step 2. Install and launch the program, and select "Phone to Phone Transfer" mode from the interface.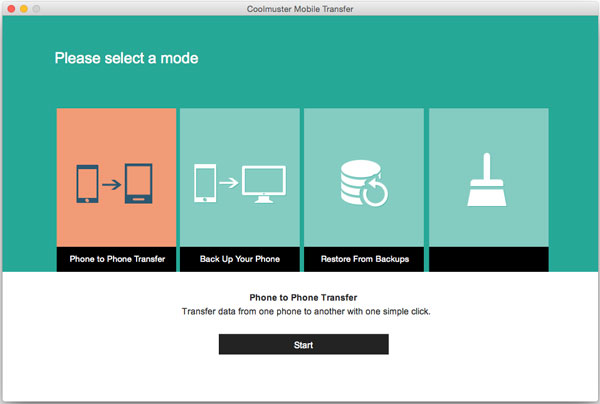 Step 3. Tick off the files that you want to transfer (Photos, Videos, Music, Contacts, Text Messages, Apps, etc.) and start the transfer process by clicking the Transfer icon.
Related Articles:
Transfer SMS between LG and iPhone
Efficient 9 Ways to Transfer Data from Android to Android