Though iPhone and Android are the most popular smartphones, managing files between these devices can be tricky. Notes is a useful app on our devices that helps keep track of ideas, schedules and more. Apple and Android operate on different platforms, so you may find it challenging to transfer notes between them. Do you know how to transfer notes from Android to iPhone? Read on to learn how to transfer notes from Android to iPhone.
Way 1. Transfer Notes from Android to iPhone with Google Sync
One way to move notes from Android to iPhone will be via Google Sync, which uses a Gmail account. When you use the Google Sync feature, you'll save most of your files, including notes, contacts, documents and many more. These files will then be stored in a Google account by default, making it also easier to access them on an iPhone. Here's how to use the Google Sync feature to move notes from an Android to iPhone:
Step 1. Head to the "Settings" page and scroll down to get to "Accounts" and find "Google".
Step 2. Once you tap on Google, turn on "Sync Now". Doing this will update your data like contacts, notes and calendar to your Gmail account.
Step 3. After the synchronization process is complete, you need to go to your iPhone's Settings. From there, select the "mail, calendar, contacts" option and then click on the "Add accounts" option. Provide your login details and use the account you used on your Android device.
Step 4. Click "Next", then turn on the "Notes" option. All your notes will be synced to your iPhone within a short time.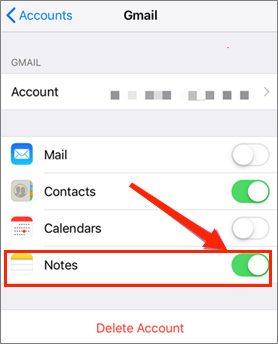 You May Like:
How to Transfer Notes from iPhone to Computer Easily? (Top 4 Ways)
How to Transfer Notes from iPhone to iPhone [5 Easy Ways]
Way 2. Move Android Notes to iPhone Using Google Drive
Google Drive is a wonderful cloud storage service that lets users keep their files in the cloud. It works well on various platforms, making it a better way to have the Android notes on iPhone. Using Google Drive is a great way to transfer files from an Android to an iPhone over WiFi. The free storage of 15GB allows you to keep any file you desire, like notes, pictures, documents etc. You only need an internet connection to download the notes on your iPhone.
Step 1. Installed and open Google Drive on your Android and either sign in to your account or create a new one if you don't have one yet.
Step 2. Open the Notes application on Android and click the "Share" icon. You can share it as an image or text. Preview the file and choose the "Google Drive" option.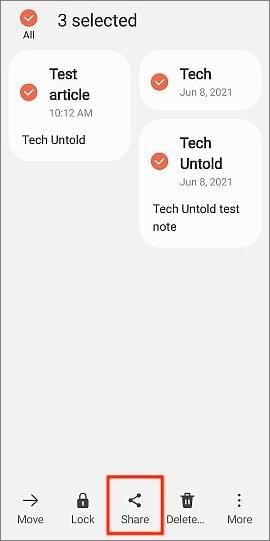 Step 3. Either make a new folder in Drive or choose an existing one where you'll save the notes.
Step 4. Access the notes on your iPhone in the folder you've saved to. Download them on your iPhone.
See Also:
5 Ways to Sync Notes from iPhone to Mac in 2023
How to Easily Sync Notes from Mac to iPhone
Way 3. Share Notes from Android to iPhone via Email
Email is one of the simplest ways of transferring notes between devices manually. You only have to install the email application and have an email account on Android and iPhone devices. However, the only issue is that you can only send a file attachment with only 25MB. This means that if your notes exceed this limit, you will have to send them in multiple emails, which can be a tedious process. Here are the steps to do so:
Step 1. Open the "Notes" app on an Android device. Then, select the notes to be transferred.
Step 2. Click the "Share" icon, then choose the "As email" option from the list. This will open a new mail page.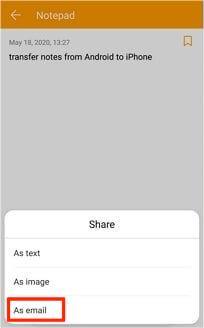 Step 3. Tap in the section named "To Field". Now enter your email address in the recipient field. Essentially, you will be sending an email to yourself.
Step 4. Log into your email account on an iPhone and access the files.
Further Reading:
How to Recover Notes from Broken iPhone?
How to Transfer Notes from iPhone to Android?
Way 4. Transfer Notes from Android to iPhone by Google Keep
Another way to transfer notes from an Android device to an iPhone is by using Google Keep. This is a note-taking application designed by Google to allow users to take notes using their devices for free. Google Keep can quickly transfer your notes, audio, images, and texts to your iPhone because it was specifically designed for cross-platform sharing by Google.
If you use Google Keep to keep notes, the process will be much simpler. You just have to download the app on your iPhone and log into the Google account you're using on Android. If you enable sync on iPhone, all notes and media from Android will appear.
Here are the steps:
Step 1. To start the transfer process, install the Google Keep app on your Android phone first.
Step 2. Open Settings on your Android phone and click "Accounts & Backup". Select "Manage Account" and then click "Google account" to be used on both phones.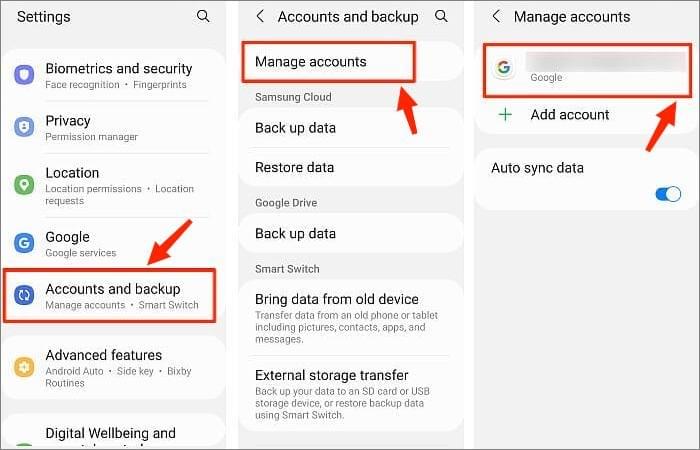 Step 3. Click on the "Sync Account" and then enable "Keep Notes".
Step 4. Take your iPhone and add the Google account you used to sync files, then enable the sync notes.
Read More:
How to Transfer Data from iPhone to Laptop? (6 Proven Ways)
Multiple Ways to Easily Sync iPhone Notes
Bonus: Transfer Other Files from Android to iPhone with Coolmuster Mobile Transfer
In addition to transferring notes, you might need to transfer other files, such as contacts, from Android to iPhone. In that case, it's crucial to use a trustworthy third-party app like Coolmuster Mobile Transfer.
This is an excellent app that simplifies data transfer with just a click. It can transfer data between phones without any data being overwritten. It's compatible with most Android and iOS gadgets, and it supports iOS 16 and Android 11. The tool allows a preview of files as you choose the ones to transfer. The main features are as follows:
Transfer data between Android to iPhone, Android to Android & iOS to iOS in 1 click.
Sync contacts and eBooks (in PDF and ePub formats) from Android to iPhone.
Secure with no data loss.
Support Android versions 4.0 and higher, as well as iOS versions 5 and above.
Click on the button below to download a free trial of Coolmuster Mobile Transfer.
Steps to transfer files from an Android to your new iPhone:
01Install and Launch the Mobile Transfer
Install the Mobile Transfer app on your computer. Once it's installed, launch it and click on "Mobile Transfer" from the main interface.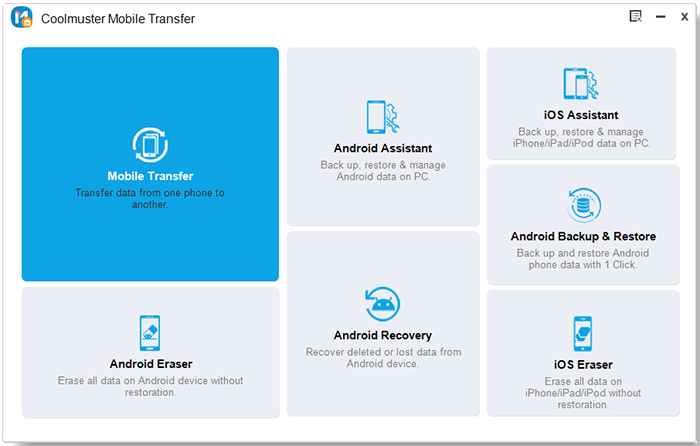 02Connect Your Device to Computer
Connect your Android and iPhone to the same PC with USB cables. While doing so, ensure that USB debugging is enabled on Android and click "Trust" on iPhone to Trust This PC. The program will then automatically detect the devices. After successfully connecting, you'll see "Connected" displayed under the devices' images. Ensure they are in the right position; Android should be in the Source position.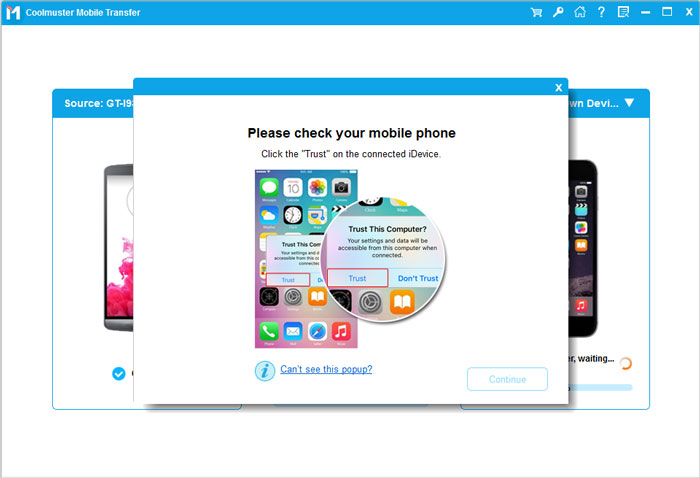 03Transfer from Android to iPhone
Start transferring data from your Android to your iPhone. Tick the "Contacts" option from the interface and click the "Start Copy" tab.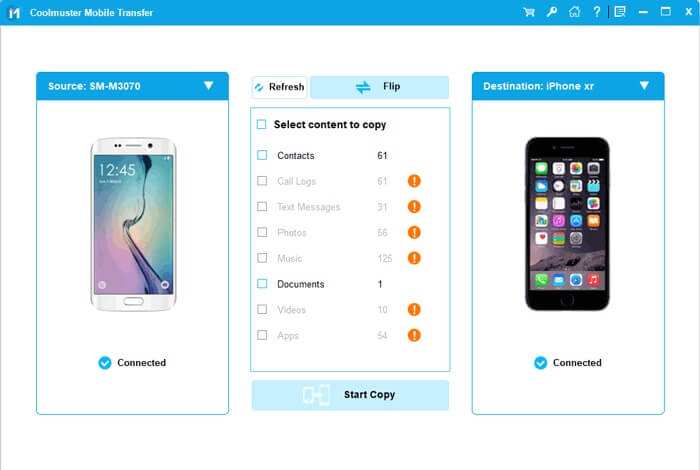 Conclusion
Although Android and iPhone devices have different operating systems that don't easily allow file sharing, there are numerous options to share notes between these devices. We have discussed methods for migrating notes from Android and iPhone.
Besides, Coolmuster Mobile Transfer will enable you to transfer other files you want from Android to iPhone like contacts. You will have all your files moved to an iPhone with just a click of a button.
Related Articles:
3 Easy Methods to Transfer from iPhone to Android
App to Transfer Data from Android to iPhone Smoothly - 10 Top Options
Simple Way to Transfer Notes from iPhone to Gmail
How to Transfer Notes from iPhone to Samsung?
How to Transfer Data from Android to iPhone? A Complete Guide Here