WhatsApp is one of the most commonly used end-to-end encrypted messaging applications worldwide. However, undoubtedly the main data-hogging component of WhatsApp is gifs, videos, and photos. These contents can easily fill up your device's storage. Thus, many people wonder how to reduce WhatsApp storage on their mobile devices.
Read this article to know the pragmatic methods for freeing up WhatsApp storage if WhatsApp takes up too much space on your iPhone or Android smartphone.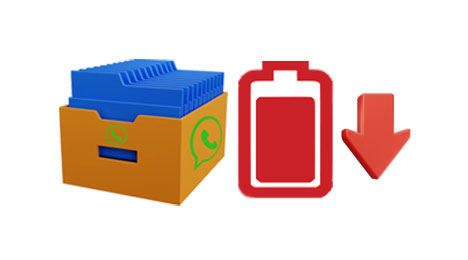 Part 1: How to Reduce WhatsApp Storage without Losing Data
Do you want to know how to reduce WhatsApp storage without losing data? Well, you can back up your WhatsApp files to the computer. Backing up your WhatsApp files to Google Drive or iCloud is one of the greatest ways to empty your device's storage memory. But suppose you do not have enough storage space in the cloud? This is where the WhatsApp Backup software comes in.
This WhatsApp backup software is one of the most convenient management tools for WhatsApp data transfer. It can help you back up your WhatsApp messages, stickers, pictures, videos, attachments, and other chat history from Android or iPhone to a computer. What's more, you can restore your WhatsApp backup files to another mobile phone if you need it.
The highlights of this desktop app:
* Help you back up your WhatsApp data to reduce the storage without losing data.
* Enable you to restore your WhatsApp backups to your phone anytime.
* Share your WhatsApp messages and files between Android and iOS.
* Support WhatsApp Business as well.
* Compatible with most Android and iOS devices.
* Fast back up LINE, Kik, and other social apps' data.
* Work well on Windows and Mac computers.
Download this WhatsApp data backup program.
Reduce WhatsApp storage by backing up the chat history to a computer with this program:
01Connect Your Phone
Launch the program on your computer after installing it. Now select "WhatsApp Transfer" and connect your mobile phone to the PC.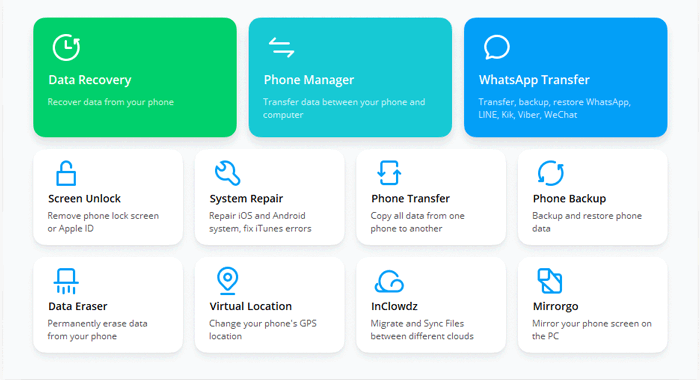 02Back Up Your WhatsApp Data to Release Storage
Once the device has been recognized, automatically, click the "Backup WhatsApp messages" option. The software will transfer all your WhatsApp chats to your computer.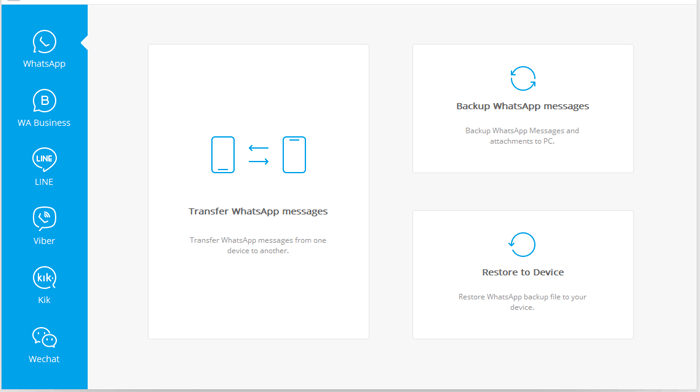 Once done, you can freely delete the WhatsApp conversations on your phone to free up the storage memory.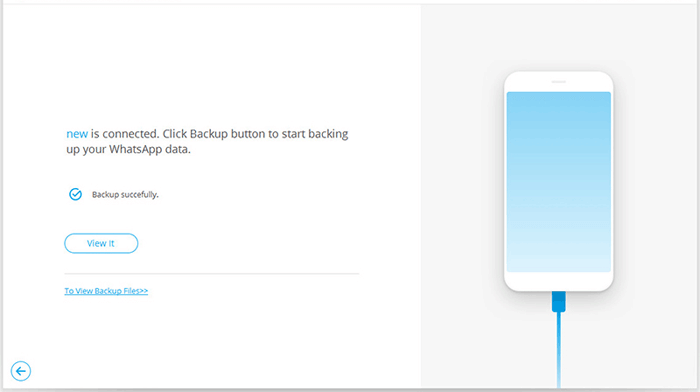 Learn more: 6 Easy Ways on How to Backup WhatsApp Messages from Android to PC
Part 2: How to Reduce WhatsApp Storage on iPhone
2.1 Reduce WhatsApp Storage on iOS via Settings
Is your WhatsApp using too much storage iPhone? Don't worry. You can reduce WhatsApp storage using the WhatsApp settings on your iPhone. Here's the procedure to enable you to get this job done.
Step 1: Launch the WhatsApp app on your device, open "Settings" from your bottom left side, and tap "Storage and Data".
Step 2: Select "Manage Storage". You will see your chats and file sizes beside them. Select any that you want to delete.
Step 3: Select from your top right and select all the data you want to clear. Alternatively, you can click on "Select All" to highlight all the files. Next, click the "Trash" option at the bottom left to reduce your WhatsApp storage. Repeat this process for all other chats.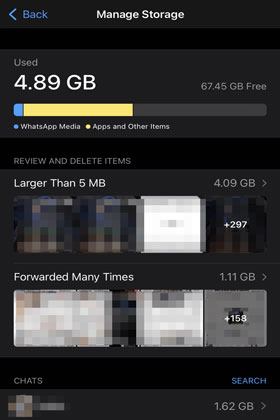 See also: Failed to download videos from WhatsApp on your iPhone? Don't fret. You can now fix it with this guide.
2.2 Reduce WhatsApp Backup Size by Disabling Auto-Download
Even after you have set your WhatsApp to not save media data to your phone's photos application, it is still important to disable the media files auto-download to stop the app from automatically downloading media data. This will enable you to store only essential files on your phone. Below is the procedure:
Step 1: Launch your WhatsApp and open "Settings". Go to "Storage and Data".
Step 2: Go to the "MEDIA AUTO-DOWNLOAD" part and set all options to "Never".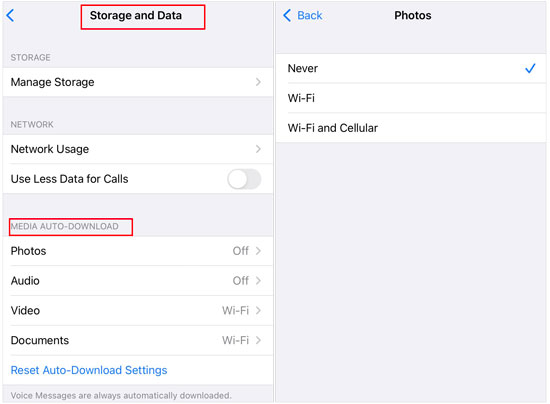 You might like: How can you transfer your WhatsApp chats from one Android phone to another? If you want easy tricks, read this post.
Part 3: How to Reduce WhatsApp Storage Android
3.1 Release WhatsApp Storage on Android via Settings
WhatsApp has become an essential tool for communication and collaboration among users. However, the storage capacity of our devices is limited, making it difficult to store large files or keep a lot of conversations. Fortunately, there are ways to reduce the space occupied by WhatsApp data on your Android device. You can do this through your WhatsApp Settings without a problem. Below are the steps you should follow:
Step 1: Launch the WhatsApp app on your device and click the menu icon to open "Settings".
Step 2: Scroll through and tap "Storage and data". Go to the "Manage storage" part.
Step 3: Choose the "Larger than 5 MB" option, and pick a chat. Now, you can tap "Select all" to delete all times from the chat. Then the storage will be released.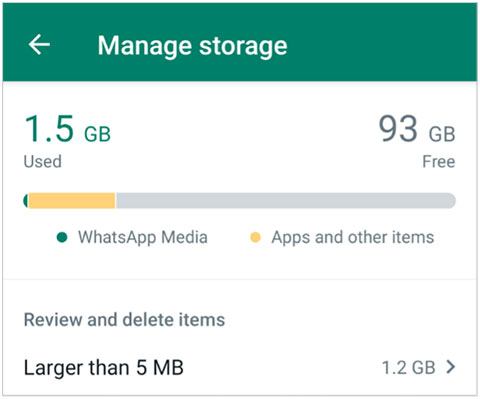 Guess you need: How to Recover Deleted Photos in WhatsApp on Android and iPhone with Ease?
3.2 Free Up WhatsApp Storage on Android by Transferring Files to SD Card
You can move your WhatsApp files to your SD card to free up WhatsApp storage on your Android device. You only need a dependable files manager application like ES Explorer that allows you to send your WhatsApp files from your device to the SD cards manually. Below is the procedure:
Step 1: Connect your device to your computer via your USB cable, and insert your SD card into the computer using a card reader.
Step 2: Open "This PC" to access the WhatsApp folder on your Android phone. Then drag and drop the WhatsApp files to your SD card. Please note that the files will be inaccessible on WhatsApp after you move them to the SD card.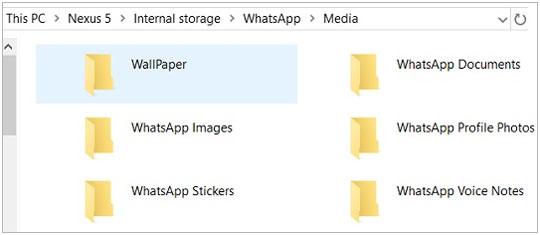 3.3 Reduce WhatsApp Storage by Deleting Backup Files
You can view and delete your older data files in your WhatsApp folders. To do so, follow these steps:
Step 1: Open the File Manager on your device. Select "Internal Storage" since the WhatsApp folder is always found here.
Step 2: Once you find it, open your WhatsApp folder. In this folder, open the "Backups" folder to erase your older backup files.
Step 3: You can also go to your "Media" folder to delete your unused data.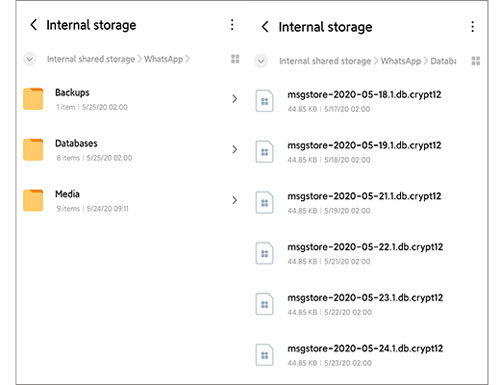 Part 4: More Tips to Reduce WhatsApp Storage
4.1 Stop Saving WhatsApp Media to Your Photos App
WhatsApp, usually by default, auto-downloads all files you receive to your Photos application so you can access them easily through your phone. However, sometimes this is very disturbing if unnecessary media data that fills up your device's storage is downloaded. You can prevent this easily by switching off your media auto-download through WhatsApp Settings.
4.2 Delete WhatsApp Cache to Get More Storage Space On Your Phone
The cache is a storage section of your device where the most used data files are stored so that they are quickly recovered when required. To delete or clear your WhatsApp cache, use the steps below:
Step 1: Open the Settings on your device, and select "Manage Apps" or "Apps".
Step 2: Select "WhatsApp" > "Storage", and tap "Clear cache".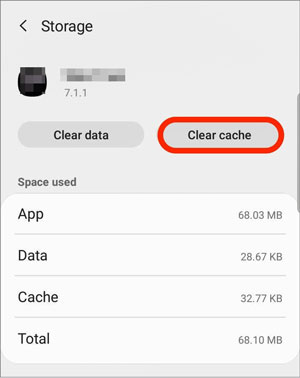 Note: FAQs on Reducing WhatsApp Storage
Q1. What happens when I delete WhatsApp data from storage?
When you erase the WhatsApp data, you have to verify the WhatsApp account again, the way you did the first time you installed the application on your device. Make sure you use the same contact number that you used to create a WhatsApp account. In addition, all your chats disappear when you clear your WhatsApp data.
Q2. Where's the internal storage of WhatsApp?
When using WhatsApp on your Android phone, media files are stored automatically in a "Media folder". If you've Internal Storage, your WhatsApp folder will be on the device. If you don't have Internal Storage, this folder can be found on either an external or internal SD card.
Q3. Does uninstalling my WhatsApp erase all data?
If you happen to deactivate the WhatsApp account, you will not be able to access all your data related to it. However, you can restore this data if you have previously created a backup with iCloud, Google Drive, or a local backup.
Conclusion
Is WhatsApp taking too much space on your Android phone or iPhone? This guide has shown you ways to reduce WhatsApp storage. The WhatsApp Backup software can help you release your storage without deleting WhatsApp data, since it will back up all your WhatsApp chats to your computer, and allows you to view the chats on the computer directly. If you don't want to lose your data but desire to reduce WhatsApp storage, choose it.
Related Articles:
Back Up and Restore for Kik Messages on Android Phone
How to Recover Audio Files from WhatsApp on Android in 3 Ways?
How to Recover Deleted WhatsApp Contacts on Android? [Complete Guide]
A Guide on How to Recover Deleted WhatsApp Images on Samsung in 5 Ways
Is iPhone Storage Full? How to Free Up Space on iPhone Easily
[Proven] How to Transfer WhatsApp to New Phone Easily? (Android & iPhone)