Have you upgraded to a new smartphone but don't know how to transfer WhatsApp to a new phone with the same number? WhatsApp is a superb communication application that enables users to exchange videos, photos, text messages, and files. However, WhatsApp does not use the "account" concept like other social apps such as Snapchat, Facebook, etc. As a result, accessing your WhatsApp using a different smartphone is a daunting task. This article will teach you how to sync WhatsApp new phone same number with your old smartphone's WhatsApp.
Part 1. Why Is Transferring Data Between Multiple Platforms Difficult?
Have you ever encountered the need to transfer data across heterogeneous platforms? What challenges did you face? Was the transfer flawless? Transferring data across different platforms is very difficult. Below are some reasons why it is challenging to transfer WhatsApp data across devices running different operating systems:
1. WhatsApp backup is stored differently on different platforms - It is hard to transfer WhatsApp between iOS and Android devices because the two smartphones store their WhatsApp data differently. Android devices store their WhatsApp backup locally, while iOS devices store their WhatsApp backup on iCloud. However, iOS and Android devices can back up WhatsApp data on Google Drive. In such cases, transferring WhatsApp between iOS and Android devices becomes easy.
2. Different platforms use different file systems and formats - Different operating systems use varying file systems and formats to store their data. This makes transferring WhatsApp data between systems running different operating systems difficult.
3. Data encryption - WhatsApp encrypts all its data for security reasons. However, this makes transferring a WhatsApp account to the same line on a new device running a different operating system difficult.
Part 2. How to Transfer WhatsApp to New Phone with Same Number
WhatsApp is a must-have application for every smartphone owner. However, it is not possible to use WhatsApp on different devices. What will happen if you buy a new smartphone and want to use WhatsApp on the same line? Below are some ways of moving WhatsApp on the same line to a new device:
Method 1. How to Transfer WhatsApp Chats from iOS to Android by Professional Tool
The most efficient way of transferring WhatsApp data from one smartphone to another is using a professional data transfer tool. There are many data transfer applications, and choosing the right one can be challenging. An example of a reliable data transfer application is WhatsApp Transfer. This superb data transfer tool enables users to selectively move their WhatsApp application's videos, photos, messages, attachments, and more from one smartphone to another.
This application is primarily designed for sharing data between smartphones using a computer. The best thing about this potent data transfer application is that it lets users preview the WhatsApp chats before moving them. Millions of users around the globe have chosen this tool due to its cutting-edge features. Below are some of its outstanding features:
Let us discuss the steps of using this powerful data transfer application to move WhatsApp Chats data from an Android to another device:
01Navigate to the application's official website and download the application. Install it and launch it on your PC. Link the two smartphones to the computer using USB cords, and select the "WhatsApp Transfer" option by clicking on it.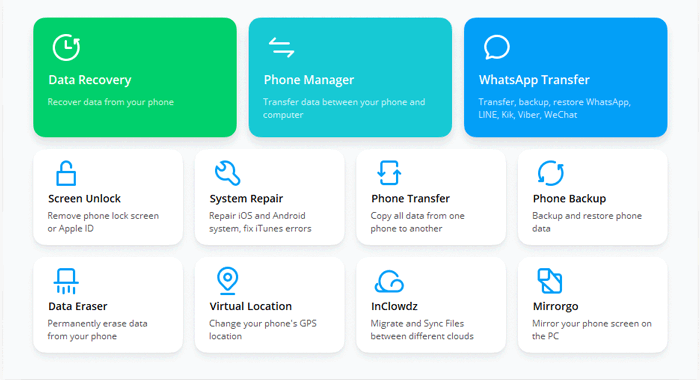 02Click the "Transfer WhatsApp messages" button on the screen and proceed to the next step.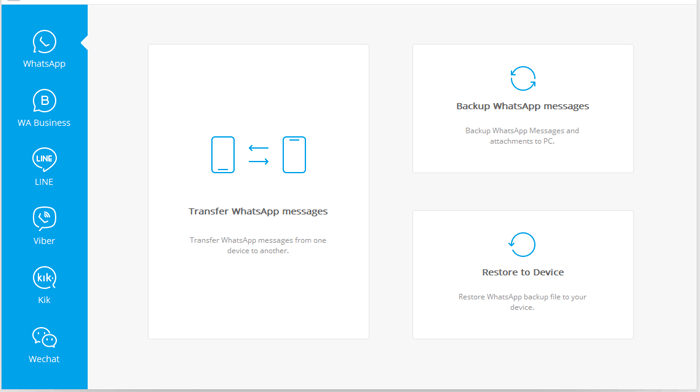 03Now set the Android smartphone as the "Source" device and the iPhone as the "Destination" device. You can hit on the "Flip" button if you want to interchange the device's positions.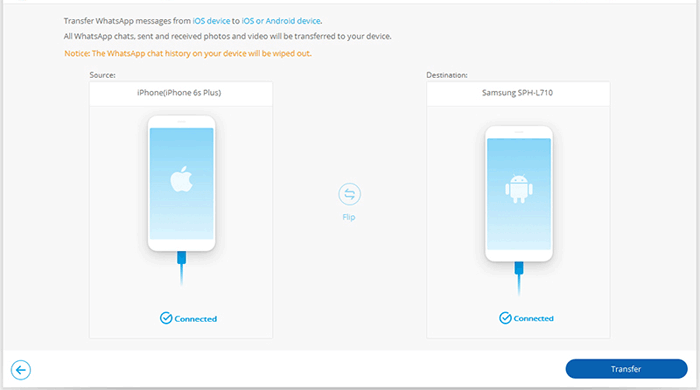 04A prompt warns about existing WhatsApp data on the destination device. Choose "Backup" to save it or "Continue" to transfer without backup.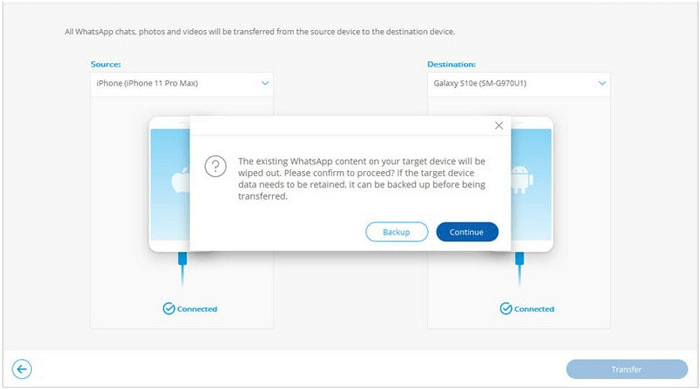 05The transfer process will begin and can be seen on the screen that will appear next. Wait for some time, and the application will notify you when the data transfer process is completed.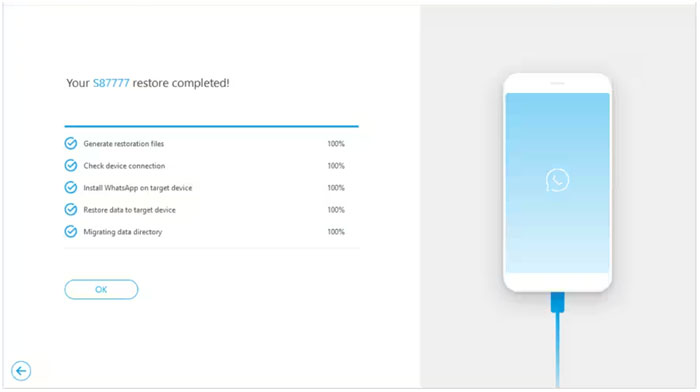 Read More:
5 Workable Ways to Transfer WhatsApp Stickers to New Phone (Android/iPhone)?
Full Guide on How to Transfer WeChat History to New Phone
Method 2. How to Send WhatsApp to New Phone Same Number Using iCloud
One of the best ways of transferring your WhatsApp data from your old iPhone to the new one is using iCloud. However, you must ensure that your new iPhone has enough storage space and you have linked the two devices to the same iCloud account. Follow the simple steps beneath to transfer your WhatsApp from one iPhone to the other on the same phone number using iCloud:
Step 1. Launch the WhatsApp application on the old iPhone by tapping on its icon.
Step 2. Navigate to the WhatsApp application's "Settings" feature by tapping on the "three dots" at the upper right corner of the WhatsApp interface. Tap the "Chat Backup" option.
Step 3. Save your WhatsApp data on the iCloud by clicking the "Back Up Now" button.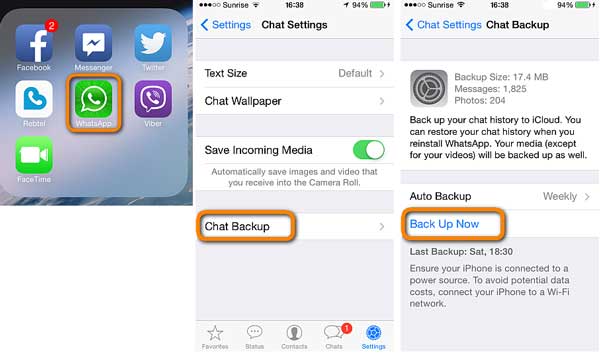 Step 4. Uninstall WhatsApp from the old iPhone and install it on your new iPhone using the same phone number. You will be prompted to restore previous chats. To do so, you need to click the "Restore Chat History" button.
See Also:
How to Back Up WhatsApp Messages from Android to Mac - 5 Proven Ways
[User Guide] How to Transfer WhatsApp Account to A New Phone?
Method 3. How to Move WhatsApp Chats Between Smartphones Through Email Chat
You can also use Email Chat to transfer WhatsApp new phone same SIM from your old phone. This method works by emailing the desired chats from one device to another. Here is a straightforward guide on how to transfer WhatsApp chats from your old smartphone to the new smartphone using Email Chat:
Step 1. Launch the WhatsApp application on your old smartphone and navigate to the "Settings" section. Tap the "Chat Settings" button and hit the "Email Chat" option.
Step 2. Select the chats you want to transfer to the new smartphone. A prompt message requesting you to ransfer the chats "Attach Media" or "Without Media" will appear. Select an appropriate option.
Step 3. Key in the email address to which you want to send the WhatsApp chats and press the "send" button.
Step 4. Uninstall WhatsApp from your old smartphone, install it on the new smartphone, log in to the email where you sent your WhatsApp data using the new smartphone, and download the attached WhatsApp chats.
Can't Miss:
[Solved] How to Transfer WhatsApp Chats from iPhone/Android to Email?
[Full Guide] Where Are WhatsApp Messages Stored On Your Device?
Method 4. How to Migrate WhatsApp New Phone Same Number via Google Drive
Facing a challenge in transferring WhatsApp to your new Android device without losing your old device's chat history after an upgrade? You don't have to fret because you can use Google Drive to transfer WhatsApp from the old phone to your new phone. However, you should ensure that you have a stable internet connection and that your Google account has enough storage space before using this method. Below are the simple steps that you should follow to transfer WhatsApp from one phone to the other with the same number using Google Drive:
Step 1. Launch WhatsApp on your old Android phone.
Step 2. Access WhatsApp's "Settings" feature and tap the "Chats" option.
Step 3. Hit on the "Chat Backup" option. Choose the backup option and wait for all the WhatsApp data to be backed up.
Step 4. Uninstall WhatsApp from your old smartphone, install WhatsApp on your new smartphone using the same phone number, and launch it.
Step 5. During the setup process, WhatsApp will detect the existing backup on your Google Drive. Restore from the latest backup option will appear, click on the "Restore" button and wait for your WhatsApp data to be restored on your new smartphone.
May Like:
How to Restore WhatsApp Chat After Uninstall? Step-by-Step Guide
[Fast Transfer] How to Transfer WhatsApp from iPhone to Android
Part 3. Frequently Asked Questions of Transferring WhatsApp to New Phone
Q1. How do I transfer my WhatsApp account to a new phone with the same number?
There are several ways of transferring a WhatsApp account from one smartphone to another. You can use a professional data transfer application, iCloud, Google Drive, or other options.
Q2. Which is the most reliable way of transferring WhatsApp to a new phone with the same number?
Using reliable data transfer software is the most reliable method of transferring a WhatsApp account from one device to another. However, WhatsApp Transfer is the best data transfer tool because it is easily usable, secure, and fast.
Conclusion
You can now transfer WhatsApp to a new phone using the solutions discussed in this article. However, it is essential to note that these methods have different efficiency levels. Some methods are faster and more reliable than others, and choosing the most reliable way is prudent. We highly recommend WhatsApp Transfer for transferring WhatsApp from one smartphone to another because it is fast, dependable, lets you preview WhatsApp data before moving, and transfers data securely.
Related Articles:
Top 8 Options of WhatsApp Transfer Software - Handily Move WhatsApp Data
Fast Fix WhatsApp Backup Stuck with Practical Tips in 2023
Effective Ways on How to Transfer WhatsApp from iPhone to Samsung
6 Easy Ways on How to Backup WhatsApp Messages from Android to PC
[2023 Updated] WhatsApp Viewer Review: A Detailed Guide