WhatsApp is one of the most renowned messaging platforms, with billions of users. You can communicate with friends, family or colleagues without any problem. The best part is that it is available on most platforms, such as Androids, iPhones and more. WhatsApp Viewer lets you view your WhatsApp chats directly on your computer instead of your Android smartphone. This way, you can access all your chats, be they recent or old, without using your phone. In this WhatsApp Viewer review guide, we'll list its advantages and disadvantages, how to use it and an alternative option.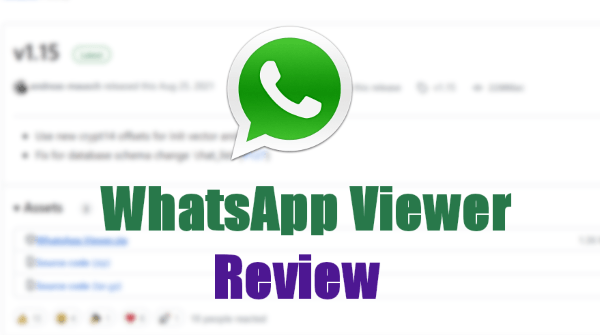 Part 1. What Is WhatsApp Viewer
WhatsApp Viewer is a PC tool designed to allow users to view WhatsApp chat history on the PC through the msgstore.db file. Copying messages to your PC can make it easier and more convenient for you to read old messages. This tool allows you to see the log as if you were viewing messages in WhatsApp itself. (WhatsApp Viewer Download Link >>)
The program supports multiple database versions (crypt5/7/8/12). WhatsApp Viewer includes a user-friendly interface similar to WhatsApp on Android devices, making it easy for users to view all the old and new chats on their PC. You don't need to install any crypt library to use this WhatsApp Viewer for Android. Plus, it is a green tool, so you will not go through the hassle of installing it.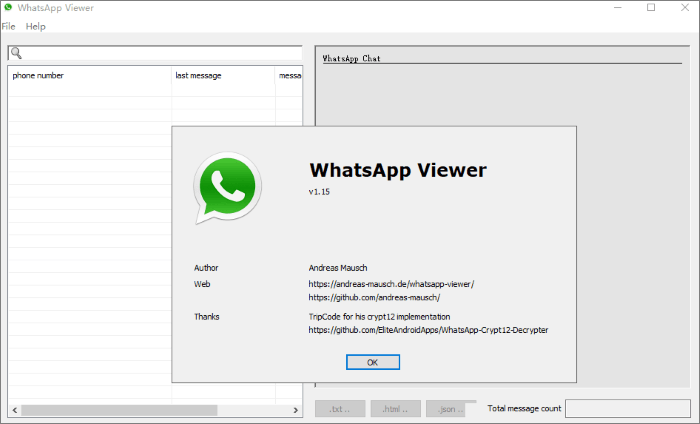 Key Features of WhatsApp Viewer:
Allows you to view your WhatsApp chats history on your PC
Export chats in formats like .json, .txt, and .html.
Search for specific messages.
Load all old chats without using the "load older chats" option.
Let's look at the advantages of using WhatsApp Viewer on your desktop before you use it:
With WhatsApp Viewer, you can view all your old mobile device messages on your computer and even check live chats on your smartphone or PC.
It does not have dual memory usage.
As a green program, it does not require installation.
The program provides a safe connection for its users.
Of course, this WhatsApp message reader PC also has some drawbacks. Below are some of them:
It cannot be used to check chat viewers on iOS devices since it doesn't support iOS devices.
It has only a few updates available.
You must create a backup of important files.
It only supports thumbnails and not large images.
According to some users, the interface is not very easy to use.
Also read:
How to Back Up WhatsApp Photos/Videos? (Proven Tips for iPhone & Android)
Top 7 WhatsApp Backup Extractor to Extract WhatsApp Backup File for Android & iPhone
Part 2. How to Use the WhatsApp Viewer Tool
WhatsApp Viewer for Windows is a wonderfully versatile tool that can help its users in innumerable ways. Its unique features make it stand out, allowing those it serves to access and garner usable information quickly. With its intuitive interface, setting the tool up takes no time.
Here's how you can use this tool:
Step 1. Get the key and the database file from the phone. After that, open the "WhatsApp Viewer".
Step 2. Go to the particular file you wish to check on the WhatsApp Viewer. Open it, then select it by clicking on "File", "Open", and "Select file".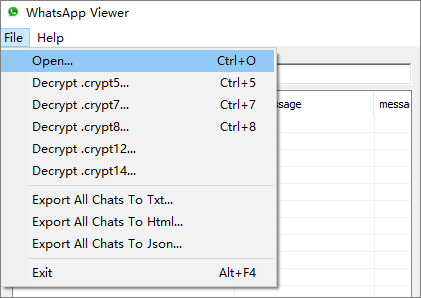 Step 3. Choose msgstore.db from the "extracted" folder. You can leave the account name field empty.
Step 4. You can view the messages on PC by clicking on a chat.
Read more:
How to View Text Messages on Computer for Android Phone Users? (Solved)
How to View Text Messages on iCloud from Your iPhone and Computer? (Complete Guide)
Part 3. FAQs About WhatsApp Viewer
Q. Does WhatsApp Viewer save chats?
No. The app does not record your chats or messages on your device. That means you won't be able to refer back to specific conversations at any time. Instead, it allows you to view them when signed into the platform. It gives you quick access to those past conversations, but that's where the usage stops.
You won't be able to permanently export these messages or related attachments offline and keep them stored elsewhere either by way of this application.
Q2. Is it safe to use WhatsApp Viewer online?
While WhatsApp Viewer provides a secure connection to its users through an online tool, it has not received many updates. Therefore, it is uncertain how effectively it can protect against the latest cyber threats. Although it appears safe, there's no guarantee of its safety.
More questions? See:
How to Retrieve WhatsApp Messages from Lost Phone without Backup?
How to Clear WhatsApp Documents and Data on iPhone?
Bonus: Alternative App to WhatsApp Viewer - Coolmuster WhatsApp Recovery
Coolmuster WhatsApp Recovery app is the best choice for backing up and accessing WhatsApp chat history on your PC. You can easily back up your WhatsApp data from your Android device to your PC with just one click after connecting your device. It supports various file types, which include WhatsApp messages and attachments like photos, videos, stickers, documents, etc.
After you back up your data, you can choose a specific chat history to restore from a backup file on your computer. This process can be done quickly and easily without any complications. Still, there is more to it. It can export your WhatsApp files to HTML and CSV formats, enabling you to read and access them easily.
Here are the significant features of the Coolmuster WhatsApp Recovery:
Let you view or access chat history on PC.
Extract WhatsApp chats and data from Android phones.
Back up all of your WhatsApp chats to your computer.
Restore files from the backup in HTML and CSV formats.
Support most Android models such as Samsung, Motorola, HTC, Sony and more.
Compatible with Windows 7 and up versions.
Here are the steps to use Coolmuster WhatsApp Recovery:
01You need to download then install the WhatsApp Data Recovery app on the computer. Once installed, open the software and select "WhatsApp Recovery" from the initial interface. Then connect the Android phones to the PC with a working USB cable and ensure a connection between the phone and the computer. Choose one device and click "Next". Ensure you've enabled the USB debugging.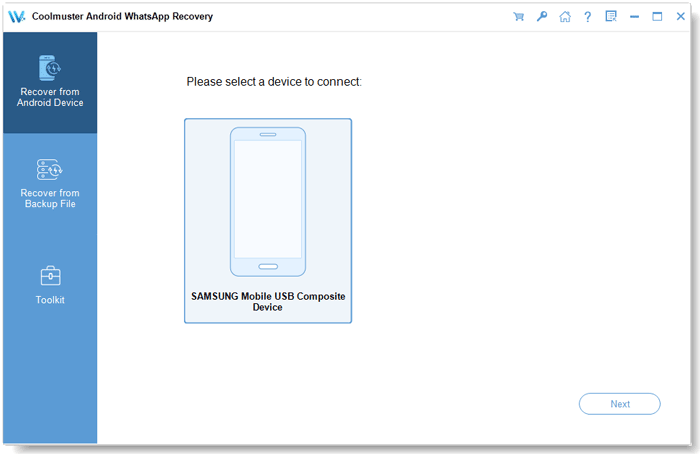 02The app will scan your WhatsApp data to retrieve the chats on Android. The software will prompt you to activate end-to-end encryption on the mobile phone. To activate, first, tap "Turn on". Then, click "Turn on" and tap "Use 64-digit encryption key instead". Now choose to Generate your 64-digit key".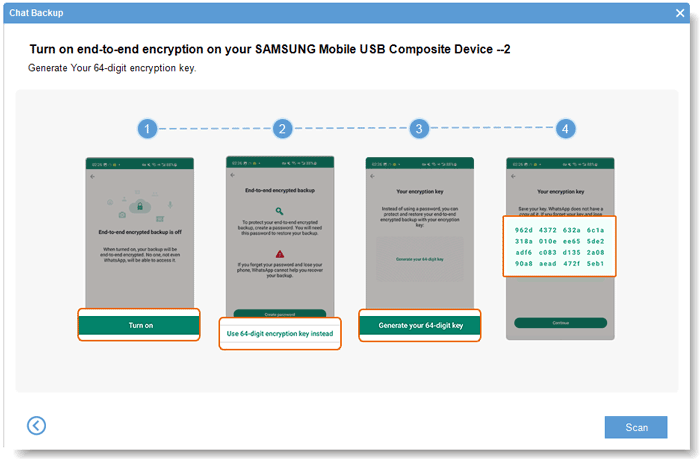 03After obtaining the key, the WhatsApp chat recovery app will automatically read and fill in the blank. You can then proceed by pressing the "Confirm" button. If the key is not automatically inputted, retry the process. Also, if you've activated the end-to-end encryption, you must disable and enable it. After the scanning is completed, please tap on "View It".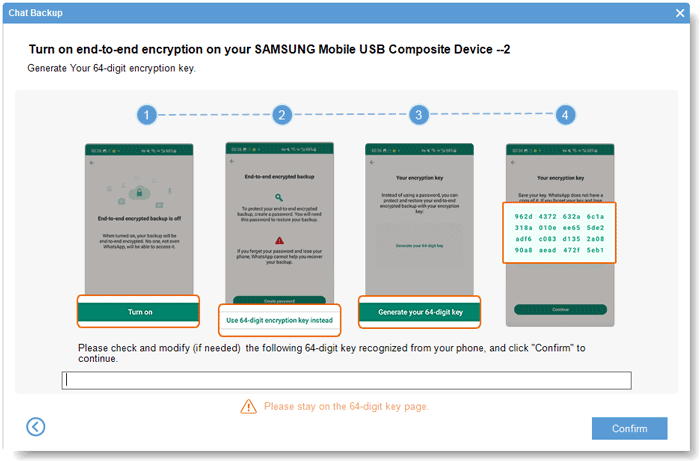 04Your WhatsApp file will be organized into two categories, "WhatsApp" and "WhatsApp Attachments". To recover specific messages, click the "WhatsApp" option and select the chats you want to restore by checking them. Click on the "WhatsApp Attachments" option to choose to recover media files. After that, press "Recover to Computer".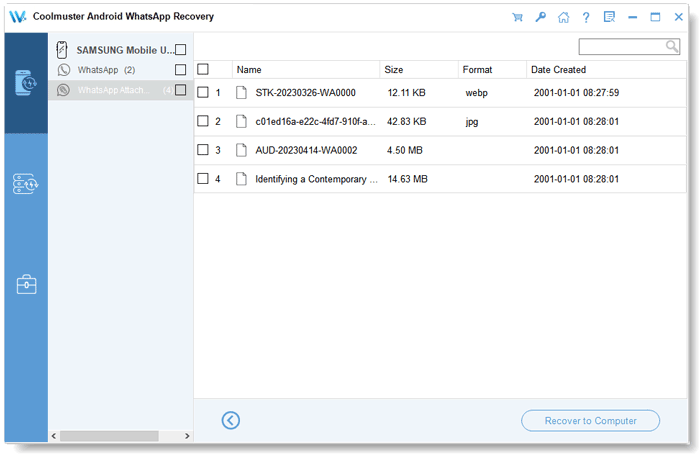 Final Verdict
WhatsApp Viewer for PC is a software that allows you to view WhatsApp chats history on your computer in a user-friendly interface similar to WhatsApp. It also provides easy and convenient chat searching features. However, it has a very outdated interface that can be challenging to navigate. It also gets updated rarely, making it not a very reliable tool.
You could also use Coolmuster WhatsApp Recovery Software, a comprehensive solution that effectively caters to the needs of modern users. It has a sleek interface that's easy to use, and it helps you back up and access all your WhatsApp files on the PC. Besides, it can export files in various formats.
Related Articles:
How to Recover Deleted PDF Files from WhatsApp? [4 Effective Ways]
Simple Ways of How to Read WhatsApp Backup from Google Drive on PC
A Comprehensive Tutorial on How to Move WhatsApp to SD Card
4 Ways to Export WhatsApp Chat to PDF (Android & iOS)
Top 13 WhatsApp Recovery Apps for Android & iPhone
[3 Solutions] How to Transfer WhatsApp Chats from Android to Android