Phones have become an integral part of our lives such that if we were to misplace them, it could indeed be alarming. Whether you dropped it accidentally or left it somewhere, finding any lost phone is as easy as pie, thanks to Google Find My Device feature. Honestly, this feature is one of a kind. It can help you locate any lost phone, and you will know the device's location in seconds. However, can Google Find My Device unlock your smartphone or tablet?
Apart from this question, one major problem we encounter with Find My Device is locking the phones. Though it's a security feature employed by Google to keep our devices safe, it can still be an issue. Read the article to understand the various aspects of Find My Device and how to unlock a locked device. Let's get started.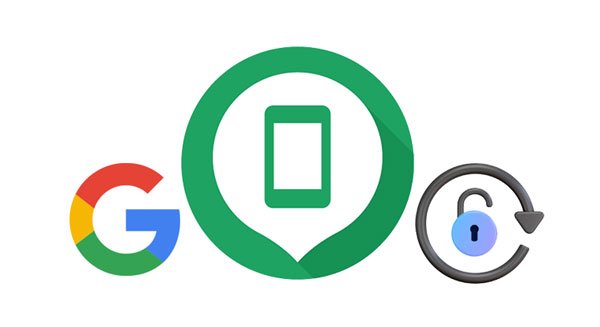 Part 1: What Is Google Find My Device?
Find My Device is a feature designed by Google for Android phones specifically to keep them safe from unauthorized access. With this feature on your Android phone, you can rest assured that no one will access your private data when the device gets lost or stolen. Additionally, the Find My Device helps users locate their lost phone easily. The best thing is that you can lock your phone with it when you realize you have lost it.
Normally, Android smartphones come with this feature already enabled. When you set up your device for the first time with a Google Account, Find My Device will be enabled automatically. With this feature enabled, you can lock, unlock or delete data from your phone from anywhere.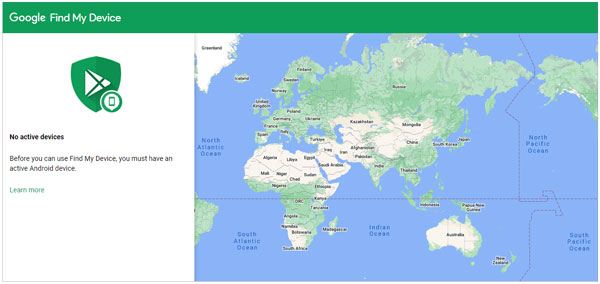 Part 2: What Does It Means to Get Locked by Find My Device?
When a device is Google locked, it means a smart lock has been used on an Android device, and when in unsafe hands, this lock makes the device to be locked automatically. This extra layer of security gives users greater control over their data while providing them with the needed privacy. When you initiate a factory reset on a device with a Google lock, you must verify the Google account and passcode to complete the setup process.
Suppose you bought a secondhand gadget secured with the previous owner's Google account. In that case, you may find it hard to remove the Google lock as that Gmail account previously used when setting up the device is needed. Maybe the owner can't remember the account or didn't delete it. They may have forgotten their password or didn't deactivate the account. You will be left stranded with no idea of what to do. But that shouldn't be.
If you are one of those people who bought a used phone or can't remember your Gmail account, this guide will help you get out of such a situation without much hassle.
See more: How can you unlock an LG phone without a password? Read this guide and make it easier.
Part 3: Can I Unlock My Phone with Google Find My Device?
Can Find My Device unlock an Android phone or tablet? Of course, it can. However, you must know the Google account credentials used to set up the device. If not, then it won't be possible. If you can remember the email and password, follow these steps and see how to unlock a phone via find my device:
Step 1: To start, head to Find My Device on the computer and log into your Google account used on the locked phone.
Step 2: Click on the "Lock" button on the chosen device. This will open the lock on the computer. Input the temporary passcode and hit on the "Lock" button again.
Step 3: Now your device is securely locked with a password you had set, and you can unlock it with the same password.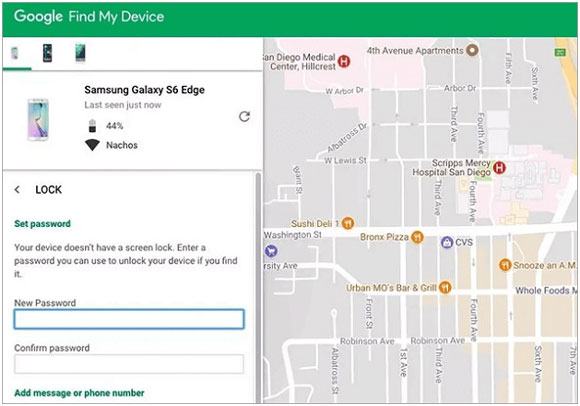 If you forget the password you set, you can use the "Erase" feature of Find My Device to unlock your phone. But you will lose all your data.
Step 1: Tap the "Erase" option after signing in to your Google account on the Find My Device website or app.
Step 2: Hit "ERASE DEVICE" and input your Google account and password for verification.
Step 3: Click "Erase" to start the process. Once done, the lock and data will be erased.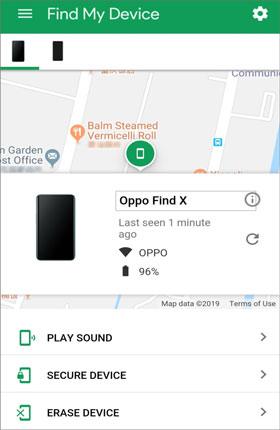 Read also: Quickly Unlock iPhone without SIM Card [Updated Tutorial]
Part 4: How to Unlock a Device When Locked by Find my Device?
My device is locked by Find My Device, and how to unlock it? If you are stuck with Find My Device and are unable to unlock your phone without the owner's password or have forgotten your Google account details, Android Unlock is here to help. The tool can remove any existing Google accounts and bypass the FRP lock from Android Samsung devices. Even though you forget the password of your Google account, you can remove the FRP lock without any password.
This specialized tool can unlock screen locks from most Android phones and tablets without Find My Device as well, including Samsung, LG, Xiaomi, Vivo, OPPO, ZTE, and more. It supports different lock types, including patterns, PINs, fingerprints, etc.
Top features of the Android Unlock software:
* Delete FRP from Samsung without password.
* Remove screen locks from Android devices with easy clicks.
* Unlock some Samsung and LG mobiles without erasing data.
* Remove all types of screen locks, such as PIN, password, pattern, and fingerprints.
* No technical skills are required.
Download this screen unlock tool below.

Free Download for PC
Follow these steps to unlock a phone that has been locked by Find My Device:
01First, download, and install Android Unlock on your computer, launch it, and then click on "Screen Unlock" from the primary interface. Now connect the Android to the computer with a USB cable and choose "Unlock Android Screen/FRP" > "Remove Google FRP Lock".
02Next, choose "All Android version (One-Click Removal" if you don't know the OS version of your Samsung phone.
03Take your phone, open it, hit "Emergency Call", enter "*#0*#" in your phone, and dial it. Enable USB debugging on the phone and grant permissions. Tap "Authorized" on the PC once you are done with the setting.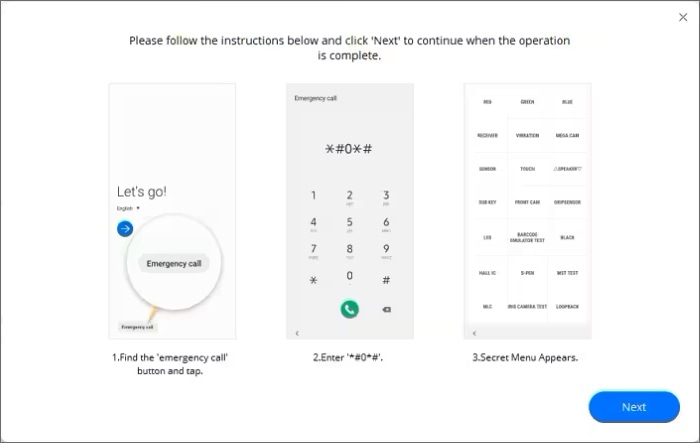 04The process of removing the lock will now be initiated, and it will show in the progress bar next to the screen. Afterward, click "Done" to finish the process.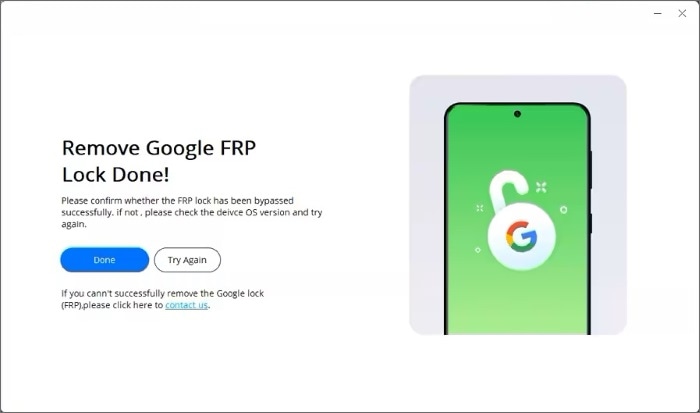 See more: How to Fix Android Touch Screen Not Working - Can't Unlock Issue In Minutes? (15 DIY Tips)
Bonus: Why You May Find It Difficult to Unlock Your Device with Find My Device?
Nowadays, almost all Android devices have smart lock protection. If any suspicious activity is detected, the device will be locked by Google automatically as a safeguard to ensure your security and privacy. In addition, after you factory reset your device, it will ask for a Google FRP lock. This requires verification with the Google account.
Besides, if you have a secondhand phone without Google account details, you will not be able to unlock the phone. But, with Android Unlock, you can easily remove the lock, even without a Google account.
Conclusion
Google Find My Device is an extremely valuable tool if you ever misplace or forget your phone somewhere, or. Furthermore, It can come to the rescue should your device be locked. However, choosing this path will be a waste of time if you don't have the Google account details.
To guarantee great outcomes, even when you don't have the details of the Google account associated with the phone, you can use Android Unlock. This powerful FRP bypass tool will enable you to unlock a device locked by Find My Device with ease.
Related Articles:
How to Unlock Apple ID without Phone Number or Password in 5 Proven Ways?
How to Unlock Sony Xperia Phone in 6 Easy Ways?
3 Easy Ways to Remove Swipe Screen to Unlock Samsung Phone
3 Best Ways to Bypass Google Account on Huawei without PC
[Solved] How to Add Music to Google Pixel 4a/4XL/4/5/6 from a PC?
How to Transfer Photos from Google Pixel to Computer (5 Easy Ways)