Do you have a second-hand Huawei device? You are probably unable to use it, as it is locked with a Google Account. The device asks you to sign in to your account after doing a factory reset before you can start using it. This is a very annoying problem, but luckily, you can bypass this lock feature even without a computer. Continue reading to learn how to bypass Google account on Huawei without PC.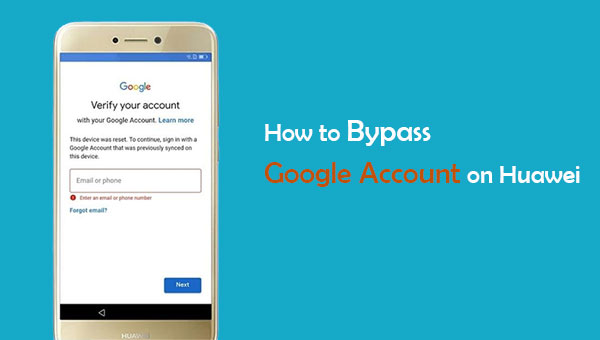 Part 1. What's FRP Lock on Huawei?
Almost every smartphone nowadays comes with different levels of inbuilt security or protection features to protect the device, its data, or its system as a whole from any third-party tool or operator. For instance, if you do a factory reset for a Huawei phone, you can access the device without a doubt.
Due to this underlying weakness, some manufacturers devised measures to restrict factory resetting. And one of the best techniques they employ is factory reset protection (FRP).
So, when a Huawei device has this inbuilt program, and you try to initiate the factory reset without providing valid credentials, the device will be locked. Once the device is locked, deactivating it might be difficult since you will have to provide valid credentials to access the system. This makes it impossible to restore the device to its default settings through factory resetting.
Remember, the FRP feature was mainly developed to provide high data protection. Additionally, it was meant to prevent any unauthorized access to your device. So, If you lose your phone, it will be hard for any person to reset or wipe anything from your phone.
You may like:
How to Fix Android Touch Screen Not Working - Can't Unlock Issue in Minutes? (15 DIY Tips)
How to Bypass LG Lock Screen without Reset? (Solved)
Part 2. How to Bypass Google Account on Huawei without PC?
Though the FRP program helps you in many ways, it can still bring problems. For instance, if you forget your Google account login credentials, you will not be able to access your device. How do I bypass Google verification without a computer? In this section, you will learn the perfect methods that will help you bypass Google account on Huawei devices. What is the best Huawei FRP bypass tool? Below is the answer.
Way 1. Bypass Google Verification on Huawei Using Emergency Call
One common way to bypass the FRP lock on Huawei phones is to use the emergency dialer. This method does not require any tech knowledge, and it is simple. Though this method has some limitations, you can use it to unlock the FRP on Samsung, Huawei, etc., and access your device. One of the major limitations of this method is that it is functional on a smartphone with Android version 5 and below.
How do I remove a Google account from my Huawei via the Emergency dialer?
Step 1: On your Huawei phone, look for the "Emergency dialer" option available on the home screen. Click on it to access the dial pad. Dial ?*#*#1357946#*#*.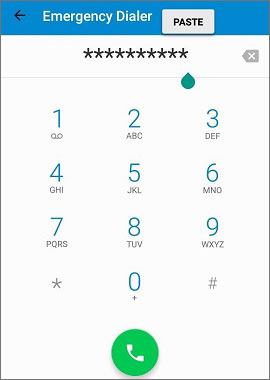 Step 2: Navigate to "Settings" when you see the Settings page.
Step 3: Proceed to "Security and Privacy" and go further to "Lock screen password.
Step 4: Create a new PIN, then reboot the phone. Use the PIN to log in once you restart the device.
Way 2. Bypass Google FRP on Huawei By Resetting It into Safe Mode
How do I bypass Google verification after resetting Huawei? Another method to bypass the factory reset program locks is to boot the device into safe mode and reset it. But you will lose all of your data. If you erase everything, you will restore your device to its default setting. At this point, you can access your device since the FRP lock is disabled. This method will only be suitable if your phone can get into safe mode and you are okay with losing the data you stored on your device. (Want to recover lost data from Huawei?)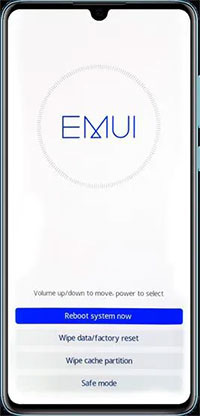 This is the easiest way to bypass FRP locks and the whole process doesn't take much time. However, this action will delete all settings on the device, so I recommend using this method only if you have no important changes saved on your device.
See more:
[Fixed] How to Unlock Locked Android Phone without Losing Data
Fast Unlock a Vivo Phone If Forgot Password (Full Guide)
Bypass Google Account on Huawei Using QuickShortcutMaker
You can Bypass your Google Account on Huawei using QuickShortcutMaker. With this app, you will unlock the FRP and gain access to the device in a few minutes, if not seconds.
How to bypass google account on Huawei Y9/Y7/Y6 using QuickShortcutMaker
Step 1: Connect the FRP device to the internet through a Wi-Fi connection.
Step 2: Now open the Quick Shortcut Maker app, and look for Google Account Manager. Search, and you will get along the result list where you can choose the Google account manager.
Step 3: From the Google Account Manager app, you can choose the option which allows you to key in your email and password.
Step 4: Once you select the option above, you will have to tap on the Try option.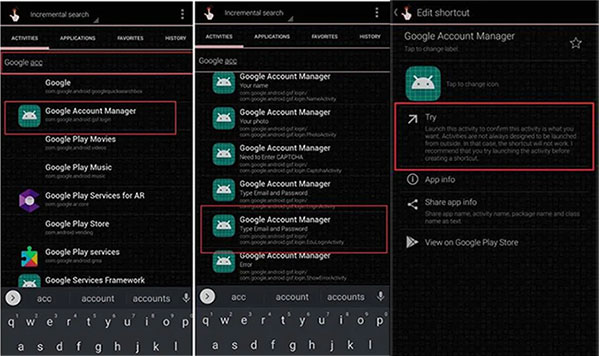 Step 5: When the page prompts you to retry typing your password navigate to the right-top corner of your device and click the three dots.
Step 6: Choose the browser signing and type the google ID and the password. Once you finish this step, restart your phone.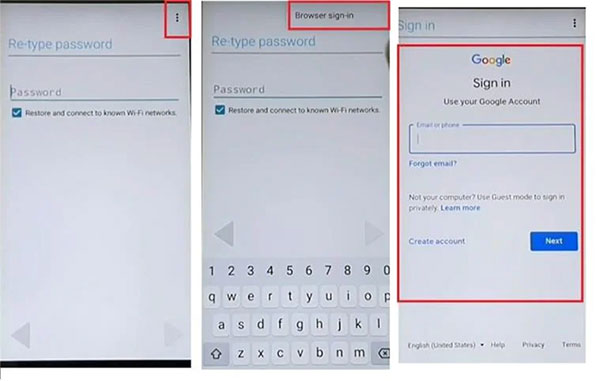 Step 7: Once the device has restarted successfully and your Google account has been added, the FRP restrictions will be bypassed.
Note that this method is applicable if you know your Google account credentials.
See also:
This guide is on how to bypass FRP Google account lock. If you want more info on FRP, don't miss it.
Need to factory reset your LG phone? Check this guide out.
Bonus: How to Unlock Huawei Screen Lock without Google Account?
The easiest method to remove your Huawei device's screen lock is using Android Unlock. This is a safe tool that most users trust. This program can easily remove passwords, patterns, fingerprints, and Screen lock PINs. It can effortlessly unlock Android phone without Google account.
Key Features of Android Unlock:
* It supports all four types of lock screens: PINs, fingerprints, passwords, and patterns.
* It is a cross-platform tool and can work on both Mac and Windows.
* You do not need technical skills for you to use the software.
* It provides a specific solution that you can use when bypassing the lock.
How to unlock Huawei phone without Google account via Android Unlock;
01Download and install the program on your PC, launch it and choose "Screen Unlock." Then connect the device to your PC using a working USB cable and choose the "Unlock Android Screen" option.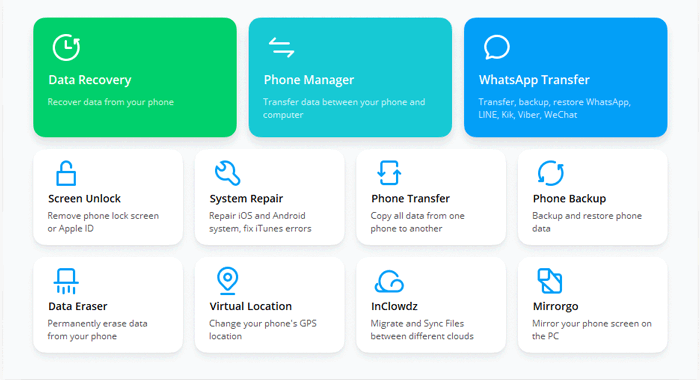 02Then download the recovery package based on your phone model on the list provided.
03Next, put the device in download mode. While in download mode, the recovery package will get downloaded.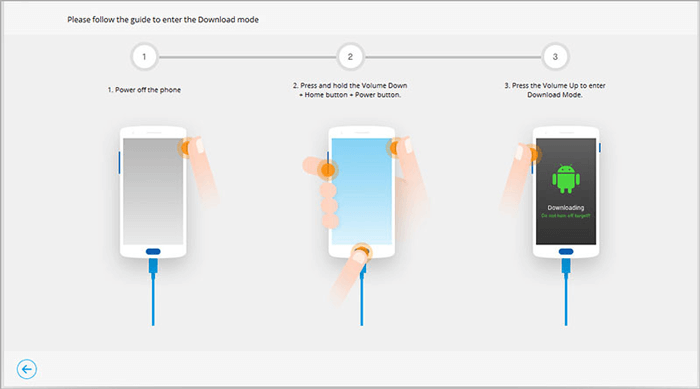 04Once the package has finished downloading, you will have to tap on "Remove now." When the process is completed, you can access the device without any password.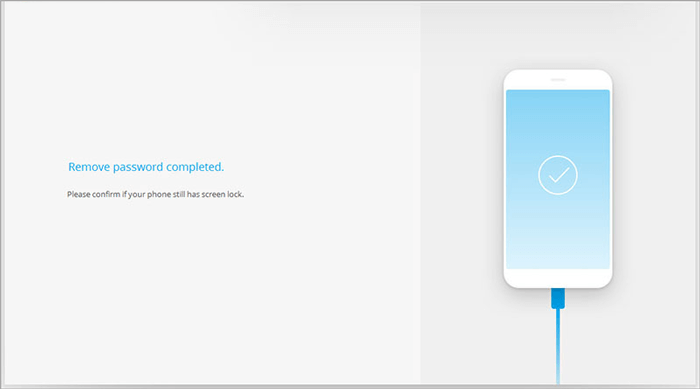 Summing Up
You now have suitable ways is you don't want to bypass Google account on Huawei using PC. Some of the methods mentioned above are quite easy to follow; even a novice person can use them correctly. Furthermore, Android Unlock is at your service if you have a locked screen. The tool works like a charm.
Related Articles:
What is an Intelligent Lock Screen on Samsung & How to Enable/Disable it?
How to Unlock Android Phone Password without Factory Reset [6 Ways]
4 Free Solutions for Samsung Galaxy SIM Unlock
What if You Locked out of Android Phone? 7 Easy Ways May Help (New Data in 2023)
How to Access a Locked Android Phone via USB? [Solved]
How to Unlock HTC One Bootloader?
Everything You Need to Know About Network Unlock Code for Samsung