If you're sharing videos via Discord, chances are you're familiar with the size upload limitation. Since you can't upload more than 8MB, you may need an alternative method to compress the videos. A video size reducer for Discord is the most common method to compress videos. This article highlights how to compress video for Discord use.
Part 1. Does Discord Have a Video Compression Feature?
Unfortunately, Discord doesn't provide an in-built compression tool. However, if you want learn how to bypass the Discord maximum file size limit, you can upgrade to either of the two premium plans:
1. Discord Classic allows files up to 50MB.
2. Discord Nitro file size limit of 100MB.
Fortunately, if you don't want to upgrade to the paid plans, you can leverage other options to compress videos for Discord use.
Part 2. How to Compress a Video for Discord Manually
If you don't have an external third-party app or software to compress your videos, you can use in-built features to compress your videos and use them on Discord. Below are a few ways to manually compress videos for Discord:
*Trim Video
Trimming your video is ideal if you want to share a select part of the video. You can trim your video using your computer's inbuilt tools and apps, such as iMovie and Quicktime for Mac users and Video Editor for Windows. You may want to trim the video to an 8MB maximum size to bypass the 8MB file size limit on Discord.
*Zip Video Files
Another way to compress large videos for Discord is to turn them into smaller Zip files. Once you compress large video files, you can send them as a Zip file.
The recipient will open the files which will then decompress to the file's original sizes and quality. Here is how to create a Zip file on Windows:
Step 1. Right-click on the file folder you wish to compress.
Step 2. Choose "Send to".
Step 3. Select "Compressed (zipped) folder".
On the other hand, to create a Zip file on Mac devices, right-click on the file folder, and from the menu, select "compress (file name)".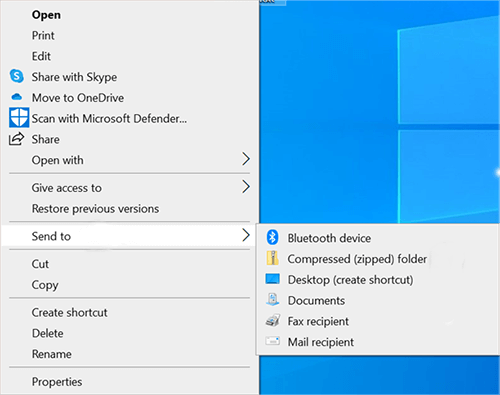 *Change the Video Resolution
The higher your video's resolution, the large it is, thus surpassing Discord's 8MB limitation. Lowering your video's resolution will reduce the video's original recording size.
*Change the Video File Type
Some video file types take up plenty of storage space. For instance, if your Discord video is in a MOV or AVI format, it contains more data, thus likely to be large in size compared to if it was in a different format like MP4. Consider converting your video file type to reduce its size and make it possible for a Discord file upload. Unfortunately, changing the video file type may lower the video quality on the recipient's size.
*Use an Online Video Compressor
If none of the above methods work for you, you can try a third-party tool to compress Discord video files.
Read More:
How to Convert 4K Video to 1080P Without Losing Quality
How to Convert AVI File to MP4? Solved in 5 Effective Ways
Part 3. How to Compress Video for Discord Using an Online Video Compressor
An online video compressor can compress your Discord videos in a few simple steps. Below are the top video compressor tools to help you compress videos for Discord upload.
Way 1. How to Compress Discord Videos via Video Converter Ultimate
Video Converter Ultimate is a friendly video compression tool allowing you to compress files for Discord fast and conveniently. It is an all-inclusive video editing solution to convert and compress videos in multiple formats.
Key features of Video Converter Ultimate:
Handle multiple video formats and resolution.
Come with additional video-editing features.
A user-friendly interface.
Fast and reliable.
Here is how to compress a video for Discord using Video Converter Ultimate.
01Install and open Video Converter Ultimate on your computer, then register using the provided email and code.
02Find the "Video Compressor" in the "Toolbox" section. Import the video file you want to compress. After adding the files, you can customize the size, name, format, resolution, and bitrate of the output file.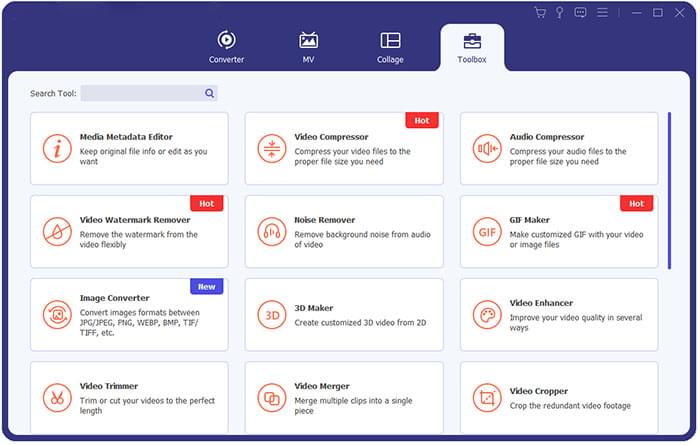 03Afterwards, specify the destination path where you want to save the compressed file. Finally, click the "Compress" button to begin the process.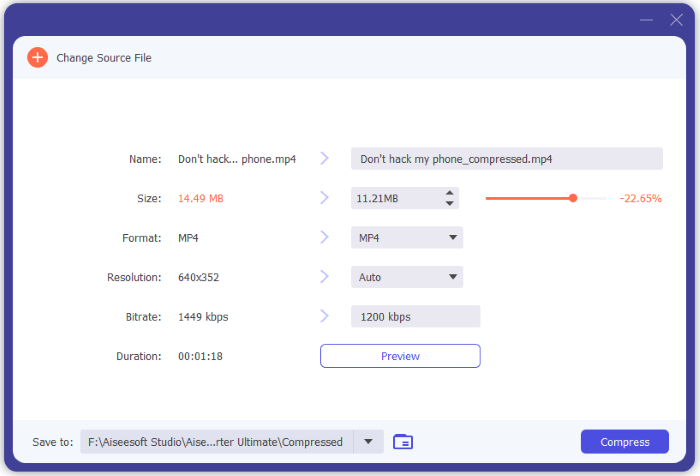 See Also:
[Vlog Software] 11 Best Vlog Editing Software for Vlog Lovers
How to Convert iPhone Video to MP4 without Quality Loss in 7 Ways?
Way 2. How to Compress Files for Discord Through FreeConvert
FreeConvert is among the best video compressor tools for Discord users. Though free, FreeConvert places a size limitation of 8GB, which is reasonably sufficient even for an advanced Discord user.
Here is how to compress videos for Discord using FreeConvert.
Step 1. Go to FreeConvert's official website.
Step 2. On the Video Compressor page, click "Choose Files" to upload your Discord videos. You can choose batch files at once, or click "Add More Files" if you already added one.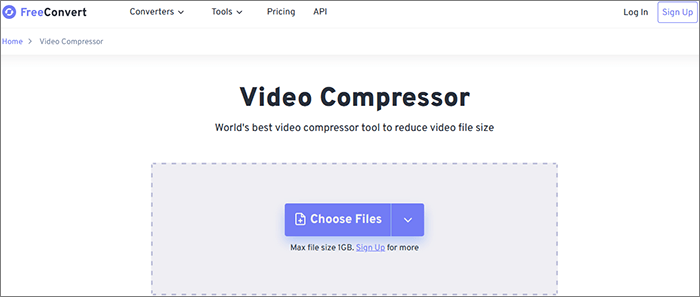 Step 3. Customize the video output format. Next click the "Settings" icon for optional advanced settings. Click "Apply Settings" after customizing the optional settings.
Step 4. Click "Compress Now" and wait for the compressions results.
May Like:
12 Best Games Video Editors - Edit Videos without Effort [Updated]
5 Tips: How to Transfer Videos from iPhone to PC Windows 10 Without Any Hassle?
Way 3. How to Compress Videos for Discord by Movavi Video Editor
Want to compress and edit Discord videos in a fun way? Try the free Movavi Video Editor which comes with several awesome features. Movavi Video Editor allows you to reduce your video file size in different ways, including speeding up, trimming, and compressing to help bypass the 8MB Discord limit. Despite its industry reputation, Movavi Video Editor can only work with select video formats, including: MP4, MOV, GIF, WebM.
Here are detailed steps on how to compress video files for Discord using Movavi Video Editor.
Step 1. Install and run the program on your computer. Worry not, Movavi Video Editor comes with a 7-day free trial.
Step 2. Under the "File import" tab, select "Add Files" to import your videos for compression. You can also drag and drop your video for compression.
Step 3. To compress the video, double-click on it, then click the "Export" button. You will be asked to choose between the free trial version or purchase the activation key. Choose the free trial version.
Step 4. On the next pop-up, click "Advanced" to open the Discord video quality settings window. Here, you can change the video quality, bitrate, and video codec settings. Click "Save to" to select the destination folder for the compressed video. Then click "OK".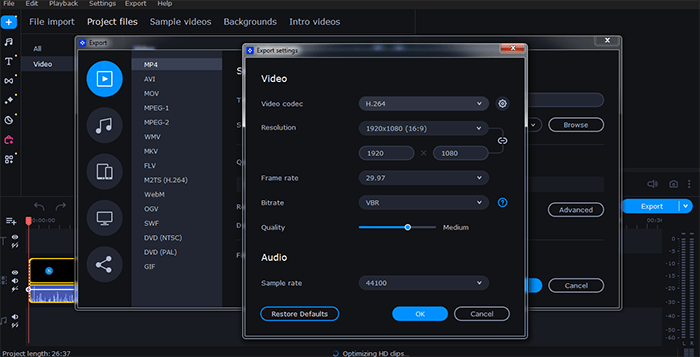 Step 5. Click "Start" to begin the automatic video compression and wait for the final video that you can then share on Discord.
Can't Miss:
Top 14 Best AVI Video Editors | Easily Eidt Your AVI Files
10 Hot MP4 Video Editors - Edit MP4 Videos with Powerful Features
Way 4. How to Compress a Video for Discord Using Fastreel
Fastreel is a free online video editor you can use to compress videos for Discord. Since it's a free online tool, you don't have to go through an entire process of downloading and installing a third-party software. The only risk may be online tools keep your files on their servers, thus exposing them to security threats. Moreover, Fastreel has restrictions on video formats, unlike other reliable Discord video compressors. For instance, Fastreel only supports JPEG, MP4, MKV, AVI, PNG, MOV, and WMV files and a maximum upload of 500MBs. Videos should also not exceed 30 minutes.
Use these steps to compress Discord video files using Fastreel.
Step 1. Go to Fastreel's official website.
Step 2. Click "Add Your File" to upload your Discord video(s) for compression.
Step 3. Customize your compression settings. Fastreel allows you to choose from three compression settings: "Low", "Medium", and "High".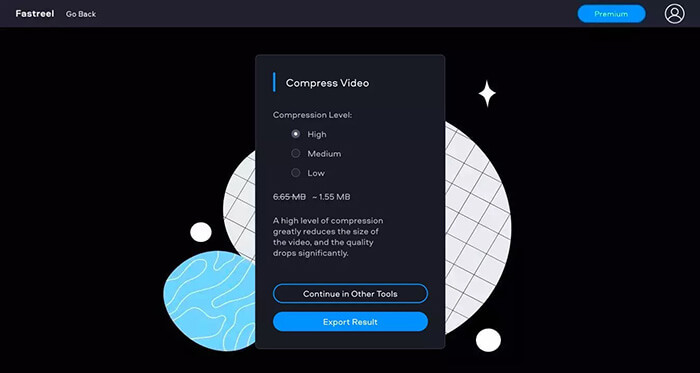 Step 4. Once you've selected the compression level, click the "Export Results" button to begin compression.
Note: The free version will export your video with a watermark.
The Bottom Line
Discord can be an impressive platform to share videos. However, with the file upload size limit at 8MB, it can be hard to share videos. You can leverage multiple ways and tricks to compress videos to bypass this limitation. Our Video Converter Ultimate is a reliable free video compressor with convenient video-editing features. Try our video compressor tool to compress your videos for Discord uploads and sharing.
Related Articles:
Top 5 Best File Compressor Solutions [Video/Audio Compressor Included]
How to Compress a File to Save Space Without Losing Quality? [Hot]
Guide on How to Compress MP4 Files [7 Methods Introduced]
How to Convert Video to MP3 on iPhone? This One Might Help!
The Ultimate Guide: How to Remove TikTok Watermark in Easy Steps
How to Transfer Videos from iPhone to Computer? 9 Ways You Can't Miss