Sizable videos can often be hit by upload and sharing restrictions. As such, if you want to upload or share a large video, you may have to reduce the video size to an easily shareable bit.
Fortunately, there are plenty of tools available online to reduce video file size without losing file quality. The ideal video compressor can reduce the size of a video file in multiple formats and to a reasonable size that can be shared in different platforms, including Discord, Facebook, Instagram, etc. Below is a guide on how to reduce video size using professional tools without compromising on video quality.
Part 1. Why You Need to Reduce Video Size
Reducing the size of a video can be for various reasons and motivations, including:
1. Minimize Storage Usage
Large video files can occupy significant storage space on your device or server. By reducing the size of a video, you can free up storage capacity, allowing you to store more files or allocate the space for other purposes.
2. Bandwidth
When sharing or streaming videos online, file size directly affects the amount of bandwidth required. Smaller video sizes result in faster upload and download speeds, reducing buffering time and improving the overall viewing experience for viewers with limited or slower internet connections.
3. Compatibility
Some platforms, devices, or applications have limitations on the maximum file size they can handle. For instance, Discord only allows users to upload 8MB video files. By reducing the video size, you ensure compatibility and enable seamless playback on different platforms and devices.
4. Sharing and uploading
Uploading or sharing large video files can be time-consuming, especially if you have a slow internet connection. Reducing size of a video file allows for quicker uploads and sharing.
5. Streaming efficiency
For video streaming services, reducing video file sizes is crucial to optimize bandwidth consumption and accommodate a larger number of simultaneous viewers. By compressing videos, streaming platforms can deliver content more efficiently without sacrificing quality.
6. Mobile data usage
On mobile devices, especially when using cellular data, large video sizes can consume a significant portion of your data plan. Compressing videos helps minimize data usage, allowing you to watch or download videos without exceeding data limits or incurring additional charges.
7. Archiving and backups
When creating video backups or archives, smaller file sizes reduce the storage requirements, making it more practical to store and manage video collections for long-term preservation.
You May Like:
Effortlessly Reduce File Sizes: The Ultimate File Size Reducer Tool
Master the Art of Video Compression: 4 Ways to Compress Videos for Discord
Part 2. How to Reduce a Video File Size
There are multiple solutions to help you to reduce the file size of a video without losing quality. Here is how to reduce the video size. Let's have a look.
Method 1. How to Reduce Video Size Using Video Converter Ultimate (Recommended)
If you want a reliable option to reduce video file size without losing quality, Video Converter Ultimate comes highly recommended. Video Converter Ultimate is widely used and trusted by millions of people worldwide.
It is fast, easy to use, and can reduce the file size in multiple formats. In addition, Video Converter Ultimate works for both Mac and Windows users.
Key Features:
Convert videos or audios to multiple formats, including MP4, AVI, WMV, MP3, MOV, FLAC, WMA, etc.
Edit your videos using a wide range of filters and basic edits.
Preserve the original video quality.
Here is how to reduce the size of video files using Video Converter Ultimate:
01To get started, open the top menu and find the Toolbox option. Once you've located it, select the Video Compressor feature. To upload a video for compression, just click on the designated rectangular area.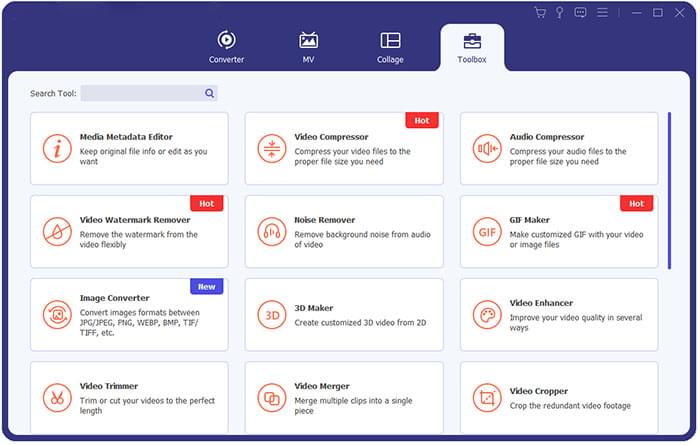 02Within the Video Compressor window, you can customize different elements of the video. This allows you to make changes such as editing the video's name, adjusting its size, choosing the output format, modifying the resolution, and adjusting the bitrate.
03To preview the video before compressing it, simply click on the Preview button. Once you're satisfied with the preview, initiate the compression process by clicking on the Compress button.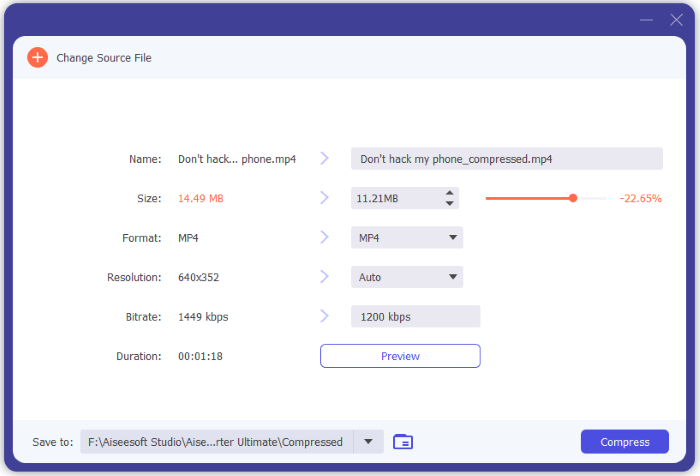 Further Reading:
Top 6 MP4 Compressor: Reduce File Size without Compromising Quality
Top 5 Best File Compressor Solutions [Video/Audio Compressor Included]
Method 2. How to Reduce File Sizes Using VLC Media Player
VLC Media Player is a popular inbuilt media player tool that you can leverage to reduce size of video files. Here is how to use it to reduce video size:
Step 1. Open VLC Media Player on your computer. Click on the Media tab in the menu bar and select Convert/Save from the drop-down menu.
Step 2. Click Add button to browse and select the large video file. Click Open to add the file to the conversion queue. Click on the Convert/Save button at the bottom of the window. Specify the destination file location and name for the reduced video.
Step 3. Below the Destination field, select the desired video profile or codec for compression. Adjust parameters such as the video bitrate, resolution, frame rate, and audio settings in the codec settings to further reduce the video size.
Step 4. Click on the Start button to start the conversion process. Once the compression is complete, you'll have a reduced-size video file at the specified destination location.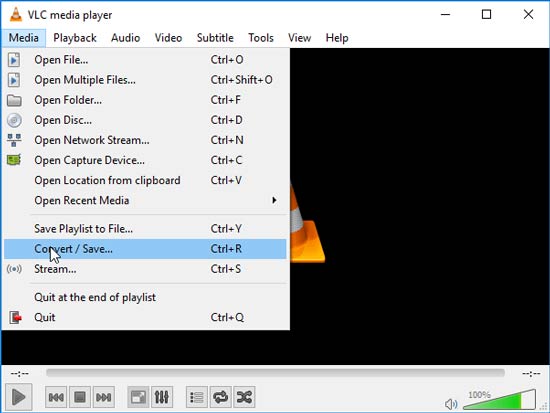 Method 3. How to Reduce Video Size Using Veed.io
Veed.io is a free online tool to reduce video size without losing quality. Here is how to use Veed.io to reduce your video file sizes:
Step 1. Go to the Veed.io website and click on the Compress Videos. Click on the Upload a File button to select and upload the video file you want to reduce in size.
Step 2. After that, you can choose Compression Settings, including resolution and quality.
Step 3. Once you're satisfied with the settings, click on the Compress video button to begin compression. Click Download file to download the reduced-size video file to your computer.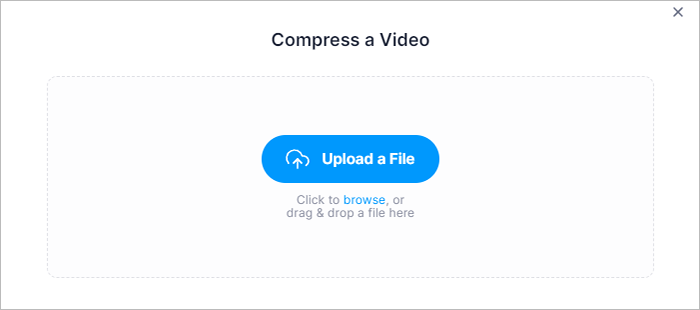 Learn More:
How to Compress a File to Save Space Without Losing Quality? [Hot]
[Updated] Exploring the Best Discord Video Compressor Software
Method 4. How to Reduce Video Size Using QuickTime
QuickTime is the default media player for MacOS. While it doesn't have a dedicated inbuilt feature to reduce video size, you can still use it to reduce video file sizes. This method is available to Mac users strictly. Follow these steps to reduce video file size using QuickTime:
Step 1. Open the video file you want to compress in the app. Right-click on the video file, select Open with, and select QuickTime Player from the list. Go to the File menu and click on Export.
Step 2. Choose a desired format for the exported video. Click on the Options button to adjust the video settings.
Step 3. Once you've made the necessary adjustments, click on the OK button to save the settings. Choose the destination folder and name it. Click on the Save button to export.
Method 5. How to Reduce Video File Size Using FreeConvert
FreeConvert is a free online video converter that you can use to reduce video size. Here is how to reduce file sizes using FreeConvert:
Step 1. Visit the FreeConvert website. Click on the Choose Files button to select and upload the video file you want to reduce in size.
Step 2. Locate the Advanced Settings section to adjust the parameters. Click on the Compress Now button below the video preview. Wait for the compression process to complete.
Step 3. Click on the Download button to save the compressed video to your PC.
Also Read:
Guide on How to Compress MP4 Files [7 Methods Introduced]
Software Review of 8MB Video Compressor and Its Alternatives
Method 6. How to Reduce Size of Video File Using HandBrake
HandBrake is an alternative video compressor you can use to reduce video size. Here is how to reduce video file sizes using HandBrake:
Step 1. Download and install Handbrake from the official website. Launch the app on your PC. Click on the Source button in the top left corner to import the video.
Step 2. In the Output Settings section. choose the desired output format. Customize any additional settings or filters as desired.
Step 3. Once you've adjusted the settings, choose the destination folder by clicking on the Browse button. Name the output file a name and select the desired file format extension. Click on the Start button to start compression.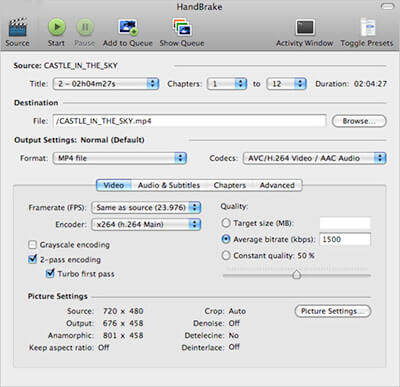 The Bottom Line
If you want to reduce video file size without losing quality, there are plenty of free online tools that can help you reduce video size while maintaining video quality. Ensure you take your time looking around for the best tool to reduce video file size.
To save time and plenty of error, try Video Converter Ultimate for unlimited video compression capabilities. Video Converter Ultimate can reduce even the largest video files in a few seconds. Download Video Converter Ultimate to reduce video sizes today.
Related Articles:
How to Compress Photos on iPhone? 4 Ways to Reduce Photo Size
12 Best Video Converter Software for Windows 11/10/8/7 (Free & Paid)
How to Convert iPhone Video to MP4 without Quality Loss in 7 Ways?
[Vlog Software] 11 Best Vlog Editing Software for Vlog Lovers
Practical Video Lighting Editor List: Make Video Brighter in Easy Steps