Want to compress video to 8MB for Discord? As video content becomes increasingly prevalent in our digital lives, the need for efficient video compression solutions has become paramount. Large video files can consume substantial storage space and cause bandwidth limitations when sharing or streaming online. Thankfully, there are multiple video compressors available, and among them is the 8MB Video Compressor, known for its efficiency. These online video compressors enable you to reduce the size of any video, making it effortless to share and store.
In this review, we will explore the features and performance of 8MB video compressor software, aimed at reducing file sizes without compromising video quality. Meanwhile, we will explore some alternative options. Let's dive into the world of efficient video compression and examine whether this software is a worthwhile addition to your digital toolkit.
Part 1. What's 8MB Video Compressor?
8MB video compressor is a free online video file compressor tool perfect for Discord users. As the name suggests, 8MB video compressor compresses video to 8MB, allowing for easy file storage management and shareability.
It is a reliable web-based program that is compatible with the most popular web browsers, such as Internet Explorer, Firefox, and Chrome. 8MB Video Compressor is an ideal choice if you want a video file compressor with a clean, intuitive user interface.
Part 2. Key Features, Pros and Cons of 8MB Video Compressor
Key Features:
Perform multiple customization options, like video muting, trimming, etc.
Auto-saves compressed video files.
Compress video to 8MB and below for Discord users.
Skip the video's beginning and ending while reducing file sizes.
Protect users' privacy by deleting uploaded files within 20 minutes.
Pros:
* The 8MB audio compressor features additional functional tools besides compression.
* It has an easy-to-use interface.
* It offers several custom options like video trimming.
* It is free of charge and ads.
* It doesn't require registration or meMBership.
Cons:
* After processing 2-3 videos, the output video quality starts to dwindle.
* Uploading video files takes relatively long.
* It's not as efficient with processing large video files.
Part 3. How to Use 8MB Video Compressor
Step 1. Visit the official website of 8MB.video.
Step 2. Select the video you want to compress for sharing on Discord by clicking on the Browse option.
Step 3. Choose the desired target file size from options such as 8MB, 50MB, or 100MB. If you prefer to customize the compression settings, click on the Options button.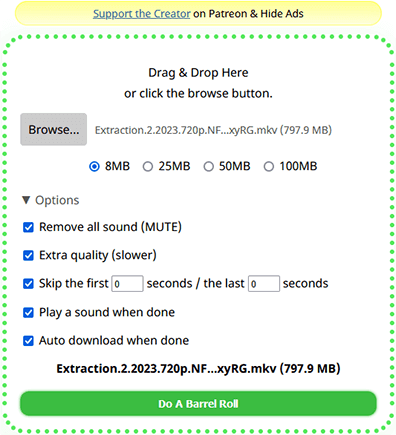 Step 4. Initiate the upload and compression process for your Discord video file by clicking on the green button labeled Do A Barrel Roll.
Step 5. Once the compression process is complete, you can click on the download link provided in the Download section to obtain the smaller video file.
You May Like:
Effortlessly Reduce File Sizes: The Ultimate File Size Reducer Tool
Master the Art of Video Compression: 4 Ways to Compress Videos for Discord
Part 4. Alternatives to 8MB Video Compressor
Below are select 8MB file compressor alternatives.
1. Video Converter Ultimate - The Best Alternative
Video Converter Ultimate is a standalone video editing program that allows effortless 8MB file compression for Discord without compromising video quality. In addition, this 8MB video compressor for Discord tool can change other parameters of your video files, such as resolution, bitrate, and format.
Video Converter Ultimate also provides you with a preview of the file before compression. This function allows you to fine-tune your video parameters until you're certain the compression will retain the desired video quality.
Key Features:
Allow for accelerated video compression.
Support all popular input and output video formats.
It has a wide range of video editing tools and functionalities, such as flipping, merging, and enhancing.
How to Use Video Converter Ultimate:
01To get started, install and launch Video Converter Ultimate on your computer. Then, proceed with the software registration by entering the provided email address and registration code.
02Find the Video Compressor tool in the Toolbox section. Import the video file that needs compression. After adding the files, you'll have the flexibility to adjust the size, name, format, resolution, and bitrate of the output file.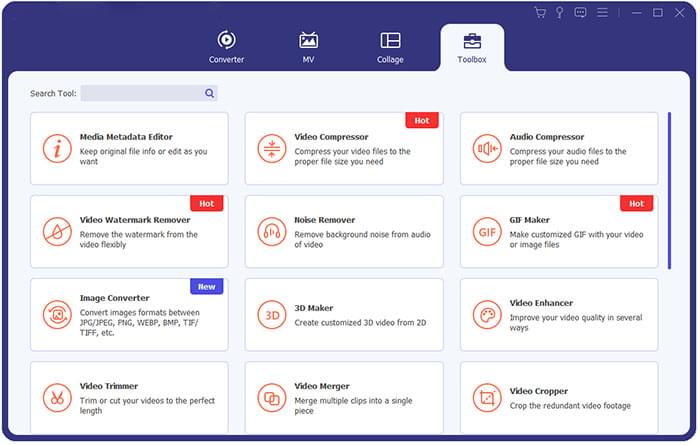 03Afterwards, specify the destination path where you want to store the compressed file. Finally, click the Compress button to start the compression process effortlessly.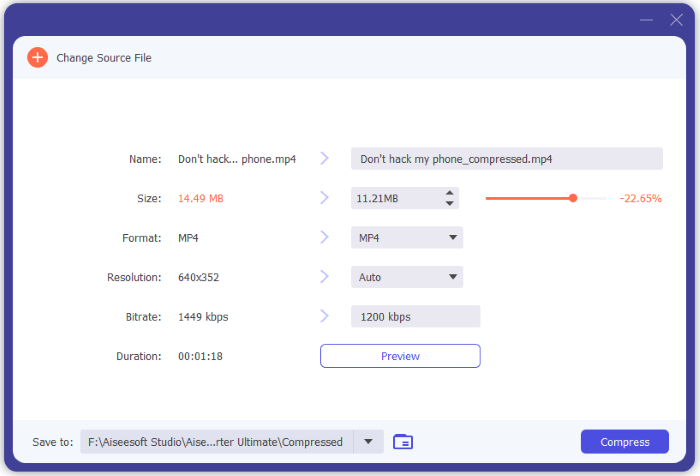 Pros:
* Compress multiple videos simultaneously while preserving the original video quality even after compression.
* No watermark on the output video.
* It is fast and easy to use, offering a user-friendly interface and simple video compression steps.
Cons:
* The tool has not received any negative reviews so far.
2. Veed.io
Veed.io is a free online alternative video 8MB compressor popular among users. It allows you to compress file to 8MB straight from the browser without needing to install external software.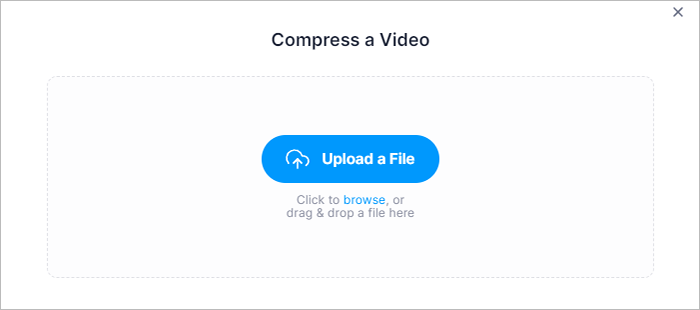 Key Features:
Convert media into multiple formats.
Compress videos to Discord's limit.
Auto-add subtitles to videos.
Pros:
* Simple and easy to use.
* Free trial.
* Multiple video editing features and functions.
Cons:
* Premium consulting/ integration services.
Further Reading:
Top 6 MP4 Compressor: Reduce File Size without Compromising Quality
Top 5 Best File Compressor Solutions [Video/Audio Compressor Included]
3. YouCompress
YouCompress is another free video compressor 8MB alternative available online. Like most online video compressor 8MB tools, YouCompress is easy to use and takes just a few simple steps to compress even the largest files to a manageable 8MB. YouCompress also features one of the fastest video file compression and processing. It is among the best options to reduce file size to 8MB online.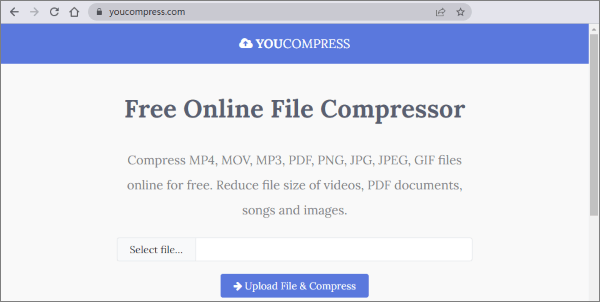 Key Features:
Support multiple file formats, including MP4, MOV, PNG, JPG, JPEG, MP3, PDF, and GIF files.
Compress unlimited files without watermarks.
Pros:
* YouCompress uses a secure HTTPS (SSL) connection to protect your files' integrity and privacy.
* It works on any web browser and on any device–whether Windows, Mac, Linux, Android, iOS).
* It can compress unlimited files.
* There is no software download needed.
* It compresses your Discord videos without losing visual quality.
* Automatic processing. The 8MB file compressor will automatically select the best configurations and parameters to compress your file.
Cons:
* Its maximum video file size that it can compress is 500MB.
4. Video Candy
Video Candy is a free online file compressor 8MB. Unlike most ordinary file compressor to 8MB, Video Candy has the added advantage of extra convenient functionality features, including:
* Video editing
* Audio conversion
* Merging videos
* Making slideshows
* Adding music to videos, etc.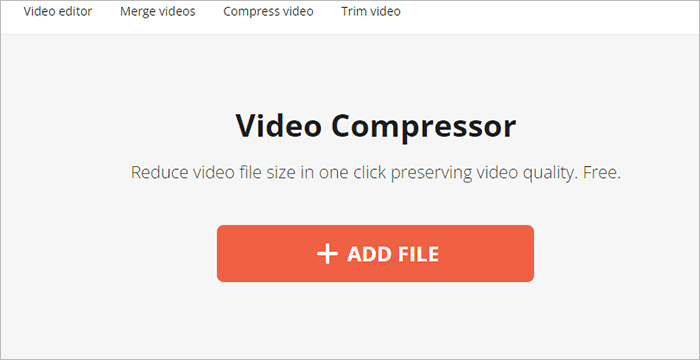 Key Features:
Compress Discord video files without losing quality.
Trim your video to the desired size.
Pros:
* It can compress videos in multiple formats, including MP4, MKV, MOV, etc.
* It has a simple and easy-to-use interface.
* It is free to use and is available online.
* It has versatile editing features.
Cons:
* Internet help can be restricted.
* Dependency on server availability.
Learn More:
How to Compress a File to Save Space Without Losing Quality? [Hot]
Guide on How to Compress MP4 Files [7 Methods Introduced]
5. Riverside
Riverside is a browser-based MP4 compressor 8MB tool –primarily branded as an online recording tool. It provides impressive video compression perfect for Discord's 8MB upload limit.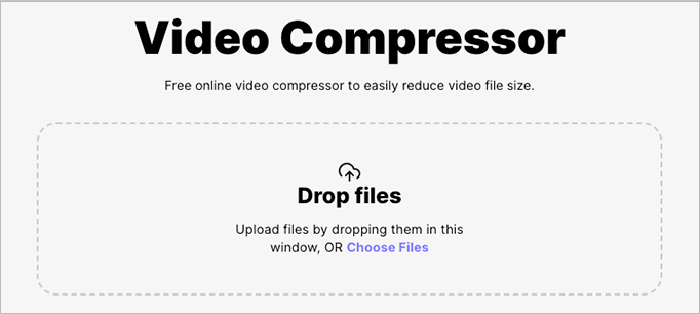 Key Features:
Compress videos to smaller sizes without losing quality.
Record high-quality videos for Discord and other platforms.
Pros:
* It is browser-based, meaning no need to download software.
* It is compatible with all browsers and devices.
* It has a free paid plan.
Cons:
* It has a premium plan starting at $15. However, the free plan is still reliable for minor video compression needs.
6. iMovie
iMovie is an inbuilt tool for Mac users to compress files to 8MB. It also allows you to perform a wide range of other video functions like creation, editing, and exporting. You can compress videos to fit Discord's 8MB file upload limit.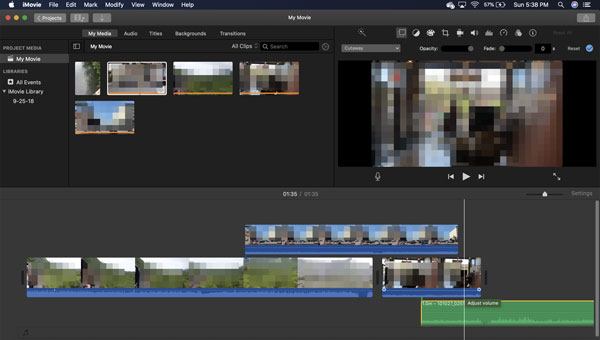 Key Features:
Create and edit videos.
Compress and export videos.
Pros:
* It can compress videos to less than 8MB without compromising video quality.
* It is free.
* It is easy to use.
Cons:
* Its only downside is that it's available strictly to Apple users.
Also Read:
Best Video Compressors of 2023: A Comprehensive Review
How to Compress Photos on iPhone? 4 Ways to Reduce Photo Size
7. Media.io
Media.io is a reliable 8MB video compressor for Discord. With this video compressor 8MB, you can compress video to 8MB for Discord. Additionally, you have the flexibility to upload videos in any format and resolution of your choice before initiating compression. These videos can then be effortlessly converted into Discord-supported formats including MP4, WebM, MOV, and more.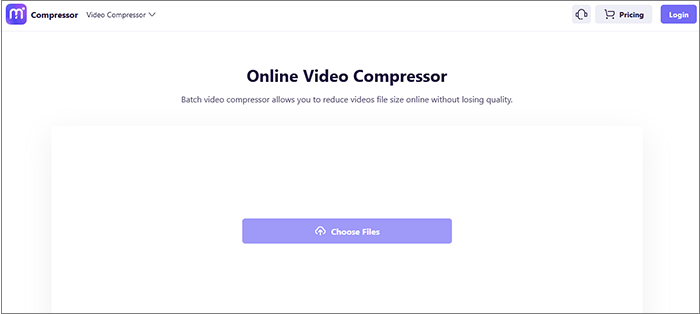 Key Features:
Batch video compression.
Support a wide range of video formats.
Safety and privacy.
Pros:
* Access Media.io conveniently through any web browser of your choice.
* It is easy to use.
* Support batch video compression, enabling you to compress multiple videos simultaneously.
Cons:
* For Media.io's free account, there is a file size limitation in place for files that exceed 500MB.
The Bottom Line
8MB Video Compressor is a popular video compressor, especially among Discord users. Since Discord doesn't provide a dedicated video compressor to bypass its 8MB file upload limitation, you may need an external tool to compress your video files.
8MB Video Compressor and the alternatives reviewed above are perfect for your 8MB video file compression needs. However, if you're looking for the best software tool to compress videos to 8MB for Discord upload, Video Converter Ultimate is an excellent choice. Download Video Converter Ultimate to get started on your 8MB video compression needs.
Related Articles:
12 Best Video Converter Software for Windows 11/10/8/7 (Free & Paid)
How to Convert iPhone Video to MP4 without Quality Loss in 7 Ways?
Practical Video Lighting Editor List: Make Video Brighter in Easy Steps
10 Hot MP4 Video Editors - Edit MP4 Videos with Powerful Features
[Easy Guide] How to Save Instagram Videos to PC/Mac?