Nowadays, it is extremely common to want to share the gameplay of your favorite games on the internet, either with your friends or strangers. The only problem is that you can't simply record the game screen and upload hours of unedited video to YouTube or Facebook.
In addition to being impractical, this will probably only scare away the audience that doesn't have much patience or that is already used to so much quality content out there. To help you, we've rounded up the best video editors to use with your favorite games. Check it out below!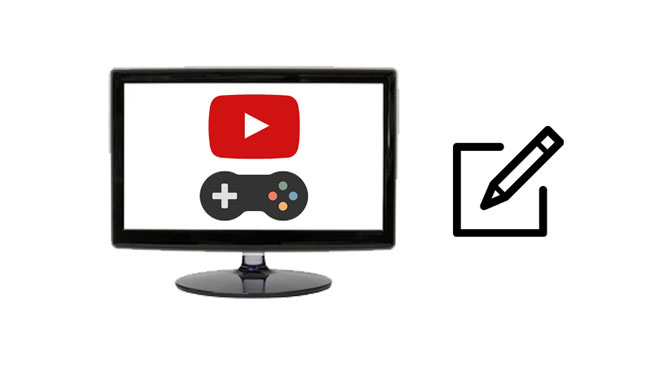 1. Aiseesoft Video Enhancer
2. Movavi Video Editor
3. Camtasia
4. iMyFone Movie
5. ApowerEdit
6. Any Video Converter
7. Wondershare UniConverter
8. Corel VideoStudio
9. Pinnacle Studio
10. Adobe Premiere Pro
11. Lightworks
12. Sony Vegas Pro
1. Aiseesoft Video Enhancer
To begin our list, we've got the Aiseesoft Video Enhancer which is, without a doubt, the best game video editor app. This tool boasts of the latest AI technology and allows you to improve the quality of your videos, upscale the video resolution, and edit any noise from the background.
In short, this is an ideal tool that can solve all of your video editing issues by rotating or flipping the video, adjusting the video effect, making video clips, adding a watermark to your videos and many more.
Main features:
- Help you edit videos with artificial intelligence technology.
- Enhance the video quality with simple clicks.
- Allow you to manage your videos by rotating, flipping, trimming, optimizing, etc.
- Support you in adding watermarks to your game videos.
- Remove noise from your videos.
Pros:
- Offer multiple practical features to you for editing videos.
- Stabilize your videos if you record your gameplay with a handheld camera.
- Enable you to add text to your videos without hassle.
- Export your videos with many file formats.
Cons:
- Not allow you to cover part of videos with mosaics.
- Not a free program to use.
Pricing:
- 1 month license: $16.00.
- 1 lifetime license: $31.20.
Download this gaming video editor for free below.
How to use the Aiseesoft Video Enhancer:
Step 1: After installing it on your computer, please launch it directly, and tap the "Add Files" icon on the main interface. This will help import the video file you wish to enhance.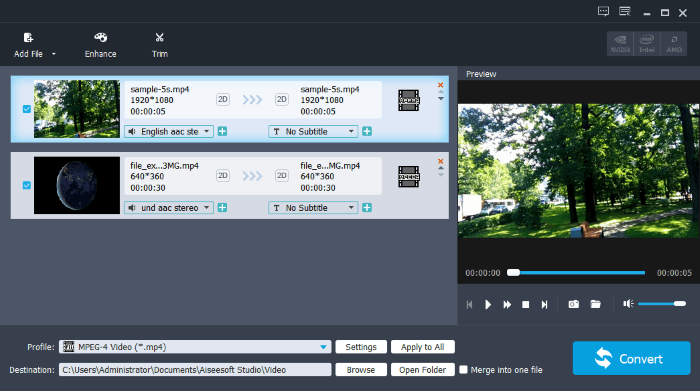 Step 2: You will get three options for enhancing your video; upscaling the resolution, optimizing brightness and contrast, or removing the video noise by choosing these options. So, you have to enable the one to use. Of course, you can rotate, edit, clip, and manage it with other features.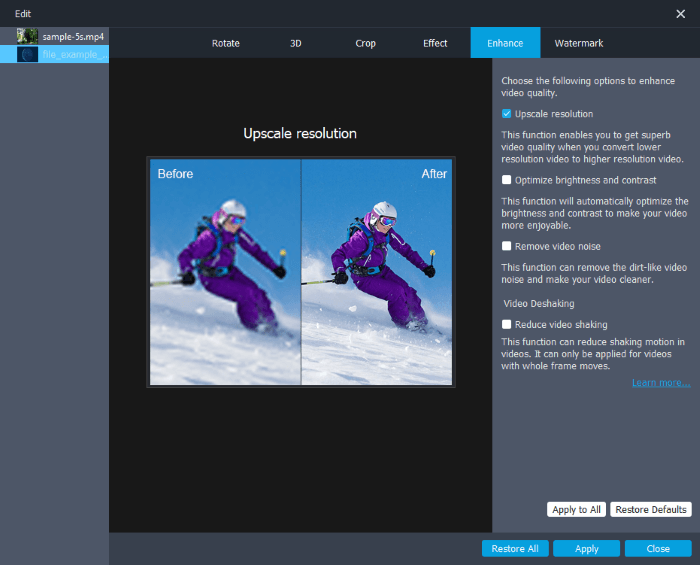 Step 3: After setting everything, select the output video format and tap the "Convert" icon to get your output video.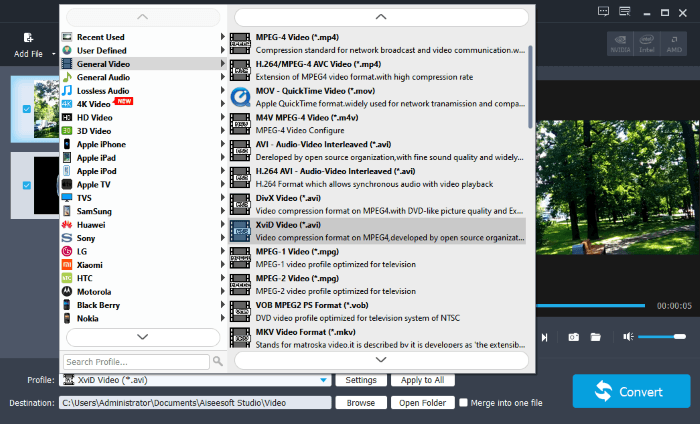 Further reading:
[7 Ways] Convert iPhone Video to MP4 without Quality Loss
14 Best AVI Video Editors | Easily Eidt Your AVI Files
2. Movavi Video Editor
Also, Movavi Video Editor is a superb game video editing tool that can be downloaded for free. It features powerful tools for editing and adding add music to your videos. With it, you can also create filters, change contrast or insert slides.
Another good news is that Movavi Gecata was created for those who have little mastery of video editing, making it easy to learn everything about it and make a professional video easily. With its simple user interface, you won't get a hard time using this tool. It has intuitive controls meaning that one can design a finished video faster.
Besides, you won't require any technicalities while focusing on the creative aspects of your work, thus allowing you to have fun while making movies. In fact, this is what video editing, gaming experience, and anything related to gaming is all about.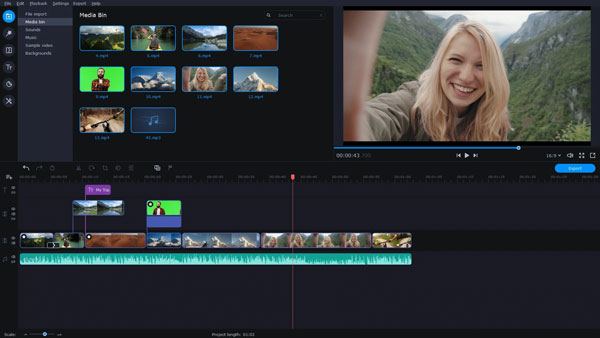 Pros:
- Help you add special effects to videos with ease.
- Allow you to edit your video with titles, filters, and transitions.
- Provide you with gorgeous backgrounds for videos.
- Support different languages.
Cons:
- Its free version comes with some limitations.
- No Mac version.
- Licenses for registration are expensive.
Pricing:
- A license for 1 year: $54.95.
- A lifetime license: $74.95.
See also: Want to recover your deleted WhatsApp photos from an Android phone or iPhone? This guide can help you out.
3. Camtasia
Camtasia has one of the most complete editing programs currently. It not only has tools to edit your videos, but it can also capture your monitor image. This helps a lot if you need to record the gameplay of your games before editing everything. Considering all this, it is easy to say that it is perfect both for those who are starting to edit and for those who already have a lot of experience and are looking for quality software.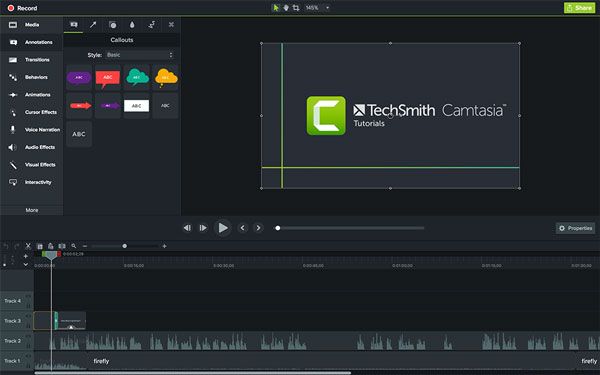 Pros:
- Allow you to edit 4 tracks simultaneously.
- Support various video formats.
- Easily move and edit effects in a video.
- Zoom in or out of the interface of your video without trouble.
Cons:
- A little complicated to operate.
Pricing:
- $224.99.
Learn more: You can breezily move your videos from a PC to Android. Let's check it out.
4. iMyFone Filme
A generalist video editor, iMyFone Filme is also perfect for editing your gaming videos. After recording, you can crop, resize and add various graphic elements, as well as text and music. Another possibility is to create presentations with the best screenshots and photos you can take during your sessions.
That is, it also makes it possible to create content outside of what we are used to in games. It is certainly a good alternative to start editing your gaming videos without having to spend anything right from the start.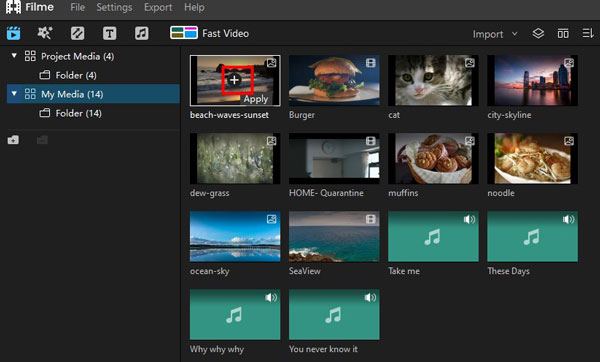 Pros:
- Offers different effects for editing video.
- Come with a screen recording feature.
- Have an option for a voice changer.
- Crop, edit and resize your videos.
- Allows the addition of several graphic elements.
Cons:
- Limited template choices
- It does not come with a free version.
Pricing:
- $22.42 for a month.
Maybe you need: Wonder how to recover deleted videos from Android without root? Then don't miss these solutions.
5. ApowerEdit
ApowerEdit, on the other hand, is another option that is well worth checking out, especially since it is a great program for those who still don't have much experience with video editing. It has a very simple interface to learn to use and has a good number of tools and effects that you can use in your creations. It even has an interesting interface that is easy to rearrange to suit your needs, which is great for both beginners and veterans in the editing field.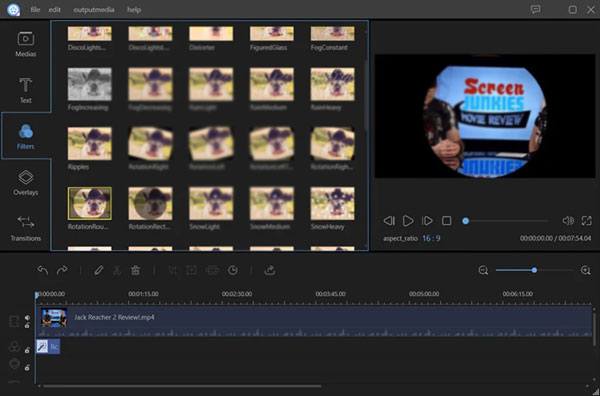 Pros:
- Allow you to create and edit your movies and other videos with a simple process.
- Support various file formats, like AVI, MP4, WMV, MOV, WAV, and more.
Cons:
- The free version lacks some features.
Pricing:
- No pricing information.
6. Any Video Converter
Any Video Converter is a great option if you are just starting to edit your gameplay videos and need lightweight software that offers basic tools to cut and transfer your projects to sites like YouTube.
In addition, the program is well known for supporting different video formats, so it is great for file conversions. It can be downloaded for free and still has good editing tools, including advanced features that you can't easily find without paying.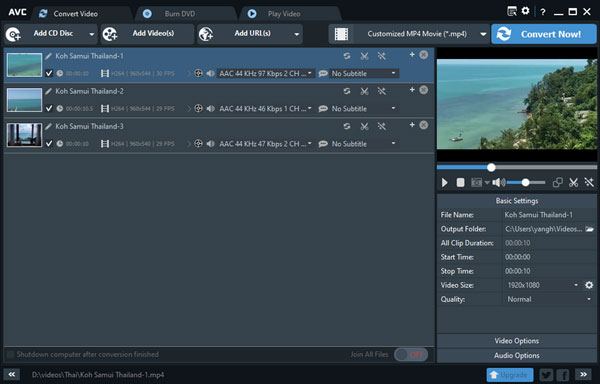 Pros:
- Convert your game videos to other formats without quality loss.
- Merge your several videos clips into one.
- Have different filters to make your video special.
- Allow you to burn your video to DVD.
- There is a detailed tutorial on its official website for your reference.
- Windows and Mac versions are available.
Cons:
- Fewer features for editing videos.
Pricing:
- $49.95.
7. Wondershare UniConverter
Wondershare Video Converter is great for those who need to edit their gameplay videos and those who want to convert them to other formats. The most interesting thing is that it supports for different types of files and very advanced tools for you to make very professional edits.
Still, it has another very interesting use, especially for those who are looking to publish videos on sites like YouTube. Its biggest problem is that its interface can be a little confusing at first glance, so don't be alarmed if it takes a while to get used to it.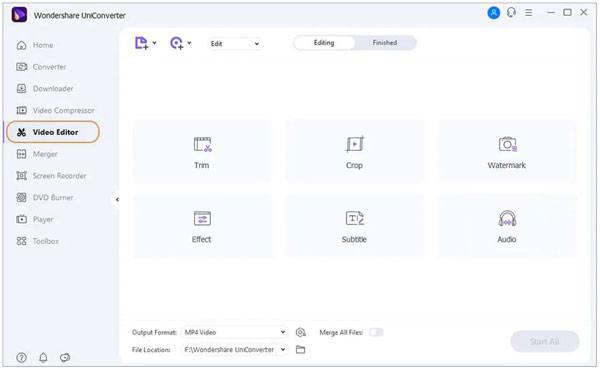 Pros:
- Easily edit, convert, compress videos, and burn DVDs.
- Convert videos with GPU acceleration.
- Help cope with your images with multiple features, such as auto croping, removing background, adding watermarks, etc.
- Allow you to choose font, color, size, and style for the subtitle of your video.
Cons:
- The interface is slightly confusing.
Pricing:
- Annual plan: $39.99.
- 2-year plan: $55.99.
- Perpetual pan: $79.99.
8. Corel VideoStudio
Also, an amazing gaming editing software is the Core VideoStudio, which is a little heavier but also offers some pretty advanced features in return. In this way, you can get high-quality results if you have some knowledge about the software of this type.
If you just want to edit your gaming videos, the most basic version might be enough. Otherwise, you can always try the "Ultimate" version for a higher price, but it will also bring dozens of new tools.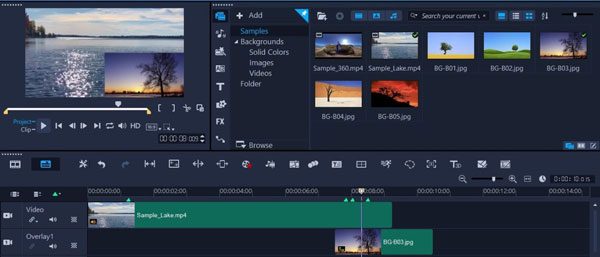 Pros:
- Allow you to change eye size, skin smoothing, face width, brightness, and skin tone of people's image in videos.
- Various effects of specifying your gaming videos.
- Allow users to try free for 30 days.
Cons:
- Highly-priced.
- Heavier on the computer.
Pricing:
- The full version costs $79.
9. Pinnacle Studio
Pinnacle Studio is another great option for editing your gaming videos, but it only has a paid version these days. Still, it can be worth the investment if you want complete software that won't weigh too much on your PC.
Its interface is very simple to understand and use, which is perfect for those who do not have much experience in the editing business. Other than that, it has several filters, effects, transitions, and other useful features for you to use in your gameplay videos.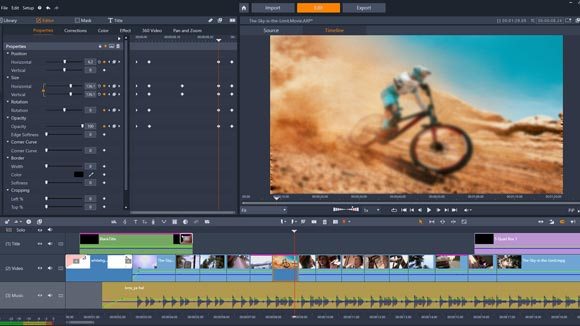 Pros:
- The MultiCam Capture function can help you capture videos and record screens.
- Edit audio with ease.
- Many filters to use in gameplay videos.
- It is a lightweight video editing program.
Cons:
- The standard version has fewer features than the Plus and Ultimate versions.
Pricing:
- Standard: $49.95.
- Plus: $79.95.
- Ultimate: $99.95.
10. Adobe Premiere Pro
Adobe Premiere Pro is one of the most popular and used video editors globally, but it is recommended for those who really want to make videos with a more professional tone. In addition to being a paid software, it can also be difficult to learn for those who are just starting to edit, but it has an impressive number of features.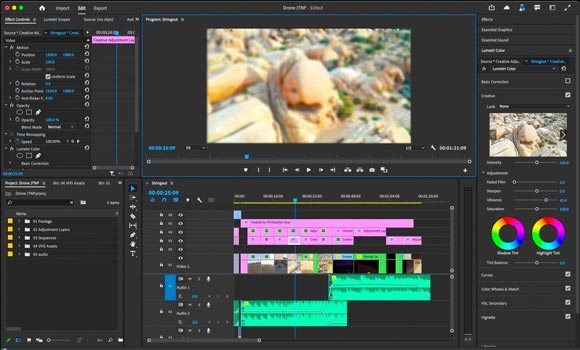 Pros:
- Accurately edit the details of videos and pictures.
- Recommended for professional works.
- You can use it with a free trial for 7 days.
Cons:
- Difficult to learn for beginners.
Pricing:
- About $20/month.
11. Lightworks
Lightworks is a good alternative for those looking for quality software without spending a lot. In fact, you can even try it out for free before deciding if you really need the full version for gaming videos. In the paid version, you will find many different tools and effects, but it is also possible to make more basic edits in the free edition.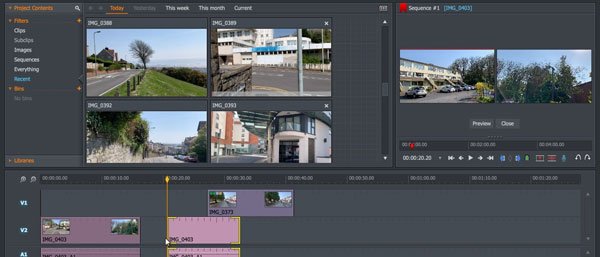 Pros:
- Support high-resolution H.264/MP4.
- Have more options for proxy file compression.
- More affordable than other video editors.
Cons:
- Only the Pro version has full features, but not the Create version.
Pricing:
- Lightworks Create version: $9.99/month.
- Lightworks Pro version: $23.99/month.
12. Sony Vegas Pro
Sony Vegas Pro is also more geared towards anyone who wants to do professional, high-quality editing and work. It's also a hefty price tag, but it offers a lot of content to make up for it. In addition to editing tools, it has audio control and support for 4K videos, which is perfect for gameplay videos.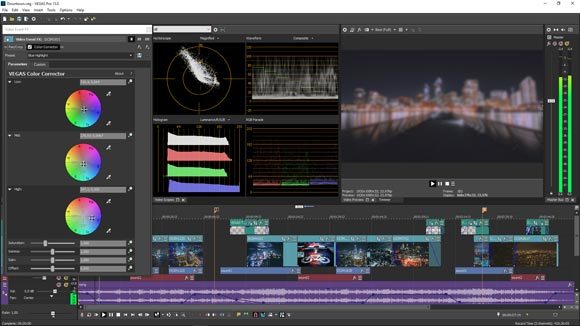 Pros:
- Edit your videos with professional features.
- Export your videos without losing quality.
Cons:
- Not an easy tool for novices.
- So many effects have to download taking up many storage space.
Pricing:
- Vegas Pro 365: $11.99 monthly.
- Vegas Post 365: $17.99 monthly.
Conclusion
A good game video editor is highly in demand these days. Especially now, as most people have been using the internet a lot since the strike of the pandemic. Due to this, a great gaming video editor tool is a must.
Moreover, nowadays, the gaming maker exercises creativity, artistic talent and storytelling ability to modify your existing game. As such, you must have excellent and versatile video editor software at your disposal. The above are the best games video editor apps you can use to get a good quality video.
If you are new to editing your gaming videos, you can select a simple tool to have a try, such as Aiseesoft Video Enhancer. With this software, you can cope with your game videos in easy steps.
Related Articles:
4 Easy Ways to Recover Photos after Factory Reset on Android Phone (New Approaches)
How to Transfer Files Between PC and Android Tablet?
Full Guide to Import CSV Contacts to Android Phone in 2023
Android Backup App | 13 Best Backup Apps for Android
How to Back Up Android Phone before Factory Reset? (7 Methods)
How to Transfer Photos from Google Pixel to Computer (5 Easy Ways)