Most of us think that VPN changes the location on our devices. But they don't. VPNs change where the browser is located, thus changing your IP (Internet Protocol) address. VPNs only allow you to use various services in other countries to get the required information.
Due to that, we have devised several methods on how to change iPhone location without VPN. There are different techniques you will find here, and it is upon you to find the most suitable way to change your iPhone's location.

Part 1. FAQs on Location Changing
Q1. Can I Change My Location on My Phone Without VPN?
Yes. You can easily change your phone location without a VPN. There are various ways to do that. You can use third-party tools or applications and there are thousands of them on the internet to help you spoof your location conveniently.
So, how to change my iPhone IP address without VPN? Read on to know that.
Q2. Why Shouldn't You Use VPNs to Change Phone Location?
Virtual Private Networks are known to offer exclusive privacy as well as security features. Usually, they work by getting your phone to a remote server, which then helps to replace your real IP address with a simulated IP of a VPN server.
This way, it may seem you're surfing the internet in another location while in the comfort of your home. Despite that, there are disadvantages you risk when changing your location on your iPhone with VPNs. Below are some of them:
A slow internet connection.
To use VPN, you have to pay for subscriptions which can be expensive.
Other streaming sites have limited access.
Some of the sites don't support VPNs.
Using VPNs for geo-location bypass in some locations is illegal and may result in legal consequences.
Q3. Why Change Your Location?
For privacy purposes - When you change your IP address, you will easily surf the internet anonymously. It is essential for safeguarding your sensitive files from tracking.
To enjoy your freedom - You may also want to change your location to prevent others from knowing where you are and maintain your privacy. Changing your iPhone GPS location will prevent people from monitoring you in apps like Find My or Life360.
A better gaming experience - Changing your iPhone location will offer gameplay advantages. You can explore several places virtually, catch Pokemon, and get access to exclusive features that aren't available in your region.
These might also help you:
Top 3 Ways to Fake Location on Zenly [iPhone & Android Supported]
[Solved] How to Spoof Location on Android? This One Answers!
Part 2. How to Change Your Phone Location Without VPN
Now let's take you through the process of changing your iPhone location without using a VPN. Most of these techniques are simple and will give you an easier time changing your phone's location, though some are trial and error and very complex for starters.
Let's start!
Method 1. Change Your iPhone Location Using iOS Location Changer
The best way to change location on your iPhone without VPN is through a GPS spoofing app. iOS Location Changer is a location changer in faking your location to change your IP location without requiring a VPN. Besides, it also tracks movement on several applications and changes them accordingly.
Additionally, you can import the saved GPX route location files. It supports most iPhones as well as the latest iOS versions.
Spoofing location on iPhone isn't an easy feat due to the complex Apple system and its higher security. But iOS Location Changer bridges that gap. With its three-movement modes, including Multi-stop, Joystick and One-stop modes, moving your location to anywhere in the world will be smooth.
Key Features of iOS Location Changer
Change iPhone location on a computer to anywhere.
Compatible with Mac and Windows computers.
Work on almost all iPhones.
Three movement modes.
Export/import location routes for future use.
How to change iPhone IP address without VPN? Here are steps to achieve that easily:
01Begin by downloading and installing the designated tool onto your computer. Once the installation is complete, launch the tool and locate the Start button. Connect your device to the computer using a USB cable, ensuring that USB debugging is enabled on your device beforehand.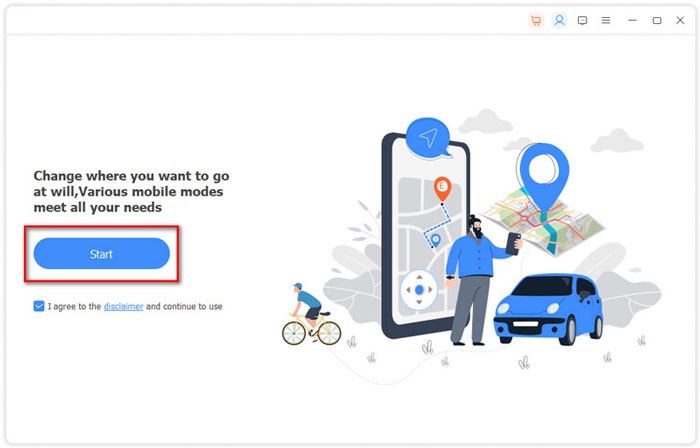 02Upon accessing the main interface of the tool, locate and click on the Modify Location icon situated in the upper right corner. In the ensuing search box, input the desired name or coordinates of the location you wish to simulate.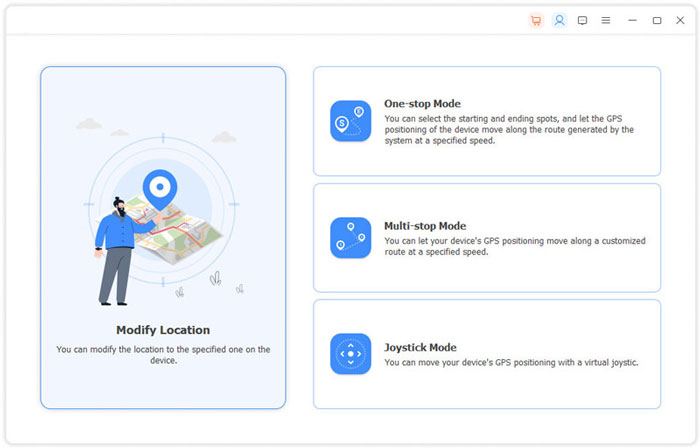 03Following this, a pop-up window will materialize, prompting you to confirm the alteration of your location. Proceed by clicking on the Confirm Modify option. As a result, your device's location will be updated accordingly on the displayed map.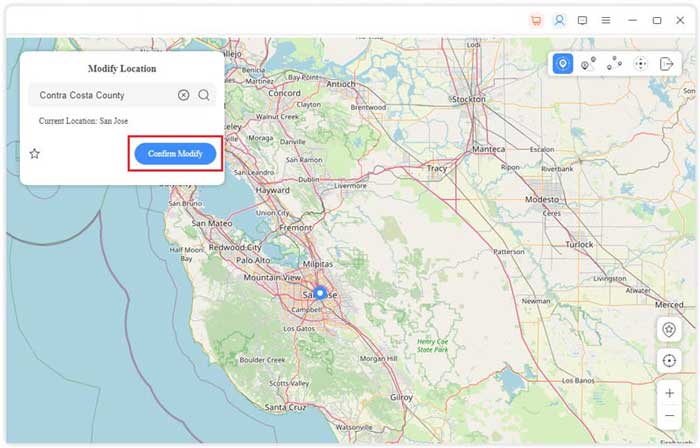 04Now you've changed the iPhone's location, and you can now manage other locations by tapping the Manage History icon.
Method 2. Spoof iPhone IP Address Using a Proxy Server
A proxy server is similar to VPN. It helps to change GPS location on an iPhone. However, ensure you choose a good Proxy Server to use. You can find many proxies on the Proxy Server list, both paid and free.
To use Proxy Server to change your iPhone location, follow the below-outlined steps:
Step 1. First, choose the most suitable Proxy Server. Now copy it.
Step 2. Launch Setting on iPhone, tap the WiFi option and select your current network.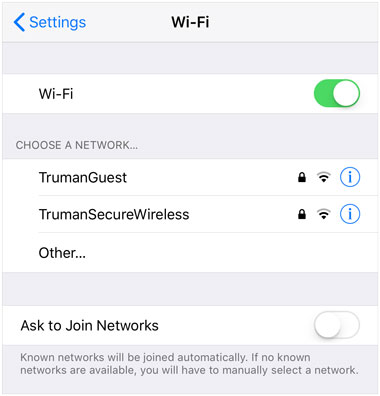 Step 3. Next, scroll down to the network settings in the IPV4 section. Click on Configure IP, then use the Manual option. Now enter your Proxy Server, and save. You will then find your IP and location changed.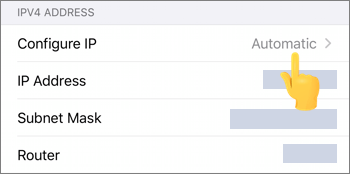 Remember, you should use a secure server. It doesn't matter if it is paid; what matters is that your privacy is protected. If not, cache files from proxies will retain all personal info like passwords, leading to issues if someone tries accessing your information.
Additionally, using a Proxy Server might not encrypt the files on your phone, thus making it easier for hackers to access it. Also, there is no control over DNS traffic.
Method 3. Spoof iPhone Location Using iTools
iTools is an app that helps iOS users to spoof locations on their devices. This tool is free to use and supports iOS 12 or later versions.
Here are the steps to use:
Step 1. Install the iTools program on the computer. Now unlock the iPhone and link it to the computer.
Step 2. Launch the iTools application on your PC. Head to Toolbox > Virtual Location.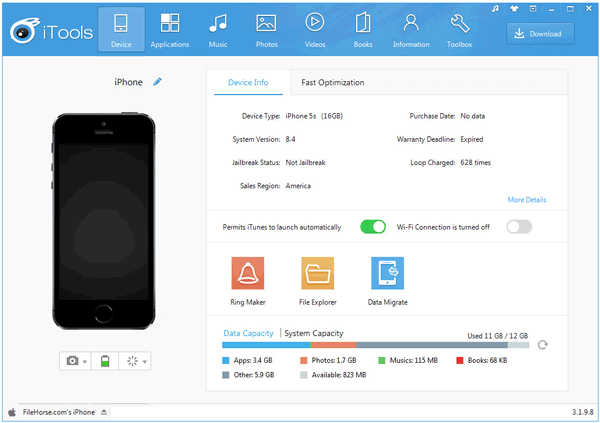 Step 3. Enter your preferred fake location in the text box on a map and tap Enter. Choose the Move here option to teleport your device to a new location.
Method 4. Fake iPhone GPS Location Using Location GFaker Pro
GFaker Pro is an innovative technology equipment to which you externally attach your iOS device. It assists people in spoofing their location and works well on all devices operating on iOS version 12.4.1 and below. You don't have to jailbreak your iPhone. The whole procedure is very simple and straightforward. You must attach GFaker Pro to the device and enter a fake location. GFaker will change your location of all location-based apps on your iPhone.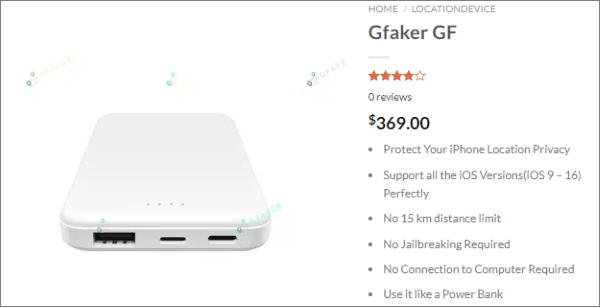 Follow the steps below to change location on your iPhone:
Step 1. Head to the GFaker site, then select the plan you prefer. Install a companion iOS application on your iPhone.
Step 2. Then plug the GFaker into the iPhone device with a lightning cable. You'll see the Lock Position button.
Step 3. Find the location name or locate a spot on a map and click Lock position.
Method 5. Fake Your iPhone IP Address Using Cydia App
Cydia is a third-party store for downloading applications on iPhone devices. But, the major disadvantage of using Cydia Play Store is, it can only be used on jailbroken devices.

So, if you jailbreak your device, you can easily download then install the applications on it to spoof its location. But ensure your device is protected fully before downloading the app. Below are the steps to spoof Location by Cydia application:
Step 1. First, download a jailbreak tool on the phone to install the app successfully.
Step 2. Now jailbreak the iPhone, then install Location Faker. After jailbreaking your device, you can open Cydia and look for a location faker app to install on your iPhone. Download the app and launch it. Now set your preferred fake coordinates.
Step 3. From there, run the Location Faker and then start changing your location. Pick a suitable fake coordinate on the map. Drag and drop that green pin on a map, then pick points.
More interesting articles:
How to Change Location on Facebook Dating in 4 Secure Ways [Solved]
[2023 Updated] How to Change Location on Tinder without Paying?
Summary
Can you change your location on iPhone without a VPN? As said, it is possible to change location without requiring a VPN. Even though it can be challenging for novice individuals, the above methods can guide you on how to do it.
With iOS Location Changer, you can effortlessly change your GPS location on your iPhone and move anywhere worldwide without moving an inch.
Related Articles:
How to Spoof Pokemon Go on Android Safely? (Quick Guide)
How to Fake GPS with No Root on Android? [8 Trustworthy Apps]
How to Stop Someone from Spying on My Cell Phone? [With Preventions]
https://www.coolmuster.com/virtual-location/change-location-on-facebook-marketplace.html
How to Fake GPS on Android without Mock Location?
How to Hatch Eggs in Pokemon Go Without Walking [5 Methods You Should Try]