Insecurity around the globe is exceptionally growing. Using applications like Zenly that report your real-time location to friends and family is a great security measure. Your friends, family, and colleagues can connect better, track your location, and know about your safety more efficiently. Although Zenly provides you with excellent security measures, there are several situations when privacy is essential, so many users want to know how to change Zenly location.
Many Zenly location tracking application end users complain about lack of location privacy. For example, there are many times that you would like to go to a certain place without your family, friends, or colleagues realizing it. As a result, you may want to freeze location on Zenly to maintain your privacy. However, changing your Zenly location is not an easy task.
If you have the same problem and you may wish to change your location on iPhone and Android, read through these detailed and easy ways of changing your Zenly location.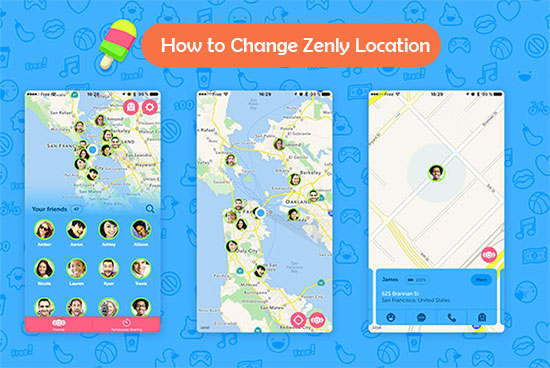 Part 1: What You Need to Know Regarding Zenly?
1. What Is Zenly?
Zenly is a location-sharing application that allows you to share your real-time location with friends and family. It is simple to use and easy to install. The application's user interface is easy and does not require the user to read lengthy manuals or instructions, unlike how other applications work. Zenly combines a social messaging service and a GPS location tracker. Zenly uses GPS to track a user's movement, allowing family members to know where someone is. It also includes a social messaging feature that allows users to chat with one another about different topics.
2. How Zenly Tracks Your Location?
Zenly uses the GPS of a mobile device to track a user's location. For example, imagine that your spouse has agreed to use the Zenly tracking application because you frequently work late. Therefore, when your spouse tries to check your location using Zenly, they can see where you are, and they can communicate with you.
The GPS feature of the Zenly application uses satellites that orbit our planet. These satellites then transmit their location information to all mobile devices worldwide. When the Zenly application on a user's mobile device receives this information, it translates it into an exact latitudinal and longitudinal position in relation to the earth's surface.
You may like:
6 Feasible Ways to Spoof GPS Location on iPhone
One Click to Make Full Use of Location Services on iPhone
Part 2: How to Change Zenly Location Easily?
How can I fake my location on Zenly? There are several ways to fake Zenly location on iPhone and Android. Below is the list of the best practices:
Method 1. Fake Location on Zenly Using Location Changer
Having listed the Zenly Location Changer as the first on this list, it is the best and most straightforward way to fake location change on Zenly app for Android and iOS devices. It is a fantastic tool for providing security and safety, the most used software in the location, faking services for different applications, such as Grindr, Tinder, and Tik Tok. With Zenly Location Changer, you require only one click to fake your GPS location. This software is trusted by very many users worldwide.
Key Features of Zenly Location Changer:
* Instantly fake location for Android/iOS to anywhere.
* Natively works with location-based applications, e.g., social platforms, AR games, etc.
* Export/import GPX files with ease.
* Works well with all Android & iOS versions.
Below is a simple step-by-step guide on how you can use Zenly Location Changer to fake your Zenly GPS location on both Android and iOS:
01Download and install the Zenly Location Changer
The first step is downloading and installing the Zenly Location Changer tool into your computer. Connect your Android/iPhone device to your personal computer, and wait for the software to recognize your phone.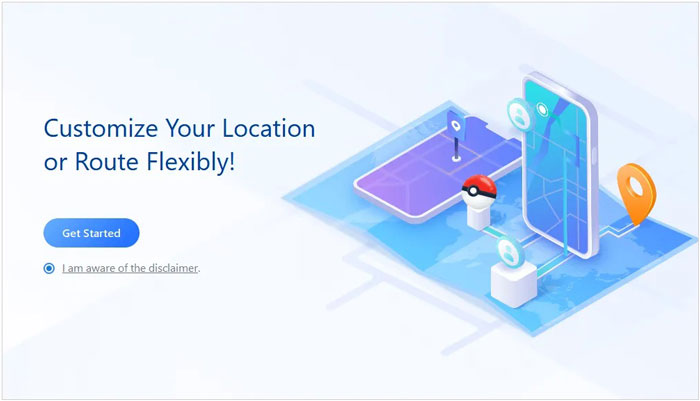 02Choose the Teleport mode and search for your preferred location
Your current location will be shown on the map once the Zenly Location Changer recognizes your device. Select the teleport mode and search your preferred location.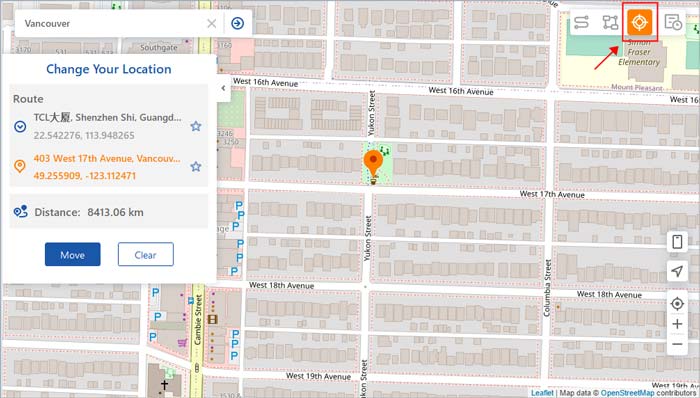 03Enjoy Virtual GPS on your Zenly app
After searching for your preferred location, click the move button to connect to the new GPS location You can now enjoy the new virtual GPS location. Open the Zenly application and use it while on a GPS location of your choice.
Method 2. Fake Location on Zenly Android Using Fake GPS Apps
There are various fake GPS applications for Android that you can use to fake your Zenly location on your phone. You can also use these applications to create a virtual private network and hide your true location from trackers, intruders, and other people who do not know you. The Fake GPS applications work only on android devices. Below is a step-by-step guide on how you can use fake GPS applications to fake your Zenly location on your android phone:
Step 1: Download the Fake GPS application from the Google Play store
Download an Android application called Fake GPS. This is the best GPS application to change the real-time location on your phone. There are many fake GPS applications in the Market, but most do not work well with android devices. The Fake GPS application is the best, so download and install it on your phone.
Step 2: Launch the application to change the location
The application will launch and display a small menu. Select your location, and the application will automatically change your real-time location.
Step 3: Select a new location on the Fake GPS app
Now, select the location where you want to run your Zenly application.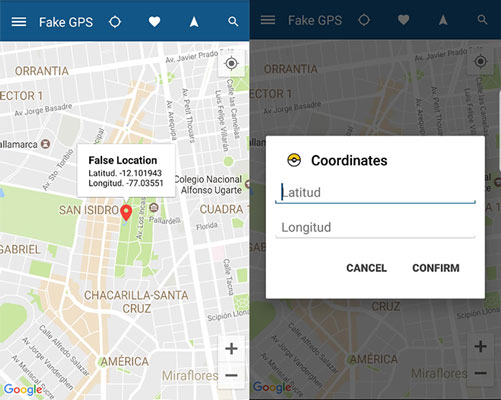 Step 4: Check if the IP address has changed.
Tap on the "start button," and your current IP address will change to the new location that you selected. Tap on the "stop button" to change your location and enter a new location if you want to change the location again.
Step 5: Launch your Zenly application
Launch your Zenly app once you have completed all the above steps and start enjoying your new virtual GPS location.
Method 3. Precise, Blurred and freeze Zenly Location Using the Ghost Mode
Can you freeze or precise your location on Zenly? This new feature introduced in Zenly 3 allows users to change their GPS location for a preset amount of time. A user can set a timer, which will disappear after it finishes. This feature is unique and easy to operate to hide your location on Zenly. This feature has three different privacy modes that include :
Frozen: This privacy mode entirely hides your real-time location.
Blur: This privacy mode shows the area you are close to to the people on your list.
Precise: This privacy mode shows your real-time location with the people on your friend list.
It is straightforward to use Ghost Mode to get Zenly freeze location even if you have minimal understanding of the application. Below are a few steps for using Ghost Mode to frozen or blurred location on Zenly:
Step 1: Open the Zenly application and navigate to the profile. Click on the "ghost mode" option that has a ghost icon.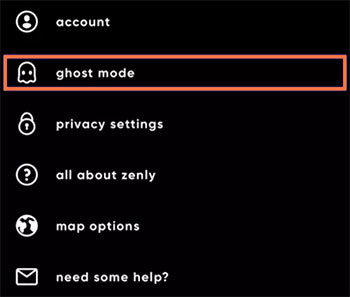 Step 2: Choose the people you want to hide your location from or choose the "select all" button to select all your friends.
Step 3: On the top of the page, select either "frozen," "blurred," or "precise" privacy mode options to hide your real Zenly GPS location.

See more:
Why Is My Location Wrong on My iPhone? (Fixes Included)
How to Change Home Address on iPhone? 5 Ways You Will Need
Part 3: FAQs About Faking Location on Zenly App
Q1. Can Strangers See My Location on Zenly?
No, strangers will not be able to see your location on Zenly.
Q2. How to Enable Ghost Mode on Zenly?
Follow these steps to enable ghost mode on Zenly: Open the "ghost mode" option from your profile. Choose "select friends" and select your friends who you want to hide from, or choose "select all" if you're going to hide from all the strangers around you. After choosing the privacy mode, click on the DONE button.
Q3. Can I use the Fake GPS to hide my location from my family?
Yes, you can use Fake GPS to hide your real Zenly location from your family. You will be able to see their exact locations if you are using fake GPS on Zenly.
Conclusion
Running on a fake GPS location is easy and fun. Users can change their locations with the help of the Fake GPS application. Zenly users can use their fake GPS on their phones and enjoy any virtual destination they have selected. The feature of changing locations is very cool and provides users with a high level of security. Zenly Location Changer is the best GPS application for Android and iOS users, and it is a multi-functional GPS application. It allows the user to avoid being tracked on their movement.
Related Articles:
How to Fake Twitter Location Easily | FAQs and Solutions [Proven]
How to Fake GPS on Android without Mock Location?
How to Fake GPS with No Root on Android? [8 Trustworthy Apps]
[Huawei Mock Location] How Do I Change My Mock Location on Huawei P40 Pro/P30 Pro/P20 Pro?
How to Change iPhone/iPad Location without Jailbreak in 4 Cost-effective Ways?
Top 10 iTools Virtual Location Alternatives for Android and iOS Devices