Are you a Pokemon Go game player? If yes, you already know that the best way to improve the game's experience is to use a location changer application that will enable you to move the Pokemon character to regions with many rare Pokemon. Fly GPS is a Good choice.
Fly GPS is a powerful mobile application that allows users to manipulate their device's GPS location, providing them with the ability to "fly" to any location in the world virtually. In this article, we'll provide a detailed analysis of the Fly GPS application and its best alternative. Let us dive into this.
Part 1. What's Fly GPS?
Fly GPS application is among the most popular iOS location spoofing applications that allow Pokemon Go players to move from one region to another without moving an inch. It helps you cheat the game by changing your iOS device's GPS location to gyms and PokeStops unavailable in your region.
Fly GPS app allows you to teleport to any location globally, works natively with the latest Pokemon Go versions, has a simple setup process, and is available for Android and iOS users.
Part 2. Key Features, Pros and Cons of Fly GPS
Key Features:
Find their desired locations using the "Coordinates Search" or "Google Search" features.
Choose either move or fixed location modes.
Has on-screen joystick functionality.
Add locations to their favorite list to access them easily in the future.
Pros:
* Provide users with more route creation options.
* Has a user-friendly user interface.
* No jailbreaking is required.
* Work natively with other applications.
Cons:
* Annoying ads.
* Users complain that it has frequent bugs.
* Do not provide a stable connection.
* Require a lengthy setup process.
* Fail to connect to some regions often.
Part 3. How to Use Fly GPS for Pokemon Go on iPhone
With its simplicity and versatility, Fly GPS in Pokemon Go surpasses others, making it a highly sought-after GPS spoofing app beloved by Pokemon Go enthusiasts. Follow the straightforward steps below to start using it.
Step 1. Access the App Store using your iPhone, search for the Fly GPS application, and install it on your iPhone.
Step 2. Tap on the Get button, log in using your Apple ID and password when requested, and wait for the application to be installed on your iPhone.
Step 3. Launch the application on your iPhone and spoof your iPhone's location to any region globally.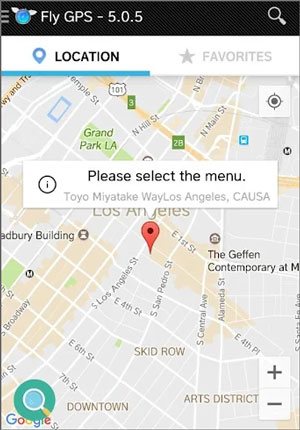 You May Like:
How to Hack Pokemon Go for Android & iOS? (Quick Guide)
Review | Top 6 Pokemon Go Spoofer Apps for Android/iOS
Part 4. Fly GPS Alternatives for Pokemon Go
Although you can use Fly GPS to spoof your iOS device's location, it does not provide the best experience. It has bugs that appear frequently, its connection is unreliable, and it sometimes fails to connect to some regions. As a result, there is a need to look for the best Fly GPS Pokemon Go iPhone app alternatives. Let us take a look at some of the best Pokemon Go Fly GPS iPhone alternative applications:
1. iOS Location Changer
One of the best iOS Fly GPS Pokemon Go alternative is iOS Location Changer. It is a powerful iOS location spoofer that allows users to change their iPhone's GPS location to a region of their choice without stepping out of their houses. If you are a Pokemon Go game lover, iOS Location Changer should be your choice. It allows users to move their Pokemon characters to regions with more and rare Pokemon easily and maintains a peerless connection throughout the gaming period.
Apart from changing your iOS device's location, you can use the iOS Location Changer application to create a fake route, set your location to fixed or moving mode, save your favorite routes and locations, import or export your best route's data in GPX files, and also set a customized speed. Additionally, iOS Location Changer has a simple setup procedure and supports almost all iOS device versions.
Key Features:
Play Pokemon Go without moving physically.
Move pretendedly following fake routes.
Set a customized speed when moving through fake routes.
Support almost all iOS devices.
Below are the steps for using iOS Location Changer to play Pokemon Go:
01To begin, download and install iOS Location Changer on your computer. Once installed, click the Start button to establish a connection between your iPhone and the computer.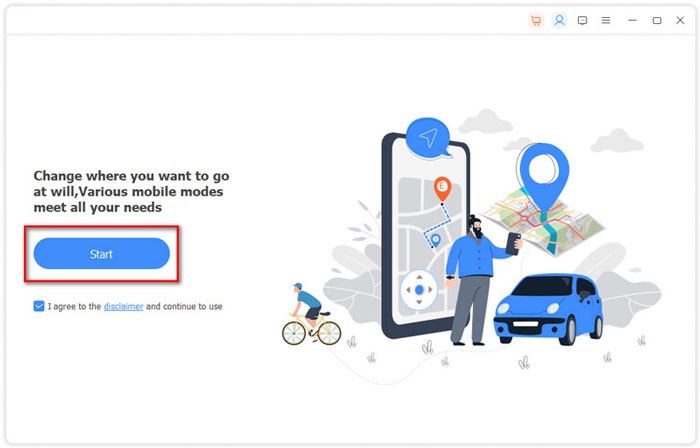 02Upon launching the application, you will be presented with the main interface. From there, select the option Modify Location to proceed with changing your location.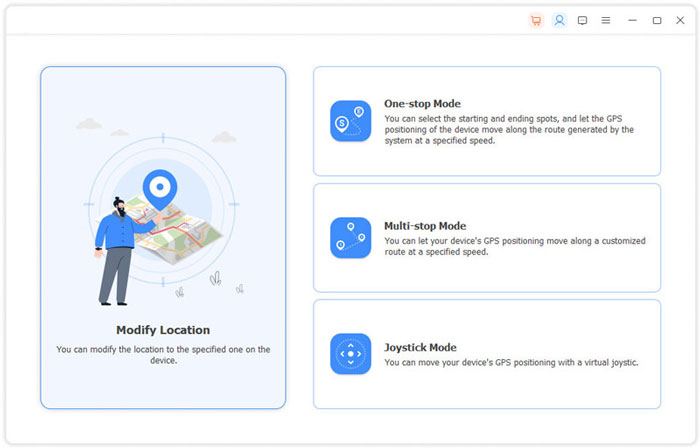 03You have the option to manually enter or search for your desired target location. Once you have arrived at the specified place, click on the Confirm Modify button to confirm and apply the location change.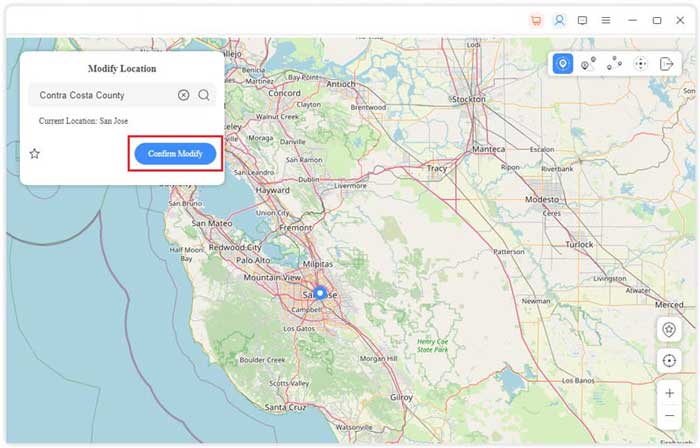 Pros:
* Has a simple interface that makes using it easy and fun.
* Provide users with a joystick that makes moving around the map easy.
* Available for Mac and Windows users.
* You can save your favorite routes.
Cons:
* To access full features, you must pay for it.
Pricing:
* $0 for the 7-day free trial.
* $15.96 for the monthly license.
* $49.96 for the lifetime license.
Learn More:
How to Spoof Pokemon Go Without Suspicion [Workable Solutions]
Most Reliable Pokemon Go Auto Catcher App on iOS and Android
2. Android Location Changer
Want to improve your Pokemon Go game experience using the best Fly GPS Android app alternative? The Android Location Changer application should be the first tool to consider. This Android device's location changer application uses the latest technology and guarantees users a stable and reliable connection. The Android Location Changer Android application is trusted and used by millions around the globe, and many users have reviewed it positively.
Android Location Changer is primarily designed for spoofing Android devices' locations using a Mac or Windows computer. However, this superb application is supported by almost all Android devices and works natively with other location-based applications. The best thing about the Android Location Changer Android app is that it is updated every time the Pokemon Go game is updated, guaranteeing a great gaming experience.
Key Features:
Work wonderfully with location-based applications like social platforms, AR games, etc.
Use its Joystick to simulate movement freely.
Support the importation and exportation of the favorite routes data using a GPX file.
The steps for using the Android Location Changer are as simple as shown below:
01To begin, download and install Android on your computer. Once the installation is complete, launch the program and connect your Android device to the computer using a USB cable. Then, click on the Get Started button to proceed.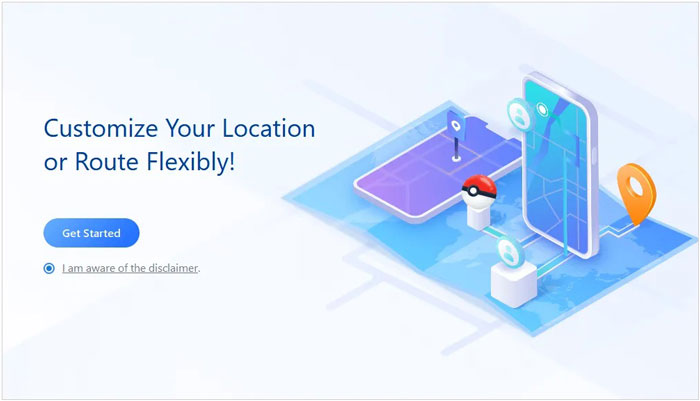 02The program will initiate the loading of a map. Once the map is successfully loaded, locate and click on the Teleport Mode icon. After selecting your desired destination, tap on Move to change your current location accordingly.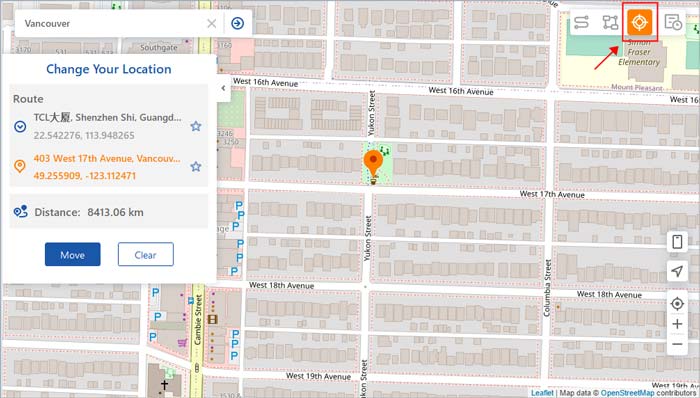 Pros:
* Received numerous positive feedback from its users.
* No bugs and it provides a stable connection.
* Allow users to save their favorite routes.
* Users can share their fake locations on social media apps.
Cons:
* Users have to connect their Android phones to the computer.
Pricing:
* Start at $14.99 per month.
Further Reading:
Best Spoofing Apps for Pokemon Go on iOS and Android
FGL Pro for Pokemon Go: Powerful Spoofer for Android [Review]
3. Fake GPS 360
Fake GPS 360 is another top-tier application that allows you to spoof the GPS location to play the Pokemon Go game. This app is amazingly easy to use. You just need to open the application, choose your desired location, and start enjoying it. The app works by spoofing your location and pretending to be anywhere. It offers numerous GPS settings, including altitude, accuracy, root mode, and update interval.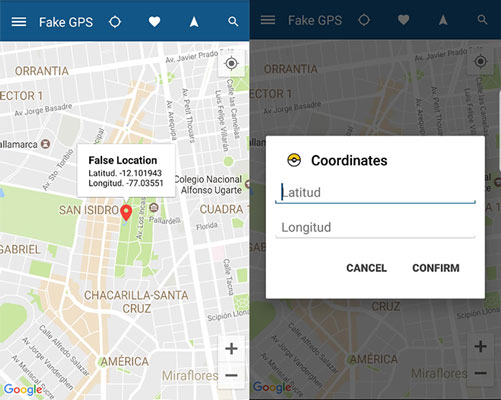 Key Features:
Its interface is very intuitive.
Save multiple locations for future use.
Automatically generate maps and directions.
Pros:
* Easy to set up a new location quickly.
* Custom GPS precision.
Cons:
* Some apps are not compatible with it.
Pricing:
* It is a free application.
Also Read:
Top 10 iTools Virtual Location Alternatives for Android and iOS Devices
PokeGo++ Guide: Can PokeGo++ Work? How Can You Install It?
4. GPS JoyStick
This is another powerful Fly GPS alternative app that allows you to teleport your phone's GPS location in no time instantly. With its easy-to-use interface, you can explore places without physically traveling. It is available for Android and iOS users. With this app, users can enter latitude/longitude directly from the Joystick or select any location worldwide. You can create and save a route by using the number of points on the map or walk automatically. With reverse and loop route modes, users can walk on the route repeatedly. Additionally, this app offers numerous settings options for complete user customization.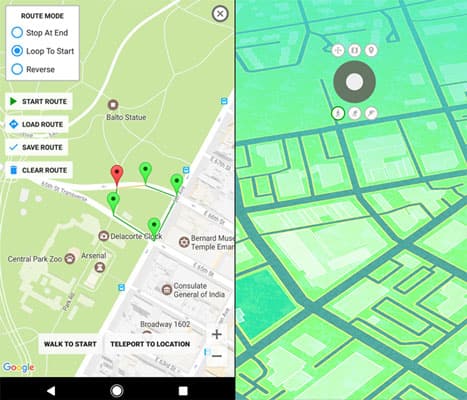 Key features:
Change location in any direction you point to the Joystick.
Display cooldown time and distance information.
Change GPS location instantly and easily.
Pros:
* Easy to use.
* Make routines and save them.
* Choose any location on the globe.
Cons:
* Pokemon Go may fail to recognize the area entered in this app.
Pricing:
* $12.99 per month.
Conclusion
Using location spoofing applications to change your Android and iOS devices' GPS locations has become a trend. You can now play the Pokemon Go game more easily. Fly GPS is one of the most used location-changing applications, but its users have complained that they experience bugs and poor connections that result in a bad gaming experience. However, as you have seen from the article, you can use the iOS Location Changer as a Fly GPS application alternative for iPhone and Android Location Changer as a Fly GPS application alternative for Android devices.
Related Articles:
MockGo Guide - Learn More About This Helpful iOS Location Spoofer
How to Walk in Pokemon Go Without Walking? [Top 5 Ways]
Get the Best iSpoofer Alternative for Android and iOS [Informative Guide]
Easy Pokemon Go Spoofing on iOS Devices in Top 7 Ways
Which Is the Best Fake GPS App for Android and iOS Devices? [Practical Options]