We share our location on our iPhones with family members and friends for various reasons. The main aim is to help them know our whereabouts because you never know what might happen in the next few minutes. Your friends may quickly locate you in case of an emergency. With all these benefits come the downsides.
Sharing phone locations is a breach of your privacy. You don't want your family or friends to know where you're going, but you don't want to hurt them by not sharing the location with them. So, how to stop sharing location without them knowing? This guide shows you easy ways to unshare your location with someone secretly.
Part 1. Can You Stop Sharing Location Without Them Knowing?
Yes. You can turn off location on your iPhone without them knowing, and there are various ways to do that. Disabling features like Find My iPhone or Share My Location can be a good way to prevent others from tracking you. Does it send a notification when you stop sharing location? The answer is that no one will be notified that you unshared location with them. Even when you re-enable it, still no one can get the notification.
However, note that some methods to unshare your location will remove you from the friend list on your friend's phone.
Part 2. How to Stop Sharing Location Without Notifying
If you would like to stop sharing your location on iPhone without others knowing, there are various options for you. They are so simple, and in no time, you will stop sharing location without notification. Check them out.
Method 1. Use a Professional Location Changer Tool - Excellent Way
To effectively stop sharing your iPhone location without anyone knowing and not interfere with its normal location functions, you should fake your GPS location. This way, someone can only get your fake location instead of a real one. One app that surely does this task ultimately is iOS Location Changer. This best location changer software lets you change your GPS location in just a click. So, when you wish to stop sharing locations without notifying iMessage, this is your go-to tool.
It changes your real location on an iPhone to a virtual location on a computer. With that said, here is how iOS Location Changer can be a lifesaver:
Change GPS location on iPhone to anywhere in just a click.
Stop sharing location without others knowing on social media platforms like Instagram.
Support exporting GPX files.
3 movement modes: One-stop, Multi-stop, and Joystick Mode.
Save movement routes for future use.
How can I stop sharing my location without someone knowing? Here are the steps:
01Download the iOS Location Changer app on your computer. Link the device to the PC with a lightning cable and tap the "Start" button.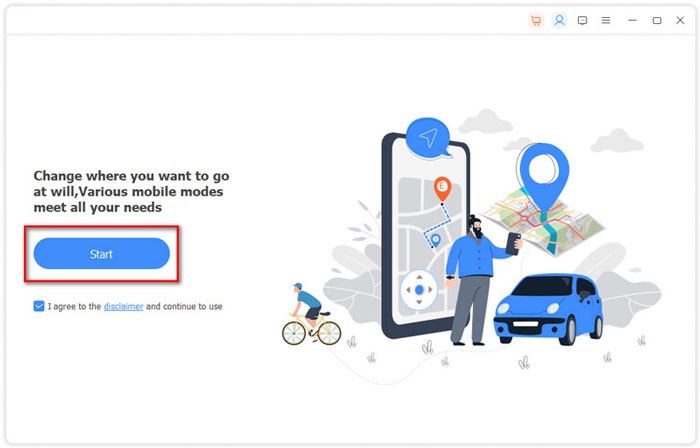 02Select the "Modify Location" icon. Later, you'll see a map with your current location. Zoom in and out on the map as you check other locations.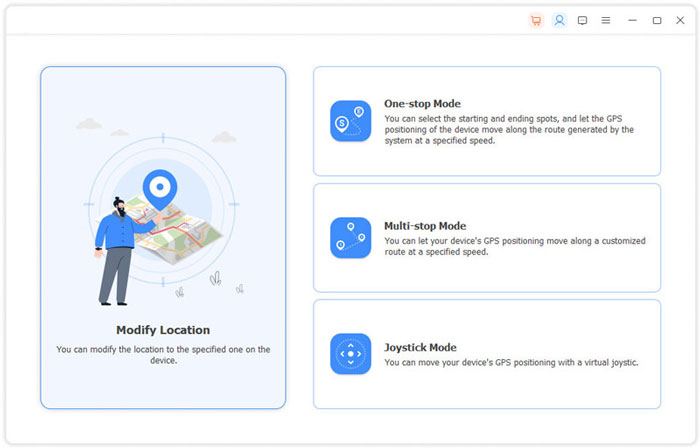 03Enter your destination in the bar at the top. Tap the "Move to" option, and your iPhone location will be changed instantly.
Read More:
How to See Someone's Location on iPhone? [Can't Miss]
Comprehensive Guide to Checking iPhone Location History
Method 2. Enable Airplane Mode
Turning on your device's Airplane Mode is known as the simplest and quickest way to switch off location without others knowing. Turning off your location through this option blocks all the network connections, which means your device will have no internet and network connection. So there's no way to track the phone when in Airplane Mode. Here's how to turn off location without the other person knowing by enabling Airplane Mode on iPhone:
Option 1. Enabling Airplane Mode feature from Home Screen
Step 1. Access "Control Center" by swiping down on the screen.
Step 2. Click on "Airplane Mode" button on the display.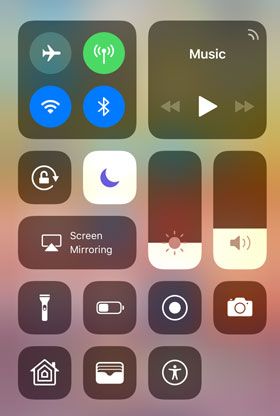 Option 2. Activating Airplane Mode feature in Settings
Step 1. Choose "Settings" application on Home Screen then open it. Scroll down to get to "Airplane Mode".
Step 2. Toggle slider to "ON" position. You'll see a notification saying that Airplane Mode feature is activated.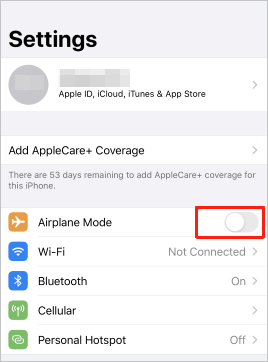 Method 3. Disable Share My Location Feature
How to turn off location on iPhone without notifying? You should turn off the Share My Location option. If you deactivate this feature, your device will not give access to its location to other applications. Thus, when you disable the Share My Location on your device, you will stop sharing the location completely. Do this to disable Share My Location:
Step 1. Open "Settings" menu on iPhone the tap on your profile.
Step 2. Tap on the "Find My" option.
Step 3. Switch off the "Share My Location" feature by toggling the slider to green. Once you disable this feature, your mobile phone is safe, and its location won't be easily accessible to anyone.
Can't Miss:
How to Check iPhone Location History and Protect You from Being Traced
How to Change Home Address on iPhone? 5 Ways You Will Need
Method 4. Use Another Device As Your Location
Usually, iOS devices provide an easy, handy, and simple location feature to other iOS gadgets. However, you should configure and then set up location settings on the iOS so that you can be able to customize how to silently stop sharing location.
Step 1. Go to your device's "Settings" and click on "Find My". Turn on the "Share My Location" option. Ensure you toggle the switch to right.
Step 2. Also, switch on the feature on the other device you have. Then launch the "Find My" application on the other iOS to mark your real location.
Step 3. Scroll down to a list of users who are sharing your location. Click on menu and choose an option to send the location.
Method 5. Close Apps Permission
Some of the applications need your device's location to operate properly. But, it can lead to battery problems as well as privacy concerns. You may still disable location-sharing permissions from phone settings to unshare locations without others knowing. Here are the steps about how to temporarily stop sharing location:
Step 1. Access the "Privacy" menu on iPhone "Settings".
Step 2. Click "Location Services", then choose the application you wish to revoke its location permission.

Step 3. Choose "Never" to prevent that application from accessing your device location.
See Also:
How to Change iPhone/iPad Location without Jailbreak in 4 Cost-effective Ways?
How Do I Know If Someone Is Tracking My Phone? [Signs and Tips]
Method 6. Stop Location Sharing in Find My
iPhones have a "Find My" application that facilitates seamless location sharing among other iOS gadgets. If you turn on this feature on your iOS gadget, you can share your current location on various iOS devices. Moreover, this tool tracks your phone if it gets lost using your friend's phone. Here's how to pause find my iPhone without anyone knowing:
Step1. Launch "Find My" app from your phone's home screen. This app comes preinstalled on iPhone device.
Step 2. After opening the application, tap on the "Me" option. You can find it in the bottom corner of the screen. After that, toggle "Share My Location" to turn it off.
Step 3. Moreover, if you have numerous users on this application, there is an option where you can stop sharing location with a specific user or member. To select a user from the list, tap on "People". On a pop-up that appears, choose either the "Stop Sharing My Location" option.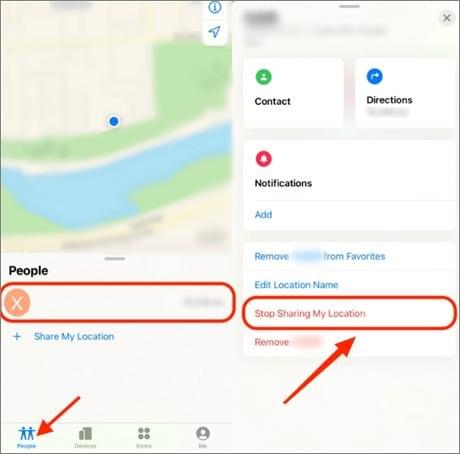 Method 7. Unshare Location in iMessage
Many iOS users are unaware that it is possible to track someone's location through the iMessage app. But, the person sharing the location must grant permission to the other person who wants to track them. When the location is shared, they will receive notifications. Disabling sharing location on your iMessage app will ensure no one is tracking you.
Here are steps to follow to stop sharing location in iMessage
Step 1. Open "iMessage" application.
Step 2. Select a conversation with a person tracking your location through iMessage.
Step 3. Select the information icon.
Step 4. Click the "Stop Sharing Location" to stop them from viewing your location.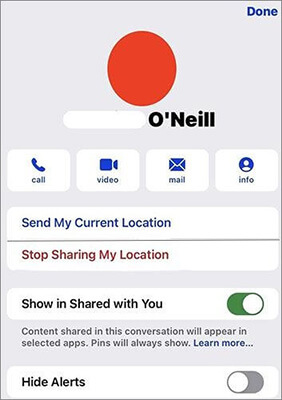 May Like:
How to Share Location on iMessage: A Step-by-Step Guide
How to Fake Location on Find My iPhone Without Anyone Knowing
Method 8. Through Fake GPS Location App
Fake GPS location is a popular location spoofing app for iOS and Android devices. Below, we will show you how to unshare location without someone knowing through Fake GPS Location.
Step 1. You need to click the "Allow mock locations" option in your phone's Developer Options to use this app.
Step 2. After that, you can open the application and select your desired location.
Conclusion
It is convenient to share location with your friends or family members, but it's crucial to take the required steps to safeguard your privacy. If you follow the above tips, you can be sure to stop sharing location in secret. iOS Location Changer is still the safest tool to stop sharing location on iPhone secretly. It fakes your GPS location to anywhere, concealing your actual location.
Related Articles:
How to Share Location on Android with Your Family and Friends
How to Fake GPS on Android without Mock Location?
Why Is My Location Wrong on My iPhone? (Fixes Included)
6 Feasible Ways to Spoof GPS Location on iPhone
Best Spoofing Apps for Pokemon Go on iOS and Android
[Solved] How to Spoof Location on Android? This One Answers!