A wide range of fashionable and multifunctional Android phones of different makes and models are available on the global mobile device market, which have become a must in people's daily life. You have probably used several cell phones since quite a few years ago, and are familiar with almost all the functions of the devices. But there're always some problems you're at your wits' end to cope with, for as much as your phone itself provides no corresponding solutions. One of the cases occurring at frequent intervals is users' desire to manage and edit their contacts on a computer for convenience. If you have changed your job and have known some new people, for the purpose of reclaiming more space for storing your new contacts, deleting part of the old ones is in great need. Yet it's time-consuming to do it manually one by one. It'd be far better if you could transfer them to your PC or Mac, and remove them with fewer clicks.
As I mentioned above, to edit contacts in a batch instead of doing it one by one manualy one by one, you need to transfer them to computer as editable file format beforehand. Well, contacts are stored in the internal phone memory or the SIM card by default, instead of the external flash memory card, SD card, which's used to store media files, such as images, videos, audios and music. Consequently, they cannot be transferred to the computer for editing as other types of files simply with a USB cable without the assistance of any tools. In order to achieve the convenience to modify, delete or add contacts on the computer with ease, you're highly recommended to seek help from Coolmuster Android Assistant, a powerful and professional third-party software, to manage your data without difficulty at the flick of a switch.
Why choose this Android Contacts Editor?
Coolmuster Android Assistant, here can be an Android Contacts Editor, is a secure, virus-free and advertisement-free cell phone manager which is easy to use and provides a concise and user-friendly interface to its uers. By merely connecting your device to the computer with a USB cable, you can edit your contacts in an instant or erase them in batches. It's an all-in-one tool supporting PCs with different Windows platforms or Mac with Apple's operating system. Additionally, this software is capable of dealing with various situations, whether managing, backing up and restoring your contacts and text messages, or transferring media files between devices. Intend to offer your Android phone with the best management tool? Coolmuster Android Assistant is the right one to serve all of your needs!
Below is the step-by-step guide showing you how to use Coolmuster Android Assistant to edit Android phone's contacts on computer directly. The software works on almost all Android devices, such as Samsung, LG, HTC, Sony Ericsson, Motorola, etc.
Can't Miss
How to Delete or Remove Duplicate Contacts from Android Phone
How to Recover Lost or Deleted Android Contacts for Editing
Steps to Batch Modify/Edit Contacts from Android Phone to Computer
Step 1. Connect Your Android Phone to Computer
To begin with, download and install this Android Contacts Editor on your PC (here we set Windows version as an example). Launch it and then connect your Android phone to the computer via a USB cord. If it is the first time to run this software, you may encounter the following picture and be required to enable USB debugging on your phone at first. If your device can be detected by the program, you can directly skip to the next step.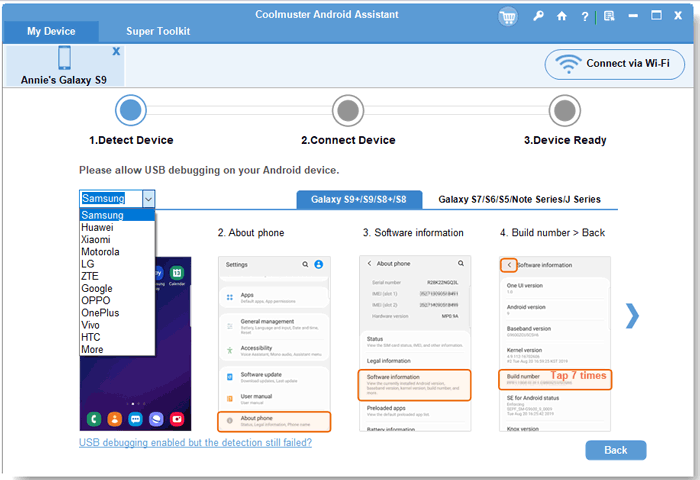 Follow the linked instruction to enable USB debugging on your phone.
After enabling the USB debugging, click "Allow" on your phone to allow the program super user authorization when an Superuser Request pops up. Then, all your phone infomation, including phone model, system version and storage space size will be shown in the main interface like below.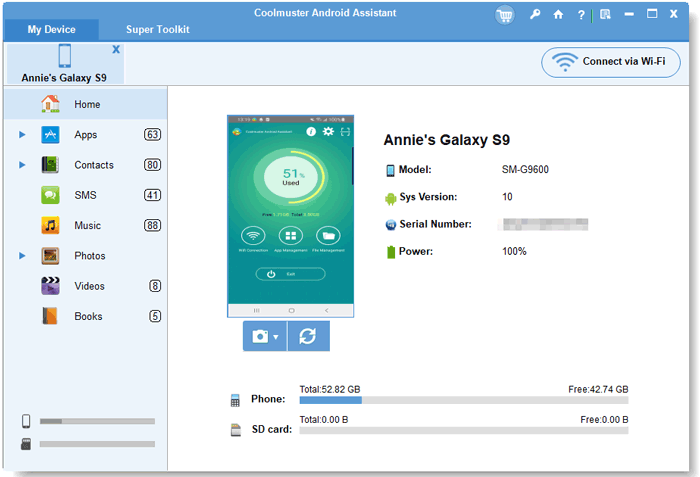 Step 2: Go to the Contacts window
All your phone data are categorized on the left side menu. To transfer Android phone's contacts, you can go to click the "Contacts" icon to enter the Contacts window. Navigate to the left panel and click on the "All Contacts" option, then, all the contacts in your phone will show in list on the right window. Mark the contacts you want to backup on your computer and click the button of "Export".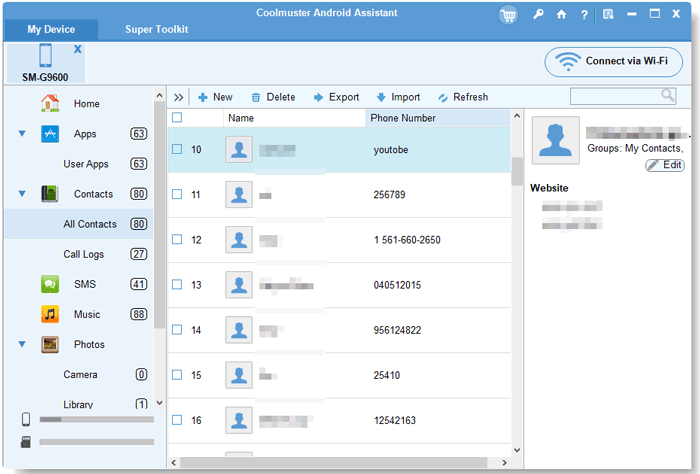 Step 3. Start to add/delete/edit Android contacts on PC
After you click on the "Export" button, you can choose an output location from the popped up "Path" dialog. After a few secodnds, all the selected Android contacts will be transferred to the specific output location, as editable format of TXT. Now, you can freely edit the output Android phone contacts on your computer according to your needs.
Video Tutorial
Related Articles:
How to Save Text Messages from Cell Phone to Computer