Summary: It is a common phenomenon of receiving or downloading a video with wrong orientation, reversed or inclined. Therefore, you need a video rotate app for Android devices to change the orientation of the video. Below we are sharing you with 6 of the best apps to rotate videos on your Android devices directly.
Part 1: Why Need Apps to Rotate Videos on Android?
Part 2: Top 6 Apps to Rotate videos on Android Devices
Part 3: Additional Content - How to Manage Videos on Your Android Device?
Part 1: Why Need Apps to Rotate Videos on Android?
When people are recording their videos on their Android devices, apart from concerning about how to backup Android files well, it is also very important that they have a lot of freedom in making their creative productions well in advance. Since today's advances in technology and Android features provide a wide range of great options for making professional looking videos, it is not uncommon for an individual to want the best possible options available. Specifically, when it comes to being able to correct problems or issues of concern that they have with the videos that they have already recorded.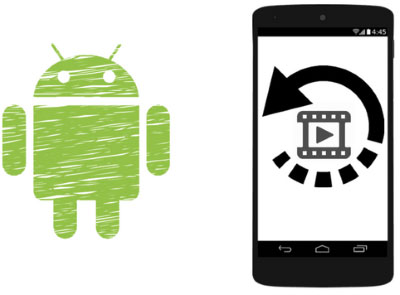 Reason One: One of the most problematic for many Android users is having the ability to correct the videos that they have saved. For instance, some users may save the videos that they have taken in an incorrect orientation and they will need to be changed to fit that specific needs. With this in mind, this is one of the top reasons why software developers are creating apps to solve these problems. The fix that this app provides is to give the user the capability to rotate their videos at an 90-degree angle. Or, if needed, this app will give the user the ability to rotate an app 180 degrees or 270 degrees. Both of which helps to provide each user with what it really needed or desired to complete their productions without undue software issues.
Reason Two: Additionally, for some, the 90-degree angle will give the user the opportunity to show others that their videos are right side up instead of the reverse. It is also important to note that these apps are used for a wide range of other functions too. Therefore, the developers of these apps are providing features that will allow each user to access their functions in the cloud, create their own unique storylines, add special effects like slowing down the actions in the video and a host of other things that makes the video looks professionally done.
People Also Read:
Transfer Photos between Galaxy S9 and Computer
Best Contacts Editor for Android Users
Part 2: Top 6 Apps to Rotate videos on Android Phones/Tablets
1. AndroVid Video Editor
The AndroVid Video Editor has been created with several different useful features for Android users who want to make the best professional video recordings possible. It does matter who the audience is or what the video is being made for, the user can easily make a wide range of different modifications without a lot of unnecessary hassles. Especially, because this app is considered to be intuitive enough to allow the user to rotate videos easily, trim the videos down and create clips of various settings. Also, when needed, the Android user will be given the capability to merge 2 videos together in order to produce one main file to be accessed. Or, the user may want to eliminate parts of the video before they rotate the video into the proper position. So, there is still a lot that can be done with the right tools.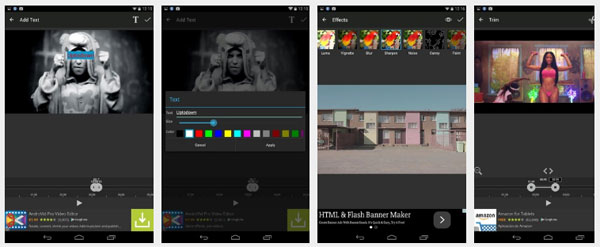 2. Viva Video
The VivaVideo app can be described as one of the best android video camera rotation apps on the market today. With the use of an android phone, users can create awesome productions with ease. In fact, in addition to rotating and a video and cropping it to prepare it for importing, the user will also have the capability to increase its overall performance by as much as 200% when they are making the necessary changes and updates to their own videos. In short, this is an excellent app for optimizing the videos before it is actually shared with others. This application is also available with a wide range of different incredible features including providing users with the functionality that allows them to create a unique story board shooting style. Each of which helps the user to focus on creating a storyline that is simple to use and launch when completed. Some users say that this app is also easy and simple to use, but it is yet very powerful in performance.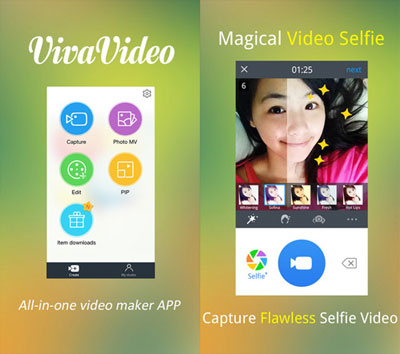 3. Rotate Video Tool
The Rotate Video Tool is idea for a number of different reasons. Some of the most essential include correcting video recordings that have been saved in the wrong direction. For instance, instead of the user saving the video properly after it was recorded, the video was unfortunately saved in the wrong direction. In fact, based on the numbers, this is not only something that the user can easily do but a common occurrence among Android users and other mobile devices. Therefore, with this app, the user can take advantage of several beneficial features including providing the user with the capability to encode the correct tags in order to make sure that the video can be shown in the right direction. This app is also equipped with a watermark feature that shows when the free version is used.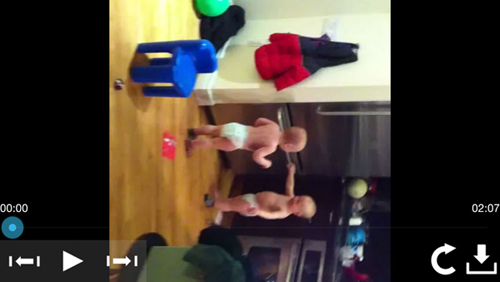 4. Video Editor: All in One
The Video Editor can be described as an all in one app for users who want to make modifications to the video recordings that they have taken. Since this app provides a wide range of incredible features, Android users are provided with numerous functions that they can use to make their videos perfect prior to sharing. For instance, with this particular app, the user will have the capability to modify their videos in numerous beneficial ways including modifying the video to an audio file, trimming the videos so that they can feature various side effects. The most common functions are provided for you below and they can be used to enhance the videos that the user has taken.
- Gray Scale Effect
- Negative Effect
- Blur
- Mirror
- Slow
Videos can also be recorded with the addition of the latest musical selections, while also giving the user the ability to create their own wallpaper and frames. So, the user will not only be provided with the capability to flip the video angles at 90 degrees but also offer so much more.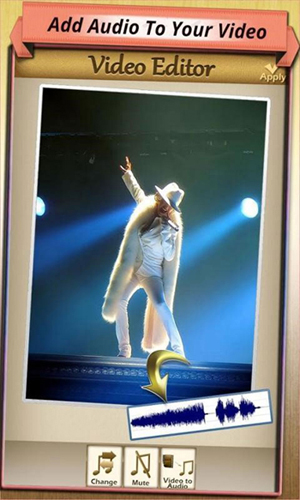 5. mVideoCut - video editor
The mVideoCut is also a video editor that is presently packed with a lot of great features that can be used for a wide range of different purposes. For instance, in addition to rotating a video in the right direction, this app offers their features with a remote based solution. Simply put, when a user would like to have access to this app, they will need to ensure that they have access via a cloud based service option. To access this software app easily, all the user has to do is begin creating full movies with their mobile device once they have accessed the cloud for their functionality. It is also important to note that any rotations that must be done is accomplished by using the server feature option instead of allowing this process to drain on the app.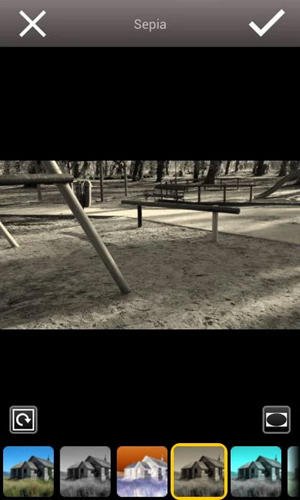 6. Video Converter
The Video Converter has been designed in a number of different ways including providing users with the capability to be an alternative to utilizing one of the following applications:
- VPlayer
- MX Video Player
- Double Twist Player
- MoboPlayer,
- RockPlayer
All of which gives the user the opportunity to play their videos in more than one formats. So, the user will make sure that these videos are recorded accordingly, while also being converting all of their yearly videos into different kinds of formats that your Android supports. With this app, there is no previous dealings or exposures to this apps overall user experience. Instead, this app is one that can help to make and enhance videos in order to turn them into virtually any format when required.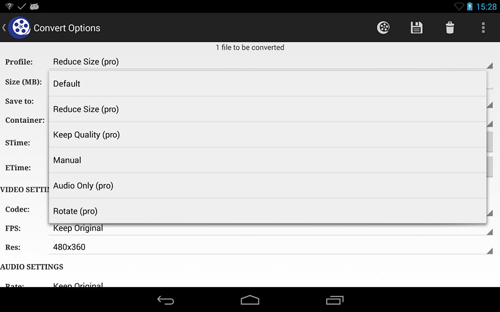 Part 3: How to Manage Videos on Your Android Device?
Use either of the apps in Part 2, you can rotate your videos easily on your Android phones or tablets directly. Now, do you want to export the rotated videos from your Android device to computer for backup? To manage videos on your Android device effortlessly, you can depend on Coolmuster Android Assistant, which allows you to transfer not only videos, but also music, photos, contacts, SMS, apps and more data types from Android to computer.
Android Assistant also enables you to:
- Restore backup files from computer to your Android device with one click;
- Delete useless files from your Android device quickly and safely;
- Add, delete and edit contacts & SMS and even send/reply text messages on computer;
- Comes with Mac version for managing Android phone on Mac machine.
Take a look at the main interface of Android Assistant: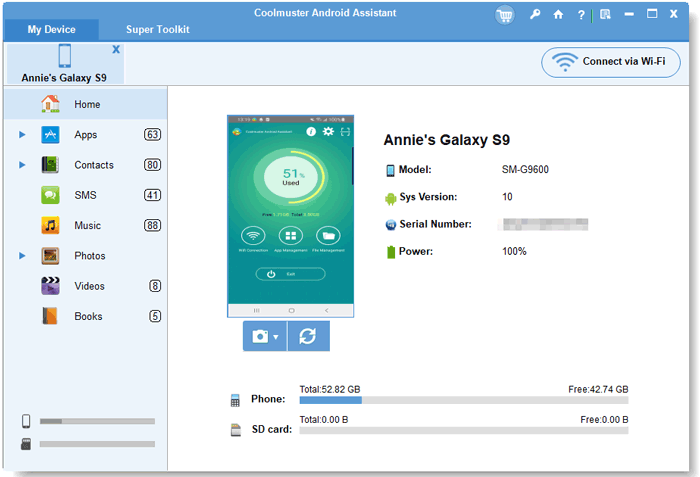 Conclusion
Here in this article, you learnt how to rotate videos on Android, and even know how to backup and manage Android videos on computer, and how to transfer videos from Android to other devices (such as videos transfer from Android to iPad). If you have any other problems in dealing with your videos on Android, feel free to Leave a message in the comments section below.
Related Articles:
How to Backup SD Card on Android
Transfer Contacts from Android Phone to Computer
Backup and Restore Android on Computer
How to Add Contacts to Android Phones
Why Can't I See My Pictures in My Gallery? Fix It and Recover Pictures